A TOP REALTOR'S GUIDE TO RENOVATION, REMODELING, OR JUST FRESHENING UP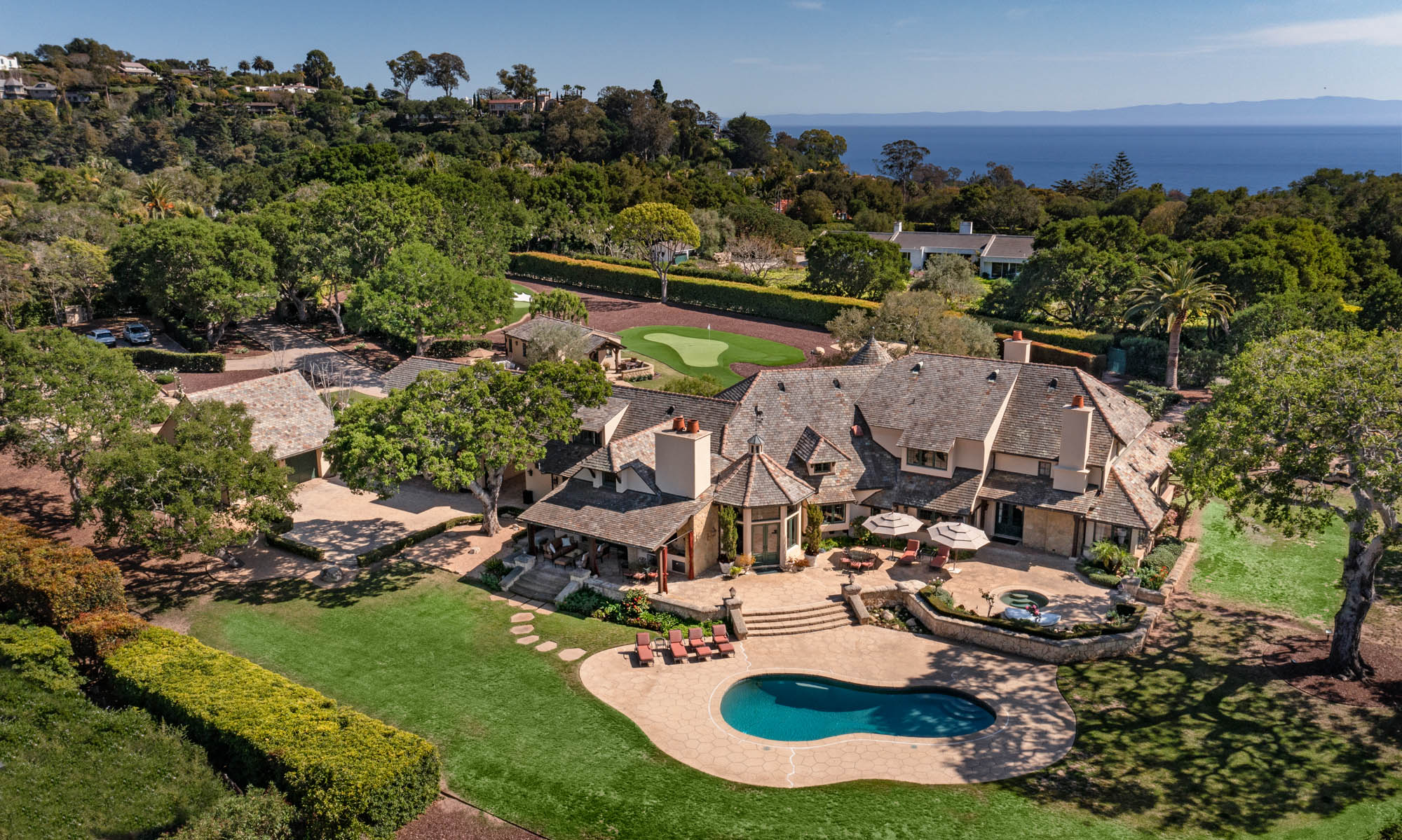 Whether you're selling aHope Ranch property like the French country-style Hope Ranch Estate pictured above, a Montecito Luxury Estate or a Santa Barbara home, there are things you can do when considering how to add value to your home. Many homeowners find home improvements overwhelming, however, and are confused about what to do and what to avoid. I hope this blog post clears things up a bit for you.
Should You Renovate, Remodel or Simply Freshen Things Up Before Listing?
The words "renovation" and "remodel" are often used interchangeably, but if you're planning some major home improvements, it's best to get the terminology right before you talk to a contractor. While most renovations and remodels will improve and update your living space, the two types of projects are very different; each with its own set of benefits and considerations. There's also a third kind of improvement to consider when selling and that is just freshening up the space. Here are industry definitions of each:
Renovation updates the look and feel of a room—or an entire structure—without changing its intended purpose.
During a remodel, the design—and sometimes the structure—is altered.
To freshen up your home for sale, at minimum consider patching holes and cracks in the walls and ceilings, fixing broken appliances, repairing leaky faucets and broken window glass, plus, adding fresh paint, curb appeal and necessary updates.
While it's true, home improvements can significantly raise a home's value, before beginning, Santa Barbara homeowners should think twice. Sometimes, the home they own and love needs specific improvements, or repairs, due to structural flaws, aging plumbing or another major issue that needs fixing. Those projects must be done right away.
However, for things that aren't structural, homeowners can have a hard time deciding between aligning their home with their personal taste and setting themselves up for a lucrative sale. There are certain renovations that, if done correctly, will have a strong return on investment while others are a total waste of time and money.
Before you begin renovating, remodeling or freshening up, here are some pro tips to keep in mind when thinking about how to add value to your home:
Concentrate on small improvements proven to pay off
For those Montecito homeowners torn between improving their home's decor versus making upgrades to increase home value, I have good news. Doing a little bit of both will actually pay off. Separate your list into upgrades for your home value and upgrades just for you. The list of upgrades for your home should include things like replacing old faucets, permanent lighting and doors. Include furniture, artwork and window treatments in your upgrade too.
Plan your home improvement
Believe it or not, how to add value to your home the fastest is by making a plan. Homeowners fare better when it comes time to sell if upgrades are made intentionally. That means never start a major remodel on impulse. Consider these numbers: home improvement projects cost about 20 to 25 cents on the dollar. The other 75 to 80 cents spent go directly back into the home through increased value.
Take your time
Increasing your home value is not a marathon. Start by making a list of the things you would like to update. Take the list and categorize it by how much a particular renovation may cost, including your time and money. You can easily find this info by doing your due diligence and checking prices on the internet. Once you have a categorized list, take a look and prioritize what is a real "must-have" and what is more of a dream. If you're unsure about how to add value to your home, talk to a Realtor like me to find out what sort of return those improvements may bring.
Tackle one space at a time
It can feel pretty overwhelming to do all the upgrades you want at the same time. Instead, harness the energy that comes from new ideas by making the commitment to tackle one room at a time. Whether it's a simple coat of paint or knocking down a wall, by focusing on one space you be able to keep projects achievable. By strategizing your timing, you will see your dreams take shape as you transform each room before moving on to the next.
Trends to Watch for 2021
After a year of spending more time at home due to the COVID-19 pandemic, many home buyers are looking for properties that include ways that fit their new realities. Open floor plans are out; dedicated spaces for remote work and learning are in. Yards are being transformed into entertainment spaces, and walls are being repainted. At the same time, increased demand and safety concerns can make the remodeling process much longer than before. The following project are worth the wait:
Creating Dedicated Spaces
Homeowners are spending less time knocking down walls to open up shared areas, and more time transforming spare rooms or nooks into dedicated spaces. That might mean adding a home office or home theater, for instance, or transforming a nook into a space for yoga or another type of self-care activity.
Making Room for a Home Office
Today's home buyers are looking for dedicated home office space. While working from home isn't new, COVID-19 has been the catalyst to make it widespread. People are using their home's extra space to market the sale because more people are looking to buy places with a home office ready to go. And it doesn't look like this trend will end anytime soon.


Popularity of Outdoor Living
One cure for that cooped-up feeling is outdoor living areas. Santa Barbara set the stage for this trend that has now taken off nationwide. In a nutshell, people want their backyards to be their own personal oasis. Outdoor kitchens and fire pits are a must. A beautiful outdoor view – whether natural or created -- also adds incentive to buy.

Don't concentrate on expanding your home's square footage. Instead, take advantage of our beautiful year-round Mediterranean weather and add to the best room in the house: your backyard. Adding an awning to a patio area or creating an outdoor living space like the picture above can be the best renovation when it comes time to sell.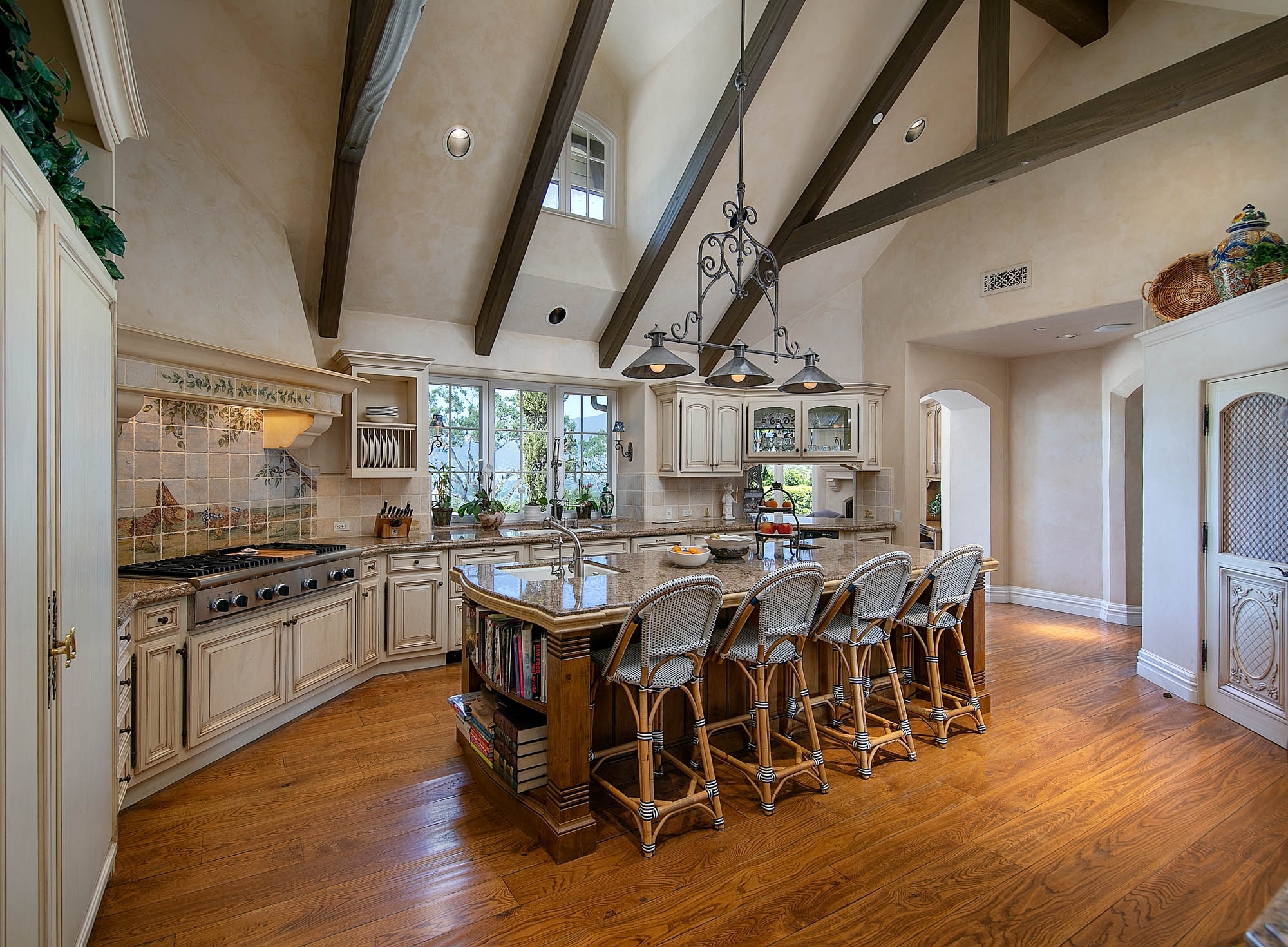 Kitchen Upgrades
It is not surprising that when it comes to how to add value to your home, the No. 1 upgrade with the greatest return on investment is the kitchen. Believe it or not, having a quality kitchen that hosts state-of-the-art appliances and other high-end accouterments can attract potential home buyers and clinch a sale. Think chef-Inspired kitchen. Here are the 5 amenities that must be included to make one, and add value to your home.
Refrigerator drawers
We've all been there: stirring a boiling pot when you realize you need to add something from the fridge. Refrigerated drawers in the kitchen island give you quick access to common ingredients. The essentials are an arm's length away.
Wine staging area
A mini wine fridge is a common amenity in luxury homes, even homes with wine cellars. This is both a time-saver and a great way to ensure your meal and wine pair well.
Stacked plate ware
Stacking dishes so they're easy to grab, like in a commercial kitchen, is another must-have for today's home chefs. Forget about the open shelving. Plating is an important final step in meal-prep.
Tasting counter
Think about it: chefs love good flow. A tasting counter, with ample counter space, and a breakfast bar with barstools like the image above, puts the chef at the center, where they should be. That way, guests can partake and sample the food while the chef creates his or her masterpiece.
Outdoor Extension
A substantial outdoor kitchen is a must here in sunny Montecito and Santa Barbara. But it isn't just about the grill. Consider adding a wok range, pizza oven, mini-fridge, sink, and ample counter space. That way, you can prep, cook, and plate a meal without having to step inside.
If a total kitchen renovation is not in the plans, here are some proven upgrades to refresh the heart of every home:
Mini remodel
Change the paint. It sounds simple, but it works.
Splash of color
Add a splash of color with a new backsplash. New tile is attractive.
Smart Appliances
Smart kitchen appliances are a hot ticket item for buyers.
Add green
Fresh plants and herbs can be the missing link in an already beautiful kitchen. Aesthetically, their vibrant colors are a welcomed accent, and having fresh ingredients handy makes any meal better.
Bathrooms
Bathroom remodels have an 85% return when it comes time to sell. Think clean and classic here. There are a few things to keep in mind when tackling the bathrooms in your house. They're no longer considered utilitarian space. Homeowners prefer a relaxed feel, like they're in a spa.

Forget the drop-sink. Homebuyers want the under-mount sinks. Go granite or marble with your countertops. Add warmth by nixing overhead lighting and installing wall mounts instead. Heated floors, a shower with body sprays and stone surround, and a freestanding soaking tub will attract buyers like bears to honey. If you're not selling right away, you can enjoy your upgraded bathrooms until the time comes to list.
If a full renovation is not in your future, swapping out the sink and bath hardware and re-grouting tile are good simple options.
French Doors
French doors can make any space feel more spacious and elegant. Replace windows in a family room, den or dining room with French doors that open onto an outside patio. What a difference!
Important Ways to Freshen Up
If you're truly interested in selling their property and considering how to add value to your home, you should appeal to the emotions of buyers. This insight can make a difference in how fast and for how much the property will sell. One way to achieve this is through freshening up your spaces. Here are the areas to focus on:
Create curb appeal
Buyers should be so impressed with the front of your home that they can't wait to get inside. When you consider curb appeal, make sure to pay attention to detail. Start by taking a digital photo and look at your home in black and white. The truth comes out when the color is removed. You'll actually be able to see the cracks in the walls and any other glaring flaws.

Your home must be prettier, cleaner and in better condition than your neighbors' abodes. It's easy. Just start with sweeping your driveway, walkway, and porch or entry of dirt and debris. Get rid of leggy bushes, wilted flowers, and broken tree limbs. Plant fresh flowers in your front garden or in containers at your entry. Power-wash the exterior and hand-wash your windows. Touch up paint around the windows, if needed. And don't forget your front door, the focal point of the front yard. It's amazing how a replacement door, or fresh coat of paint on the existing door, with new hardware, can refresh the overall vibe of your home.

Check this list of the top landscaping contractors in Santa Barbara. Your real estate agent can also share their preferred providers in the area.


Add New Paint
Think of it as a facelift for your house. A fresh coat of paint can change the appearance. Keep in mind, wood should be re-painted every three to seven years; stucco, five to six.


Anything eco-wise is a wise investment
The simple task of replacing appliances with low water, low-energy options can make a big difference in a real estate sale. Here's what I suggest you tackle since all are smart-money options: tank-less water heaters, front-loading washing machines, new insulation in the attic.


A tidy and clean house is a must
Home buyers love touring a bright and sparkly home. Keeping your home decluttered and clean can attract buyers like a magnet.

Making a clean house a priority and staying on top of maintenance issues can really pay off. By not allowing dirt and junk to build up over time, you will prevent things like mold that can spread unchecked. Besides, a clean house is healthier for you and your family.
Avoid These Renovations and Remodels
Not all renovations and remodels will help add a return on your investment when it comes time to sell. Some can actually hurt a sale. To streamline the process and set yourself up for success, avoid these mistakes:
Poorly Conceived Room Additions
One of the most common types of renovation that can destroy a home's value is a poorly conceived room addition. These questionable projects are usually done without a permit. So, begin by getting a permit from the City of Santa Barbara's Licenses & Permits department. Once that's done, you still need to avoid any construction that appears lobbed onto the side of an existing home without much thought.

Even though additions, or remodels, can offer high cost-value ratios, homesellers still may not recover the full cost of the addition. Still, it's a gamble that many homeowners make. Building an addition with the full knowledge that you'll sell the home within a year or two usually means losing money, unless you're in a particularly hot real estate market like we are right now in California.


Pools
When it comes to homes with pools, the saying is, "Everyone loves a pool, but not the maintenance." Besides being costly to build and maintain, pools present a safety hazard to families with small children. Under the right circumstances, however, a pool could boost your home's value by as much as 7%.

Here are the conditions that make adding a pool a wise investment:
You live in a higher-end neighborhood where most of your neighbors have pools.
You live in a warmer climate like Montecito where you can enjoy a pool year-round.
The pool doesn't take up your entire yard—there's still room for a swing set and a garden.
The style of the pool fits with your home and neighborhood, and it's well maintained.
Before you begin, make sure to check out this guide that breaks down all the costs associated with building a pool; from materials and maintenance, to additional features, and more.
Consider many other big-ticket, expensive luxury items, like Jacuzzis or heated floors in the bathroom. These things don't necessarily hurt, but you're simply not going to recoup the money you invest in them.


Room Conversions
As much as you might want a home office or gym, it's usually not a great idea to fully convert a bedroom or garage into a place for another use, especially if it involves a bedroom.

Here are two reasons why:
1) The number of bedrooms a home has is a feature that virtually all homebuyers consider when deciding whether to even look at a property. That means if your home has one less bedroom, or a converted garage, that could undermine initial buyer interest.
2) While the bedroom doesn't offer as much opportunity as the kitchen and the bathrooms do when it comes to renovations, there are some small things Montecito and Santa Barbara homeowners can do to make their bedroom more appealing to potential buyers.


Quirky Customizations
Experts say homeowners should decorate their home for living and re-decorate their home for selling. Most likely, the person who ends up buying your home will not have the same taste and style you do. So, when it comes time to sell your home, you must remove yourself and your history from the overall picture.

One of the most important things to remember when considering how to add value to your home is this: A homebuyer wants to be able to envision him or herself in your home, not wonder about you, your lifestyle and your family. So, when taking into account the do's and don'ts of home renovations, don't distract from the task at hand, which is to sell your home. Tone down those bright and cheery colors and save them for your next home. Instead, use softer, more neutral tones like creams and off-whites that can make spaces look lighter, airier and brighter. If your home is covered in brightly patterned wallpaper, you ought to give serious consideration to removing that as well. Potential buyers may be deterred by the paper knowing what a colossal nuisance it can be to remove it.


Wall to wall carpeting
If you walk into a home that hasn't been on the market for decades, you'll probably see a lot of wall-to-wall carpeting. This was common in the mid 20th century. Not only did carpeting help reduce heating bills, but it was also seen as physically comforting and less sterile.

Fast forward 50 years: a time when most buyers prefer gleaming hardwood floors and/or Spanish tile. Those floor coverings make a space feel less confined and give it a new, clean feeling. No matter how many times the carpet has been cleaned, there's something about stepping on someone else's carpet with your bare feet that turns off today's buyers.

These days, home buyers are looking for hardwood floors throughout. Even if they aren't in the best of shape, hardwood floors are much more appealing than wall-to-wall carpeting. That being said, if you're going to go through the trouble of replacing the flooring in your home, you might as well spring for a hard surface such as wood or tile rather than carpeting. If you can't rip out the wall to wall, at least have it professionally steam cleaned.
ALSO READ: Home Improvement: Repair, Remodel or Renovate
Considering how to add value to your home in Santa Barbara, Hope Ranch or Montecito? Now is a great time to go for it because inventory is sparce and mortgage rates are historically low. If your home is in good condition, it will sell quickly and for top dollar. I would be delighted to discuss home renovations, remodels and ideas to freshen up every room for maximum profit.
For now, take a look at my comprehensive website then call me at (805) 886-9378 or email me at Cristal@montecito-estate.com. If you're considering moving here, I'm happy to show you some amazing properties currently on the market, both on the MLS and listed privately.