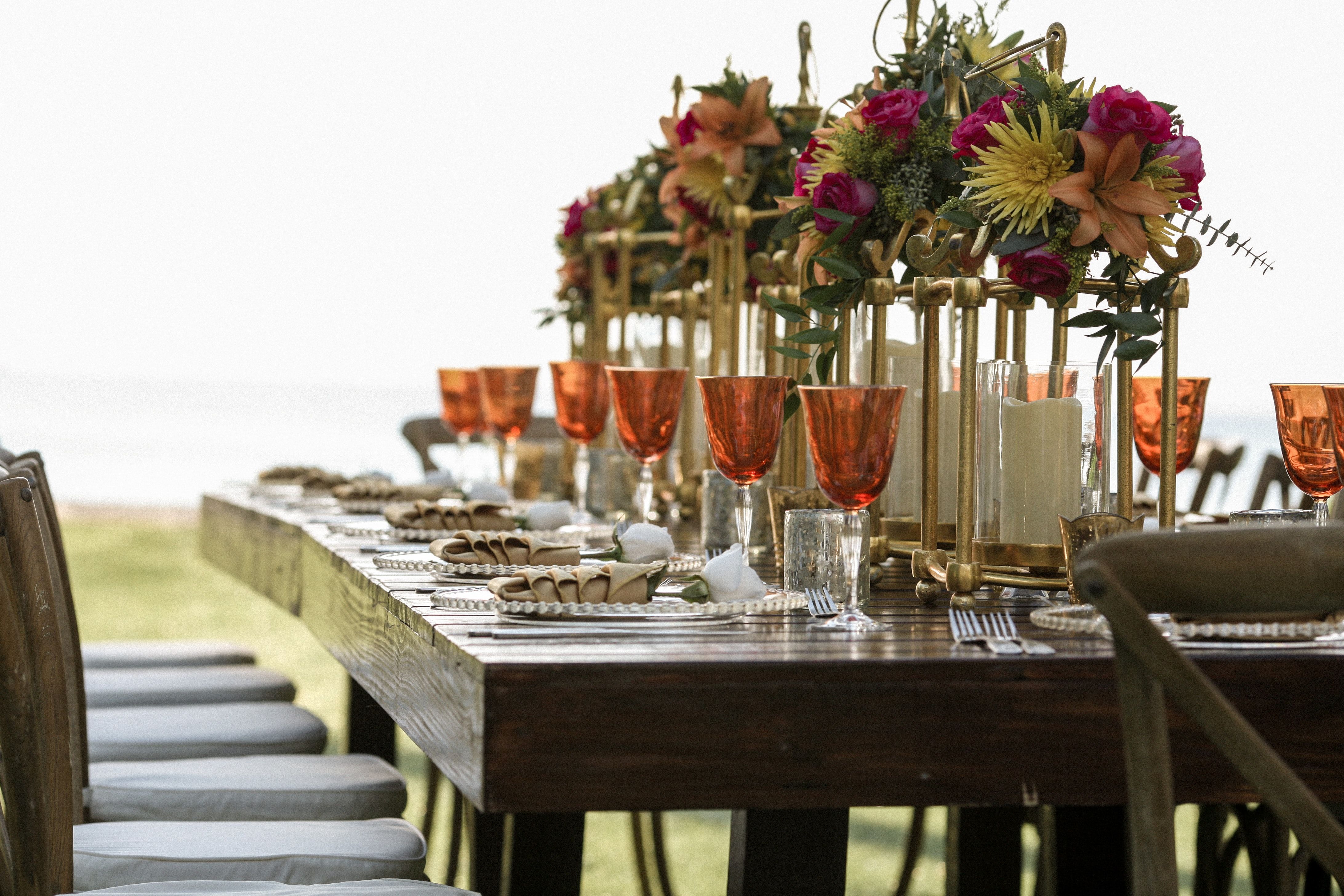 The Many Benefits of Dining Outdoors in Santa Barbara
Let's face it; food is a vital part of life. And enjoying a meal outside does more than just appease one's hunger. Outdoor dining illuminates all your senses. Some say it makes food taste fresher and, therefore, better. Others enjoy the view and the fun of eating outside with friends and family. Whatever your reason, we who are fortunate enough to call Santa Barbara home can dine alfresco year-round, thanks to our Mediterranean weather. But a meal under the sun or stars can be downright euphoric during the spring.
Whether you plan to visit your favorite outdoor restaurant or grill something delicious in your backyard, outdoor eating also has many incredible health benefits. Besides boosting your vitamin D level, a vital hormone that may protect against a range of diseases, such as osteoporosis, depression, heart attacks, and stroke, nature has a way of soothing you naturally. Studies show that eating outdoors can decrease stress hormones inside your mind and ease muscle tension. In addition, artificial light is linked with several harmful diseases, from obesity to diabetes, which is not the case when you dine in natural light. Enjoying a meal outdoors can help you improve your sleep quality, too.
Outdoor Dining Options in Santa Barbara
Some of my favorite local establishments that offer outside dining include:
The Boathouse at Hendry's Beach
With panoramic ocean views and a heated outdoor patio, this upscale seafood and brunch spot on the beach is one of Santa Barbara's go-to spots for seafood. Open for breakfast, lunch, and dinner.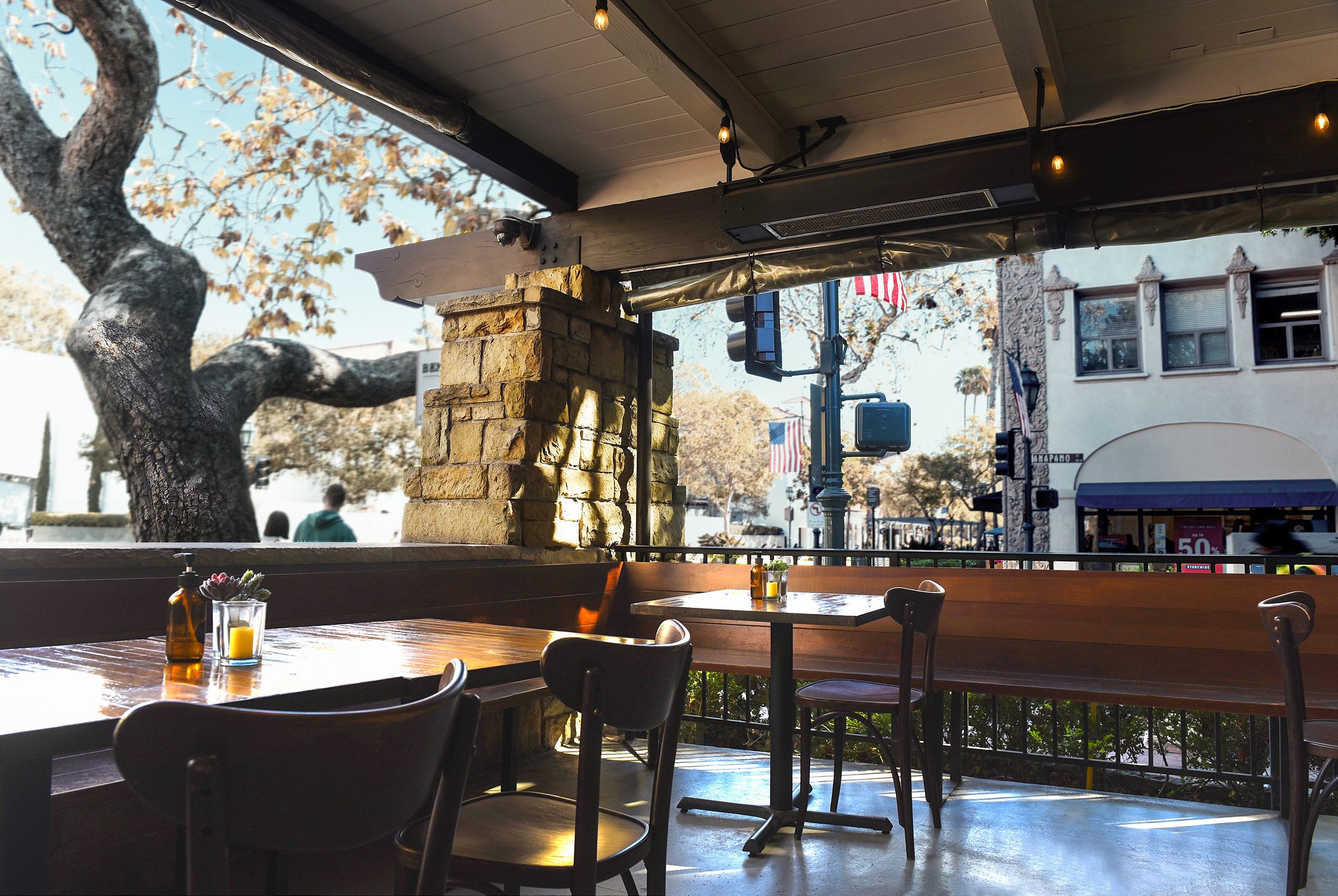 Benchmark Eatery
This neighborhood kitchen and bar is centrally located in the heart of downtown Santa Barbara, across from the Museum and Granada Theater. Enjoy the Crispy Brussel Sprouts (my fave), the homemade soups, salads, burgers, and sandwiches.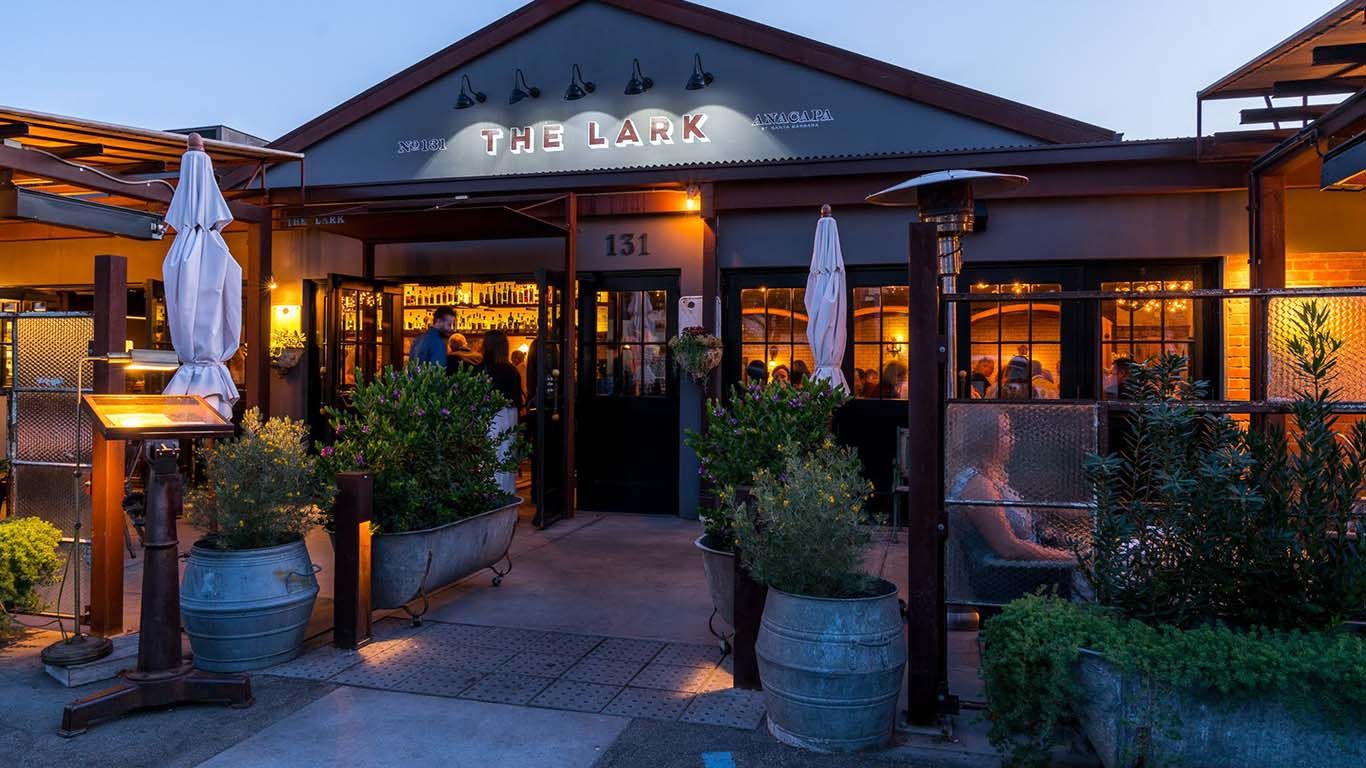 The Lark
Named for an overnight Pullman train, The Lark sits squarely in Santa Barbara's trendy Funk Zone. There are booths and tables (including a communal one), and the interior hints at rustic train car elements. The menus here are filled with locally sourced and responsibly grown delights, using the highest quality seasonal ingredients based on the abundant bounty of the Central Coast.
Mizza
If you're in the mood for Italian, this is a great place to dine! Mizza makes its pizza dough and pasta fresh daily and topped with the freshest, locally sourced produce. The restaurant smokes chicken and salmon and only uses free-range chicken, sustainably farmed fish, and USDA Choice Harris Ranch beef. All their sauces and dressings are made from scratch. Yum!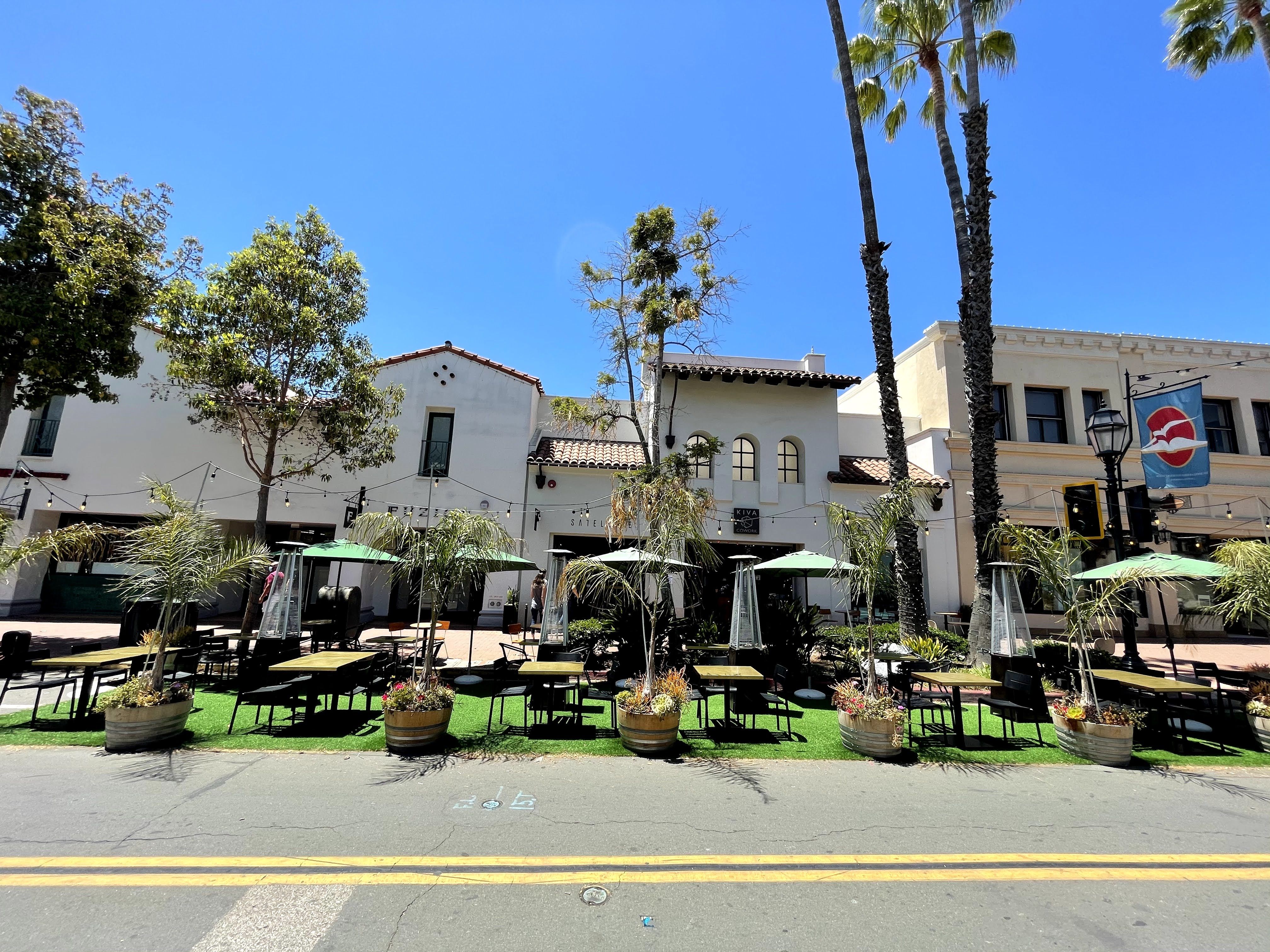 Satellite Santa Barbara
This breezy farmers-market restaurant, natural wine bar, and bottle shop is in the middle of Santa Barbara's Arts District. The delicious farmers market menu features Santa Barbara's best farmers, with a seasonal selection of farm-fresh vegetarian, vegan, and gluten-free options for lunch, dinner, and everything in between. You'll also find a global selection of wine featuring small winegrowers from Santa Barbara and beyond.
Longboard's Grill
From its prime perch on the second floor of Stearns Wharf, this family-friendly eatery offers unparalleled views of the Pacific Ocean, the Channel Islands, and one of California's most picturesque coastlines, with the Santa Ynez Mountains in the background.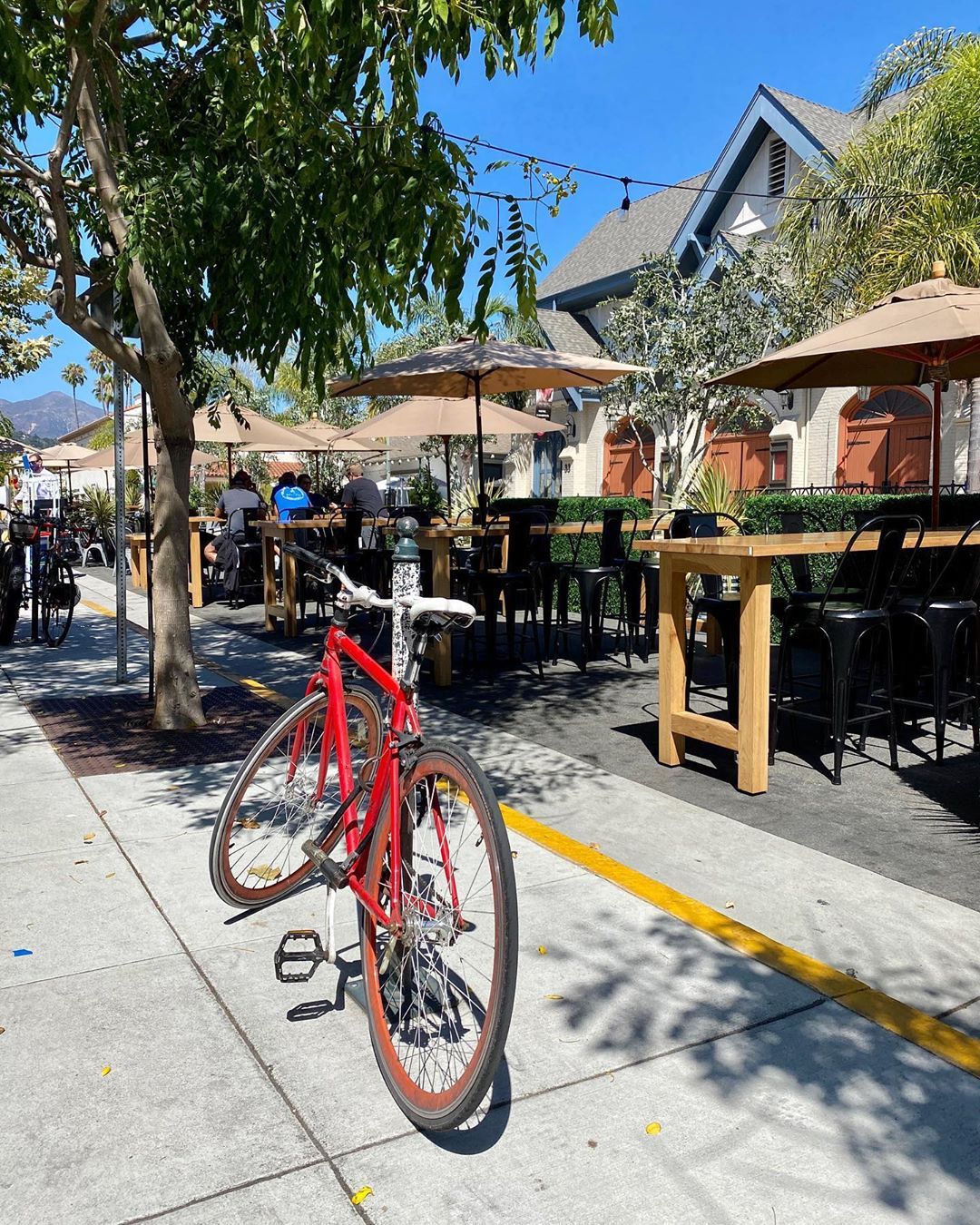 SB Public Market
This wondrous place is known as Santa Barbara's premiere food hall, featuring the best in local food and drink. So, grab a seat on the outside patio, and dine on your favorites from any of the amazing restaurants in the Public Market.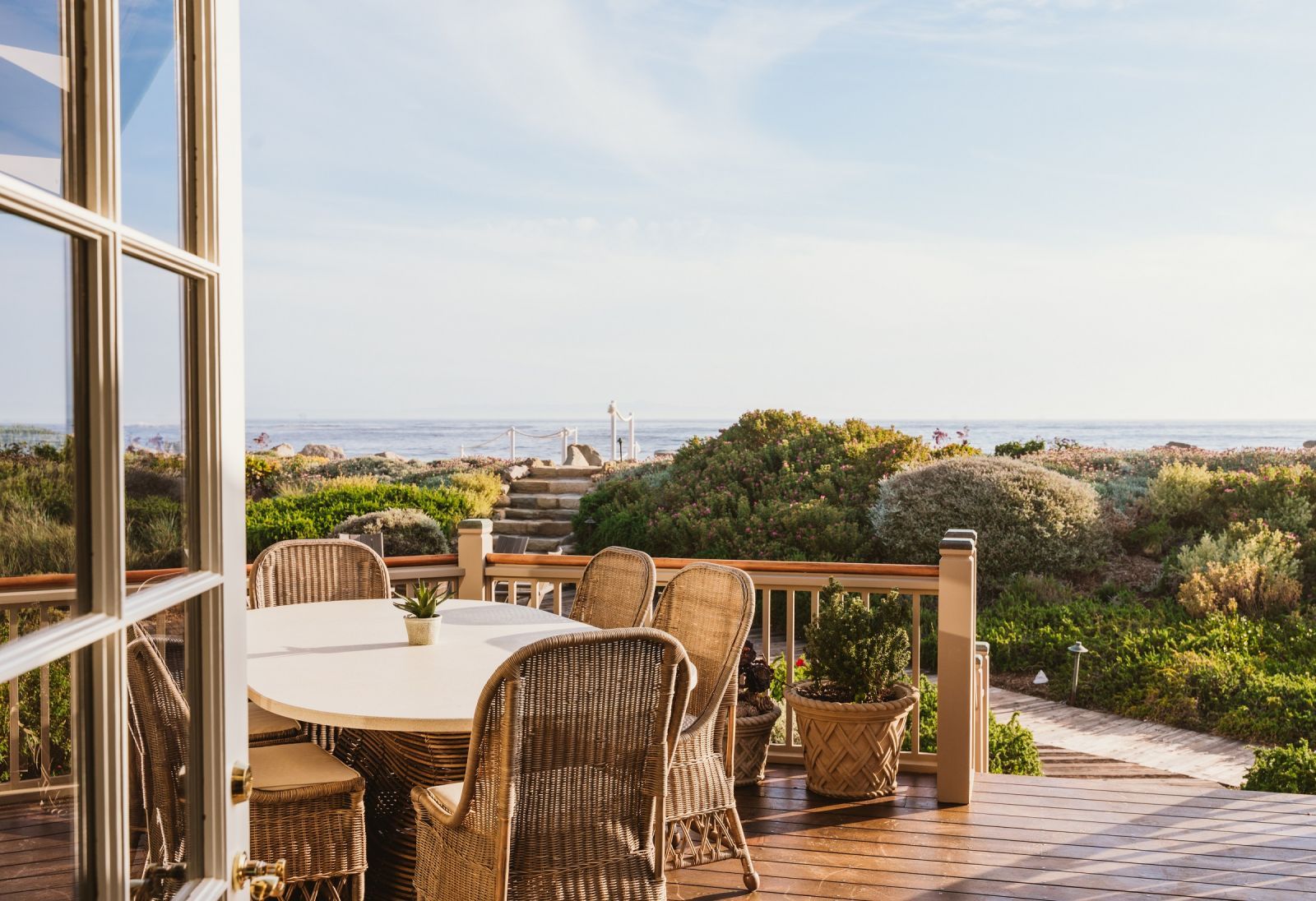 Outdoor Dining in Your Own Backyard
Every Tuesday, the 600 and 700 blocks of State Street are transformed into the Santa Barbara Certified Farmers Market. There you'll find approximately 50 regional farmers and artisanal purveyors encouraging residents to bring home the freshest of the fresh for a feast in their backyard. Beautiful outside space is one of the things homebuyers are looking for today, especially in our sunny communities. So if you are thinking of remodeling the outdoor area of your home, here are some things you'll want to keep in mind:
The Grill
What size grill do you need? Just think about how often you entertain and how many guests attend outside soirées at your home. For most people, a 30″-36″ grill is a perfect size, accommodating anywhere between 2 to 20 guests. I just read an article in Forbes Magazine about the Rolls Royce of BBQ Grills, Kalamazoo Outdoor Gourmet grills with a unique Hybrid Fire Grilling System featuring traditional gas, wood, or coal grill choices.
The Materials
I recommend you stick to natural stone because that look is durable and will last the longest. Think bluestone, limestone, or granite for your countertops—definitely, seal countertops using a silicon-based impregnating sealer.
The access doors
Since gas shut-off valves are typically placed below the grill, you'll need to build access doors. You can also hook the grill up to the gas service on your house.
What else do you want to add?
Side burners, sinks, refrigerators, storage doors, lights, a strategically placed GCFI (outdoor power outlet), and perhaps a rotisserie. Just think of everything you need inside, and make sure the same items are found outside!
Where to build your outdoor kitchen
Make sure you build your outdoor kitchen close to your indoor kitchen. That way, you can efficiently utilize your indoor space for food prep.
---

Outdoor dining options are plentiful in my portfolio of fine homes in the area, where fantastic outdoor dining options are already built in. See one you like? I'll happily arrange a tour for you. Just give me a call at (805) 886-9378 or email me at Cristal@montecito-estate.com. Meanwhile, enjoy the great outdoors!
---
More resources: