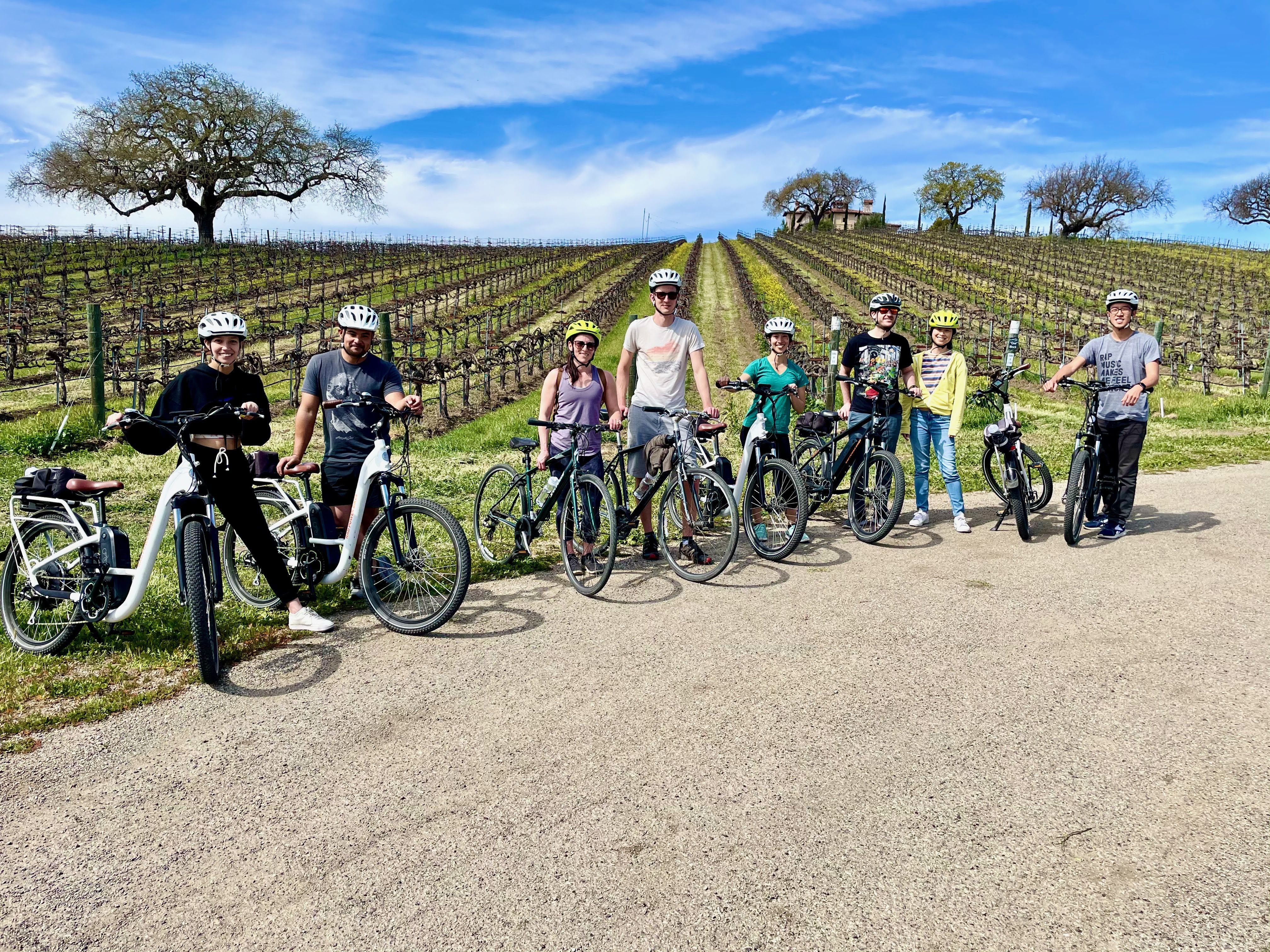 Santa Barbara communities are among the most bike-friendly in the country. So much so, that the town of Santa Barbara has received a Silver-level Bicycle Friendly Community (BFC) award from the League of American Bicyclists. The award is the culmination of years of work by the city and its citizen advocates in the movement toward making our community healthier, more sustainable, and connected. As such, E-bike tours here run the gamut. You can stick to Santa Barbara central or head out to wine country. Your choice. Here are some of the Santa Barbara electric bike tour companies to choose from:
Cal Coast Adventures invites you to travel through our fine city with private and group tours. Called the City Electric Bike Tours, you will be entranced at the ease of riding an e-bike while peddling along the best bike routes, passing historical landmarks and epic viewpoints. Whet your appetite for this adventure by watching this video.
I Bike Santa Barbara Wine Tours offers a full day of fun featuring a 6-mile guided loop through the vineyards, farms, and towns of the Santa Ynez Valley. Tours include transportation to and from wine country in brand new high-top shuttle vans, a bike and helmet, a knowledgeable guide, olive oil tasting, two wine tastings, and a farmer's market picnic lunch. Check out this video for a sneak peek.
Or, explore our bike-friendly town on your own by renting an E-bike through Santa Barbara Bikes to Go. All bikes come with locks, helmets, maps, and baskets. Besides e-bikes, Wheels of Fun Rentals, located a block from the iconic beach-front Cabrillo Boulevard, Stearns Wharf, and West Beach, has E-Trikes to rent.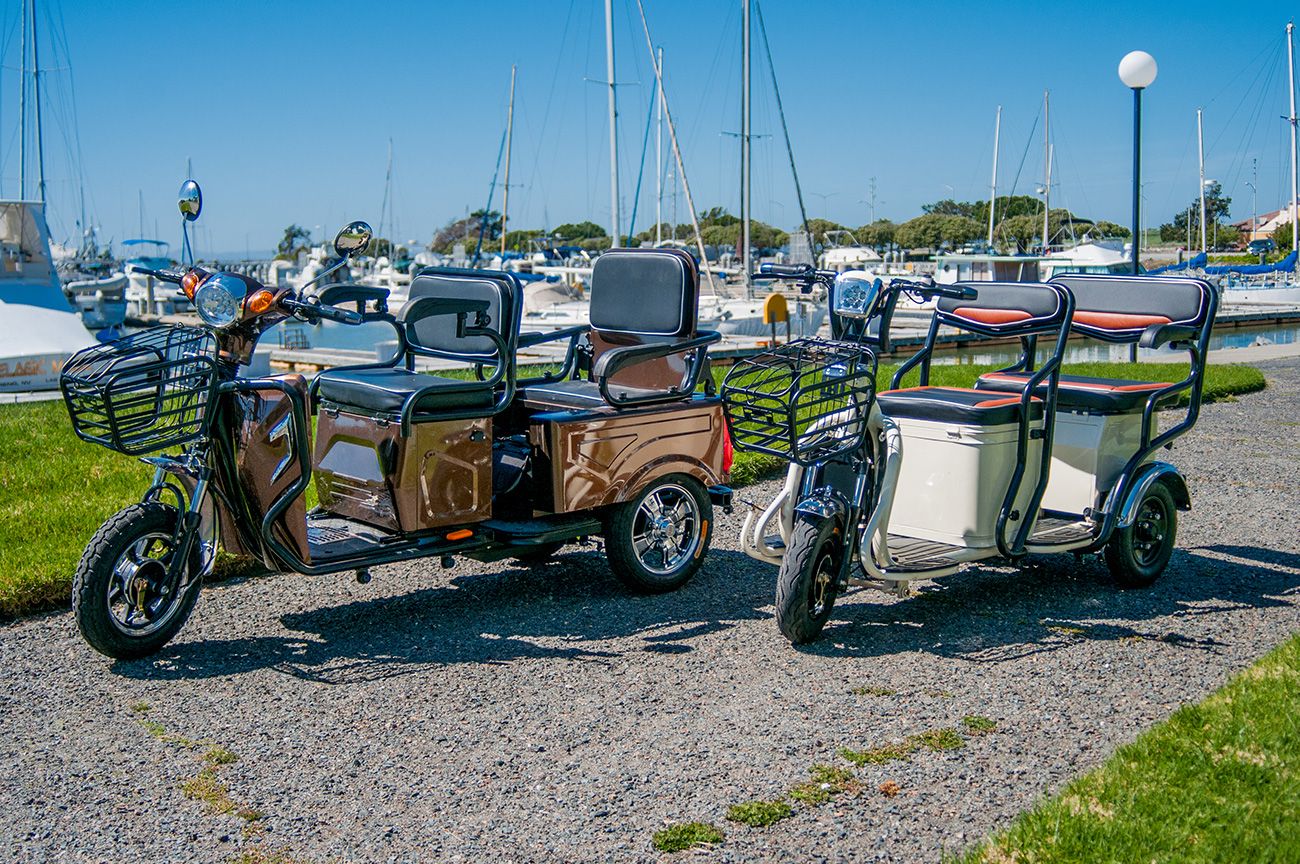 Here are 5-reasons behind the current e-bike craze:
Open to Everyone
E-bikes are easy, accommodating riders of all abilities and leveling the field on a group tour. Everyone in the group can match the pace of skilled riders, resulting in a much more enjoyable experience. When you tire of pedaling, just kick back and allow the bike's lithium-ion or lead-acid battery to kick in and keep you going.
Still an Excellent Workout
Although e-bikes do some of the hard work for you, it is still possible to get a great workout on one. While riders have the option to pedal physically, they also have the power to turn on the electric motor which will pick up the slack whenever they need it. As a result, you won't tire as easily or quickly.
The Miles Just Fly By
You won't be exhausted riding an e-bike. No need to skip those epic views or bypass any nature trails. Instead, riding an e-bike will give you the energy to keep going and seeing more than ever. Plus, ascending mountains or hills is a breeze with a bit of batter power behind you.
E-bikes are Green
The combination of electric and human power makes e-bikes better for the environment than traditional travel methods. Unlike cars, buses, and trains, e-bikes don't produce carbon dioxide, methane, and nitrous oxide—all of which can wreak havoc on the pristine land and marine ecosystems we love in Santa Barbara. E-bikes do require battery charging but they only use a minimal amount of electricity. Plus, charging one using solar power means your ride will be 100% environmentally friendly.
E-bikes Equal Fun
The most important thing about riding an e-bike is all the fun experiences you'll enjoy. They allow anyone to discover natural wonders and historic landscapes easily and can take you to places that vehicles can't—including a growing number of national parks that allow electric bicycles. In addition, through e-bike touring, you'll connect with nature and your community, all while helping to reduce your travel environmental footprint.
---
A Santa Barbara electric bike tour is just one way to open up a world of possibilities when exploring Santa Barbara County. If you want to explore the real estate market here and move to any upscale Santa Barbara communities, please call me at (805) 886-9378 or email me at Cristal@montecito-estate.com. With more than $277,000,000 in sales already in 2022, I put my contacts and knowledge to work on your behalf, beginning with a complimentary consultation for your property.
---

More resources: