MY ROOM BY ROOM GUIDE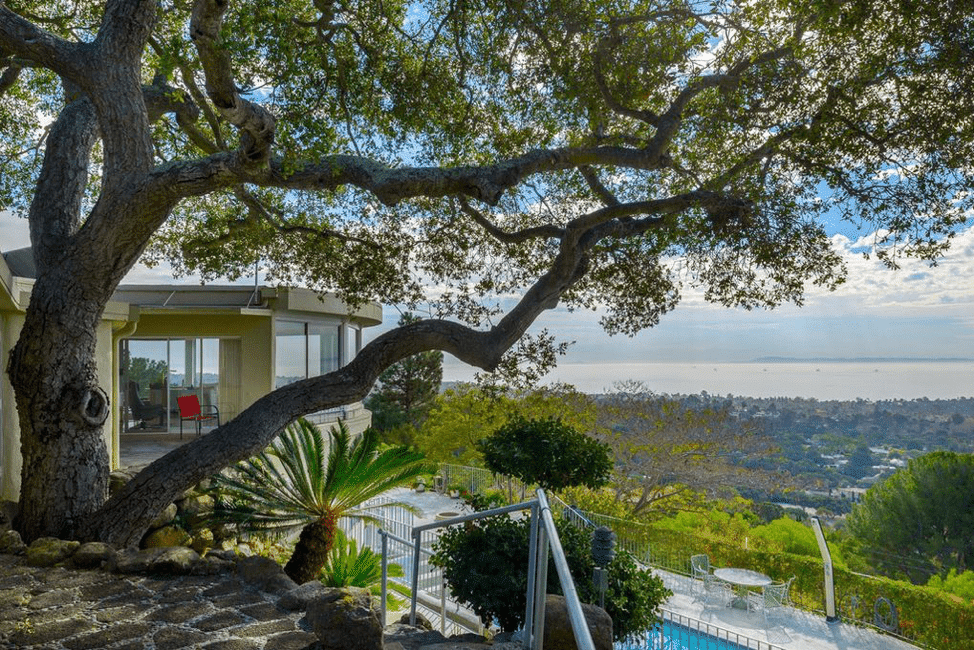 There are so many stunning Mid-century modern homes here in Santa Barbara. In fact, I sold six beauties in 2018 alone. One of my recent mid-century listings is pictured here, a Notable Architect's Mid-century modern on E. Mountain Drive.
Born after World War II, this exceptionally popular architectural style is characterized by flat planes, large glass windows, and open space. Most Santa Barbara County Mid-century modern homes for sale, including the ones featured in this blog, were built between 1945 and the 1980s, with designs centered on simplicity and, most importantly for Santa Barbara, integration with nature.
Since its beginnings in the 1940s, the look has become fairly standardized and recognizable. It's a style well-known for its space-age lighting, streamlined walnut and teak furniture, bright color palettes, geometric tile, and avant-garde artwork. The popular style is now considered a timeless classic, with its bold color and pattern maximalism trending big-time.
Here's my how-to guide to achieve the Mid-century modern look in every room of your house: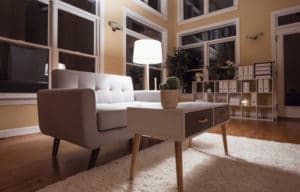 Mid-century modern Style in the Living Room
According to the latest Google home trends report, 1950s living rooms have seen a 5,000% increase in search versus the same time period last spring. To create the look in your living room, don't be afraid to mix materials, and embrace quirky architectural details. For a blatantly retro note, add some atomic age motifs, geometric patterns or trippy florals to your design scheme. Whatever you decide, stick to a cohesive color palette so you complement instead of overshadowing your space. Track down statement mid-century lighting or complete the look with natural light streaming in.


Mid-century modern Style in the Bedroom
Mid-century modern design is casual, simple, and unpretentious, like the bed here. You probably already picked up that this design style is based on the belief that form follows function and design should bring comfort and practicality. Decorating your mid-century bedroom gives you the chance to play with accents, like rugs or pillows that offer additional retro style and a subtle pop of color that ties all the elements together.


Mid-century modern Style in the Bathroom
As it is with most rooms in many of today's "reborn" Mid-century homes, the bathroom frequently remains only the essence of its original self. As the photo above shows, what remains is a nod to one of the era's popular color schemes. Beyond that, architectural features and utilitarian accouterments lean toward Modernism. In fact, a color Mid-century bathrooms contained merely as accents – gray – is now freely used as a major player. We're seeing some bathrooms in these homes having the bright or pastel colors popular mid-century now being eliminated altogether in favor of dramatic gray and white.

Another element remaining post-makeover is clean lines. Often, this emphasis on geometric precision, combined with a gray and white color palette results in a sort of paradox: soothing rather than startling. Indeed, the materials or elements you choose for your bathroom should create a serene environment.


Mid-century modern Style in the Kitchen
The kitchen is another space where Mid-century modern design really stands out. Its timeless design and endless resonance across generations make it a standout among all other design styles. Think natural light, clean lines, and high-end touches. Bring together your retro-inspired look with ultramodern circular globe-shapes and bursts of color like illustrated here with bright red. Transport your 1950s kitchen with elements of 21st-century style thrown in for good measure. For example, this retro-style pop-up toaster has extra-wide slots fit everything from bagels to slices of bread. It also has reheat and defrost functions as well as a dial that you control.


Mid-century modern Style in the Dining Room
The Mid-century modern style of the 1950s can be easily created with the use of natural or even reclaimed wooden elements. To make the combination between nature and luxury work, its best to choose your dining room furniture carefully because this is the room where the chic choice shines its brightest. It's where the best-of-the-best aspects of the style come together in one space, marked by strong lines, atomic-inspired accents, vintage dining chairs, and accompanying innovative artwork. To carry out the look in your own dining room, start with a table in walnut or teak as shown here. It pairs perfectly with an Eames Chair and mod lighting overhead.
Where to Shop for Mid-century modern Decor:
Now that you're inspired to start your Mid-century modern decor collection, it's time to get shopping. You can choose to purchase new pieces, commit to solely vintage items, or display a mix of both in your home. Here are my favorite destinations for mid-century furniture, lighting, and decor.
Article: Simple. Classy. Fair pricing on must-have items.
Joybird: Warning: Upon visiting this online retailer, you might think that you've gone back in time. Every piece is handcrafted with beautiful attention to detail.
Charish: The leading online marketplace for design lovers to buy and sell chic vintage decor, furniture, and art. Charish is America's largest and fastest growing marketplace dedicated to home decorating and design.
1stDibs: And if antique treasures and vintage gems are more your jam, this is the place to be.
Craigslist: Last, but not least, if you're looking for a real vintage steal you just can't beat Craigslist.
---
If you are considering selling your Mid-century modern home in Santa Barbara, give me a call at +1 (805) 886-9378 or email me at Cristal@montecito-estate.com. I'll happily add your home to my portfolio of fine properties and find you the perfect place to call home at the same time. Once you move in, I'd be happy to help you carry the mid-century theme throughout your home using my room by room guide.
---