9 ARCHITECTURAL ELEMENTS OF THE EXCEPTIONAL DESIGN STYLE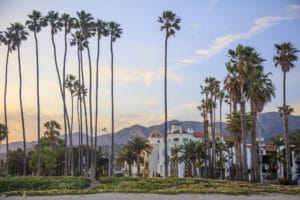 Searching for a Spanish Colonial Revival estate in Montecito? I don't blame you. These homes are unique and well-constructed, with lots of character and charm; born as a result of the Panama-California Exposition. Spanish Revival became a U.S. style movement from 1915 to 1931.
READ: Santa Barbara: Oasis of Arts and Culture
This hybrid style is based on the architecture found during the early Spanish colonization of North and South Americas. It started in California and Florida due to the fact that both states offer the ideal climate for Mediterranean-inspired homes. While new features have been added to classic ones, there are 9 exterior elements that define this style:
Curves and arches
Think graceful archways to the front door and throughout the home.
White stucco exterior and walls
Fresh white paint covers roughly textured stucco: a hand-applied mix of cement, water and sand or lime. The result is an aged-looking Old World surface.
Painted tile
Another unique feature of Spanish Revival architecture is painted tile. You can find a beautiful selection on Etsy.
Terracotta roof tiles
Red clay rooftops give the homes of this genre a warm, earthy, rustic look. Often the roof lines are multi-level, adding interest and asymmetry.
Tower-like chimneys
No detail is too small. While many chimneys are functional, all are given special treatment with moldings and little windows.
Balconies
Perfectly designed balconies created so that you can step out from your room to enjoy fresh air and views.
Ornamental ironwork.
I can't get enough of the style's finely crafted wrought ironwork that graces stair railings, gates, windows, and lanterns.
Courtyards and patios
The mild climate of the Mediterranean encourages outdoor living, so the Spanish created lots of spaces to enjoy outside. The patios often had fireplaces which allowed you to linger outside late into the night.
Arcades
A series of arches supported by columns is called an arcade. This is an old architectural feature which originated in Rome. In the Mediterranean, the arcades sheltered walkways in town squares.
If you are home-hunting in Montecito and drawn to Spanish Colonial Revival estates, then I have a couple of listings for you to consider.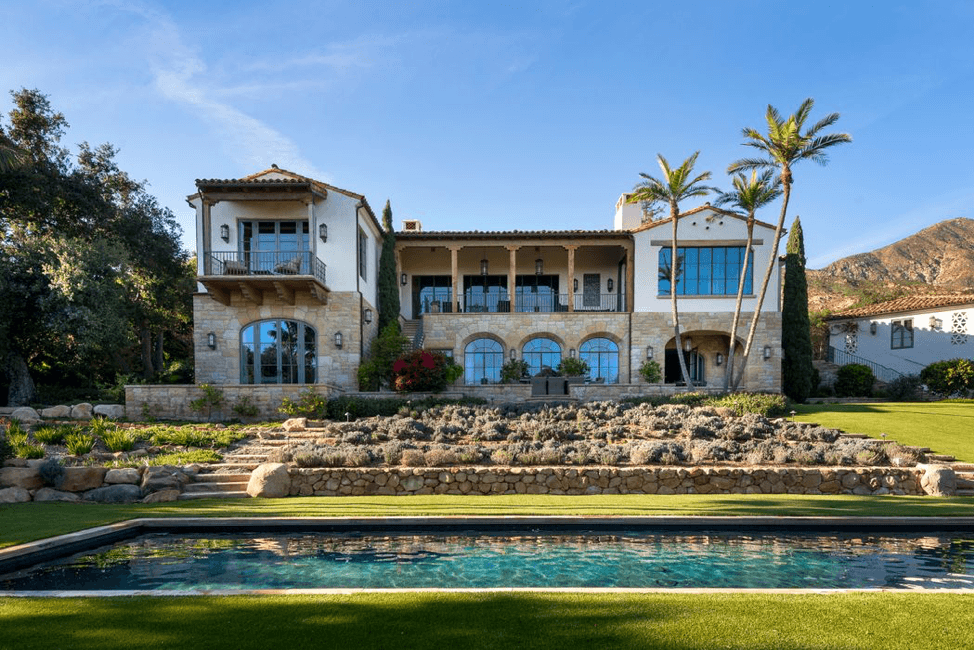 First up, a Don Nulty-Designed Spanish Masterpiece that rests on approximately two Montecito acres in the affluent community's coveted "Golden Quadrangle." The four-bedroom, six-bathroom beauty is perched in the foothills, just minutes from the charming Upper Village, schools, services, and pristine beaches. This estate's bones are born of exceptional materials. You'll swoon over the custom cabinetry and stonework which includes native sandstone unearthed and cut right there on the property. This lovely stone is found throughout the home, including in its four wood-burning fireplaces. The roof is made from one hundred-fifty-year-old tile imported from Colombia. There are Saltillo and Moroccan tiles throughout, along with antique wood beams and light fixtures.
Amazing Views
This is a very private estate surrounded by mature trees. Beyond the trees, the new owners will enjoy stunning ocean, island and mountain vistas. They will also appreciate the expanse of custom wood and bronze multi-pane windows and French doors found throughout that allow a near-seamless flow of interior and exterior pleasures from every room.
Culinary Center
The home's culinary center is second to none, with Shaker-style cabinetry, Verde oasis marble countertops, and a versatile center island capped with beautifully-finished teak. Those accouterments are complemented by a hand-crafted, wide-plank wood floor and a barrel-vaulted beamed ceiling.
Top of the Line Security
If privacy and safety are important, this home has it via its top-of-the-line security system, dual electric gates, grounds lighting, a full-house-power generator, and state-of-the-art firefighting, fire prevention, and fire-safe storage. A Crestron smart home system is used to control most of the systems, including the gates, HVAC, audio and visual, security and the pool.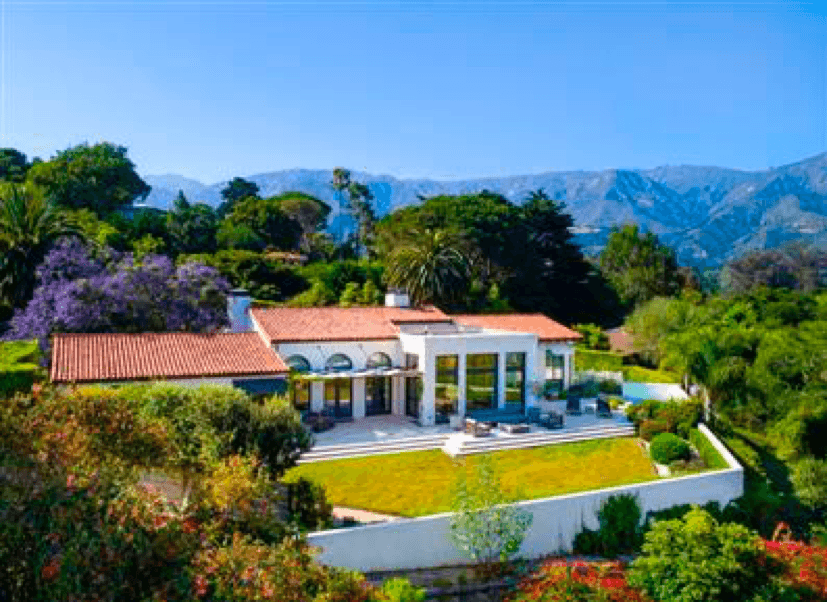 Or how about living the luxury life in A Montecito Mediterranean Reimagined? Perched on a knoll adjacent to Montecito's grandest historic estates and the majestic Lotusland, this property is a modern masterpiece.
READ: Lotusland: One of the World's 10 Best Gardens
This single-story 3 bedroom, 2½ bathroom home combines the romance and grace of Montecito's traditional Spanish style with the easy elegance of the finest contemporary materials and fixtures. Situated behind massive Spanish-Colonial gates and framed by majestic trees, the residence hosts a bevy of comforts and convivence along with sweeping views from the Channel Islands to Montecito Peak. Situated on lush landscaping for the best of relaxed, resort living.
Newly Renovated
The home's high-ceilinged, open-plan living areas have recently undergone a renovation that features whole-house water purification; filtered fresh air circulation; upgraded electric panel and back-up generator; energy-efficient water heater; Moroccan and Italian wall tiles; Miele kitchen appliances with gray-washed contemporary cabinetry, quartz backsplashes and sealed concrete countertops; marble-topped island and separate butler's pantry; utility room with wine refrigerator; new Dornbracht, Kohler and Toto bath fixtures; and contemporary bath cabinetry and lighting. The master dressing room has been transformed with Italian fittings and its own washer and dryer. Large storage closets were added to the spacious 2-car garage.
Outdoor Luxury
Drought-tolerant landscaping is complemented by lemon, lime, apple and avocado trees; all on an easily monitored drip system. A shaded pergola with sea views extends the living room out to an expansive limestone terrace, which includes a low-chlorine spa-plunge pool.
---
Our Spanish Colonial Revival architecture is another reason to live in Montecito and Santa Barbara. You will find it everywhere around town and if you're lucky enough, you can even live in one of these beauties. If you're considering buying or selling a home here, call me at +1 (805) 886-9378 or email me at Cristal@montecito-estate.com. I look forward to putting my knowledge, contacts, and energy towards finding your perfect home sweet home.
---