The Allure of Spanish Colonial Revival Architecture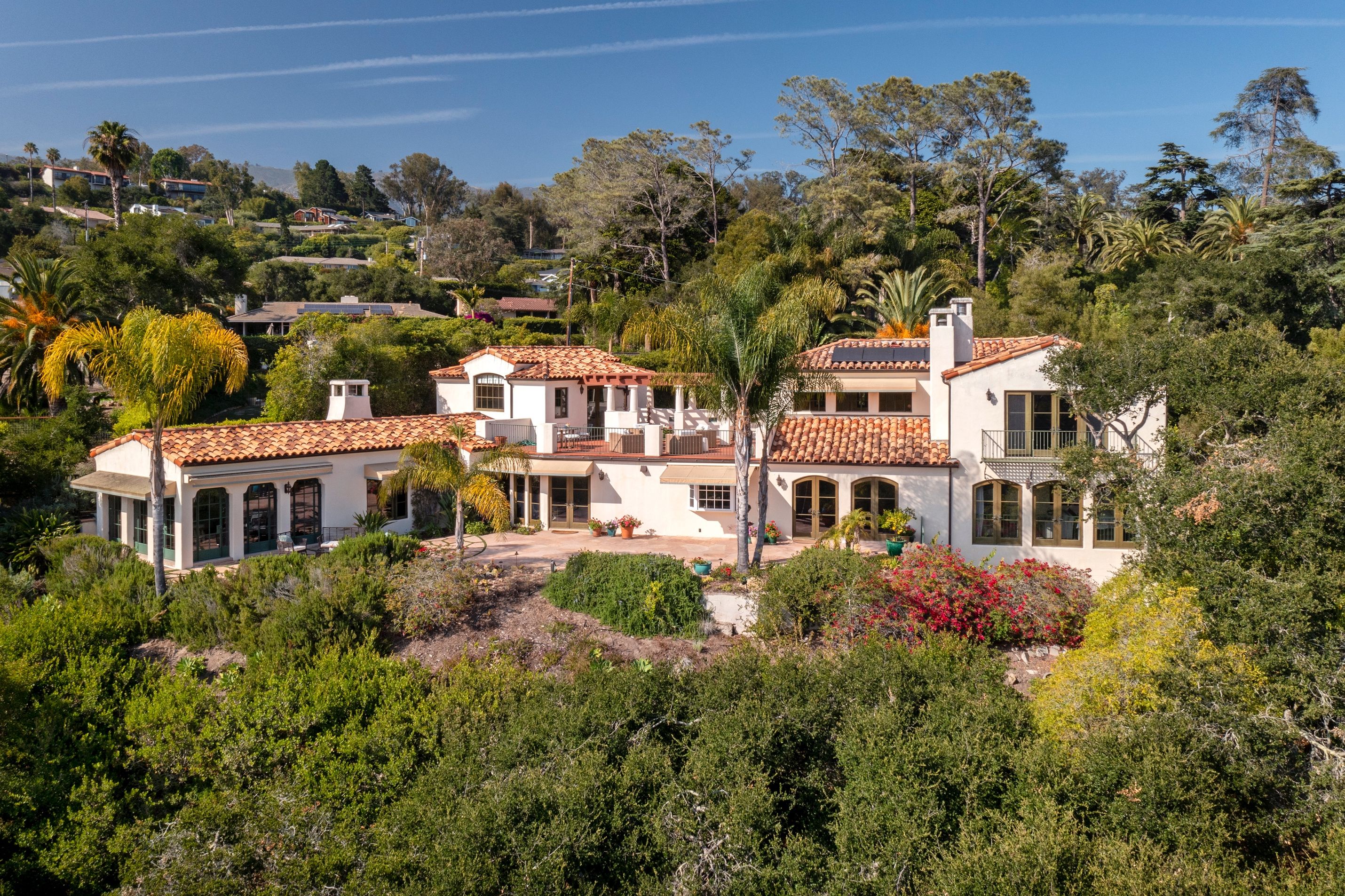 Although some elements have changed over the centuries, today's Spanish Colonial Revival homes have retained many of the traditional elements and features as they did when the movement first arrived in California and became popular from 1915 to 1931. As illustrated in the images throughout this blog post, besides being unique and well-constructed, these homes feature lots of character and charm.

The History
Today, this classic architectural style can be found throughout California, as well as Florida, Arizona and New Mexico. Although Spanish Colonial homes have an even longer history in Spain and Mexico, they first appeared in North America between the 1600s and mid-1800s, when Spanish settlers arrived and began building their homesteads.

Because Spanish settlers arriving in North America chose locations with climates similar to Spain, they were able to use their style of traditional home building with the local resources available, like adobe with a stucco finish for interior and exterior walls, and clay for roof tiles. A key element to the Spanish Colonial style is the fact that the home lends itself to the surrounding environment.
Although the Spanish Colonial period in America ended in the mid-1800s, the architectural style remained popular in residential design as well as commercial and public buildings such as the Santa Barbara County Courthouse and Arlington Theatre. Later, in the 1900s, Spanish Colonial style was swept up in the Colonial Revival and homebuilders chose to build with adobe and clay.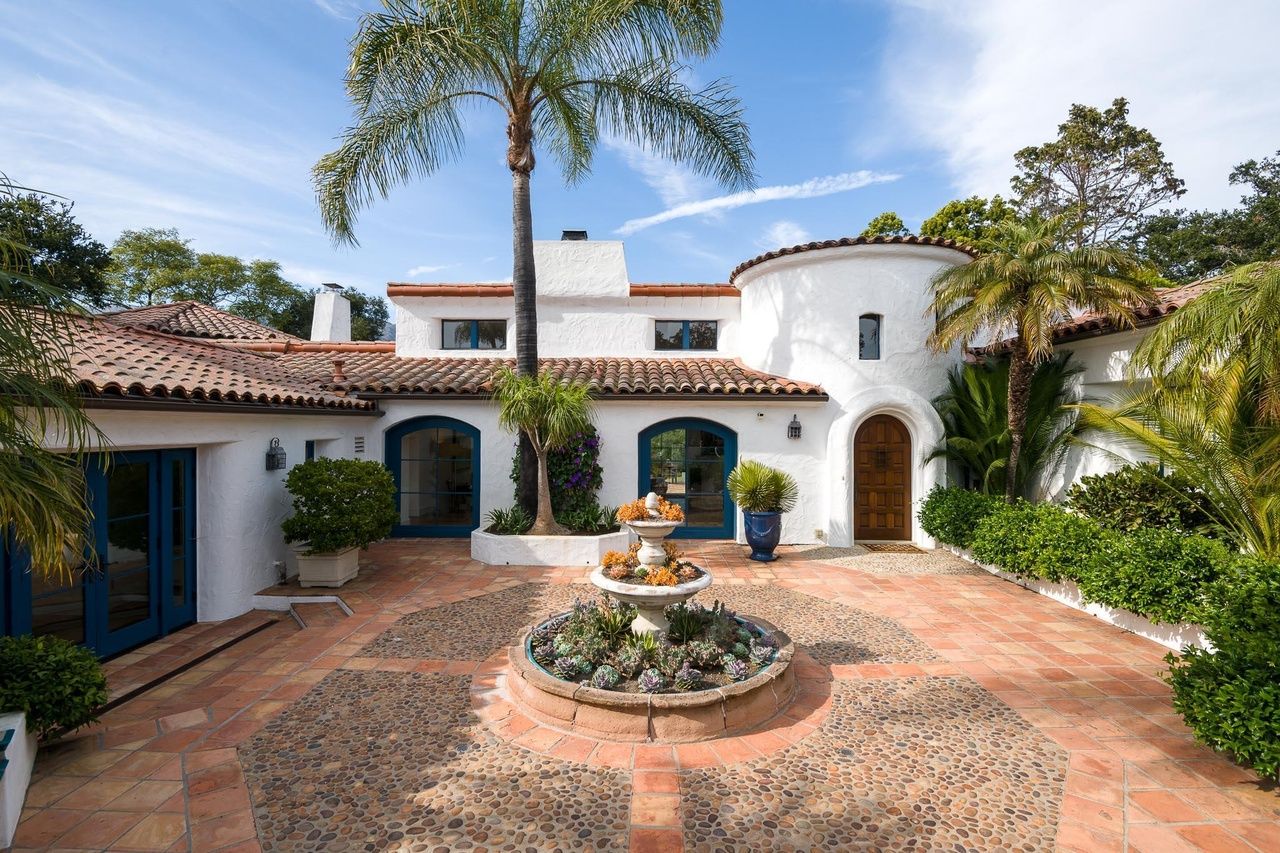 The Classic Exterior Elements
While new features have been added to classic ones, here are the 9 exterior elements that define this style:

1) Curves and arches
Think graceful archways to the front door and throughout the home.

2) Thick white stucco exterior and walls
Fresh white paint covers roughly textured stucco: a hand-applied mix of cement, water and sand or lime. The result is an aged-looking Old World surface. During the day, the thick walls can retain cool air; at night, when the temperature drops, they slowly release warmth absorbed from the sun into the home. Stucco is typically used because it was the finish available to Spanish settlers.

3) Painted tile
Another unique feature of Spanish Revival architecture is painted tile. You can find a beautiful selection on Etsy.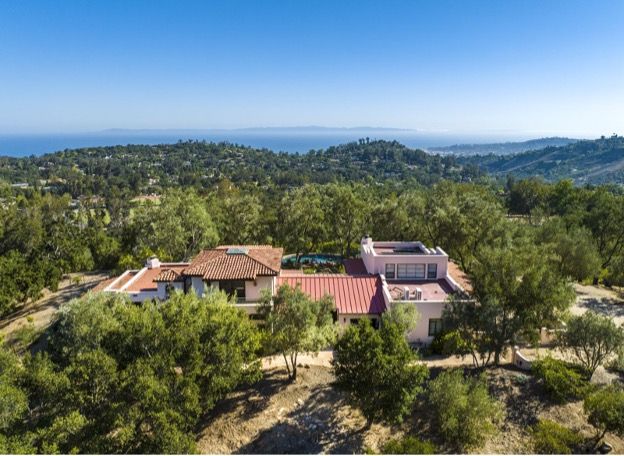 4) Terracotta red clay roof tiles
One of the most distinguishing characteristics of Spanish Colonial style is the low-pitched roof made with red, clay tiles. In some regions, Spanish Colonial roofs are completely flat, while others are slightly pitched—but all use the same distinctive tile. Red clay rooftops give the homes of this genre a warm, earthy, rustic look. Often the roof lines are multi-level, adding interest and asymmetry.

5) Tower-like chimneys
No detail is too small. While many chimneys are functional, all are given special treatment with moldings and little windows.

6) Balconies
Perfectly designed balconies created so that you can step out from your room to enjoy fresh air and views.

7) Ornamental ironwork
I can't get enough of the style's finely crafted wrought ironwork that graces stair railings, gates, windows, and lanterns.

8) Courtyards and patios
The mild climate of the Mediterranean encourages outdoor living, so the Spanish created lots of spaces to enjoy outside. The patios often had fireplaces which allowed you to linger outside late into the night.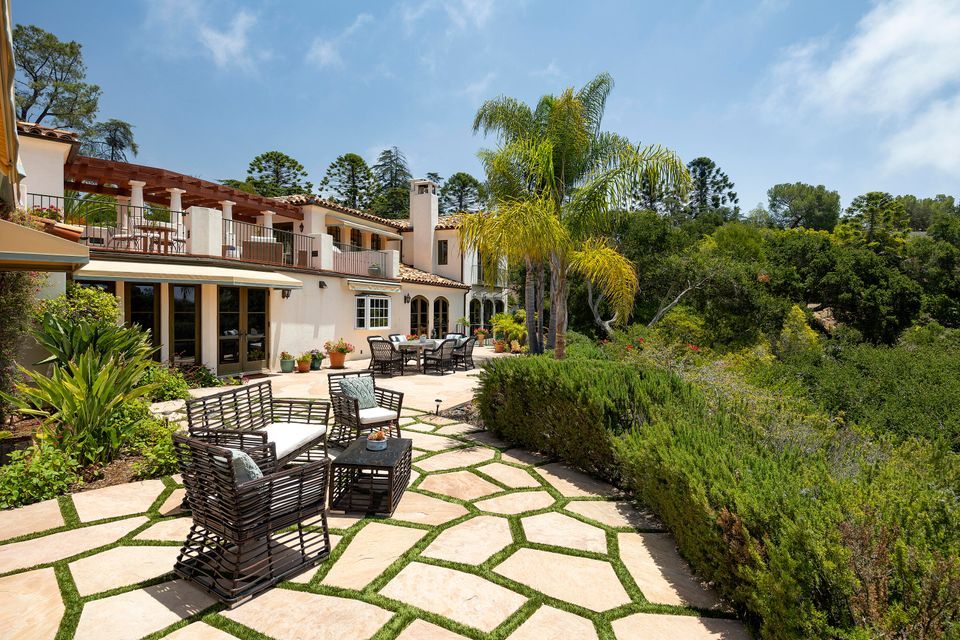 9) Arcades
A series of arches supported by columns is called an arcade. This is an old architectural feature that originated in Rome. In the Mediterranean, the arcades sheltered walkways in town squares.

10) Strategically placed windows
Strategically placed windows allow a cool breeze into the house without the direct sunlight that can make the space warmer. Traditional Spanish Colonial homes typically didn't have glass windowpanes—opting for iron bars instead—but today, it would be rare to find a home without glass panes.
As far as the interior goes, traditionally, Spanish Colonial homes have a simple, white exterior with very little decoration. Some modern Spanish Colonial homes, however, may have stone or tile work around exterior doorways and passageways.
---
The unique architecture found here, including Spanish Colonial Revival style, is another reason to live in Montecito and Santa Barbara. You will find it everywhere around town and if you're lucky enough, you can even live in one of these beauties. If you're considering buying or selling a home here, call me at (805) 886-9378 or email me at Cristal@montecito-estate.com. I look forward to putting my knowledge, contacts, and energy toward finding your perfect home sweet home.
---

Other Resources:
What Makes a "Luxury Home"?
Maximizing Profit When Selling a Home
Is Wellness Real Estate the Next Trillion-Dollar Trend?