PAMPER, PREPARE AND PROTECT YOUR MONTECITO HOME
With the sunny weather here in Montecito it may not feel like it yet, but it's that time of year to create and care for what will be your fall home. Taking care of the little things now can make a big difference from now through winter. Why not make the inside of your home reflect the vibrance outside, where sycamore, cottonwood, liquid ambers, vineyards, and even the often dreaded poison oak erupt with color in the surrounding forests of the Santa Ynez Mountains, and the Pacific awakens with the best surf breaks of the year.
Design a welcoming area for people to gather
It's so important to have your dining table ready for the fall. So, refresh your dining room as shown in the image above taken at my Premier Mediterranean-style Ennisbrook Estate This singular Mediterranean-style Ennisbrook estate offers breathtaking views through a wealth of large windows and arched French doors that bring the outside in, all year long. For those who have frequent visitors, the property also has two additional structures for guests to stay when they visit from out of town.
READ: Ocean View Homes are Good for Our Health
Or better yet, here in sunny Montecito, you can dine outside practically any time of the year thanks to our perfect Mediterranean weather. Either outdoors or in, the more welcoming your dining area is, the more your fall home will come alive with what matters most: your friends and family. Simply add a runner or placemats, place fresh flowers from your garden as a centerpiece and your table will feel extra inviting.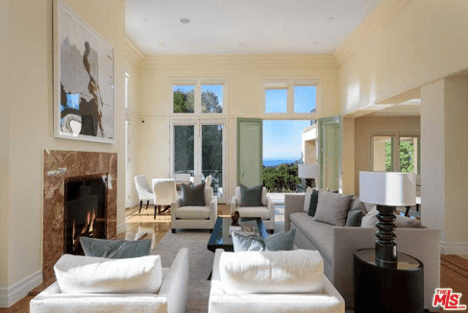 Light the fireplace to invite in warmth.
On a chilly autumn night, you'll want to light that fireplace to warm up the room, just like the current owners have done in this picture from the living room of a singular ocean-view Montecito home that I just sold. Situated on nearly 1.5 acres in Montecito's coveted "Golden Quadrangle," one the affluent community's most desirable places to live, the entire estate offers an abundance of large single-pane windows and French doors complementing the clean horizontal and vertical lines that define classic contemporary and distinctly modernist design.
READ: What Makes Montecito Spanish Colonial Revival Architecture Such a Sought-After Design?
Don't worry that you didn't get to purchase this property, the creation of an elite team of two architects and an artist. I have many other equally amazing estates to show you.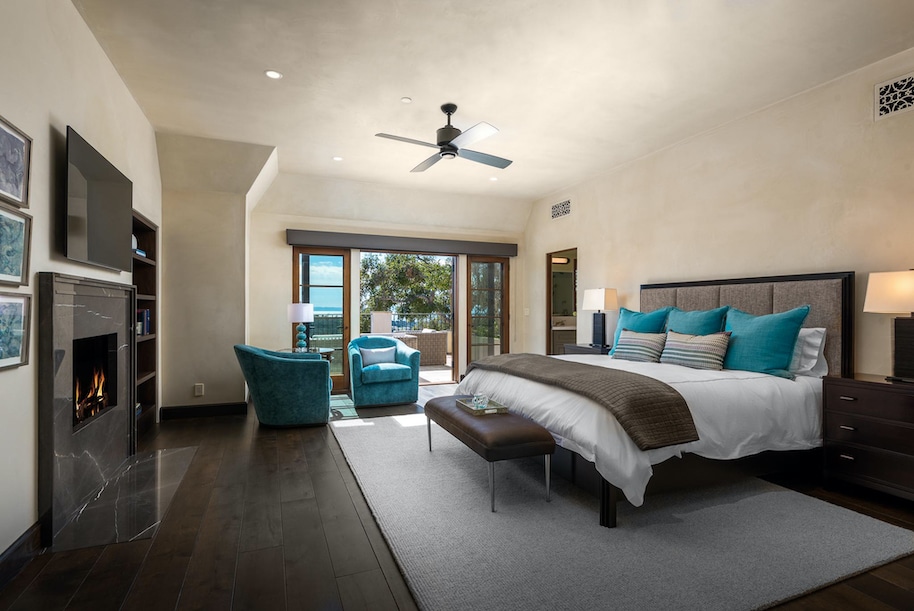 Soften every space with layers.
Check out the layers that add that comfy feel inside the bedroom of this European-Inspired Montecito Contemporary Estate. The former estate of revered comedian Jonathan Winters and his wife, Eileen is exquisitely grand. It has also been extensively remodeled by award-winning builder Allen Construction, internationally acclaimed architecture and design firm Harrison Design and the visionary landscape architects of Arcadia Studio.
As you can see, pillows are a great way to offer an invitation to relax and get comfortable. So, pile those plump and cozy pillows everywhere this season. Add extras to your bed, sofa, daybed, and chairs. Plus, lush linens are a great way to layer because they offer an invitation to relax and get comfortable. Sinking into a comfortable, fresh, and clean bed with the right bedding can make all the difference to getting a good night's sleep.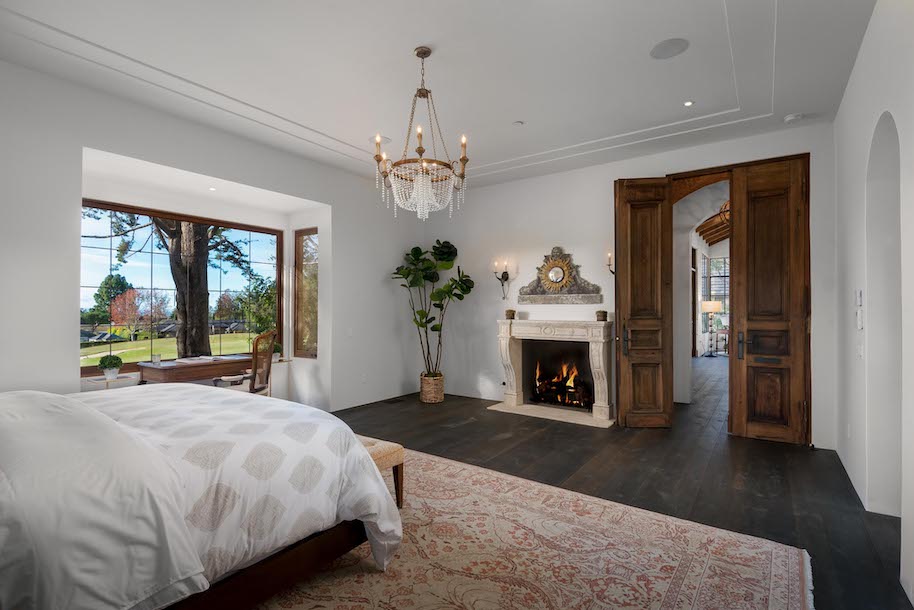 Little touches add texture and function.
The rug, lighting, mirror, house plant, and window in this room all add that little something extra, bringing texture and function. This particular example can be seen at my French Country-Style Montecito Home in Birnam Wood. If you are drawn to Old World French country elegance combined with 21stcentury conveniences, this property is perfect for you! Built in 2019, bordering the 12th fairway and green of the gated and guarded sanctuary that is Birnam Wood, this spectacular property is one-of-a-kind with quite a pedigree.
READ: Home Improvement: Repair, Remodel or Renovate?
The extras add texture, but they are also considered stylish decorative elements. It's the little things that bring a fall home to life, so make them more personal and show off your unique style.
Here are my top 12 general tips for getting a fall home ready:

1) Clean your gutters.
Inspect and clean gutters and downspouts.
2) Seal gaps and cracks.
Seal gaps and cracks around windows and doors with weather-stripping and caulk.
3) Inspect your roof.
Inspect your roof for damaged or curled shingles, corroded flashing, or leaky vents.
4) Repair sidewalks and driveways.
Take steps to repair damaged sidewalks, driveways, and steps.
5) Get ready for the chilly evenings in Santa Barbara.
Drain and winterize outdoor faucets and irrigation systems.
6) Freshen your filter.
Clean or replace dirty furnace filters.
7) Inspect your furnace.
Have a professional inspect your heating system.
8) Inspect your fireplace.
Check fireplaces for soot or creosote build-up. Better yet, schedule a visit from a reputable chimney sweep.
9) Clean your humidifier.
With our perfect weather in Santa Barbara, we don't necessarily need a humidifier, however, if you use one, clean the plates or pads to ensure efficient operation.
10) Inspect gas heaters.
If you have a gas-fired room heater, have it inspected by a pro. Also, perform any routine maintenance recommended by the maker.
11) Inspect any wood stoves.
Wood stoves are making a comeback. To avoid a deadly situation, be sure to inspect yours before firing it up.
12) Keep your family safe at home.
A fall home safety check should be an annual ritual in every household. Test smoke and CO monitors, inspect (or install) fire extinguishers, review fire escape plans, and rid your home of old newspapers and other fire hazards.
---
These are just a few ways to bring your fall home to life as you fill it with comforts, warmth, your own unique style, and of course, your favorite people (and furry friends). I'd love to hear some of your favorite ways to refresh your Montecito home this fall. Just give me a call at +1 805.886.9378 or email me at Cristal@montecito-estate.com. You can also contact me when you are ready to sell in Montecito, Hope Ranch, or another of the Santa Barbara area's upscale communities.
I've earned a coveted place as a "Top 5" agent among Berkshire Hathaway's 60,000 agents nationwide and am committed to excellence. I'll be happy to share my personal, local contacts that can help you get your house ready for fall.
---