FROM LOVELY TO LUXURY: 10 THINGS THAT CAN MAKE A DIFFERENCE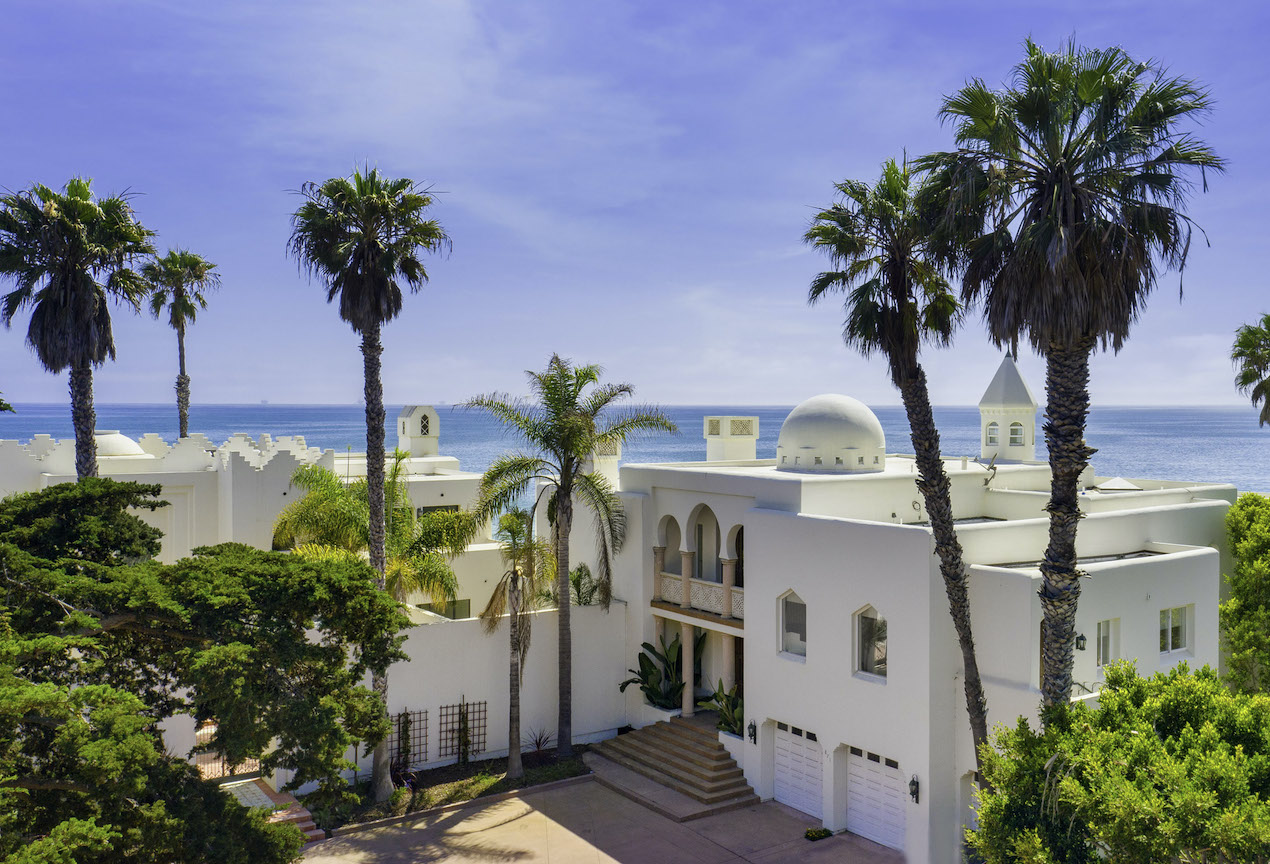 What makes a "luxury home"? The epitome of a lavish California beach villa, the home pictured above and elsewhere in this post is well-appointed with luxury décor and amenities. High-end properties such as this are awe-inspiring, with their stunning views, palatial scale, magnificent finishes and astonishing accouterments.
READ: The Santa Barbara Luxury Real Estate Market is Booming
The Luxury Home, Defined
A luxury home is one valued within the top 10% of properties on the local market. To be considered high-end, these homes typically possess distinct qualities revolving around their location, price, size, materials, design, amenities, and, in some cases, prestigious pedigree and history.
A prime example is my Sand Point Beach Villa listing. This luxury home is considerable in size, constructed and finished with high-end materials and designed with uncommon architectural details and exceptional amenities. Talk about distinctive; this enclave's pool house, designed in 1927 by architect George Washington Smith, has achieved Santa Barbara County historical landmark status, and the property itself is one of only 8 Moorish-style residences in prestigious Casa Blanca, an exclusive community near Montecito. The original Hearst Castle-like property's rich history reads like a movie script, starting with the man who built it back in the 1920's, Albert Isham.
It was later restored by a Bakersfield oil man and has undergone several transformations since then. Today, this lavish California beach villa is a true oasis, featuring an ocean-facing deck and balcony with sweeping views of the Carpinteria coastline and surrounding mountains. Inside, delicate arches, vaulted ceilings and a dramatic stone fireplace all add to its romantic ambience, while the luxury décor adds to the splendor.
10 Things That Add Luxury to Any Home
A home doesn't have to be among the small percentage of luxury properties to be considered luxurious. Here are 10 lavish ideas to bring extravagance into any home: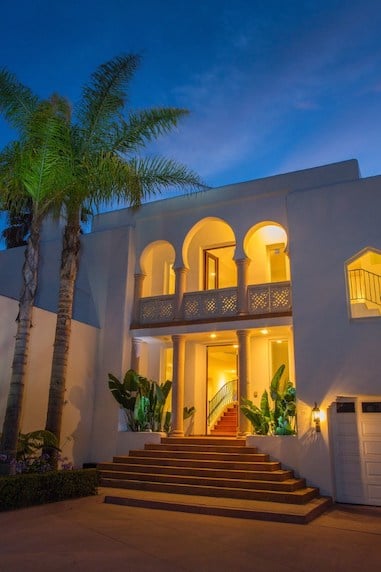 1) Create a WOW! Factor Through Lighting
Homeowners have so many lighting options today, in both design and technology. With improvements in LED technology, it's as simple as clicking your smartphone, or asking Alexa to turn the lights. Think colorful metals and shades, sconces, and pendants—all add beauty in addition to function. The image above of my Sand Point Beach Villa at night is the perfect example of creating a Wow! factor though lighting.
Luxury lighting can also light up your room, literally and figuratively. Nothing screams luxury louder than a chandelier or custom fixture hanging in the middle of a room with soaring ceilings. The grandeur of the lighting fixture is enough to make it the focal point of the space it occupies. With either a classic or a modern chandelier, make sure to match yours with the room and architecture style to achieve a cohesive look. If possible, opt for a uniquely shaped, or even one-of-a-kind fixture or chandelier for drama.

If you are looking for something more dramatic, check out the Baccarat Zénith Chandelier with 48 Lights. The company known for luxury crystal glassware, jewelry, and gifts, offers a number of incredible chandeliers. Priced upwards of $150,000. Or how about the ultimate show-stopping chandelier from world famous artist Dale Chihuly? It's reminiscent of museums, botanical gardens, and luxury hotels around the world.
READ: Open, Closed and Beyond: A Real Estate Pro's Guide to Kitchen Design
2) The Luxury Kitchen
Luxury should be evident inside the heart of the luxury home. That's why high-end kitchen designs tend to combine the highest-quality materials, leading-edge technologies and top-of-the-line appliances to create magazine-worthy spaces. Most luxe kitchens integrate functions, luxury, and style. Think bold textures, rich hues, and exotic materials—all the qualities that can make kitchens one of the most luxurious corners of modern luxury homes. The bottom line: spacious kitchens are timeless. They make whipping up culinary creations fun and easy, even if there is more than one cook.
If you're contemplating a kitchen remodel or installing a new kitchen, and budget isn't your second, third or even a top ten concern, you'll definitely want to explore the wide range of options available for luxury kitchens. When it comes to appliances, you can't get any more unique than a Dolce & Gabbana refrigerator. The famed fashion designers, in collaboration with Italian appliances brand Smeg offer limited edition refrigerators that are hand-painted by artists specially commissioned by Dolce & Gabbana. They cost about $34,000.

What do you think about countertops made from glazed lava stone? This ancient and natural stone, extracted from the Nugere crater at the heart of Auvergne's volcanoes in France, is rare, strong and heat resistant. It costs $370/square foot.
3) Posh Furniture
By definition, luxury is something that is conducive to sumptuous living, and that includes elements that are elegant, plush, and indulgent. Even one luxurious element or piece of furniture can take a space over-the-top.
One of the top luxury furniture brands is Boca do Lobo. Every piece is handcrafted in Portugal and designed to create an exclusive and emotional experience. Essential Home is a mid-century design brand with a modern twist that aims to offer a journey through time. Think nostalgia with a smile. You can even go with Fendi Casa where everything in the collection reflects the designer's high-end, contemporary tone. Then again, when it comes to luxury, it doesn't get any better than Versace, and the company's home collection is about as posh as it gets.
READ: Outdoor Living Spaces for Luxury Homes: Builders Follow the Santa Barbara Example

4) Bringing the Outside In
The movement to bring the outside in, with its roots here in Santa Barbara, has emerged as one of today's most embraced luxury trends. Blending the outdoor and indoor living spaces offers an excellent opportunity to create lavish interior and exterior spaces. Moreover, this comes with infinite options. Where else in the world could you be treated to a sunset like that on a daily basis?
Even more, modern luxury homes are making ordinary backyards luxurious by adding features like fire pits and fountains. And, of course, no luxury home is complete without an entertainment space and a fully equipped outdoor kitchen that incorporate amazing views.
5) Lavish Bathrooms
A luxury bathroom is an antidote to the hectic modern life. Bathroom extravagance means spa-worthy products, along with features that add beauty, comfort, and innovative functionality. Lush towels and the clean scent of soap milled from natural ingredients add to the ambiance.

A typical bathroom has either a tub or a shower. But when both the tub and the shower are amazing, then you have a luxury bathroom. Think freestanding soaking tubs as a focal point, next to a Roman shower stall inspired by the original historical designs making the shower a sort of alcove or separate room.
Don't forget to add beveled mirrors, soothing lights, heated floors, and alcove walls. Solid hues and walls produce a relaxing setting tied together with chrome taps and other high-end touches. Think saunas, smart mirrors, and steam rooms as well.
READ: A Luxury Realtor's Guide to Home Security Systems
6) Home Security Systems
Most luxe homes go beyond the simple alarm system. They have monitored systems linked to a 24/7 security professional at the provider's office, plus armed response. These systems can speed up the process of notifying authorities in the event of flooding, fire, and break-in. Also, they help reduce the incidence of false alarms.
READ: How Santa Barbara Homeowners Can Create a "Smart" Healthy Home
7) Smart Tech Features
Convenience is what makes smart home features a must for luxury living. That's why today's upscale home is outfitted with cutting-edge network-connected systems, equipment and appliances that can remotely and automatically be controlled. There is motion sensor lighting, and internet-connected security cameras, thermostats that adjust automatically, and draperies that open to lavish grounds or a sunrise or sunset over the ocean.
There are even high-tech devises to help you sleep, smart standing desks to give your home office a lift, smart fitness mirrors for home workouts in your private gym, smart fire pits to spark the beautiful Santa Barbara night, and much much more.
8) Spacious Dressing Room
A high priority for luxury homes is a lavish dressing room, providing owners a place to store and display high-end garments. A huge walk-in closet, or better yet, a spacious and intimate room of its own defined by a unique ambiance are a must have. These closets must include proper lighting along with extravagant mirrors. The top-of-the-line racks and shelves are the perfect way to display purses and shoes.

Affluent homeowners match their closet to their home's architectural style, adding glamour in small details.

9) Exercise Room
Home gyms are more than a separate space for equipment and weights, but also include built-in televisions, wireless speakers, indoor pools, massage tables and jacuzzis for post-workout relaxation.

Companies that offer gym designs that are not only functional, but beautiful include:
Italian kitchen, living and bathroom design company Scavolini. The entire range of fitness room designs revolve around one classic piece of equipment: a gymnastics wall bar. Not only is it a design element, but attached to the wall bar is a lifting bench, traction bar and pull-up rings, plus bathroom storage, hangers, a sink, lighting, and mirrors. It's functional for both the bathroom and the gym, while simultaneously looking like a minimalist and modern piece of decor.
FitnessDesignGroup has options that make a gym a natural part of a home's design. The Los Angeles-based firm has designed gyms in multiple office locations for Apple, Nike, Starbucks, Snapchat, Google, and the Los Angeles Lakers and has created fitness centers and tailored in-room fitness amenities for hotel corporations including Hilton and Accor. They know what they're doing when it comes to at-home workouts.
Fashion aficionados might be more drawn to Polish company PENT Fitness which creates custom luxury gyms for residences, hotels and yachts. PENT creates custom gyms using rich materials like wood, steel, leather, bronze and more. In addition to gym creation, PENT has a line of products including dumbbells, kettlebells, a weight bench, weighted balls, wall bars and more. The wide range of products are available in only two color schemes: gold and silver.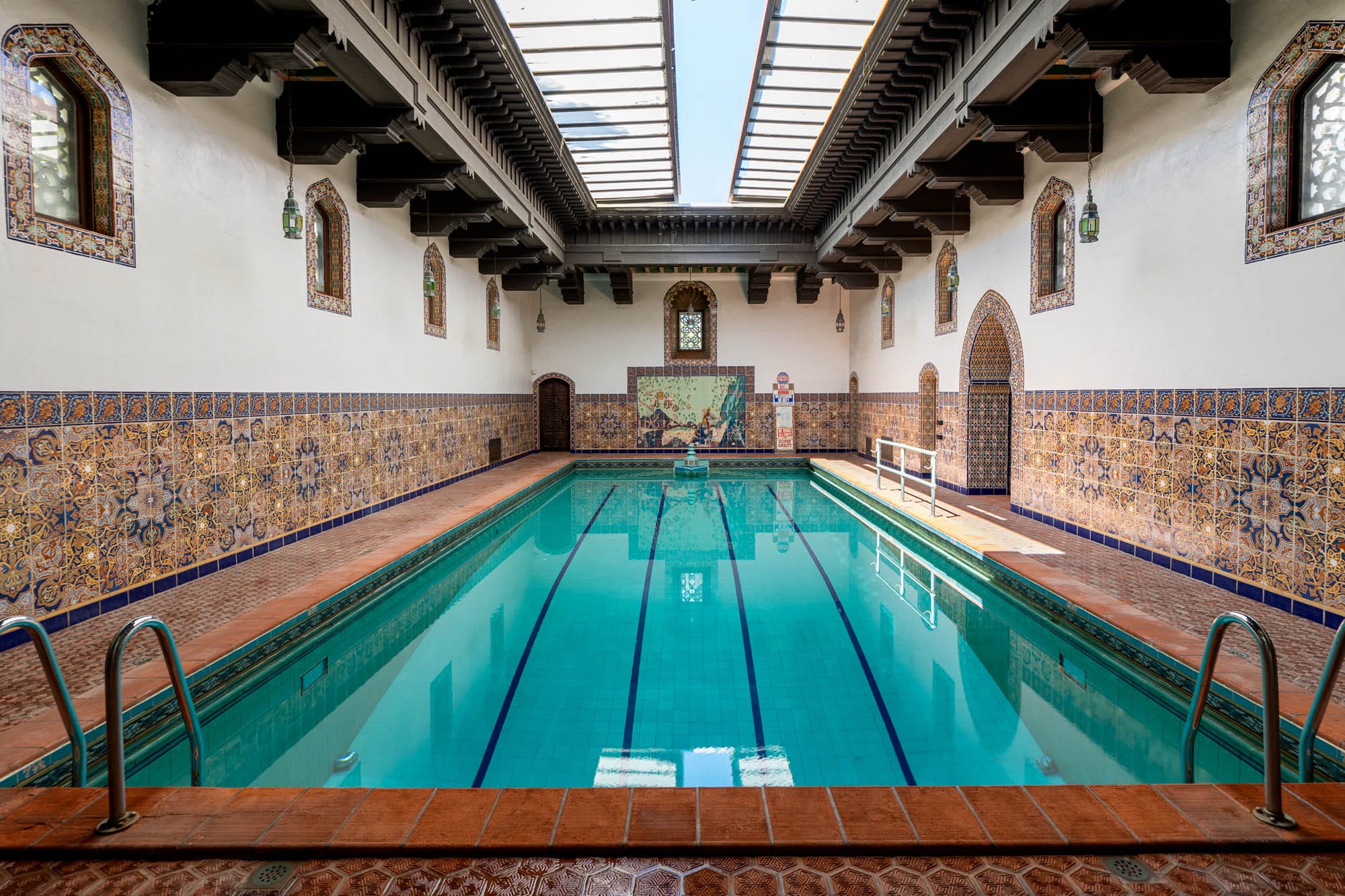 10) Other luxury amenities
The amount of detail and customization that a luxury home offers can be nothing short of amazing. Pools, like the indoor swimming pool pictured above and found at the Casa Blanca enclave that's home to my California beach villa listing, saunas, in-home gyms, backyard tennis courts, game rooms, and fully stocked kitchens are all part of the luxury lifestyle. Local resident Oprah Winfrey has a separate tearoom on her property. Other high-end homeowners like to include a library, yoga studio, and meditation space. Due to the large population of celebrities and entertainment moguls in Montecito, home theaters are plentiful here, as are game rooms. Some even have their own at home salon. And don't get me started on the pet amenities!
READ: Creating a Dog-friendly Home?

If this list of luxury home amenities, or the possibility of owning the California beach villa shown here have you inspired to start anew in Montecito, Hope Ranch or any of Santa Barbara's upscale communities, please call me at (805) 886-9378 or email me at Cristal@montecito-estate.com. I would be happy to help you find your dream home here, or to add your listing to my portfolio of luxury estates in the area, using my time-tested marketing tactics to sell your property. I'm looking forward to putting my knowledge and contacts to work for you!