IT'S MORE THAN A TREND HERE. IT'S A LIFESTYLE.
Photo by Kaylee Garrett on Unsplash
Self-care means looking after your health and wellness in a holistic and preventive way — whether that's here in Santa Barbara, Ojai, or just about anywhere in the world these days.
Self-care in Santa Barbara and Ojai began around the turn of the 20th century with the well-known and well-heeled from the East Coast and Midwest discovering the bounty of beauty and nature's abundant healthful amenities here, and Mediterranean climate, which encourage year-round indoor/outdoor living, making this the perfect place to not only call home, but to exceed your self-care goals.
READ: Fiscal Fitness: The Advantages of Investing in Your Health
Included in that bounty is the Santa Ynez Mountains offering amazing scenic vistas to drink in on any of the endless hiking and biking trails. You can ride the Cabrillo Bike Path, which runs from Leadbetter Beach to Butterfly Beach, or cruise along the glittering coastline of Santa Barbara through the rolling hills of Ojai following the Rail Trail. Our golden ridgelines cascade into the Pacific where locals enjoy a plethora of water activities, including kayaking, surfing, SUP and more. On any given day, you'll find pick-up beach volleyball games, people sea kayaking from Stearns Wharf to the Harbor, boats setting sail for a whale watching adventure, and Yogi's practicing on the beach or outside in the shade of tall trees in Ojai.
Today, self-care in the Santa Barbara area means not only taking advantage of the abundance nature has bestowed, but also immersing oneself in physical, spiritual and sensuous traditions such as yoga, Reiki, meditation and breathwork.
READ: How Santa Barbara Homeowners Can Create a "Smart" Healthy Home
Places to Practice Self-Care in Santa Barbra and Ojai
While living in this part of the world automatically ticks off one of the key elements when it comes to practicing self-care, we also have many places that specialize in activities meant to transform your mind and body. Here are four of my personal favorites:
Sol Seek Yoga
This newly renovated yoga studio in the heart of downtown Santa Barbara offers in-studio, outdoor and virtual classes daily. You can also opt to participate in a yoga retreat experience for yogis that love to travel and build new connections. The mission of this unique yoga studio is to create an inclusive space for seekers of joy, growth, and connection. The studio hopes that through yoga, you will discover and love yourself to the fullest so when you're off your mat and in the world, you're prepared to take on the peaks and valleys of life.
READ: Wellness Living and Wellness Real Estate: The Next Trillion-Dollar Trend?
Mindful Barbell
Check out this video from Mindful Barbell and you will learn what this fitness studio is all about. Located in downtown Santa Barbara, this space promotes physical fitness as an important first step to total wellness and long-lasting happiness. It's the perfect space to jump-start your journey to total wellness by allowing the gym's experts to craft the perfect workout especially for you. Here, fitness is only one part of the solution. Controlling our thoughts and creating a sense of connection also play pivotal roles in how healthy and happy we are as we get older.
READ: Ocean View Homes are Good for Our Health
Soul Body Ojai
This Wellness Center & Kundalini Yoga Studio offers world-class holistic healing in the Ojai Valley. Choose from online, in-person or private yoga classes, reiki, acupuncture, meditative or sound healing, massage, cleansings, Ayurveda, Emotional Freedom Techniques (EFT), pain management and more. There are also several unique events you can attend to practice self-care: from energy work to chanting at sunrise. You can even travel with like-minded individuals to exotic locations around the globe in your quest for personal wellbeing. All practices are designed to help you keep your New Year's resolution of self-care.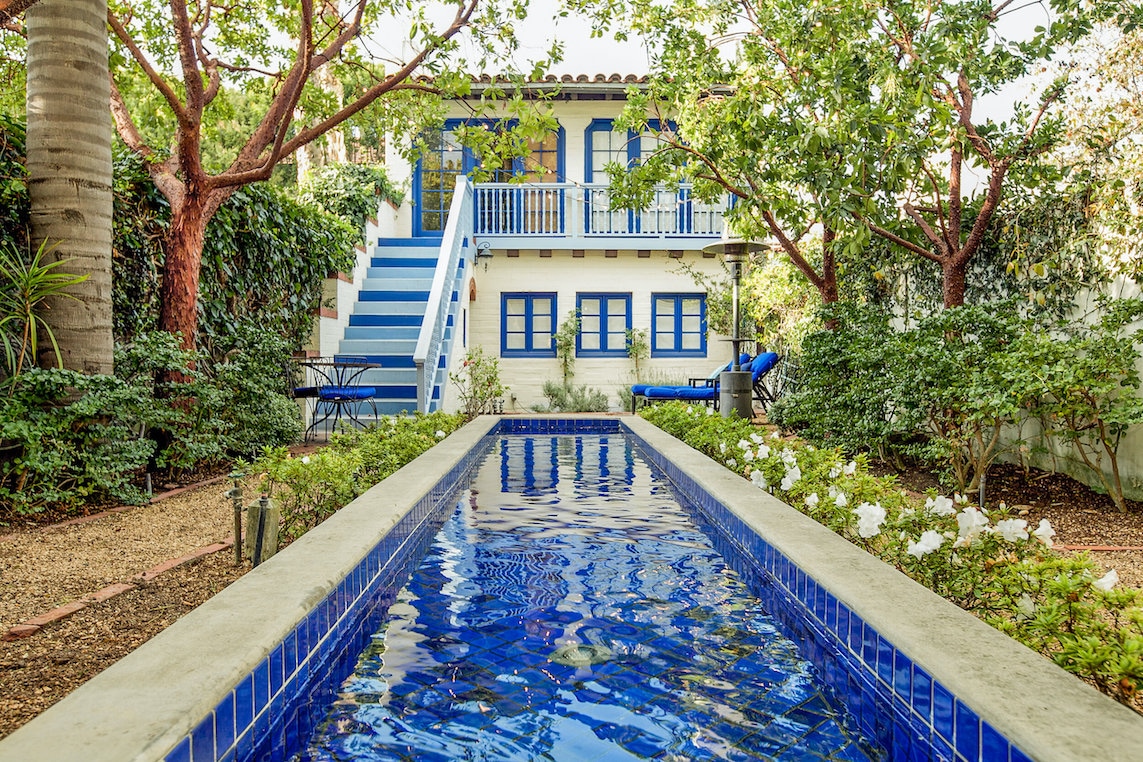 Image courtesy of Float Luxury Spa
Float Luxury Spa
This local day spa has a mission of becoming the space locals turn to when they need to get away, de-stress, find balance and feel light. This lovely space, located on East Canon Perdido in Santa Barbara, is dedicated to your health and wellbeing by providing the very best services in the most beautiful environment. Choose from a menu filled with relaxing spa treatments from massages to facials. That means all you have to do is rest, relax and rejuvenate. I personally love their specialty, the Luxe Facial, hint, hint!
Don't Stop!
Don't stop when you reach your self-care goal. Instead, be sure to celebrate yourself. Use your sense of accomplishment to further fuel your healthy habits so that you can keep feeling good, and proud of how you've bettered yourself, for years to come.
The most important thing to remember when it comes to self-care is to love yourself. Knowing that you're capable of making your desired change, and believing it wholeheartedly is more than half the battle.
---
If your self care includes making a move in Santa Barbara or Ojai this year, just give me a call at (805) 886-9378 or email me at Cristal@montecito-estate.com. I will happily add your listing to my portfolio of amazing estates for sale and find you a new home at the same time. Let's all make self-care a goal for 2022!
---