What Does the Santa Barbara Firefighters Alliance Do?
Members of the Santa Barbara City and County Fire Departments pride themselves on providing the highest level of protection for residents and their property through planning, preparation, and responding to fires and other emergencies in our community. Every year, our city and county firefighters respond to more than 21,000 calls. The Santa Barbara Firefighters Alliance raises funds to purchase unbudgeted safety and firefighting equipment for City and County firefighters in order to respond to the high volume of service calls.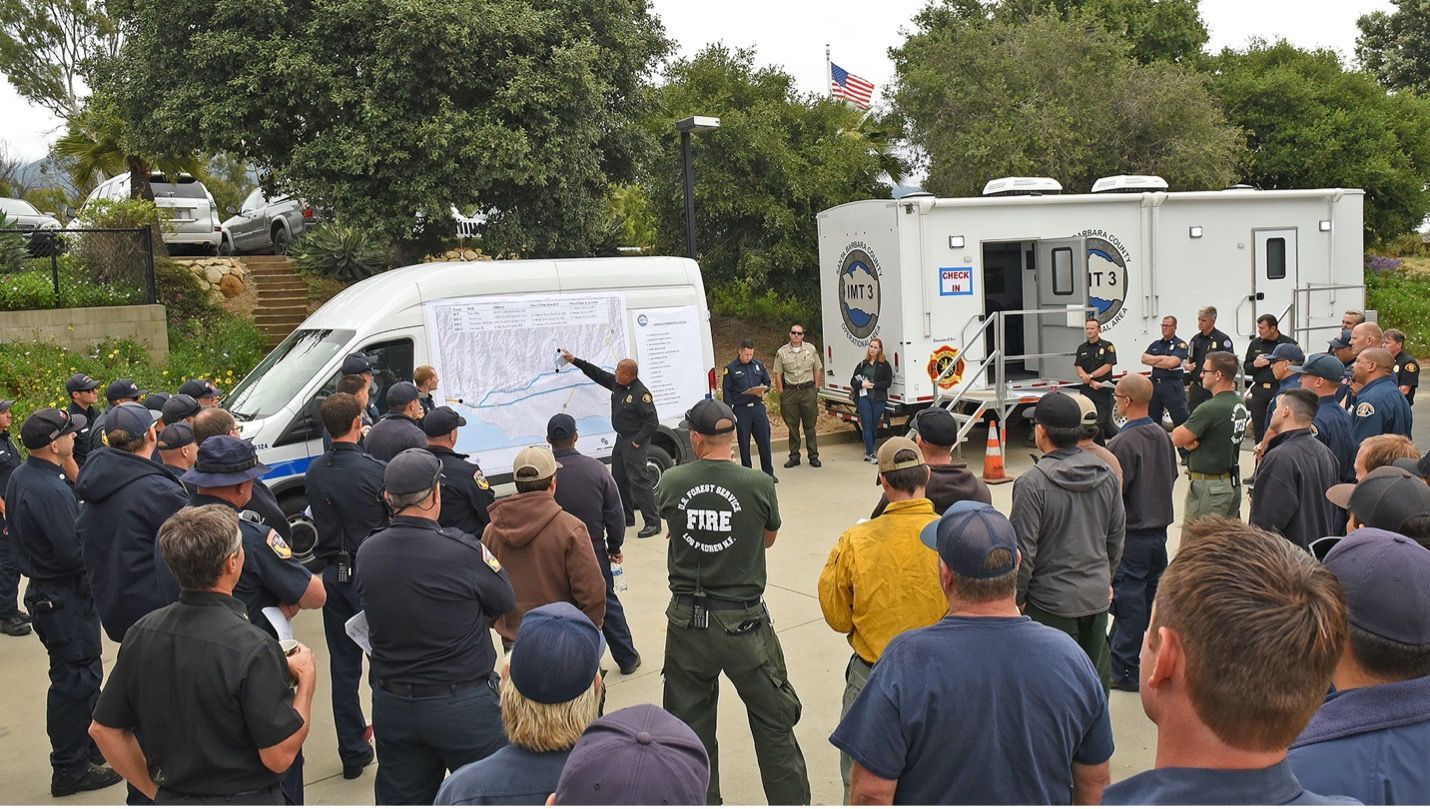 Equipping our Firefighters
The Santa Barbara Firefighters Alliance provides the necessary funds to purchase the most advanced equipment and technology that would otherwise not be funded through regular departmental budgets. To date, the Santa Barbara Firefighters Alliance has acquired the following (and much more):
The Mobile Command Center pictured above.
Canine support dog vehicle and services for Rhonda, Santa Barbara, Firefighters' official emotional support dog on call 24/7.
Fire curtains to provide refuge when firefighters are trapped and engulfed in flames.
Night vision goggles which enable helicopter crews to continue firefighting efforts at night.
Hand-held global positioning system (GPS) units so crews fighting back-country wildfires can determine and report their exact location and track containment.
Weather monitors that track sudden changes in wind, humidity, and temperature that occur during severe fire conditions.
Specialized victim location equipment for use in dark and smoky conditions.



Photo Credit, Mike Eliason
Jet skis to expedite water rescues.
Drones to locate potential fire risks in homes and businesses, and keeping crews at a safe distance.
A Utility Terrain Vehicle, or UTV, for off-road emergencies.
How Santa Barbara Homeowners Can Support Our Local Heroes
Besides donating to the Santa Barbara Firefighters Alliance, The City of Santa Barbara offers a free personal wildfire action plan called READY, SET, GO!!! with the tools and tips homeowners need to prepare for a fire disaster.
---
Now you know how you can support our local firefighter heroes through the Santa Barbara Firefighters Alliance. Is there a local charity you'd like us to cover in my blog? If so, let us know! Meanwhile, if you're considering moving within or to Santa Barbara, I invite you to call me at (805) 886-9378 or email me at Cristal@montecito-estate.com for a free consultation regarding selling and buying.
---

More resources: