TAKE IN OUR DRAMATIC COASTLINE, SPANISH COLONIAL ARCHITECTURE, BUTTERFLIES AND MORE
The summer of 2020 might not be the best time to live out your Jack Kerouac road trip fantasy, but locals suffering from cabin fever due to COVID-19 can take a day trip to get away from it all right in their own backyard. Going on Santa Barbara day trips is one of the best ways to gain a new perspective while getting reacquainted with our amazing stretch of the California coast.
Everyone who lives in Santa Barbara County knows there is no shortage of spectacular scenery around here. Practically everywhere you turn you'll find a thing of breathtaking beauty. But just in case you've forgotten, here are details on 3 excellent places to view and/or catch a view from: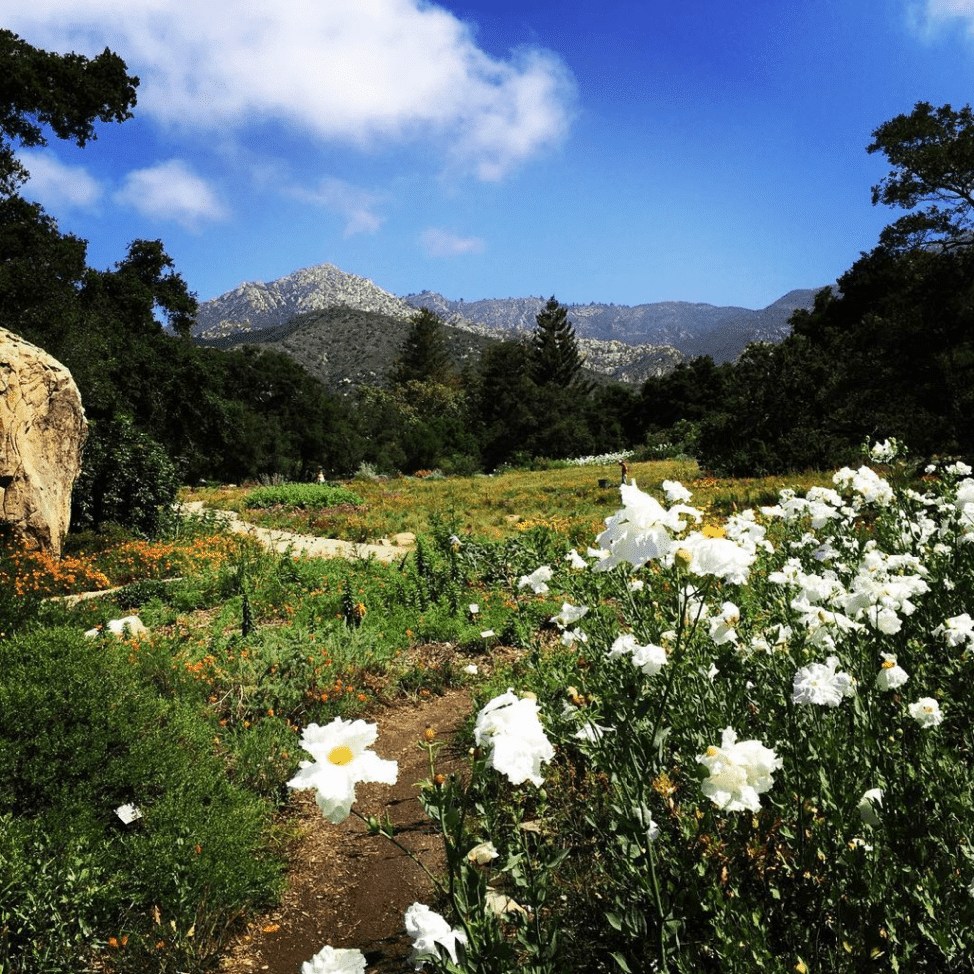 National Geographic's Santa Barbara Loop
One of my all-time favorite Santa Barbara day trips is National Geographic's Santa Barbara Loop. The first loop of this breathtaking drive, which extends 166 miles, jogs westward from Santa Barbara, past the flower fields of sleepy Lompoc and the wine and horse country of Santa Ynez Valley. Expect to see the city itself as well as miles of beaches, the rugged rock formations of the Gaviota Pass, fields of blooms in Lompoc (in June and July), the verdant vineyards of the wine country, and more.
READ: 12 Things To Do When You're Confined to Your Home

Circle back to Santa Barbara and catch the second loop. Start by heading south on US 101 toward Montecito, an upscale residential enclave where millionaires and movie stars live in exquisite estates, some built around the turn of the century. As you drive along the loop, you will see Tudor mansions, Spanish haciendas, and Italian villas. See any homes for sale that are of interest to you? Give me a call at +1 (805) 886-9378 or email me at Cristal@montecito-estate.com and I'll happily arrange a tour.

From Montecito, head to the coastal city of Ventura where you can get a taste of the relaxed vibe and natural beauty of a neighboring sun-kissed region. Make a stop to experience your own DIY oyster shucking by the beach at The Jolly Oyster Shuck Shack at San Buenaventura State Beach Park.
The next stop is Ojai Valley, off of Calif. 33 north. While there, don't forget to visit the Ojai Olive Oil farm and pick up a bottle to take home. This fourth-generation family-owned and operated farm is the oldest producer of extra virgin olive oil in the region.

Your final destination in this loop is Lake Casitas off Calif. 150, a popular spot with fishermen and boaters. Take a moment to stretch your legs on the Castaic Lake Trail Loop via West Launch Ramp, a 6.3-mile dog-friendly hike. Once you reach US 101 again, all you have to do is swing north to head home to Santa Barbara.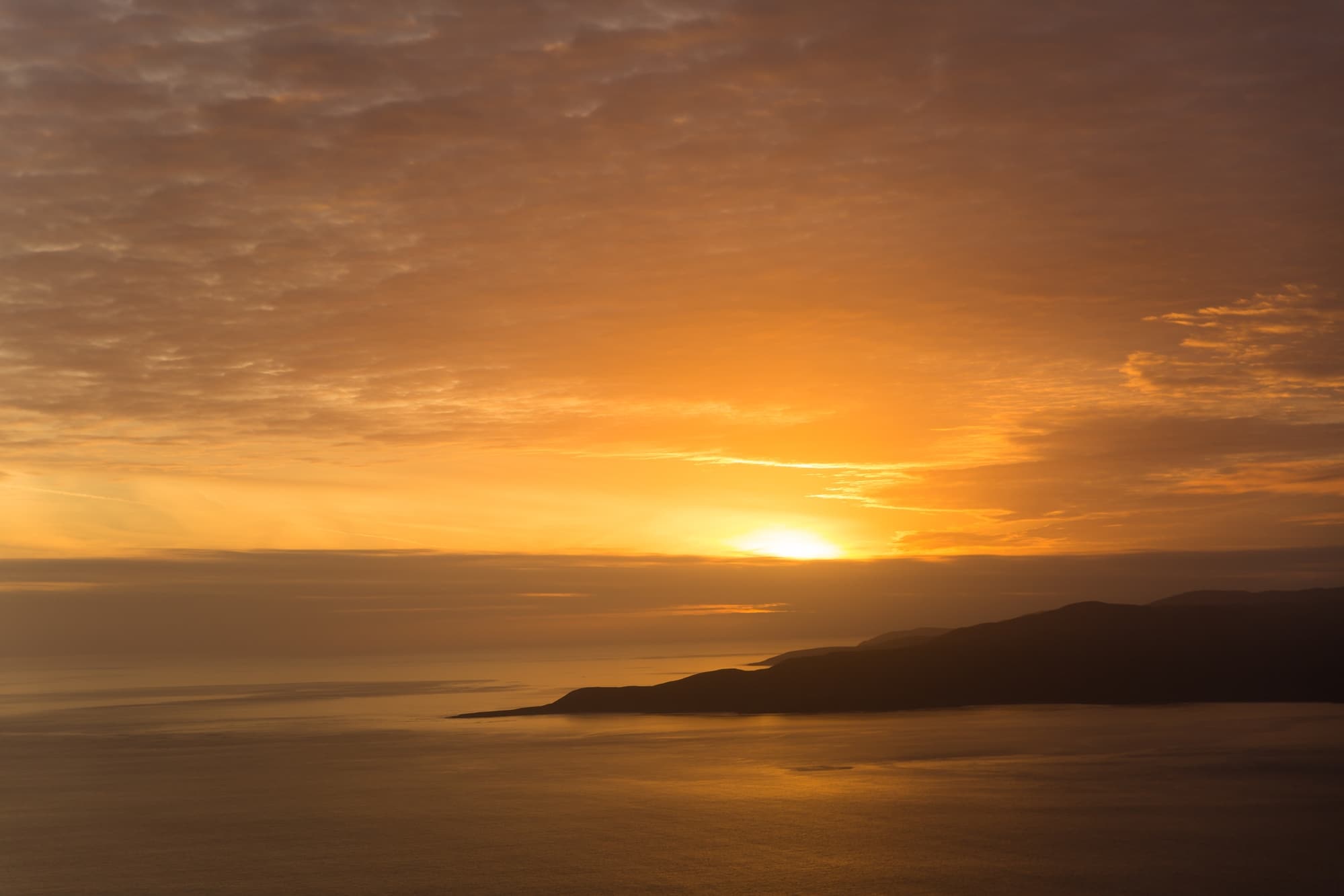 Channel Islands National Park
Channel Islands National Park's mainland visitor center is closed until further notice, but, the five park islands are open for visitation. That means this is the perfect time to fly over the area and land at one of the islands. Take a road trip from Santa Barbara heading South on the 101 to the Camarillo Airport. Park concessionaire, Channel Islands Aviation, located at 305 Durley Avenue in Camarillo, offers flights to Santa Rosa Island year-round. On a trial basis, flights are also available to San Miguel Island.
The Channel Islands National Park encompasses five islands and a 175-mile coastline and has a diversity of breathtaking, untouched landscapes, not to mention more than 2,000 plant and animal species; 145 of which can only be found here. Undoubtedly, the most awe-inspiring view is from Inspiration Point on Anacapa Island, but do make time to explore all the other islands as well. Some areas are harder to get to than others, but they're all very much worth it.
READ: Running Trails in Santa Barbara: 8 of the Most Popular

Preparation is key since there are no services such a food stores or gear rental shops on the islands. That is why I suggest you read about the Things to Do, including Outdoor Activities that interest you and Places To Go to determine which island appeals to you most prior to setting out on your day trip to the islands. Also, stay updated by checking Alerts & Current Conditions to learn about any current restrictions or closures.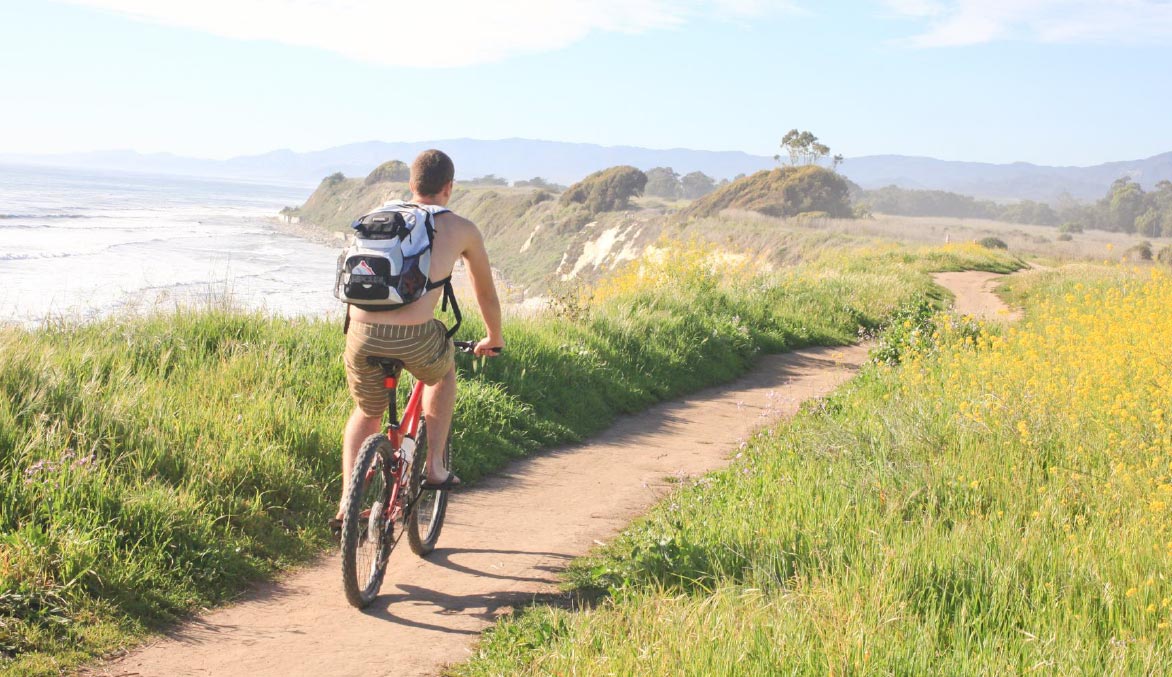 Image from Ray Ford
Ellwood Mesa
Sunset magazine included Ellwood Mesa's 137-acre coastal bluff preserve in its list of the "7 (hidden) Wonders of the West," praising it for having the "best view." As indeed it does. Located in the Goleta area, this pristine sweep of grasslands, vernal pools and monarch butterfly-bedecked eucalyptus groves is perched on a cliff edged with a wide swath of beach and looks out on endless views of the ocean.

Situated on the western edge of Goleta, Ellwood Mesa is protected forever from future development. A mecca for hikers, joggers, cyclists, surfers, and horseback riders, the Mesa features miles of relatively flat trails, two beach access points, abundant wildlife and a major Monarch butterfly habitat. Stretch your legs on the 10-mile integrated trail system linking all of open space areas and the communities of Isla Vista and Goleta.

Stay on the trails and avoid any areas that are closed due to human impact along with issues from the area's long-term draught. As a result, certain trails have eroded, and beach access has become problematic in certain places. The drought has taken its toll on trees and their canopy, affecting the environment for the Monarch butterflies. The Environmental Defense Center (EDC) and the community continue monitoring and caring for this special environment.
---
Special note: This is far from a definitive list of Santa Barbara day trips. In fact, some of the best day trip spots in Santa Barbara are located behind the gates of the fine homes in town and as such are not going to be viewable without an invitation. You wouldn't need an invitation if you lived here. Browse through my Santa Barbara real estate listings or use the property search tool on my comprehensive website to find currently available residences for sale throughout Santa Barbara, Montecito, Hope Ranch, Summerland, Carpinteria and Goleta. I'll arrange a day trip for you to tour any of my wonderful listings.
---