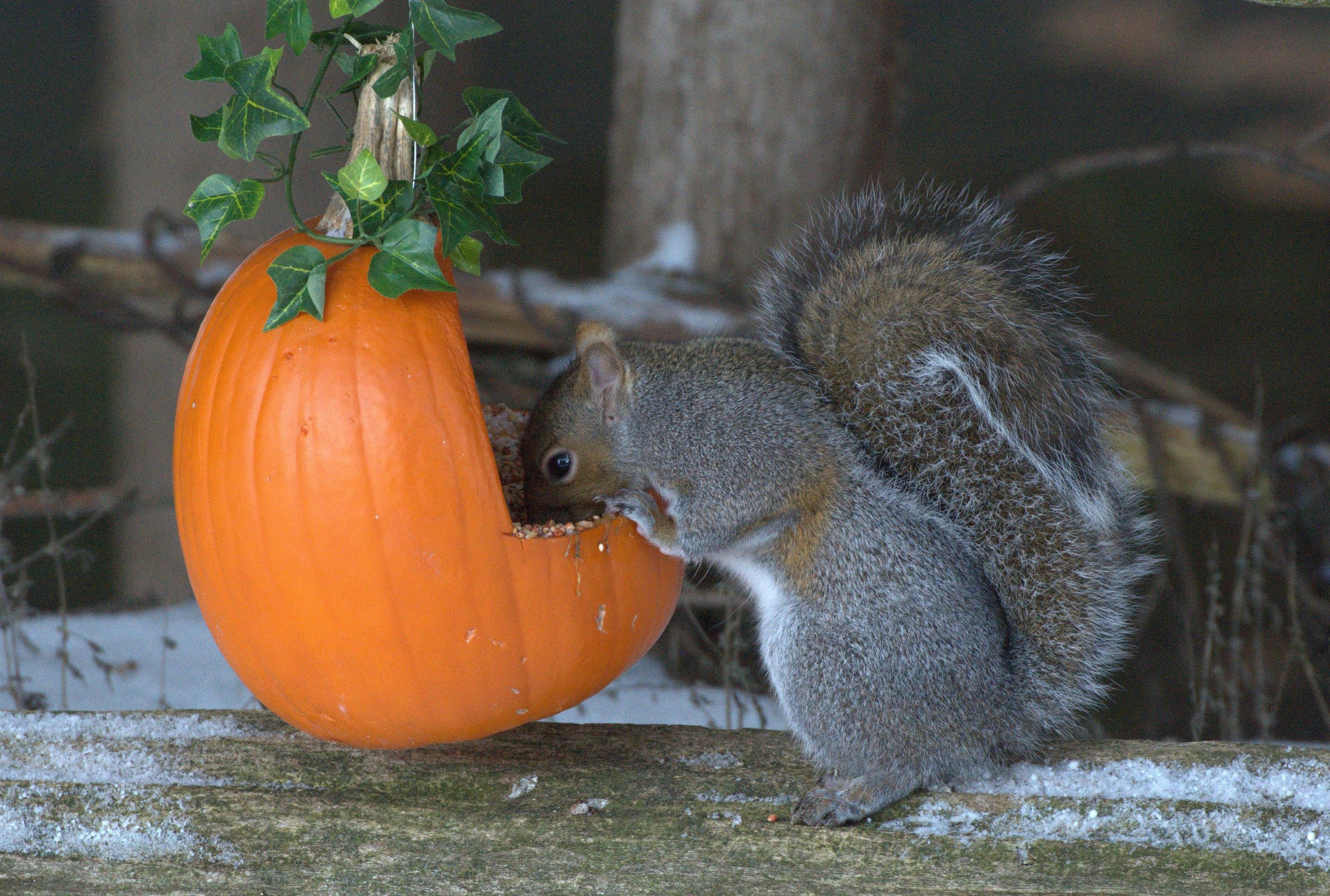 Here are 6 ways to make the most out of post-Halloween pumpkins:
1) Feed the Squirrels and Birds
How about upcycling your jack-o-lantern into a cute bird and squirrel feeder? Your squirrels and its fine feathered friends will enjoy the leftovers, especially if you fill the pumpkin with seeds and bird food. Squirrels may not share the bounty, but birds such as Bluejays, Thrashers, and Mockingbirds will happily munch on them together. Consider adding a twig for a bird perch. Once you create your new pumpkin masterpiece, you can hang it in your backyard using twine, place it on your porch or hang it in your garden. (If you used a candle to light up your jack-o-lantern, scrape away any wax and any blackened areas before adding the seeds.)
2) Transform into Unique Thanksgiving Décor
Halloween pumpkins can be easily recycled into Thanksgiving decor. One idea is to make fall-inspired candle holders out of used pumpkins or repurpose them into a festive basket filled with seasonal fruit or flowers to use as your table's centerpiece. In addition, you can use the outside of a pumpkin as a soup bowl or basket. If you didn't carve your pumpkins this year, just paint them white and use them as elegant décor.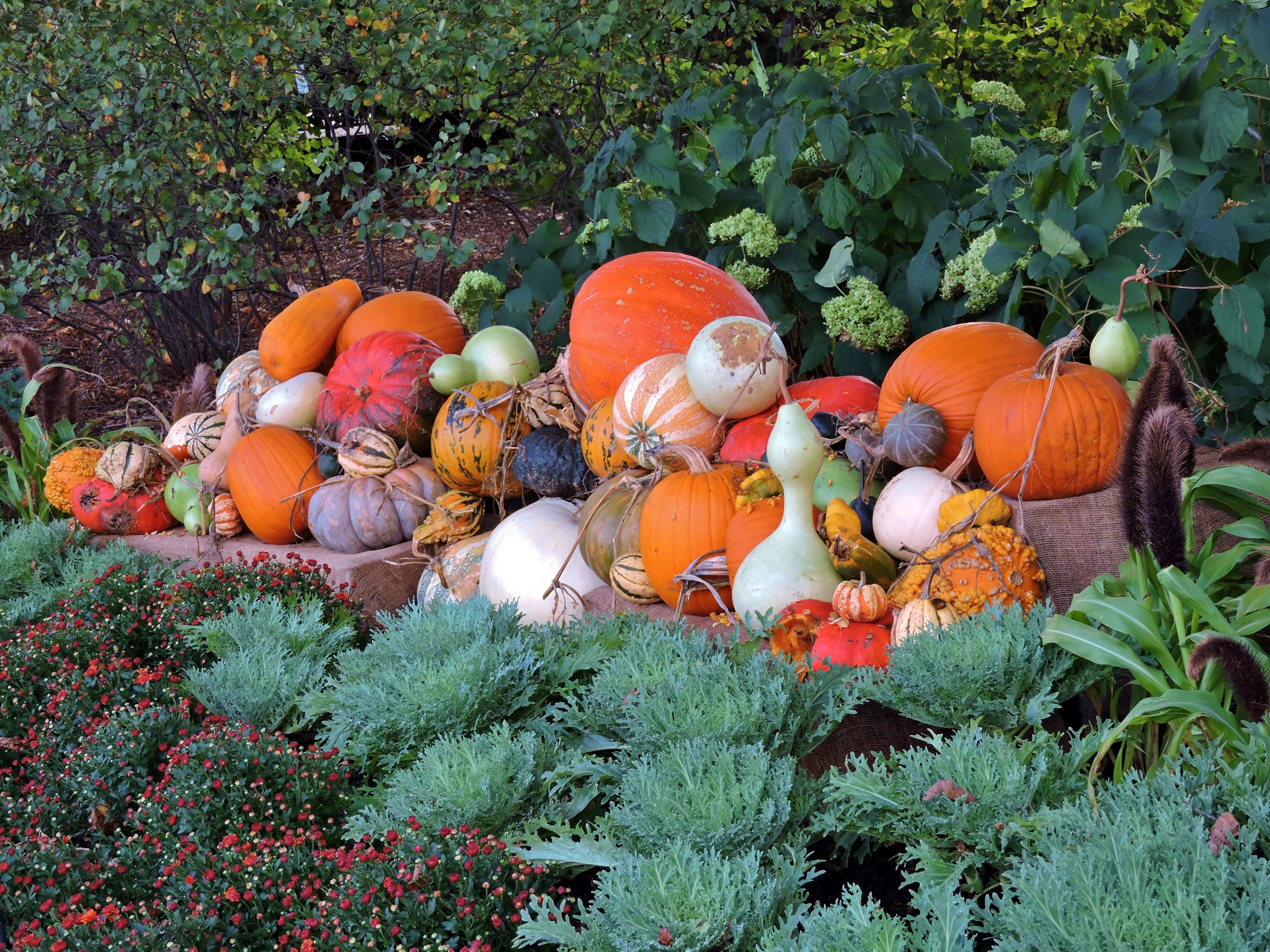 3) Planter for Fall Foliage
Pumpkins make an ideal planter for fall foliage. And it's easy to create a beautiful seasonal planter from your used pumpkin. The Spruce suggests you "plant succulents, pansies, million bells, hardy chrysanthemums, ornamental grass, or any other potted plant of your choice." Either use a gardening container inside the hollowed-out pumpkin or plant your favorite fall greenery directly inside after lining it with a weed barrier. Hint: these also make excellent holiday hostess gifts!
4) A Snack You and Your Family Will Love
How about baking pumpkin bread or making your own pumpkin lattes? You can also roast, salt, and eat the seeds or make pumpkin soup or puree out of the inside bits. FYI: the pumpkin puree also makes an excellent facial cream—just add coconut oil and honey, and voila! A natural, homemade facial cream that will give you that youthful glow!
5) A Snack for Neighborhood Wildlife
Pumpkin is a delicacy for Santa Barbara wildlife, including birds, squirrels, deer, raccoons, and chipmunks. And it's super easy to prepare for our local wildlife to snack on. Just chop up your carved pumpkin into small chunks and place the pieces in a large dish or tray in one of their frequented spots. When preparing, throw out any candle wax, black soot, or paint, as these can be harmful if ingested.
6) Compost
Did you know that worms love to feast on pumpkins? That's why leftover, nutrient-rich Halloween pumpkins make the perfect addition to your composting bin. Decomposed pumpkins help improve soil quality, boost water retention and increase plants' yield. If you don't already have a composting bin, The County of Santa Barbara offers discounted Earth Machine composting bins to help residents in their home composting efforts. Alternatively, you can dig a hole in a garden bed and bury the chopped-up pieces.
---
What will you do with that post-Halloween pumpkin? Do you have any additional ideas? If so, I'd love to hear from you. Just call me at (805) 886-9378 or email me at Cristal@montecito-estate.com. I'm also here to help you buy or sell a home in the area.
---
More resources: