TIME TO GO BIG AND GO HOME!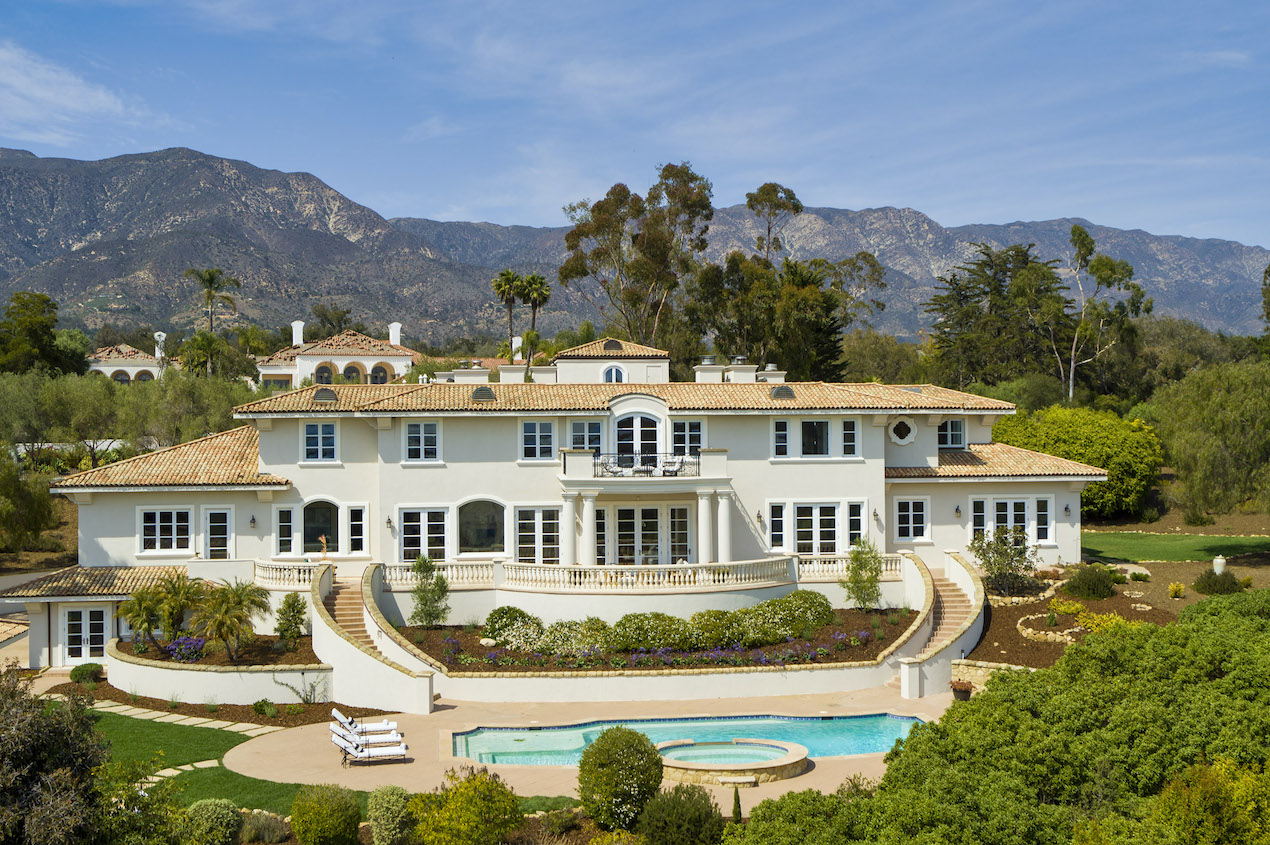 I love to blog about the latest luxury real estate trends, and I've uncovered 5 interesting changes to share with you in this post. It appears that the COVID-19 global pandemic spurred an unprecedented shift in lifestyle choices and housing needs. As a result, today's luxury home buyers have an overwhelming preference for larger houses, like the one pictured above of my new Exquisite Italian Villa in Montecito's Ennisbrook listing. Buyers are also looking for more amenities like dedicated gyms. As far as interior design goes, three-toned kitchens have become vogue. And when it comes to location, the trend is to live in an area with less population density. Sounds like Santa Barbara, Montecito and Hope Ranch, doesn't it?
READ: How to Add Value to Your Home
All the trends mentioned above have made sales of luxury homes in and around Santa Barbara soar. You don't have to be Sherlock Holmes to answer the question of what is driving our robust luxury sales. A demand for single-family homes, private outdoor space, and enough room to work remotely has buyers flocking here. Experts say the current economic recovery that's underway in the United States, combined with a vaccine boosting confidence, and a strong stock market has created a so-called wealth effect that's driving the upper end of the consumer market to perform well, even above expectations. And that confidence is not expected to end anytime soon.
So, what are the 5 major trends in today's luxury real estate sector?
Vigorous Demand for Luxury Homes in Less Populated Areas
The Covid-19 pandemic has given rise to several interesting property investment trends, including the desirability of living in a rural, less densely populated area rather than staying put in an urban setting. There are many reasons for the increased popularity of rural living. Let's look at some of the benefits.

Buyers want outdoor space, which has become the most sought-after feature in luxury home sales today. They are also interested in broadband connectivity and the latest in smart home features built-in.

Buyers want to live near parks. You might be asking, "What do nearby parks have to do with buying a home?" Well, since the pandemic, people are spending more time enjoying local amenities like parks. And there are many beautiful green spaces in Santa Barbara. Plus, we offer the ultimate when it comes to the indoor/outdoor lifestyle, both in our communities and our homes. And besides our lovely parks, we also boast miles and miles of beautiful beaches. Life doesn't get much better than that!
READ: 20 Things to Love About Santa Barbara
Then there's the advantage of living in a fresh environment. There are less health concerns here in the way of noise, water and air pollution, all of which can be widespread in urban areas. Take our neighbor, Los Angeles, for example. In a recent American Lung Association's State of the Air report, Los Angeles scored an F on ozone and particle pollution; both of which can aggravate asthma and cause lung irritation. But the severe effects from air pollution don't stop there. It can cause lung cancer.
The freshest of fresh food is available in the rural setting, too. Most of the food in urban areas comes from their rural neighbors, but it takes time to get the fresh food to the city. In this transfer the food can become, shall we say, "less than fresh," which in turn can cause stomach ailments. And, of course, there's the transport necessary, which adds to air pollution.

Fresh food is one of the reasons people who live in rural areas tend to be healthier. We suffer from fewer diseases than those living in urban areas. This is largely due to less pollution and unhygienic food, as I mentioned before. But there is also the concern that crowding can cause diseases to increase rapidly. We just saw that fact in action with the spreading of COVID-19.

It can be difficult to find residential housing in crowded urban areas. That problem can lead to homelessness, which has become a crisis in the Golden State. In fact, California has an estimated 160,000+ people experiencing homelessness on any given day. And that huge number of people living on the streets, mainly in urban areas, causes major problems for homeowners, not the least of which is sanitation.

The truth is that life is more secure in rural areas. The numbers tell the story. In urban areas, the ratio of crime is greater than in rural areas. We all know that an increased number of people can be at the root of problems with law and order. Makes sense when you consider that residents in urban areas are more likely to experience various kinds of crime, which can make it difficult for the citizens to live a prosperous life.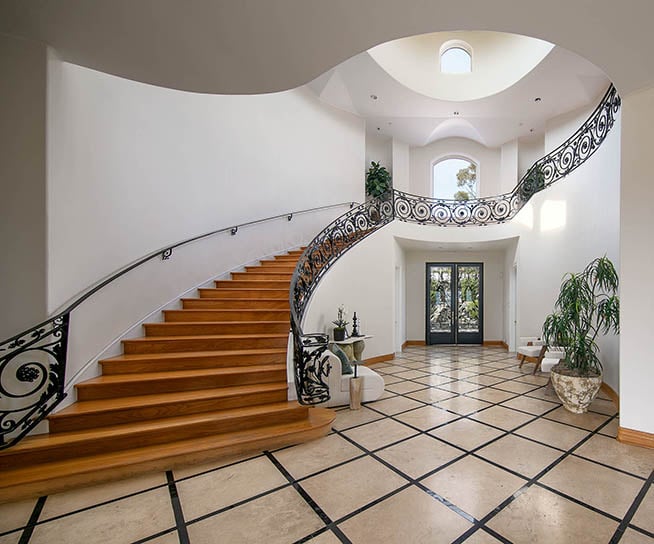 Big is Back!
Not long ago, it seemed just about everyone was obsessed with the tiny-home trend. So cute! So teensy! But forget about the "less is more" mentality. Now, bigger is definitively better again, especially when it comes to luxury real estate trends. A prime example of going big is the image above of the dramatic, sweeping staircase found inside my Montecito Italian Villa listing. Makes quite a big statement, right?
Besides the soaring foyer, this stunning ocean-view home radiates natural light throughout. Situated on almost 11,000 square feet, interior details include richly stained wood floors, numerous stone fireplaces, multiple living and dining spaces, a gourmet kitchen and more, with 6-bedrooms and 11-baths in the main residence alone.
In these post-lockdown times, home buyers seem desperate for more space, whether for a big yard, a dedicated home office or two, maybe a homeschooling area, home gym, or an extra bedroom or three. Palatial abodes are topping many affluent buyers' wish lists.

Even McMansions -- those oversized, column-bedecked, architecturally confused totems popular during the ostentatious '80s and '90s -- are ultra-hot again. In fact, large homes, clocking in at 4,000 square feet and up were selling faster in more than 70% of the 150 largest metro areas in February, compared with the same month last year.

And guess what area ranked #1, by far, for median list price among the most popular in America's housing markets with the biggest cribs, according to REALTOR® Magazine? Santa Barbara, of course! The median list price here for homes 4,000 square feet and above is $8.2 million-plus. Our reputation as an enclave for the ultrawealthy has only been enhanced with our latest celebrated celebs, Prince Harry and Meghan Markle putting down roots in Montecito. Sales here have been strongest in the luxury market where mansions are simply de rigueur.
READ: Outdoor Living Spaces for Luxury Homes: Builders Follow the Santa Barbara Example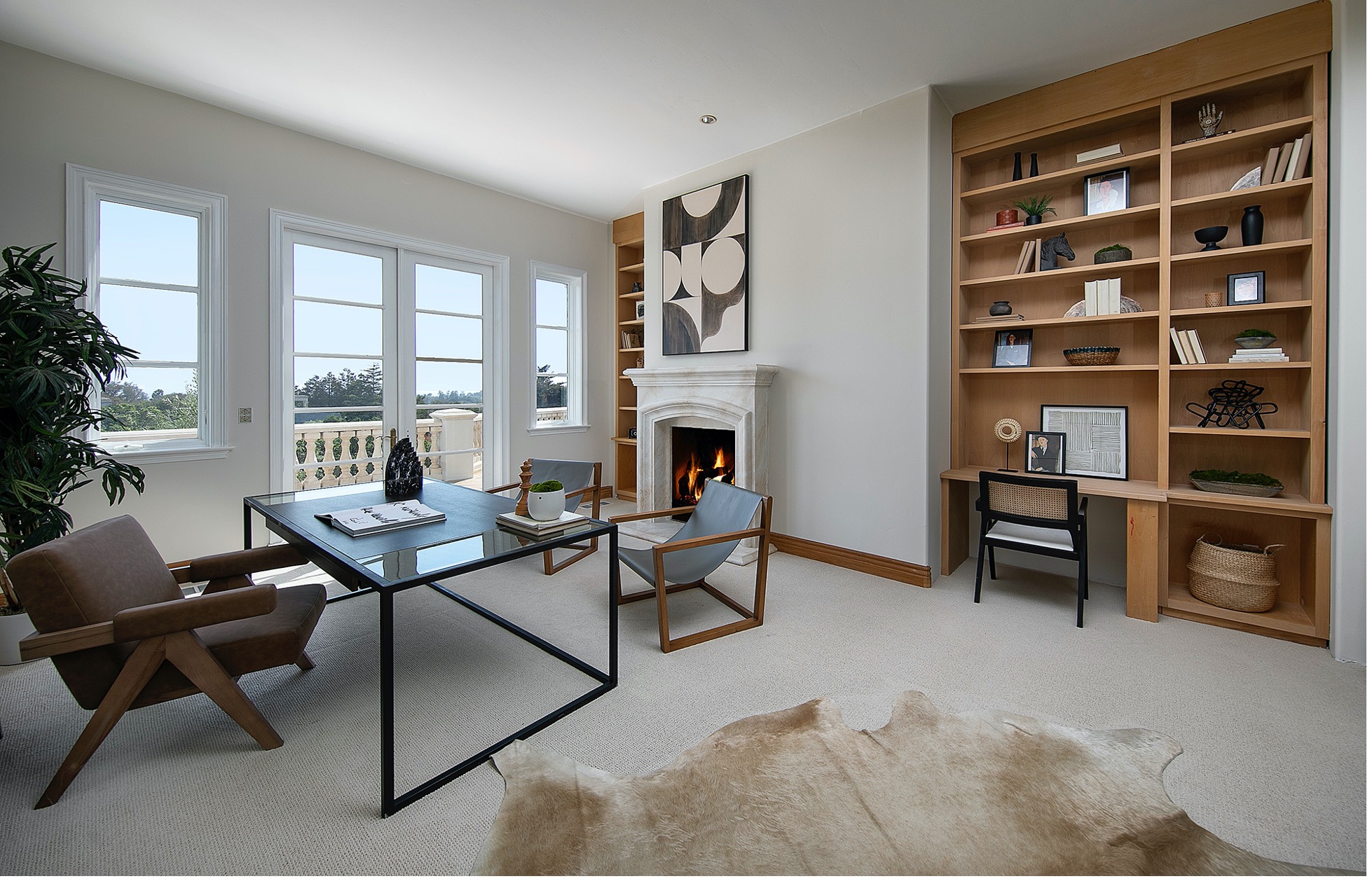 Luxury Amenities
Today's high-end and state-of-the-art amenities are taking center stage among luxury real estate trends, especially those that focus on practical, quality-of-life upgrades. Luxury buyers want a home that offers them increased outdoor space with lots of natural light inside; both in abundance here in Santa Barbara. Touchless technology that makes a smart home tops the list of "must-haves," as well as air filtration systems throughout the residence, even in the guesthouse(s). And when it comes to sanitation, today's mudrooms have become the place for personalized home sanitizing stations.
The home office, like the one pictured above, has become the go-to amenity for homeowners and buyers alike. My discerning clients are seeking spacious and quiet office spaces that are ideal for working from home. Aesthetically pleasing rooms that double as beautiful Zoom backgrounds are also a priority.

There's a desire for more kid-friendly amenities as well. Think large playrooms indoors, with outdoor half courts that can be used for basketball, skating and scooter rides. Families with young children want incredible jungle gyms, and sandboxes, while everyone enjoys a swimming pool, no matter what age. Having kid-approved amenities has never been more important.
And how about a home salon? Yes, luxury buyers have become accustomed to at-home salon visits, with nail technicians and masseuses going directly to them for regular grooming and pampering.
READ: How Santa Barbara Homeowners Can Create a "Smart" Healthy Home
Dedicated Space for At Home Gyms
According to a recent poll, 75% of homeowners say it's easier to stay fit at home. That's why both existing and new construction builders are adding space for unique and personalized gyms.

Affluent homeowners want customized, fully equipped home gyms replete with items like high-end treadmills, stationary bikes, row machines, plus benches and weight sets. They also want to have dedicated areas at home to practice yoga or Pilates, utilizing free YouTube videos and exercise apps to guide them through workouts. Many of these exercises require minimal or no equipment. Think Peloton, which offers live classes with motivating instructors along with an on-demand library with classes that range from 5 to 90 minutes. Another good one is The Mirror, a smart gym that functions as a personal trainer while it's in use and a stylish mirror when it's off. It boasts an array of workouts, including tai chi, yoga, boxing, and targeted strength training.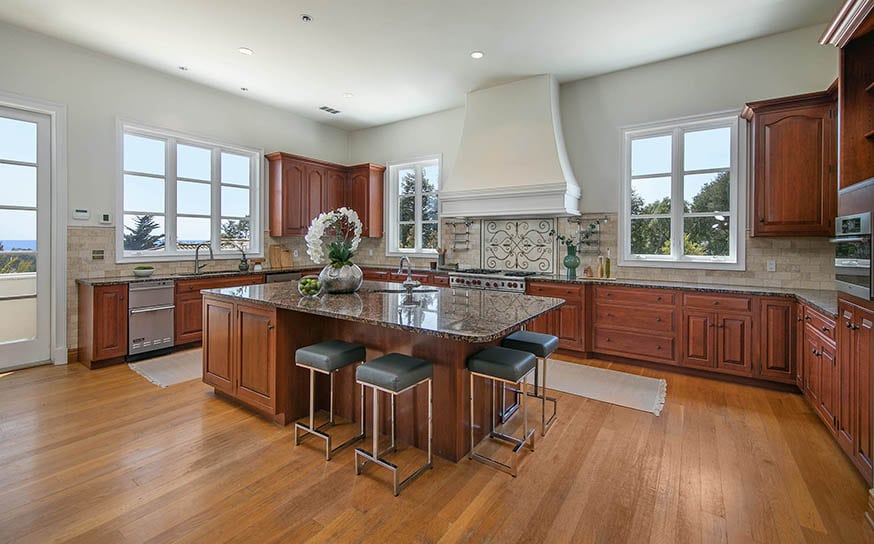 Three-tone Kitchens
Designers noticed the luxury real estate trend of adding a third tone to your kitchen a couple of years ago. And now that design idea has taken off. Here's how it works: the upper cabinets are one color, the lower cabinets are another, with a third tone added via beams, ceiling, shelves, or flooring. In the kitchen pictured above, from my stunning Ennisbrook Villa listing, a third color is added through the cushions on the stylish stools that surround the kitchen island. As you can see, this combination adds up to create a beautiful three-tone palette.

Your third color can also come from custom color appliances. Today, homeowners can find a full palette of rich, bright, and beautiful hues to choose from. Think about the possibilities. Ranges are a functional part of your kitchen, but they can also be the centerpiece of the room, and you can use them to help define your kitchen decor. If you want a lively splash of rich color, there are several brands that offer a beautiful array of stock and custom color appliances to place in the spotlight. You can go with bright colors, warm colors, cool colors, or any color your personal tastes call for. Custom color appliances are a fantastic option, too, because while you get the functionality of a high-quality range, you also get to add a personal touch that is uniquely your own.
While examining luxury kitchen trends, I also learned that buyers want kitchens with extra-large pantries or adjoining storage rooms where they can keep their essentials stocked, should any shortages occur.
All the luxury real estate trends mentioned above fit perfectly with the Santa Barbara lifestyle. If you're interested in trying any or all in a new home in Montecito, Hope Ranch or any of Santa Barbara's upscale communities, please check out my comprehensive website then give me a call at (805) 886.9378 or email me at Cristal@montecito-estate.com. I'll happily find you a new home and sell your existing property at the same time. It's a real win-win!