TIME AGAIN FOR GOOD FOOD, FRESH AIR AND FUN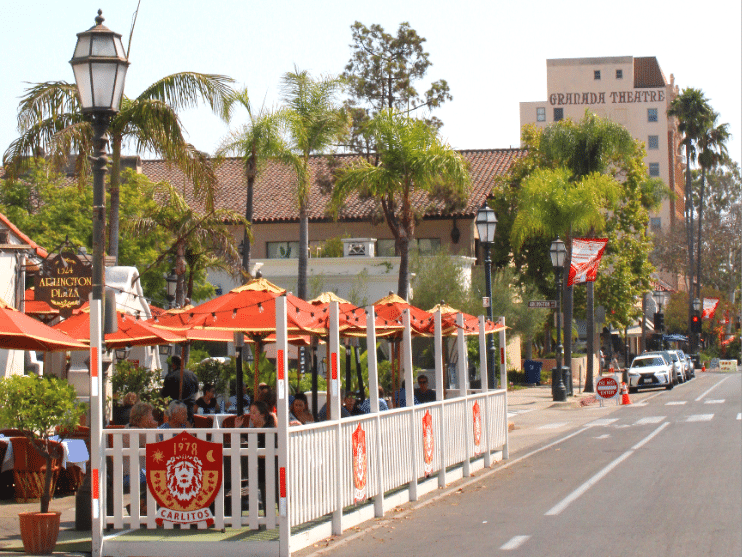 Image courtesy of DowntownSB.Org
For the first time in more than two months, thanks to the reopening of the State Street Promenade, cooped-up Santa Barbarians can now grab a bite to eat at one of the area's celebrated restaurants — and stay awhile to savor it. That's because the padlock on restaurant patios following a lengthy public health closure due to COVID-19 has been officially lifted. The move represents a much-needed boost for the county's hospitality industry, which has been pummeled for months by closures and restrictions meant to thwart transmission of the coronavirus.
READ: The Fine Art of Outdoor Dining in Santa Barbara
Keep in mind, the decision doesn't represent an imminent end to the COVID-19 crisis, or a sign that residents can cast aside the practices and protocols meant to stymie the spread of the deadly virus. Still, it's a move in the right direction, and local restaurant owners and their employees are delighted to open their outside patios again. In fact, our local dining establishments have experienced a boom in business after reopening outdoors.
Santa Barbara Restaurants
The State Street Promenade is one of the most popular spots to dine and stroll on California's Central Coast. For those who don't know, at the beginning of the pandemic, the city of Santa Barbara decided to transform its downtown area into a pedestrian mall, with restaurants, bars, and other businesses expanding onto sidewalks and into the main boulevard, infusing a sense of energy and vitality. The State Street Promenade spans multiple blocks and is closed to vehicle traffic while cross streets continue to pass through it.
READ: Shop and Dine Along the NEW Santa Barbara State Street Promenade
"Most of the restaurants on the Promenade have reopened their outside patios and are welcoming patrons and customers back," said Eric Krueger, the Operations Manager for Downtown Santa Barbara. "It's nice seeing people safely walking around with their masks on, enjoying beautiful State Street and taking advantage of our excellent weather."
Some of the establishments with outside dining patios you might want to check out include:
Benchmark Eatery
This neighborhood kitchen and bar is centrally located in the heart of downtown Santa Barbara, across from the Museum and Granada Theater. Enjoy the Crispy Brussel Sprouts (my fav), the homemade soups, salads, burgers and sandwiches.
Mizza
If you're in the mood for Italian, this is a great place to dine! Mizza makes their own pizza dough and pasta fresh daily, and topped with the freshest, locally sourced produce. The restaurant smokes chicken and salmon and only use free-range chicken, sustainably farmed fish and USDA Choice, Harris Ranch beef. All their sauces and dressings are made from scratch. Yum!
Satellite Santa Barbara
This breezy farmers-market restaurant, natural wine bar, and bottle shop is located right in the middle of Santa Barbara's Arts District. For lunch, dinner, and everything in between, the delicious farmer's market menu features Santa Barbara's best farmers, with a seasonal selection of farm-fresh vegetarian, vegan, and gluten-free options. You'll also find a global selection of wine, featuring small winegrowers from Santa Barbara and beyond.
SB Public Market
This wondrous place is known as Santa Barbara's premier food hall, featuring the best in local food and drink. Now that the stay-at-home order has been lifted, it's time to be socially-distanced and grab a seat on the outside patio, and dine on your favorites from any of the amazing restaurants in the Public Market.
Breweries like M Special, Modern Times and The Shaker Mill are also open as well as wine bars and more.
READ: 20 Things to Love About Santa Barbara

Under new county rules, outdoor dining and wine service seating must be limited to 50% capacity, with tables positioned at least eight feet apart. Outdoor seating also will be limited to no more than six people per table — and everyone sitting together must be from the same household, the health order mandates.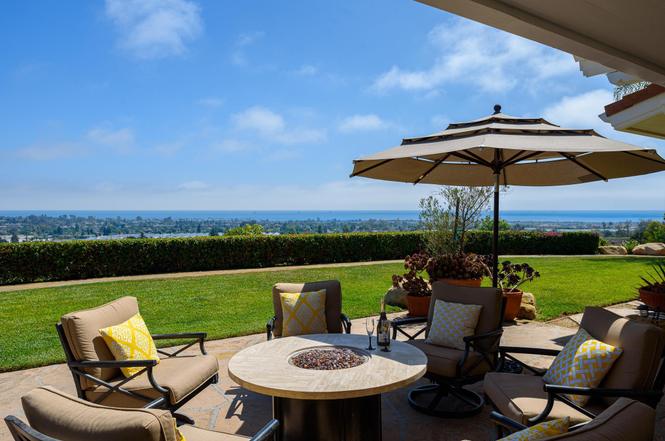 Al Fresco Dining in Your Own Backyard
Santa Barbara is the perfect place to experience the fine art of dining al fresco at home. Imagine waking up to the breathtaking view pictured here at my Charming Ocean View Ranch-style Home listing. Located in Carpinteria, one of the most sought-after beach communities in the area, this charming ocean view ranch-style home sits on approximately 5 acres , showcasing expansive vistas of the blue Pacific, Channel Islands and Santa Ynez Mountains.
I have many more exceptional listings like this one in my portfolio of fine homes in the area. See one you like? I'll happily arrange a COVID-safe tour for you.
READ: Housing Market Forecast: Predictions for 2021
Beautiful outside space is one of the things homebuyers are looking for today, especially in our sunny communities. If you are thinking of remodeling the outside area of your home, here are some things you'll want to keep in mind:
The Grill
Wondering what size grill you need? Just think about how often you entertain and how many guests attend outside soirées at your home. For most people, a 30″-36″ grill is the perfect size, accommodating anywhere between 2 to 20 guests. I just read an article in Forbes Magazine about the Rolls Royce of BBQ Grills, Kalamazoo Outdoor Gourmet grills. Offering a unique Hybrid Fire Grilling System featuring both traditional gas, wood or coal grill choices plus 3 heat choices.


The Materials
I recommend you stick to natural stone because that look is durable and will last the longest. Think bluestone, limestone or granite for your countertops. Definitely, seal countertops using a silicon-based impregnating sealer.


The access doors
Since gas shut-off valves are typically placed below the grill, you need to build access doors. You can also hook the grill up to the gas service on your house.


What else do you want to add?
Side burners, sinks, refrigerators, storage doors, lights, a strategically placed GCFI (outdoor power outlet), and perhaps a rotisserie. Basically, just think of everything you need inside, and make sure the same items are found outside!


Where to build your outdoor kitchen
Make sure you build your outdoor kitchen close to your indoor kitchen! That way, you can easily utilize your indoor space for food prep.
---
Check out my website for information on amazing properties featuring the fine art of outdoor living that are currently on the market in Montecito and the surrounding communities. I'm sure we can find you a new home perfect for al fresco dining. Just give me a call at (805) 886-9378 or email me at Cristal@montecito-estate.com. Meanwhile, enjoy Santa Barbara's State Street Promenade!
---