CRISTAL CLARKE'S SELLERS' GUIDE TO SUCCESS
The first step in the real estate closing process, in times like these, is to hire an agent with years of experience who knows how to make a sale in any environment, including a worldwide virus outbreak. Last year alone, Cristal helped thirty-seven sellers find a buyer and accept an offer despite these challenging times. She also helped her discerning clients get the deal closed in record time.
Following is Cristal's advice regarding what home sellers should expect during the real estate closing process, and how to navigate the current hurdles to stay safe and keep the deal on track, even though the process might take a bit longer than usual.
READ: Santa Barbara Housing Market: Home Prices in the Shadow of COVID-19
Sanctioned Delays in Today's Real Estate Closing Process
The California Association of Realtors has come up with clauses that would extend the amount of time buyers and sellers have to close their transaction by up to 30 days or longer and also allow them to back out of the deal if the coronavirus affects them. As a result, today's real estate closings are taking longer in the age of Covid-19. At the end of last March, closing times averaged 60 days from the time an offer is accepted, up from 43 days in February and 26 in January.
Some Reasons for a Protracted Process
In part, the longer closing times are due to lenders who have been swamped with processing refinancing applications resulting from the historically low mortgage interest rates. In addition to this backlog in refi underwriting, social distance and shelter-in-place orders have delayed and complicated every step of the closing process—from home inspections and appraisals to in-person home tours. Add to that the fact that many home sellers are faced with buyer addendums and contingency timelines to account for these holdups and you'll see how easily the process can go off the rails. If you're eager to close the deal but nervous it could fall apart, you're not alone. Here's some important intel on what could hold up the various stages of home closings, and why.
Home inspections
Typically, once a deal is reached, home buyers will send a home inspector to the seller's home to vet it for any flaws before the new owners move in. These days, with shelter-in-place mandates, home sellers can remain in their homes during inspections, but if this prospect makes you nervous, you can ask for a "remote home inspection" instead. A remote inspection is usually reserved for applicants who reported that their home is not livable, sanitary and safe yet require an inspection.
Home appraisals
Traditionally, home appraisals—where an appraiser visits the house to assess its value—are required by lenders for any buyer who requires a mortgage. Even if you are paying cash, a home appraisal is still recommended. But to keep home sellers safe during COVID-19, the Federal Housing Finance Authority has instructed Fannie Mae and Freddie Mac to temporarily allow exterior-only appraisals or desktop appraisals during the COVID-19 crisis.
These appraisals use public records, multiple listing service information, and other data sources to identify details about the property—and don't require going inside the home. That's good news for sellers, although the process could end up taking longer as a result.
Walk-throughs
Social distancing is also affecting buyers' final walk-throughs, with some being done virtually on FaceTime and others not happening at all.
Real estate closings
Last but not least, social distancing may also delay closings, because some title company offices are closed, and in-person gatherings of more than 10 people are prohibited. The way around this is, rather than having everyone gather in one room, various parties might sit in separate rooms and shuffle papers between them. Some closings are even taking place outside on sidewalks.
READ: Buying a Santa Barbara Home During a Pandemic
Are remote home closings possible?
While remote online notarization is allowed in 23 states across the nation, California is not one of them. California Law does not provide the authority for California notaries public to perform a remote online notarization. The personal appearance of the document signer is required before the notary public. However, California citizens who wish to have their documents notarized can seek a mobile California notary public.
The National Association of Realtors® recently sent a letter to Congress asking lawmakers to expand it nationally to speed up real estate transactions during the pandemic while limiting in-person contact.
Just keep in mind that most of the delays in selling a home during the COVID-19 outbreak are beyond anyone's control—and are a good thing in that they're meant to protect home sellers (and buyers) from unnecessary exposure risks that might come from in-person meetings.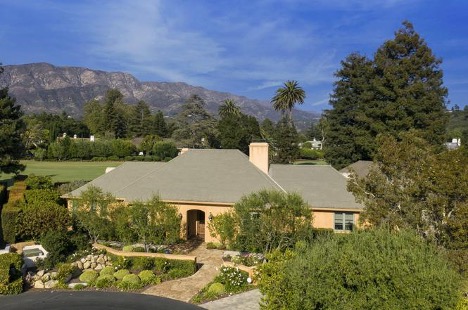 Local Listings
There are many fine properties for sale in Montecito. One example is Cristal's Elegant Birnam Wood French Country Manor pictured above. This sophisticated single-level home is perfect for golf lovers since it is adjacent to the 1st fairway of the enclave's private golf course. The property also offers dramatic panoramic views of the nearby Santa Ynez Mountains, with stunning grounds reminiscent of a French country manor. The estate also takes full advantage of Montecito's coveted Mediterranean climate, welcoming a seamless transition from interior to exterior.
---
Check out Cristal's website for information on other amazing properties featuring the fine art of outdoor living that are currently on the market in Montecito and the surrounding communities. See something of interest? Just give Cristal a call at (805) 886-9378 or email her at Cristal@montecito-estate.com. She'll happily add your home to her portfolio of fine properties for sale and she can even help find you a new home sweet home at the same time. And when you work with her, she is available to help with every step along the way, including the real estate closing process.
---