10 ESSENTIAL TIPS FOR CREATING THE ULTIMATE AL FRESCO VENUE AT HOME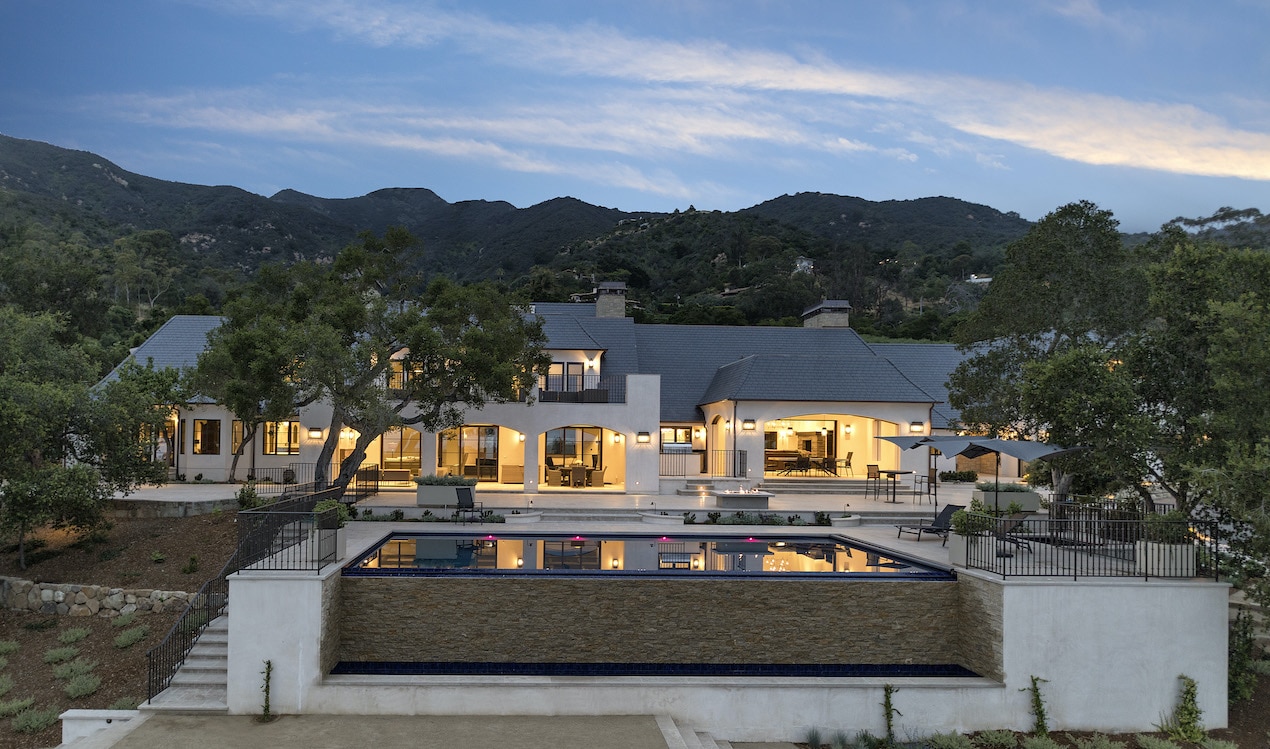 We live in the perfect setting to experience the fine art of outdoor dining in Santa Barbara without leaving home. As you can see by the image above of the European-Inspired Montecito Contemporary Estate I recently sold, your backyard can be (and should be) one of the most attractive spaces of your home. And when it comes time to sell, an outdoor kitchen is one of the things homebuyers are looking for today. If you're thinking of remodeling the outside area of your home this summer, here are 10 tips to help you create the ultimate al fresco set up in your own backyard:
The Grill
To determine the correct size of grill for you and your family, consider how often you entertain and how many guests attend outside soirées at your home. For most people, a 30″-36″ grill is the perfect size, accommodating anywhere between 2 to 20 guests. And, if you're like me and want the very best, the Rolls Royce of BBQ Grills is from Kalamazoo Outdoor Gourmet. The company's unique Hybrid Fire Grilling System features traditional gas, wood or coal grill choices, plus three heat settings.


The Flooring
Every outdoor dining area requires unique flooring. I recommend you choose a practical surface that's durable, level, even, and solid enough to prevent your furniture from sinking into the ground. Ideally, your outdoor flooring will mimic your indoor flooring in style, color, and finish for that perfect indoor-outdoor blend that Santa Barbara has become synonymous with.

The Shade
Even though we get to enjoy year-round perfect Mediterranean weather, there are still times it gets rather hot here. Keeping everyone comfortably cool – or protected from the elements – is easy. A veranda, like in the picture above from my Montecito Estate listing provides substantial shelter from the elements. Or create a pergola, with climber plants such as ivy or a vine.

Choose a dining set with a patio umbrella or add a freestanding or clip-on version to your existing dining ensemble. There are also cool area sunshade sails which are especially useful for exposed outdoor areas and terraces. Accessorize with pretty, festive garden lights and enjoy outdoor dining without overheating.

The Furniture
Santa Barbara offers its own certain style, with a very distinct look and feel. Keep our local vibe in mind by creating several outdoor spaces where your family and guests can relax before and after a meal. A good way to do that is with additional seating near your al fresco dining table like the owners of my European-Inspired Estate pictured above did.

When it comes to color and style, make sure what you choose for the outside complements your interior. And Santa Barbara has some of the best garden and home stores including Botanik, a lifestyle boutique with beautiful outdoor goods, and Porch, where shelter and nature converge, to the ever-changing mix of antiques and accessories for your patio (and your home), that are not only sophisticated but also functional at William Laman Furniture Garden Antiques.


The Storage
Every outdoor dining area needs space for storage; way to keep the area tidy and clean, ready to fire up that grill. If your outdoor dining area is covered, you can keep all your utensils and table linens stored in a kitchen trolley, outdoor boxes, or even built space with cupboards under a counter near the grill. If not, keep them inside, ready to use at your next dinner party.


The Atmosphere
Music sets the mood, especially when it comes to dinner parties. That's why investing in outdoor speakers or a sound system is a good idea. If you like the idea of having permanently installed speakers, but want to use Bluetooth as your music source, you can power your outdoor speakers with a receiver that has Bluetooth built in. Voila! The best of both worlds!


The Countertop
When it comes to your outdoor countertop, I recommend you stick to natural stone because that look is durable and will last the longest. Think bluestone, limestone or granite. Definitely, seal countertops using a silicon-based impregnating sealer.


The Access Doors
Since gas shut-off valves are typically placed below the grill, you need to build access doors. That way, you can easily hook the grill up to the gas service on your house. Of course, many top-of-the-line grill systems have that feature built in.

The Accessories
Side burners, sinks, refrigerators, storage doors, lights, a strategically placed GCFI (outdoor power outlet), and perhaps a rotisserie or even a pizza oven. Basically, just think of everything you need inside, and make sure the same items are found outside.

The Location
Build your outdoor kitchen close to your indoor culinary center, like the one pictured above from my Montecito Contemporary Estate. As you can see, having your outdoor space connected to your kitchen makes food prep a breeze.
If you're considering moving to one of the Santa Barbara area's beautiful communities or neighborhoods, check out the amazing properties on my website that feature the fine art of outdoor dining in Santa Barbara. I'm ready to serve you when it comes to your real estate needs. Give me a call at (805) 886-9378 or email me at Cristal@montecito-estate.com. I look forward to working with you and finding the best home where you can experience the fine art of outdoor dining in Santa Barbara.
More Resources: