10 INSPIRATIONAL DESIGNERS ON INSTAGRAM

Emily Henderson's Instagram
Today's consumers have become increasingly digital-savvy and social media-driven. I have blogged about Insta-worthy locations in Santa Barbara in the past. Now, it's time to take a look at the ways social media is influencing design, even here in Montecito and Santa Barbara.
Design Inspiration
The highly visual nature of Instagram is taking the lead among social media channels as the most popular place to find design inspiration. Of 2,000 Instagram users recently surveyed, the vast majority (85%) reported following accounts that are style, fashion or lifestyle-focused, which includes interior design. There are also endless opportunities to buy what you see on Instagram.
The number of Instagrammers is endless. That makes navigating the saturated platform a bit overwhelming, especially for those of us who didn't grow up in the age of social media. Still, from new-age design influencers to industry veterans, interior design Instagram accounts offer followers a new sense of connection between designers and homeowners. This sense of connection makes the entire process mainstream and valuable. In fact, over the years Instagram has become the go-to tool of choice for interior designers and decorators across the globe.
"I've met so many people on Instagram," says Mark D. Sikes, whose preppy, all-American style has earned him more than 150,000 fans. "It's less polished than a professionally produced design portfolio, but it puts you literally into the hands of the public, showing them who you are and what you love." Be sure to follow him!
Social media is changing what people view as pretty
What people viewed as being attractive before the popularity of Instagram was largely driven by major brands. That's because these huge bands could do the following:
Pay for advertising on TV, newspapers and magazines.
Bring in new customers based on assumed expertise from name alone.
Saturate the market, especially retail spaces, with their designs.
Develop deep relationships with top media outlets to generate stories and interest. These relationships effectively shut out alternative design voices.
All the above resulted in pretty and popular going hand in hand. That's no longer the case. Thanks to social media, smaller designers can create a presence and following as well as the big-name brands. That has brought to the world of design edgier and earthier looks so popular today. As these small brands continue to trend, their ideas are becoming more and more mainstream.
10 Social Media Interior Designers Worth Following
Here is a list of some of today's popular interior designers who are setting the pace with their social-media-savvy approach to design. Every Montecito and Santa Barbara homeowner interested in the topic should #follow:
Justina Blakeney
The artist, designer, and inventor of the term "Jungalow" (jungle + bungalow) crafts interiors that beg to be shared on Instagram. Blakeney is a master of colorful and lively aesthetics. Her Instagram page overflows with plant-filled, tropical inspiration, perfect for the American Rivera.
Malene Barnett
"My philosophy is don't worry about perfection," says Barnett, designer, and founder of Black Artists + Designers Guild. "When you get an idea, take action. Just do it, execute quickly, and tweak later." You'll find gorgeous interiors on her Instagram page along with inspiring art, plus an overall sense of empowerment through the design world and beyond.
Emily Henderson
Henderson is an LA-based celebrity blogger, interior designer, and TV personality. She crafts refined interiors with a bohemian edge. Head over to her Instagram to find photogenic bright, color-filled spaces that you will want to share with your followers.
Corey Damen Jenkins
Damen Jenkins is known as an interior designer, tastemaker, and media personality extraordinaire. He crafts high-glam interiors that embody a sophisticated aesthetic. One scroll through his Instagram page will make you see why CDJ is a must-follow for any design lover.
Young Huh
The Detroit native is the principal and founder of Young Huh Interiors. She is also an active Instagrammer with a bright and summery page to match her signature aesthetic.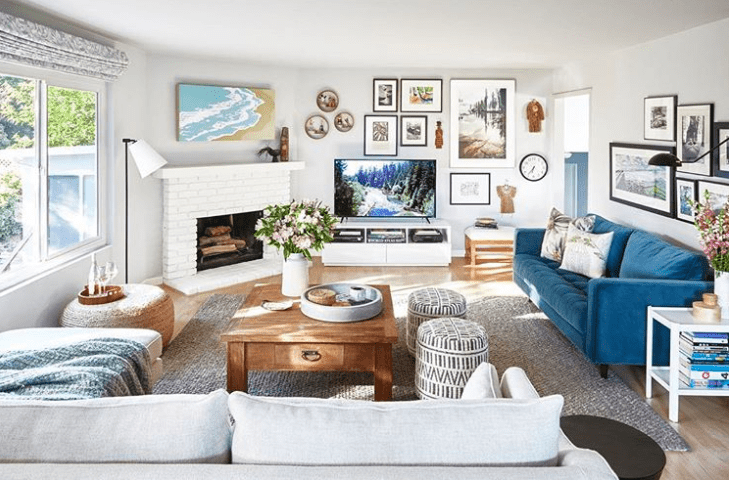 Orlando Soria's Instagram
We want our lives and our design to be Insta-worthy
Whether we want to admit it or not, the decisions we make are influenced by our desire to follow the trends when creating a uniquely personal space. This, combined with the open-source nature of social platforms, has seriously changed what we think is attractive in home decor and even art. All that adds up to produce real impacts in the way homeowners design all the rooms in their Montecito and Santa Barbara homes.
---
Anyone who lives on the American Riviera should check out my Instagram page to find inspiration. I'd love to hear your thoughts on who I follow and your suggestions on others I should not miss. Please shoot me a private message on my page. Here is another idea. All of the homes for sale listed on my comprehensive website also provide inspiration, especially for those looking to buy in the area. See something you like? Then please call me at +1 805.886.9378 or email me at Cristal@montecito-estate.com. Be sure to check out my other social media pages: Facebook, Twitter, and LinkedIn.
---