How Long Will the Current Santa Barbara Real Estate Market Continue?
The Santa Barbara real estate market continues to soar. In January 2022, inventory began to rise, too, partially due to a change of heart by many sellers who initially avoided listing their homes because of COVID-19 and the holidays. In addition to this, I expect to see buyers who bought property early into the pandemic begin to cash in on substantially high property values and re-evaluate their new living situations. Many of those buyers migrated here from larger cities and are finding that city life is, in fact, where they belong. The result, hopefully, will generate more inventory.
Even with more inventory currently on the market, however, demand continues to be strong. Homes in Santa Barbara and the surrounding communities are continuing to sell quickly and for top dollar. Nonetheless, many wonder if this market will continue.
Chief economists from the California Association of Realtors and the National Association of Realtors say it will, although the rate of price increases will be significantly lower than we have seen over the past eighteen months or so. That means if you've been on the fence about selling, now is the time to list.
Watch my video for more insight into the current real estate market in Santa Barbara and our surrounding communities.

Make sure to have a look at my predictions for 2022 and beyond later in this post. (I'd love to hear your thoughts!)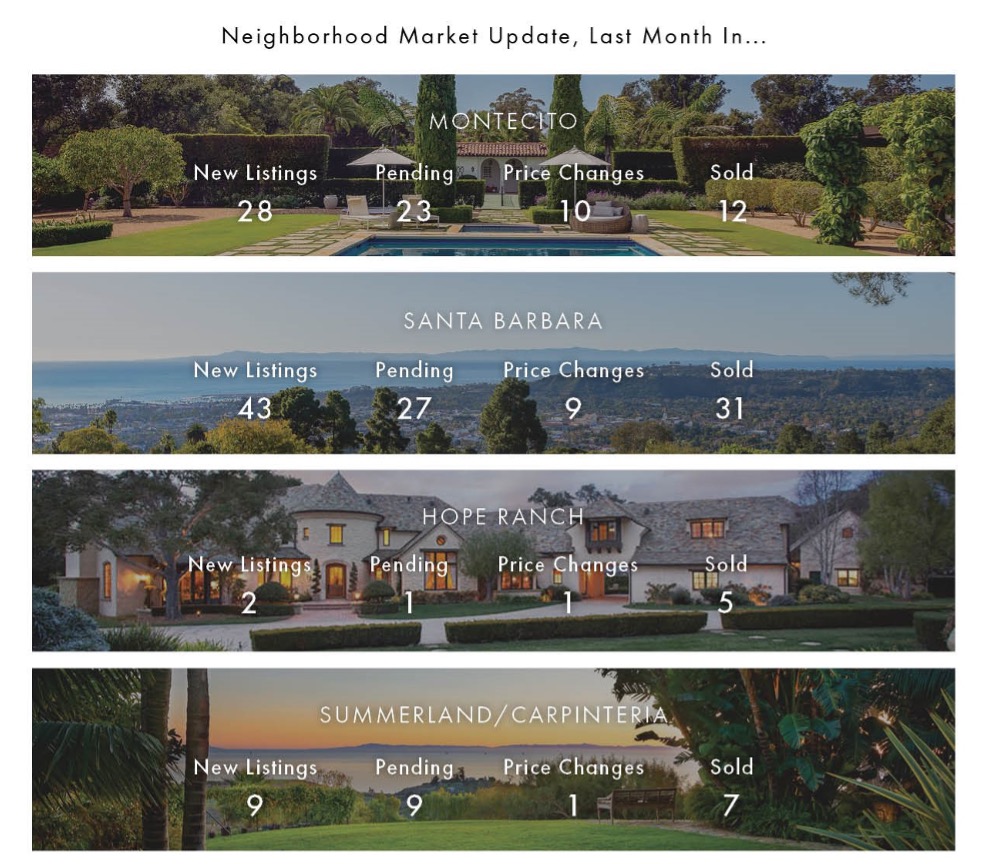 My Current Off-Market Listing

A 4-Unit Income Property in a prime location near downtown Santa Barbara, featuring a Spanish style main residence with a separate Craftsman Style Duplex, a 5-car garage, separate 1 bedroom apartment.
My January Sales

This Enchanting French Provincial Style Montecito Estate, a classic Montecito contemporary single-level home with more than 3.32 acres boasting unparalleled views. It sold off-market.

I represented the seller of this Elegant Single Level Hope Ranch Home that sits on approximately 1 acre within one of Santa Barbara's most elite enclaves.

I represented both the buyer and the seller of this Breathtaking Ocean View Montecito Retreat. The perfect example of timeless Spanish Colonial architecture reborn through a state-of-the-art renovation incorporating the finest materials.
Looking Ahead…
As we navigate through the first quarter of 2022 and beyond, the question many clients are asking is, "Will the high level of buyer activity continue in the local real estate market?" That's certainly a hard question to answer, but let's take a look at some basics:
1. Our local communities: Montecito, Santa Barbara, Hope Ranch, Summerland and Carpinteria, represent some of the most revered and sought-after real estate in the United States, if not the world. This is based on several factors, not least of which is the lifestyle afforded to us by the cultural amenities, weather, and relaxed atmosphere for family life. This will become even more important moving forward and as such will continue to drive real estate prices upward. I expect a surge in buyer activity early in 2022, inventory notwithstanding.
2. 2021 saw continued growth of families moving into our local communities as well as continued migration from Los Angeles, San Francisco and many parts of the East Coast; a trend I expect to see continue in 2022 and beyond.
3. Despite a small downward trend in the late part of 2021, consumer confidence remains relatively strong and should be boosted in 2022 by the continued efforts against COVID-19.
4. I expect to see at least 3 interest rate hikes as a control response by the Federal Reserve to the rise in inflation which may have a slight effect on real estate, but overall, prices will end positive by year-end.
As I mentioned, I'd love to read your thoughts. Meanwhile, if you're thinking of selling your home in one of Santa Barbara's delightful communities, why not take advantage of this unique Santa Barbara real estate market? I welcome your call at (805) 886-9378 or feel free to email me at Cristal@montecito-estate.com for a complimentary consultation. Stay apprised of local real estate trends with my next market update, in March.