4 MISGUIDED "TRUTHS" PROMOTED BY POPULAR PROGRAMMING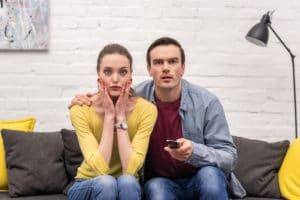 The HGTV effect in the real estate industry is real, but don't kid yourself into believing all of what you see and hear on your favorite real estate TV shows is necessarily valid. Think about it. These are shows, not reality. If you're considering listing your Montecito home or are looking to move in the area, here are 4 "lessons" to take with a grain of salt from your favorite HGTV show.

You just need to look at 3 houses to find your dream home.
The HGTV series "House Hunters" is infamous for focusing on buyers looking at 3 houses. In reality, however, homebuyers might have to look at many more than that before they enter into escrow.
"The problem is that in a 30- or 60-minute show it's impossible to show what really goes into finding and then buying a home," says Ralph DiBugnara, president of Home Qualified, a web series about issues within the real estate industry. "One of the biggest issues in our current real estate market is the length of time it's taking to find a home."
I concur with Ralph, especially in our current market conditions where a lack of homes for sale continues to be a national trend. I always help my clients have realistic expectations, whether they are selling or buying in Montecito or Santa Barbara. You have to consider every scenario when moving, including location, schools, price, and so on. If the shoe doesn't fit, you have to continue your search. A good Realtor© will be there for you throughout the process.
Read: Hiring a Realtor®? Consider Their Knowledge
Money is not a consideration because if you want it, you'll find a way to own it.
OK, some HGTV shows do address the fact that people have to stay within their budget. Real estate professionals warn that some shows, nevertheless, give many viewers an unrealistic idea of what they can afford.
According to CNN Money, your home buying budget should be two and a half times your annual income. In other words, according to that formula, if you and your partner make $500,000 a year, you can afford a $1.25 million home. That's the general rule, but the exact amount depends on many factors, including your living expenses and debts, so consult a financial adviser.
I couldn't agree more that one of the biggest deciding factors when buying a home is how much you can afford. Even the ultra-wealthy have a budget.
Buyers should walk away from a house based on superficial features such as the faucets or countertops.
Some homebuyers simply pass on a house with good bones and a terrific location due to the HGTV hype. Those shows are meant to be entertaining, not a blueprint for home hunting or selling. They create the unrealistic expectation that in order to sell, a property must be perfect. Instead, home buyers should rely on a good home inspection for a realistic idea of things that need to be fixed.
According to the American Home Inspector's Training Institute, "A home inspection is an inexpensive way to discover the universal condition of a home. It is important to conduct a home inspection to avoid a costly mistake by purchasing a property in need of major repairs. Even if you think you have found a dream home, it is a home inspector's responsibility to let you know that your dream home may not be just right." Or it may even be a nightmare under the surface.
I've witnessed this mistake myself when a buyer allowed superficial things to keep them from purchasing the perfect home. I always tell my clients that a good home inspection will help them understand exactly what they are about to acquire by covering electrical wiring, plumbing, roofing, insulation, even structural features. The inspection of the home may unveil issues that are not noticeable to the buyer's eye and those issues are what a buyer should pay attention to; not the superficial ones.
Read: Home remodeling: should you fix up your house before selling?
Fixing up a home can be done pretty quickly.
In many real estate TV shows, teams of professionals get renovations completed in no time. But is this real?
"Every house has defects, some obvious and others hidden," says Jack M.Guttentag. Professor of Finance Emeritus at the Wharton School of the University of Pennsylvania and author of The Mortgage Encyclopedia. "Both types will affect the price a buyer is willing to pay. It is a mistake to think that a potential buyer will assume that the only defects that exist are those that are visible."
Most of these shows start filming six months or more into a particular project. They already have the permits, contractors, and suppliers lined up. I tell my clients to keep in mind most projects will take you 3 times longer than quoted and cost more than expected.
---
If you are an HGTV junkie, don't feel bad. The real estate TV shows are entertaining, and they can share valuable information regarding the home buying and selling process. The right real estate agent can help you bypass any of the 4 mistakes outlined above and guide you through your real estate transactions like a superstar. I'd be honored to be that real estate professional for you if you're buying and selling in Montecito or any of the communities in Santa Barbara. Give me a call at +1 805.886.9378 or email me at Cristal@montecito-estate.com and I'll happily add your home to my portfolio of fine properties while finding you the perfect place to call home. We can share notes on our favorite HGTV shows while we're house hunting!
---