ALREADY BE COVERED? CHECK YOUR HOMEOWNERS POLICY.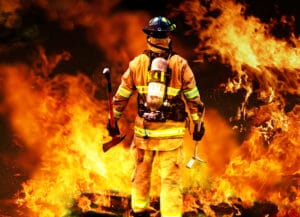 You may have heard that private firefighters saved the $60 million home of Kim Kardashian and Kanye West when the California Woolsey Fire ravaged Ventura County. How did they do that? Private firefighting is a rapidly growing industry that makes up just 4.3% of the nation's total firefighters, but this is an industry on the verge of catching fire because of a growing trend toward privatization.
According to the nation's largest wildfire service provider, Wildfire Defense Systems (WDS), and other companies like them, many insurance companies automatically enroll customers in private firefighters' programs. That means the lifesaving program might already be available to Montecito homeowners through their existing insurance policy. That's because insurance companies have found that this is a very effective way to serve their policyholders and mitigate losses. And the insurers absorb the costs.
"We've responded to over 550 wildfires on behalf of the insurance industry," says David Torgerson, president of WDS. "These are offerings that the insurance companies are doing at no cost to the policyholders. This is not a pay to play and it never has been."
Read: Montecito Community Leadership Forms the Partnership for Resilient Communities
WDS works with nearly a dozen insurance companies right now. While the company cannot list all the companies that provide private firefighters service, I did find out about a few. One of the big innovators was Chubb insurance. Chubb is a very popular high-net-worth insurer. But others also offer the service, including USAA, which is a company that serves our military, active military and veterans and their family; Mutual of Enumclaw out of Washington State, which offers insurance in some California regions; Cincinnati Insurance and many others.
If your insurance policy does not include a private firefighters' program, you can purchase the service, but the policies come with a hefty price tag. A recent report says such a policy could cost between $2,500 and $8,000 a year.
"If the idea of private firefighting strikes us as an oddity nowadays, it should," explains Benjamin Carp, a historian at Brooklyn College CUNY. "While other societies throughout history have relied on private firefighting companies to protect the property of the upper classes … for the most part, we … have accepted the idea that fighting fire ought to be a public good."
According to companies such as WDS, the service is not just for the rich and famous anymore. And these firms should know. Some have more than a decade of experience serving large and small insurance clients. WDS and others like it combine professional wildfire consulting with federally-certified emergency response wildfire suppression services.
WDS, for example, covers a 21- state region, which includes California. They protect homes by sending highly-experienced personnel, along with their fleet of private wildfire engines, the largest private fleet in the nation. When these professionals arrive, homeowners can rest assured they will fight the flames with an unmatched inventory of wildfire suppression and structure protection equipment and materials.

Homeowners who have WDS can access the company's user-friendly dashboard which offers solutions before, during, and after wildfire events. During a wildfire, the dashboard provides a real-time visualization of the property so the homeowner can keep an eye on their most valuable asset. They will also receive regular updates from the WDS incident response team when a fire is in their neighborhood.
Homeowners can also take advantage of wildfire forecasting as well as protection information and education. The company developed software to analyze potential threats before a wildfire sweeps through a community. This important information can help the private firefighters on the front line save one's home. The reports generated by WDS and others can also be used to provide validation of any claim and can be sent directly to the insurance company. This can do more than facilitate the claims process. It can also speed it up.
Most of these private services offer on-the-ground site visits before a wildfire strikes. They do this by clearing combustible items from the property. They include wood piles, outdoor furniture (especially cushions), weeds, straw floor mats, and debris in gutters.
How Do Private Firefighters Work with Local and State Authorities?
The most important thing these companies offer is professional firefighters. The professionals' step in to fight the flames while government officials run the fires and control the evacuation zones. In fact, local fire departments see a real value in allowing these insurance-program engines or insurance resources, as they're called, to come in and contribute to the survivability of homes in danger.
They check in with the incident command first, then get access granted while continuing to communicate and coordinate the firefight. The people who are contracted for private firefighters have been working in the industry for decades on both the state and federal levels. That means they essentially have the exact same certifications as under the national system.
This may be the first time you're hearing of private firefighters, but the trend is not new. For the last 40 years, private resources have been working on wildfires for the government. Since 2001, WDS, for example, has been contracted by the government to fight out-of-control wildfires. What's new today is offering these services to individuals via the insurance industry. It's supplemental. In other words, it's not taking away from any process; it's adding to resources.
As you can see, hiring private firefighters is an excellent way to protect one of your most valuable assets: your home. Plus, there's a good chance this service is already included in your homeowner's insurance policy. Utilizing the services provided by private firefighting companies can protect both you and your neighbors when disaster strikes. Although Santa Barbara and Montecito are idyllic in many ways, our communities are not immune to the whims of nature or man-made accidents. Having access to private firefighters is one of the smartest facets of insurance for any homeowner here on the American Riviera.
---
Now that you're aware of what, for you, might be a new option for peace of mind, let me help you find a beautiful new home to apply it to. When you're ready, check out my comprehensive website and call me at 805.886.9378, I can also be reached via email at Cristal@montecito-estate.com.
---