PRIVATE LISTINGS ARE NOT FOR EVERY SELLER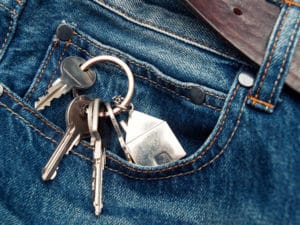 So-called "pocket listings" have been a longtime staple among New York City and other high-end real estate market sellers looking to quietly sell a high-priced luxury residential property. Today, this kind of listing, also known as a "private" or "whisper" listing, can be found all over the United States, including right here in Montecito. While off-market deals have always existed, especially in the uppermost echelon of the real estate market, the industry has seen a recent uptick in this private sales technique. But is this the best way to sell your Montecito home?
The Tempting Aura of Mystique
It's true, whisper or pocket listings come with an aura of mystique. These exclusive off-market listings are not visible, however, to the high number of people who see comparable Montecito listings marketed the conventional way. That means they can take longer to sell. Still, many sellers opt for this sales method, and I've personally seen this work beautifully for super luxury properties that are truly unique. Home buyers like pocket listings. They make buyers feel like they are part of an exclusive club.
Pocket listings will not be found on or on real estate sites such as Zillow, and Trulia or on the multiple listing service database. While the MLS may look like one massive national database, it's actually a suite of approximately 700 regional databases. Each regional MLS has its own listings, and agents pay dues to access and post homes for sale on each one.
When a seller chooses to use a pocket listing, home buyers won't find that listing anywhere online (except, perhaps, in a special section of their agent's website), or see a "For Sale" sign in the front yard, either. Instead, the real estate agent keeps that info secret; sharing the details with only a smattering of trusted agents who represents the right clientele for the listing, as well as with a select group of prospective buyers.
Conventional listings
The vast majority of homeowners are best served by an MLS-listed property. That's why most agents recommend sellers list the conventional way, thereby reaching the largest number of potential buyers as possible through aggressive advertising and marketing. Fewer people knowing a home is for sale most likely means a longer wait time for escrow to begin. That means sellers who opt for this method must remain patient -- even in this seller's market we are still experiencing.
In general, the real estate industry doesn't look so favorably on whisper listings, because the best way to get the highest and best price for your Montecito estate is to reach the widest amount of people possible. The right agent should be able to help you make a decision. If you're not in a hurry to move, then you might want to consider this option. Ultimately, there's nothing like going the traditional route, however, when selling your property, especially if you want things to move quickly, and if you don't have a truly unique home.
Whisper or Pocket Listings
Pocket listings constitute only a slim percentage of total listings. By most estimates, under 10% of the national total. For some people, this strategy is perfect.
If privacy is of utmost importance and you are selling a unique luxury property, then a whisper listing might be your best bet. They really are designed for high-profile homeowners who want to remain out of the spotlight and keep their sale under the radar. Still, MLS listings today have the ability to cover for these concerns. A homeowner can list their property with an agent on the MLS but restrict the listing information so as to totally preserve their privacy. Plus, a homeowner can always limit showings to an amount that makes them feel comfortable.
Many celebrities and CEOs use this method. For some sellers, it's a cultural norm to keep real estate transactions private. Others are interested in creating a sense of mystery. Some don't want to list their homes at all but would consider selling if they could fetch a certain price. If you need time to embrace the idea of selling your home, this could be an ideal way to sell.
Read: Celebrity Homes: Santa Barbara Sanctuaries of the Famous
Whatever your reason for keeping your home sale under the radar, pocket listings are most effective when the home is unique. This could mean there is a well-known architect or designer behind it, or it's a rarity because of its size, location, or amenities. In the case of a home that is exceptional, and ultra-luxury, experienced agents will have specific buyers in mind, thereby eliminating the need for public listings.
The Right Agent
That's why working with the right agent is essential. An agent like me has experience selling a pocket listing. Not only should your agent be experienced in high-end sales, but she or he must also have relationships with the kind of buyers who may be interested in your Montecito estate. So, you need to work with an agent who has built a reputation as someone who represents high-end exclusive listings. I even have a Private Listings section on my comprehensive website. (On my site menu, go to "Cristal's Listings," then click "Private.")
Read: What You Really Need to Know to Find A Real Estate Agent
I've been a top real estate agent in Montecito for years now, receiving accolades and honors that I am very proud of. If you're considering selling in the area, I can tell you whether a pocket listing is the best approach. I've built my reputation by being honest with my sellers -- and my buyers, too.
---
Considering a pocket listing for your Montecito or Santa Barbara home? Let's discuss your options. Call me at 805.886.9378 or email me at Cristal@montecito-estate.com. I'll help you weigh the pros and cons of a private vs. public listing before we get started. Then I'll sell your home for the best possible price, with the least amount of stress for you and your family. Let me put my knowledge and contacts to work for you.
---