THE CHARMING TOWN IS FAMOUS FOR HEALTH, CREATIVITY . . . AND ITS ENCHANTING "PINK MOMENT"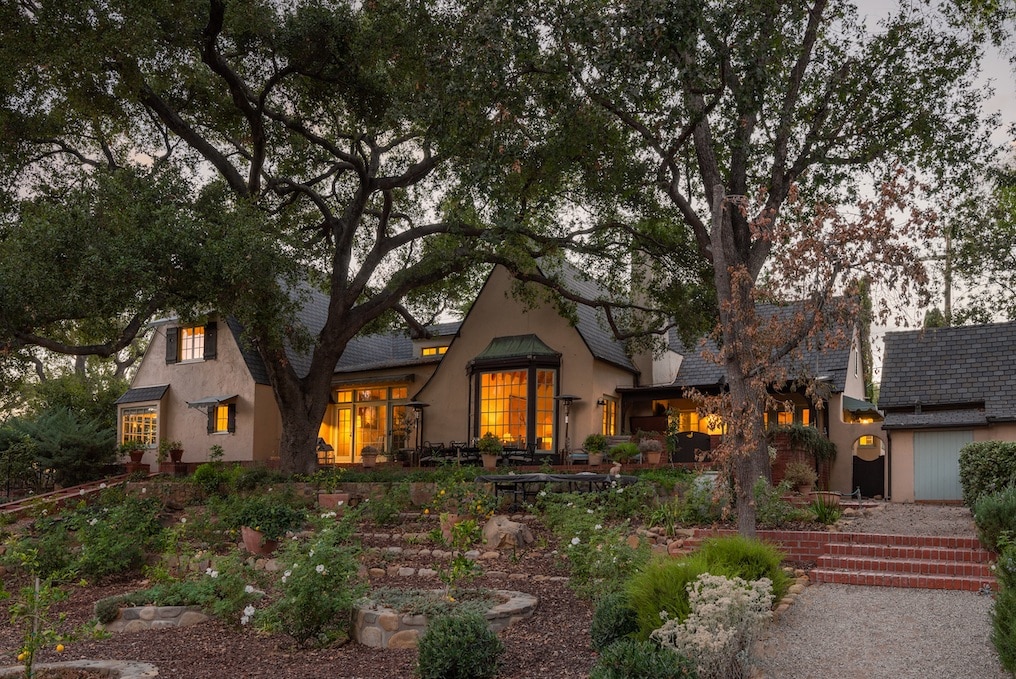 As real estate buyers continue their search for the perfect home or home away from home, I've added a new hamlet to my portfolio of distinctive Santa Barbara area communities. Ojai California is that special place. It seemed like a natural expansion for me, adding this 4.3-square-mile town with about 8,000 residents that sits in the Ojai Valley, a scenic recess in the Topatopa Mountains.
Only a little more than 30 miles from Santa Barbara and 15 miles inland from the Pacific Coast, the small, quiet community borders the Los Padres National Forest on the north, and has long attracted spiritual and creative types. One reason is the famous sunsets in Ojai, often capped by a phenomenon called "the pink moment," when the light hits the Topatopa Mountains just so, bathing them in shades of pink.
Distinctive Designs by Distinguished Architects, Built for Discerning Owners
The architecture here is a diverse blend of styles. Homes and other buildings by important noteworthy 20th-century architects run the gamut here. Some names you might recognize are Julia Morgan of Hearst Castle fame; George Washington Smith, renowned for creating Montecito's Casa del Herrero; well-known modernist Richard Neutra, responsible for the Kronish House in Beverly Hills; plus, Reginald Johnson, Lutah Maria Riggs, and Carleton Winslow, a trio that built many Santa Barbara area homes as well. Many lesser-known architects of importance are also rejoiced here, through their work with lovely Queen Anne, Spanish Colonial Revival, and mid-century modern styles.
READ: Top Residential Architects in Montecito and Santa Barbara History
The town also offers nods to famous patrons who made Ojai the town it is today. One such local celeb is glass industrialist Edward Drummond Libbey, who the Libbey Bowl is named after. He played a vital role in creating Ojai's downtown business district; setting the tone for the town's casual and creative vibe and look. His own Craftsman-style hunting lodge, designed by Myron Hunt and Elmer Grey in 1909, is revered. Other wealthy patrons created their own piece of Ojai history, which includes the Ford Estate, a 1920 mansion designed by noted African American Los Angeles architect Paul Revere Williams.
Other important designs in town include Meditation Mount, Pine Cottage, the former home of philosopher J. Krishnamurti, now the Krishnamurti Library, and the Krotona Institute of Theosophy. There's also the Spanish Colonial Revival-style Ojai Presbyterian Church built back in 1930 by Carleton Winslow on Foothill Road, which still welcomes worshippers.
Many homes were built between 1940 and 1980. After rapid growth in the 1970s, Ojai passed slow-growth laws to rein in development. Nonetheless, the town's visible architectural delights were already tucked into all manner of nooks, crevices, and winding roads. Some are obvious and readily accessible to everyone, such as downtown Ojai's pergola, arcade, post office, and St. Thomas Aquinas Chapel, now home to the Ojai Valley Museum, while others remain private retreats like my listing featured later in this blog post.
Health, Wealth, Culture and More
Wellness tourism is a major draw here, and spa resorts like the Ojai Valley Inn are popular with celebrities and Santa Barbara residents who come here to unwind. Like neighboring Santa Barbara, Ojai was first inhabited by Chumash Indians. Today, Ojai is a hotbed of meditation retreats, herbal medicine shops and vegan eateries featuring a walkable and quaint downtown village with shops, and restaurants. The town also hosts an annual music festival at Libbey Park, anchored by the 973-seat Libbey Bowl amphitheater. Residents and tourists alike also attend an annual wine festival at Lake Casitas and Ojai's popular tennis tournament, which dates back to 1896.
Welcome to the Premier Offering in My Ojai California Portfolio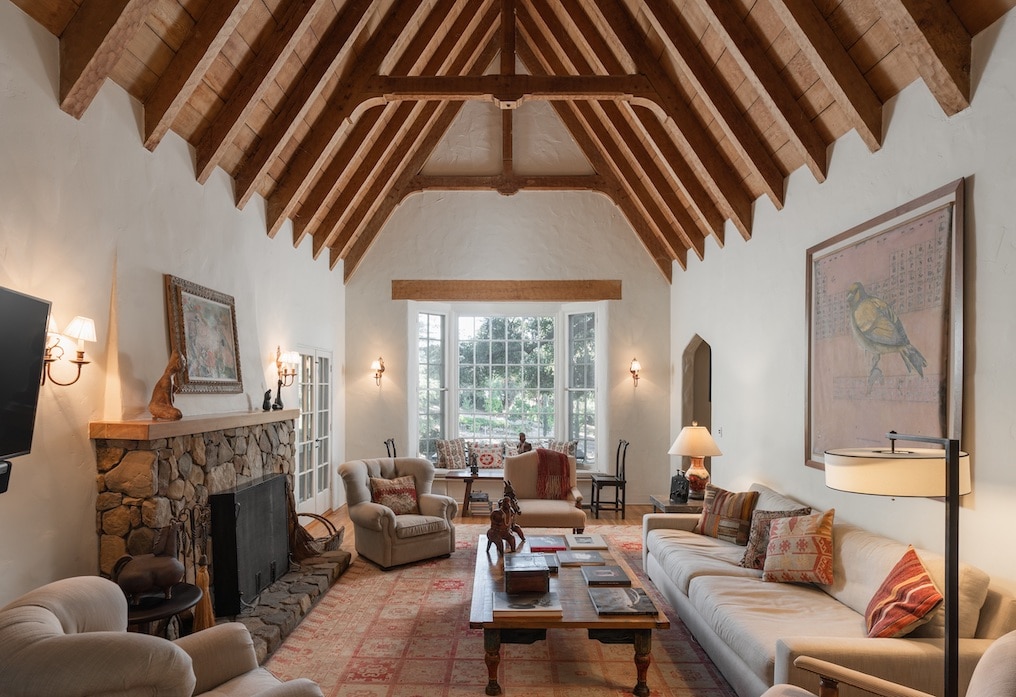 By now, I'm sure you can understand why I'm expanding my professional services to Ojai California. The premier entry in my Ojai portfolio of fine Santa Barbara area homes is Foothill Farms: A Historic Ojai Estate. This storybook sanctuary is nestled on over an acre of land, situated on a charming country road.
With roots dating back to the 1920's, the one-of-a-kind estate has been designated a Historic Landmark. Architect William Albert Edwards worked with the renowned landscape designer Lockwood de Forest to impeccably preserve and embellish the home's main residence, guest cottage, and detached studio. The substantial remodel kept the integrity of the original design intact, masterfully combining modern conveniences adding to the undeniable character of this 4-bedroom, 6-bathroom estate.
READ: Buying a Second Home? Or a Third? You're Not Alone.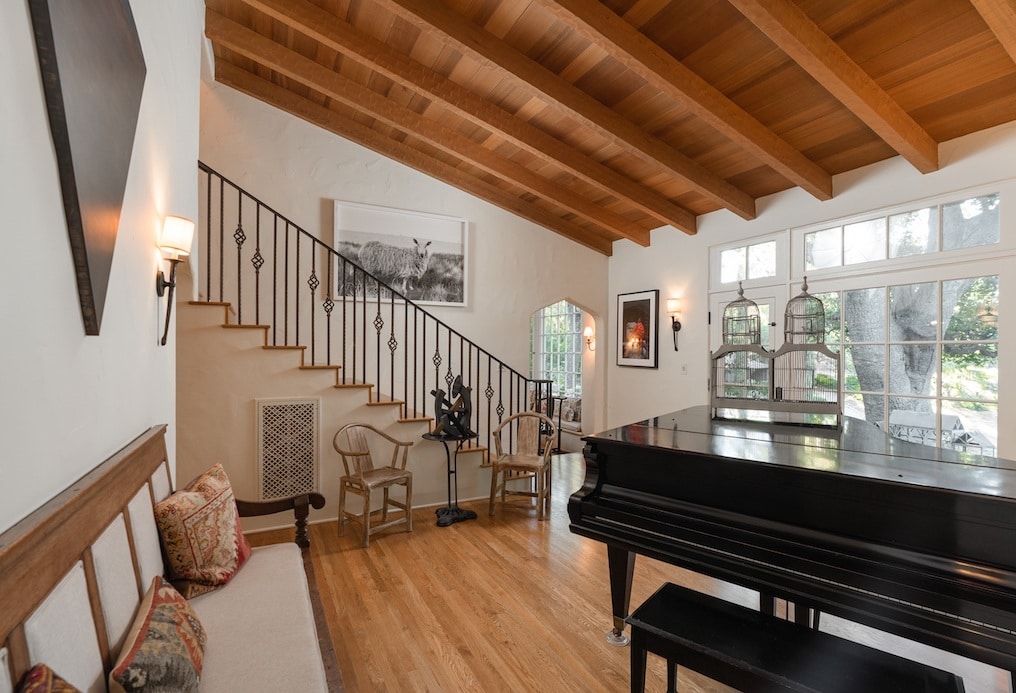 When you enter the main residence, you're greeted with soaring cathedral ceilings, accented by the home's authentic oak floors. Surrounded by the Topatopa Mountains, the estate grounds feature a serene pool with a red brick terrace, plus a dining and entertainment veranda, along with multiple additional terraces. The property includes a delightful field of lavender, fruit trees, and vegetable gardens. There's even an authentic chicken coop on the property.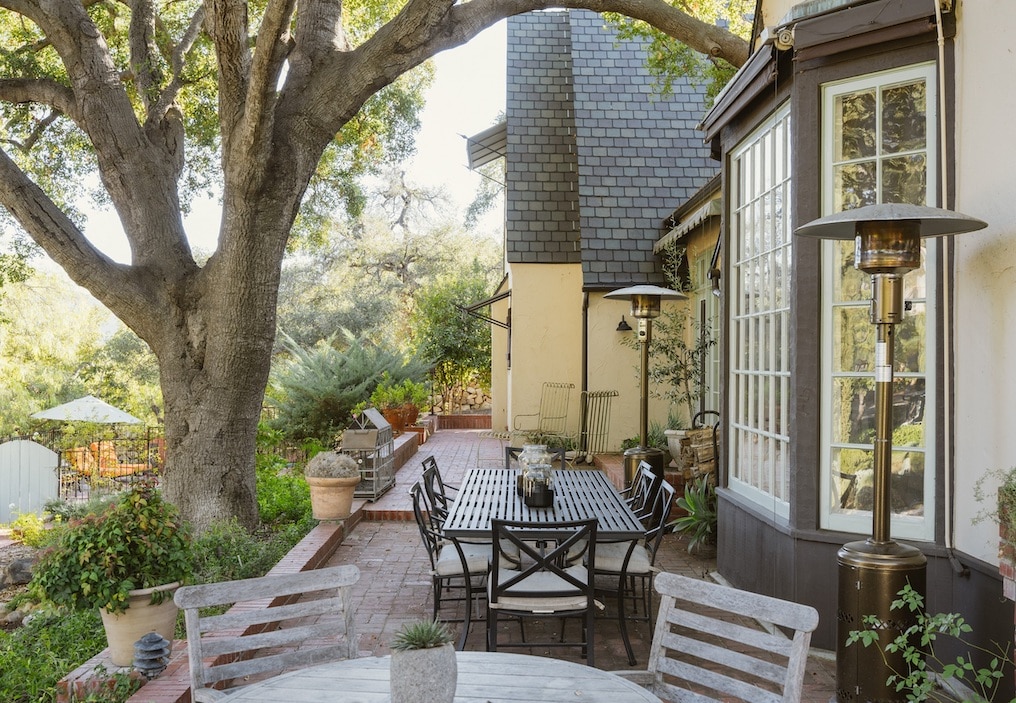 Foothill Farms is located in a prime location convenient to downtown Ojai and its delightful array of eateries, taprooms, wine tasting rooms and boutiques. I am more than proud to offer this listing as the first of many in Ojai.
If you are ready to take advantage of today's rising home prices and want to list your property in Ojai, Montecito, Hope Ranch or any of Santa Barbara's upscale communities, just call me at (805) 886-9378 or email me at Cristal@montecito-estate.com.