Statistics show the million-dollar neighborhood is a growing phenomenon despite the recent market cool-down
After analyzing home values across the country, including right here in Montecito, the experts at Trulia have issued a new report showing 7-figure neighborhoods with predominately million-dollar homes are on the rise. In fact, that number has grown by 7.6% over the past year alone and more than doubled since 2012: from 1.5% to 3.6%.
I find this trend fascinating, especially for my discerning clients in Montecito and Santa Barbara's other upscale neighborhoods. In spite of the market's recent cool-down, home values in these neighborhoods continue to rise. I'm not surprised to learn that the million-dollar neighborhood trend flourishes in coastal areas like Montecito and other upmarket neighborhoods in the Golden State. In California alone, 29% of all neighborhoods have a median value north of $1 million. New York, Florida, Colorado, and Washington round out the top 5 states with million-dollar homes on the rise.
In Santa Barbara, we have several million-dollar neighborhoods and communities with their share of million-dollar homes. Here's a brief look at some of my favorites:
Montecito is known as one of the wealthiest communities in the United States. In fact, since shortly after the turn of the 20th century, this exclusive enclave has been home, or home away from home, for the well-known and well-heeled. Stretching from its beautiful beaches to the foothills of the Santa Ynez Mountains, this exclusive 8-square miles of stylish real estate is one of the most prestigious residential areas in the U.S.
With the median home price at $2.61 million in Hope Ranch, this tranquil 1,800+-acre residential district seems miles away from the madding crowd. Turn off Santa Barbara's Modoc Road onto Las Palmas Drive and you'll know you've arrived.
Then there's Carpinteria. While it may be small, Carpinteria is the epitome of beachy surf town. Bubbling over with small-town charm, Carpinteria woos folks with its laid-back vibes. In fact, the quaint town has a reputation for being home to California's cleanest and most family-friendly beaches.
If you're looking for a year-round or vacation home in a compact, laid-back California beach town, you might want to check out homes for sale in Summerland. The close-knit community of around 1,500 full-and part-time residents offers a relaxed, tranquil ambiance. Even if you're here only on weekends and vacations, a trip to the intimate post office might result in an hour-long conversation with neighbors. That's how friendly it is here.
It's also super friendly in Goleta. As a bedroom community for Santa Barbara, it's home to families supportive of their schools, churches, parks and community organizations. As a "college town," it supports a large population of students enrolled at the sprawling campus of the University of California, Santa Barbara. As a hub of the high-tech industry, it serves as a base for cutting-edge computer-related businesses. And it still retains a measure of its days as a favored location for farms and ranches.
Santa Barbara is a special place on all the earth. In fact, it's not just a special "place", it's also a special "feeling" inspired by its combination of rich history, natural beauty, perfect climate, active lifestyle, and outstanding homes and architecture.
If you're looking to move into a million-dollar home or a million-dollar neighborhood in Montecito or any of the other fine communities nearby, I have several amazing properties to show you.
Take the Spectacular Ocean View Estate pictured above a true Montecito masterwork. The home, from architect James Morris, a founding partner of Santa Barbara's acclaimed The Warner Group, skillfully combines elements of Modernism, Post-modernism, Neo-classicism and Art Deco. Since then, the property has undergone two renovations utilizing the finest materials and meticulous craftsmanship. The result is a residence and its approximately 2 acres rivaling the most breathtaking dwellings on California's Central Coast. I love the home's many indoor and outdoor settings, which make this estate an entertainer's dream. While utmost privacy and serenity are distinct characteristics of the property, it is mere minutes from beaches, fine and family-friendly dining, distinctive shopping, and galleries, and all the cultural and recreational opportunities Montecito and Santa Barbara have to offer.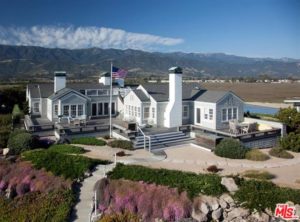 Perhaps this Cape Cod-Style Oceanfront Estate is more your style. Besides buying a wondrous home, this property comes with a comfortable, private guest house. Both sit on nearly 1.5 acres in the prestigious gated Sand Point beach colony near Montecito, CA. Facing over 120 ft. of beach frontage, the main residence offers 3 bedrooms and 3 full baths plus 2 half-baths. The charming guest house provides a bedroom, bathroom, living room and kitchen. The expansive wraparound deck and on-deck spa overlook the ocean and pristine beach, while a refreshing lap pool offers views of the revered Carpinteria Salt Marsh Reserve, and beyond to the mountains. Overall, this spectacular estate is a masterpiece of design & craftsmanship.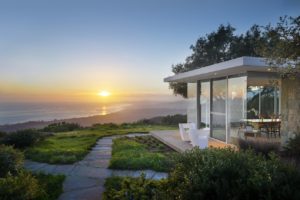 Or you may be interested in this World Class Toro Canyon Estate, a stunning example of Modernism in Carpinteria. Perched in the foothills of the Santa Ynez Mountains and surrounded by the peaceful sylvan setting that is Toro Canyon Park, this incomparable 42 +/- -acre Toro Canyon estate seems a world away yet is mere minutes from all the wonderful amenities of nearby Montecito and Santa Barbara. The over 6000 sq. ft. main residence, its 2-bedroom guest house, and multi-room cabaña were designed by award-winning architect Andy Neumann and constructed to exacting detail and with use of the finest custom materials by master builders and craftspeople. Some say this Toro Canyon estate is the most beautiful in all of Santa Barbara County. Resting within the environment rather than upon it, native plants and majestic mature oaks can be found throughout the estate's main residence and secondary structures. Their natural yet strategic placement complements the outstanding views experienced from both their interior and exterior. Residents will enjoy the unparalleled panoramic vistas of mountains, ocean, Channel Islands, and beyond to the horizon.
I have many more million dollar homes in million-dollar neighborhoods featured on my comprehensive website. Take a look then give me a call at +1 805.886.9378 or email me at Cristal@montecito-estate.com and I'll happily arrange a tour of whatever home you're interested in seeing in person. If you need to sell first and you already live in the area, I'll happily add your home to my portfolio and find you your new home sweet home at the same time.