WHERE TO FIND IT IN SANTA BARBARA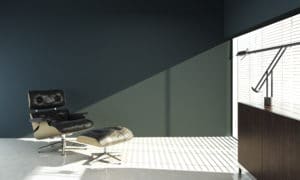 The enduring popularity of Mid-Century Modern furniture is based on many factors. It gives us clean lines, gentle organic curves, a love for different materials and designers that are idolized even today. Just one look at the Eames chair and ottoman pictured here and you'll understand why.
Mid-century style can easily be incorporated into your everyday life with furniture. But buying great pieces isn't always easy. To help, Curbed.com turned to readers to learn where they're finding their favorite gems from this period. Whether you're looking for original vintage items or the best replicas, this blog covers the spectrum.
Craigslist, Antique Stores, or Yard Sales
A ton of mid-century modern obsessives are scoring amazing finds on Craigslist, at local yard sales, Goodwill, or antique shops.
READ: How to Decorate Your Mid-century Modern Home
One reader said that she's found great Mid-century modern furniture in her "grandma's basement." Another suggested getting dirty: "I am a serious thrift store/antique mall rat. I am never afraid to dumpster dive if it looks MCM either." And a third hunts at her local thrift stores: "Found some of my favorites at Goodwill and other thrift stores."
Santa Barbara has many thrift stores for those who enjoy hunting for mid-century treasures. And today, they're gaining in popularity. If you have ever experienced the thrill of finding a perfect piece of Mid-century modern furniture at a thrift store, then you know why. But more than that, here are 5 reasons to shop thrift stores:
Thrift stores help the community.
Not only are many of these establishments run by charitable organizations, but they also use their retail platform to provide other much-needed services to the community. Shopping at these stores keeps them in business and allows these important services to keep going.

Take Santa Barbara's Unity Shoppe, for example. Shopping there helps supplement basic necessities for local people who don't have the ability to pay their rent and utilities. The Unity Shoppe also teaches office and computer skills, merchandising, inventory control and customer relations; preparing people in need of future job opportunities.

Nearly 18,000 people are referred to this unique charity yearly by more than 300 non-profit agencies, churches, schools and hospitals. They also operate a year-round "Free" grocery and clothing store so people can shop with dignity for their basic needs. More than $2 million in merchandise is distributed annually.


Thrift stores keep more out of landfills.
Obviously the very idea of a secondhand store is eco-friendly. Thrift stores are like humanity's hand-me-downs. Someone scratches your back, you scratch someone else's back and so on and so on.


Thrift stores transport you to another time.
Especially for mid-century fans who can find all sorts of goodies for their collections.


They make you appreciate how far technology has come.
You'll leave feeling thankful that you don't live in a time where big, bulky CRT computer monitors, CD Walkman's, and original PlayStation ruled the day.


You never know what you might find.
There's something about entering a thrift shop that is just packed with potential. If a great time for you is dropping into a store of once-owned goods with no idea what you're looking for, then thrift shopping is for you. Endless possibilities and endless questions. Who owned this before? WHY? What the hell is this? Is this amazing or is this awful?
Consignment Stores
Here in Santa Barbara, we also can take advantage of our local community and shop at a number of excellent consignment stores, too. These stores sell secondhand items on behalf of the original owner, who receives a percentage of the selling price. Here are some excellent ones to check out for mid-century nuggets:
Serving Santa Barbara since 1969, this place is known for handling quality artifacts and antiques. As a member of the International Society of Appraisers, they also offer an appraisal service and estate liquidations. Visit after they've received items from a local estate, and you'll be amazed at what you can find.
If you even mention consignment/vintage/antique shopping in Santa Barbara, you're sure to get recommendations to visit The Blue Door. Located in the Funk Zone and standing tall with three floors of inventory, the store combines new and vintage home items that will pique any shopper's interest. Plus, with new items arriving every day, you're sure to find something unique to bring home with you!
If you're looking for some serious luxury items for your home and outdoor space, look no further than Summerland Antique Collective. Specializing in fine designer pieces and unique collectibles, the shop prides itself on offering a wide range of styles. Whether you're looking to redecorate or just browse, this spot is definitely worth a stop if you're in Summerland.
Specializing in hand-selected top-quality and tasteful furniture, home goods, and décor, the inventory here features second-hand items from well-known brand names and manufacturers. This store regularly accepts donations, consignments, and on-spot sales, so the inventory is always expanding.
Big box retailers
Believe it or not, big-box retailers are the place to go when you don't have time to hunt for pieces in antique or consignment stores. The mid-century modern collections at Target and West Elm can provide good value for those who don't mind new replicas of the originals. Other online shops that feature mid-century-inspired pieces are Joybird, Article, and AllModern. You can even turn to places like Ikea, eBay, and Amazon for decent recreations.
---
If you are looking for a mid-century home for all your mid-century modern furniture, there's just one place to go: my portfolio of fine properties in the area. I'll search the area to find you the mid-century home of your dreams. Just give me a call at +1 805.886.9378 or email me at Cristal@montecito-estate.com. I can also sell your existing property at the same time.
---