Here are 5 mantel décor ideas to inspire your Santa Barbara interiors this fall: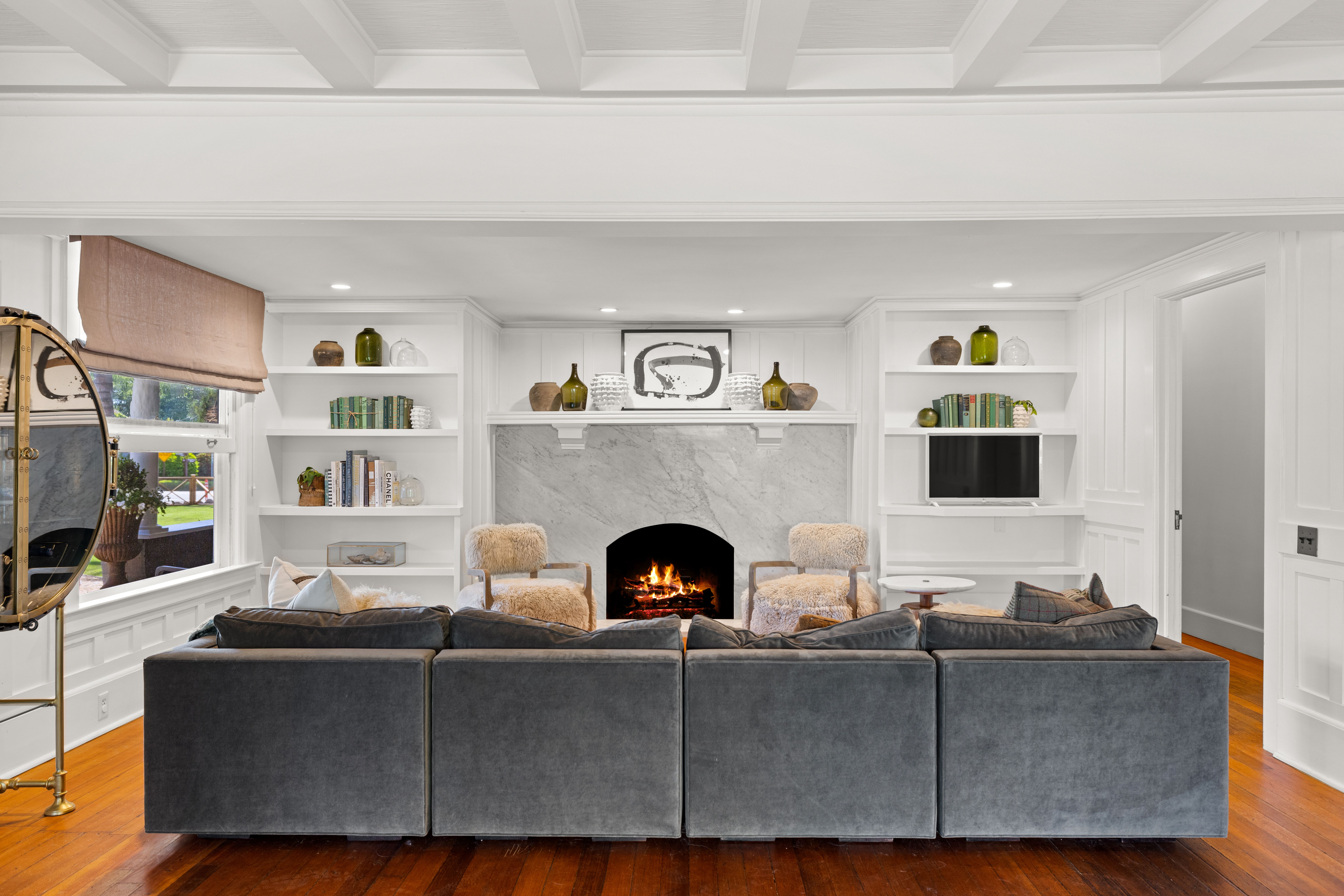 Use Decorative Objects to Reflect Your Color Scheme
Creating a vignette of curated decorative pieces, like the image above featuring the living room of my Rare Iconic Miramar Beach House listing, can enhance the overall direction of the room. A mantel is a tempting place to display an array of smaller items as long as they highlight the space's overall color scheme and style.

Keep it interesting with unexpected elements but ensure they all work well together to create a cohesive whole. Besides the artwork, vases, and bottles featured above, picture frames casually propped up on the mantel or leaning against the wall can create a more lived-in, relaxed vibe. Now, that's true in Santa Barbara style: the kind of environment that fits so well with our architecture and lifestyle.
Display Indoor Plants
You may prefer to create an effect of green mantel magic for a look that is both laidback and current. Fresh plants enliven any space and give it more character. Just display your favorite indoor smaller plants and flowers on your mantel, grouping them together. That green touch will complement any room's comfortable, organic feel, whether in a living room or the primary bedroom. If you don't have a green thumb, opt for a succulent. There are many beautiful varieties that are low-maintenance and offer a longer shelf-life.

Decorating with plants offers several health benefits, too, from eliminating toxins in the air to decreasing anxiety by reducing stress and boosting your mood. When added to a collection of your beloved avant-garde objects, voila! A masterpiece of fireplace decor is born



Keep it Simple
The owners of my Distinctive Toro Canyon Home listing pictured above know that less is more. That sentiment is especially worth following if the design of your fireplace itself is striking. If that's the case, let the details show, and don't go overboard on your mantel décor. This will ensure a clean, sophisticated aesthetic while keeping the focus on other statement pieces strategically placed throughout the room. Think wall art and lighting, or allow one of our amazing Santa Barbara ocean or mountain views to be the focal point. Perhaps your fireplace doesn't even have a mantel. If so, try hanging a bold piece of art above it to frame your fireplace in style, and use your coffee table or side table for your decorative elements.




Large-Scale Artwork and Mirrors
As you can see in the image above featuring inside one of my recent sales, Santa Barbara spaces with gorgeous architectural bones practically scream for large-scale artwork, especially when hung above a classic fireplace. Leading interior decorators prefer one big statement piece over clusters of decorative objects. Many also recommend adding an adjacent sky-high indoor plant, allowing it to casually hug a wall near the fireplace. This creates a neat look that, for purely aesthetic reasons, can create the illusion of a bigger space. That can add to the creation of an airier, more open environment. Another fireplace decor idea is to display firewood in an open storage unit, transforming it into makeshift art.

Why You Shouldn't Use A Wood Burning Fireplace
Not all homeowners want to use their wood-burning fireplaces because they can cause significant pollution in our air quality across California. This is especially true over the holiday season. That's when homeowners want to cozy up to a warm fire on our cool Santa Barbara nights. Experts warn that fine-particle pollution or soot reaches unhealthy levels across the region every year, according to the state Air Resources Board. Some California communities go so far as prohibiting burning wood or manufactured fire logs in fireplaces and outdoor fire pits as well. The ban on wood-burning is intended to curb this fine-particle pollution, which can lodge deep in the lungs and trigger asthma attacks and other respiratory illnesses.

Gas fireplaces are not subject to the ban. But locals concerned about air quality can still cozy up to a fire. Just make sure yours is a clean-burning bioethanol burner. If you have a wood-burning fireplace, you might want to get creative by adding a cluster of large candles where the logs typically go. This small addition will give your living room a cozier feel and reduce air pollution.
---
Fireplace décor with mantel magic in mind is one way to celebrate the fall season, or any time of the year for that matter. If you're considering buying or selling a home in the area, give me a call at (805) 886-9378 or email me at Cristal@montecito-estate.com.
---

More resources: