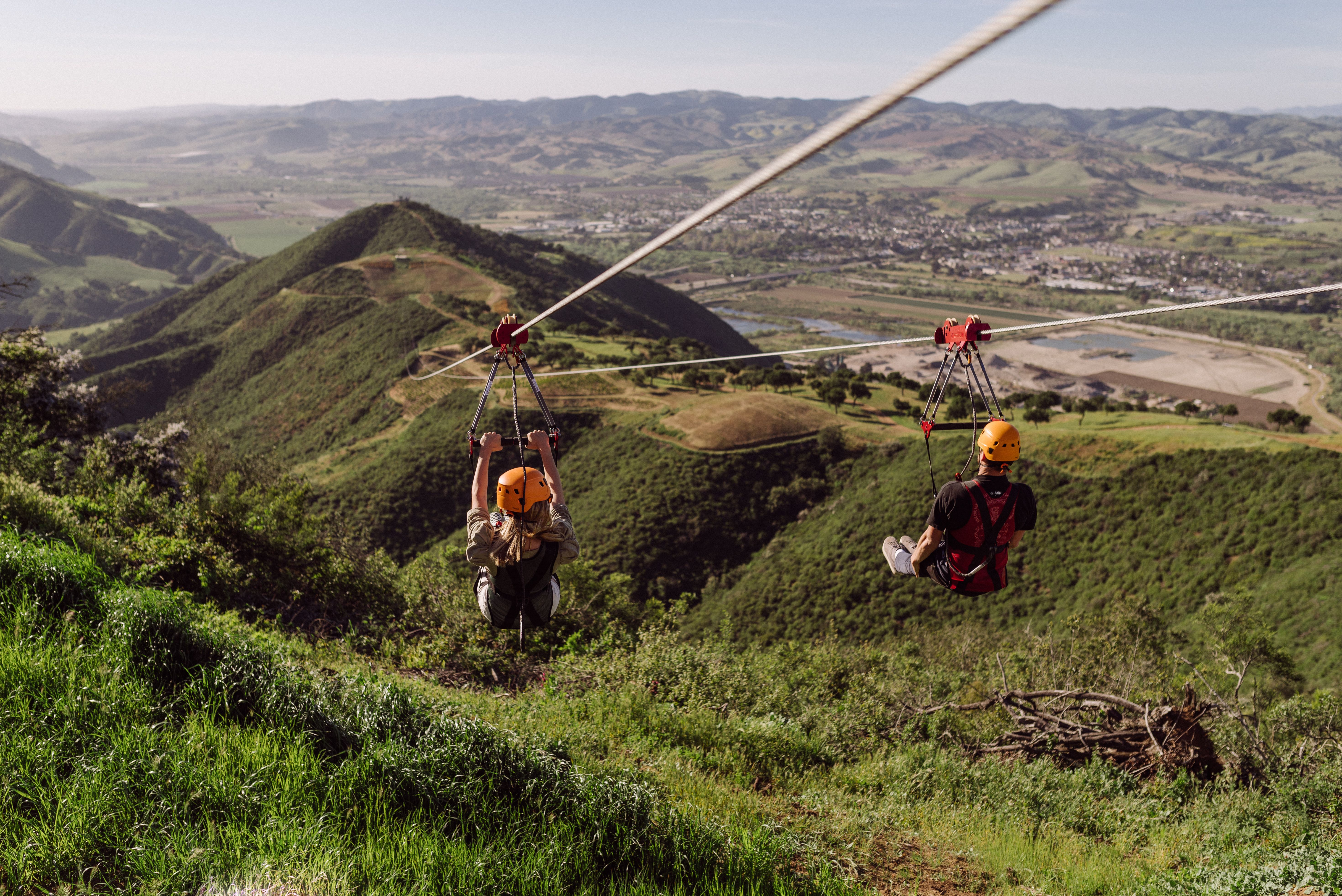 Soar Through the Hills of the Santa Ynez Valley
Picture yourself soaring through the skies, feeling the wind in your hair, and taking in panoramic views of the Santa Ynez Valley – all from the comfort of a harness and zipline. Highline Adventures offers an incredible ziplining experience with over a mile and a half of cables stretched across the valley's picturesque landscapes. Take a sneak peek with this video.
Prepare to be awestruck by the incredible vistas of the Santa Ynez Valley as you fly over fields of protea flowers at speeds of up to 50+ mph on any of the three epic ziplines. These views are not to be missed and provide a unique perspective on the natural beauty that surrounds Santa Ynez Valley. With three ziplines designed to provide unforgettable moments, you can fly solo or share the adventure with a friend traveling side-by-side down three different dual ziplines. Each zipline is faster and more exhilarating than the last, promising an adrenaline rush you won't soon forget.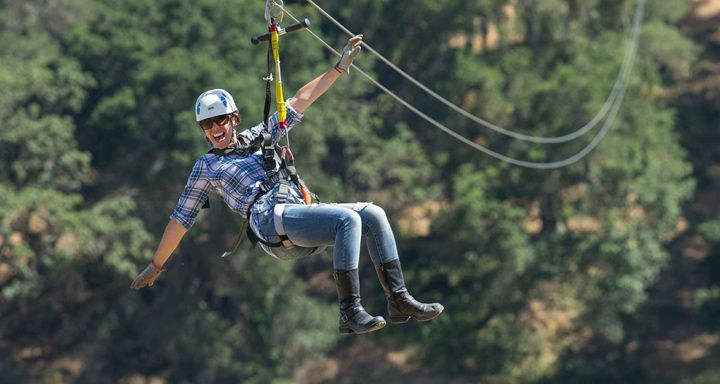 Sip 'n Zip in San Luis Obispo
Margarita Adventures in neighboring San Luis Obispo wine country offers thrill seekers an unforgettable experience, especially with their Zip 'n Sip package, a thrilling adventure paired with a delightful wine tasting. As you gear up for your zipline tour, anticipation builds, knowing that you'll soon be soaring high above the Ancient Peaks Winery's Margarita Vineyard. The excitement doesn't stop there – after your exhilarating zipline adventure, you get to enjoy a special wine tasting at the winery's tasting room, conveniently located just across the street from the tour office. It's the perfect blend of adrenaline-pumping adventure and a chance to savor the fruits of the very vines you flew over. This unique combination is why Margarita Adventures is rightfully known as the biggest thrill in wine country.
The adventure includes a thrilling 300-foot suspension bridge walk between the first and second ziplines, adding an extra dose of excitement. And the adventure doesn't stop there. You'll also get a guided tour of the historic Santa Margarita Ranch and leave with insights into sustainable winegrowing, local wildlife, and more, leaving you with cherished memories of adventure and discovery in the heart of wine country.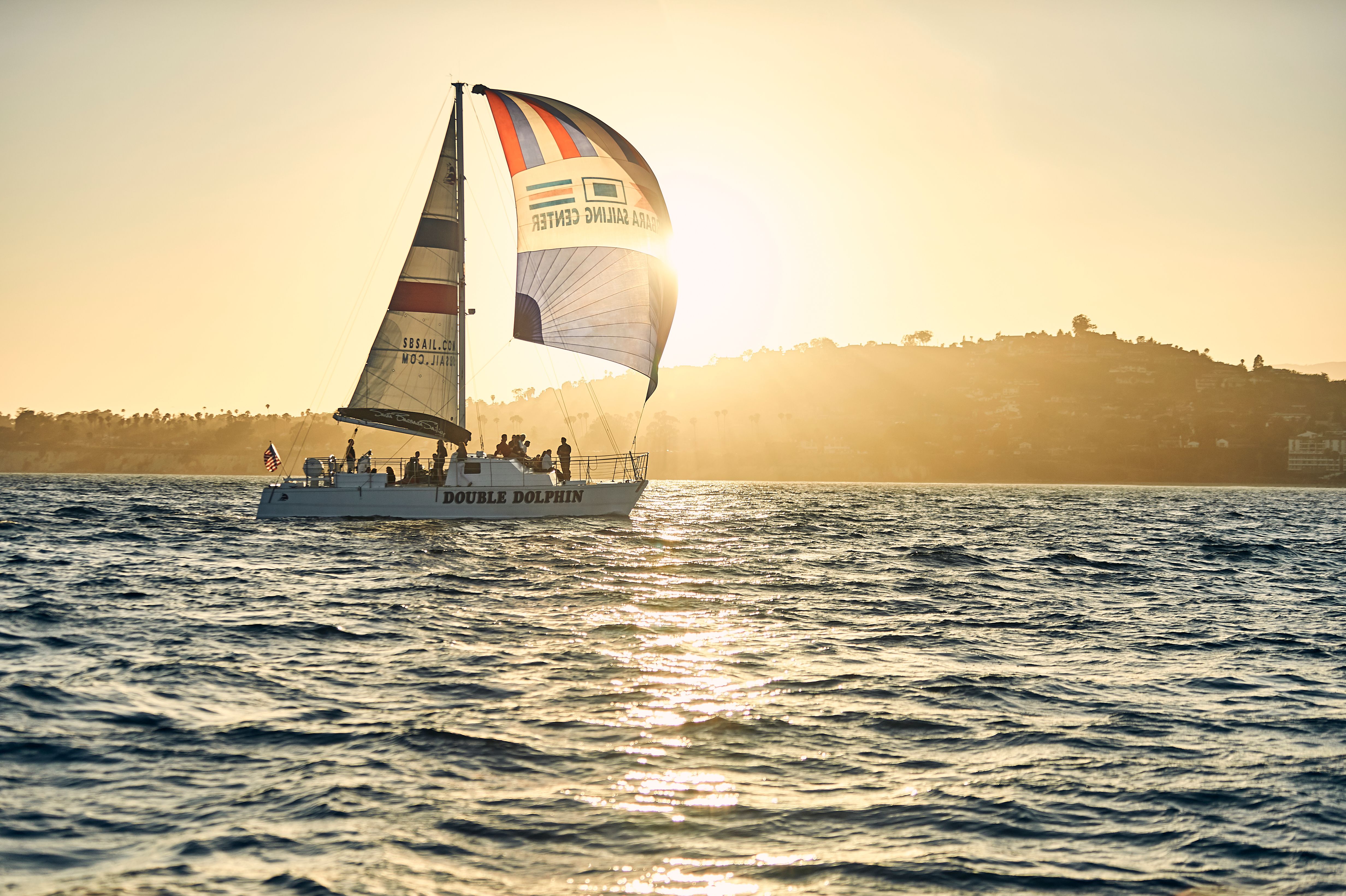 Sunset Sail in Santa Barbara
If flying isn't your preferred way to gain a fresh perspective, why not consider a serene sunset sail? After all, Santa Barbara is renowned as a hub for outdoor adventures and water sports, with its diverse landscapes and a temperate climate that allows for year-round outdoor enjoyment, especially along its coastal treasures.
You can charter a boat with Santa Barbara Sailing Center, complete with an experienced captain, for an entire day of aquatic bliss. While on board, you'll have the opportunity to anchor, indulge in some stand-up paddleboarding, kayaking, and even take a refreshing swim in the beautiful Santa Barbara Channel. Keep your eyes peeled for playful dolphins that often accompany these journeys. As the sun begins its descent towards the horizon, the sight of a mesmerizing sunset on your return to the harbor is guaranteed to leave you in awe, providing an unparalleled vantage point for witnessing Santa Barbara's spectacular nightly color show.
The Sailing Center offers an alternative for experienced sailors: a selection of Catalina yachts spanning sizes from 27′ to 50′. Revel in thrilling day sails as you explore the stunning American Riviera coastline, set against the picturesque backdrop of the majestic Santa Ynez Mountains. Additionally, they provide personal lessons covering various facets of sailing, including precise sail adjustments, navigation, sailboat docking, anchoring, managing challenging weather conditions, crew rescue methods, coastal navigation, spinnaker handling, knot tying, racing techniques, and much more.
---

As evident from the options above, Santa Barbara living offers residents a wealth of opportunities to immerse themselves in the enchanting natural beauty of the area from many perspectives.. Meantime, if you're seeking a new perspective in the form of a new home within any of our prestigious communities, don't hesitate to reach out to me at (805) 886-9378 or email me at Cristal@montecito-estate.com.
---
Of Related Interest: