Best Breakfast Spots in Santa Barbara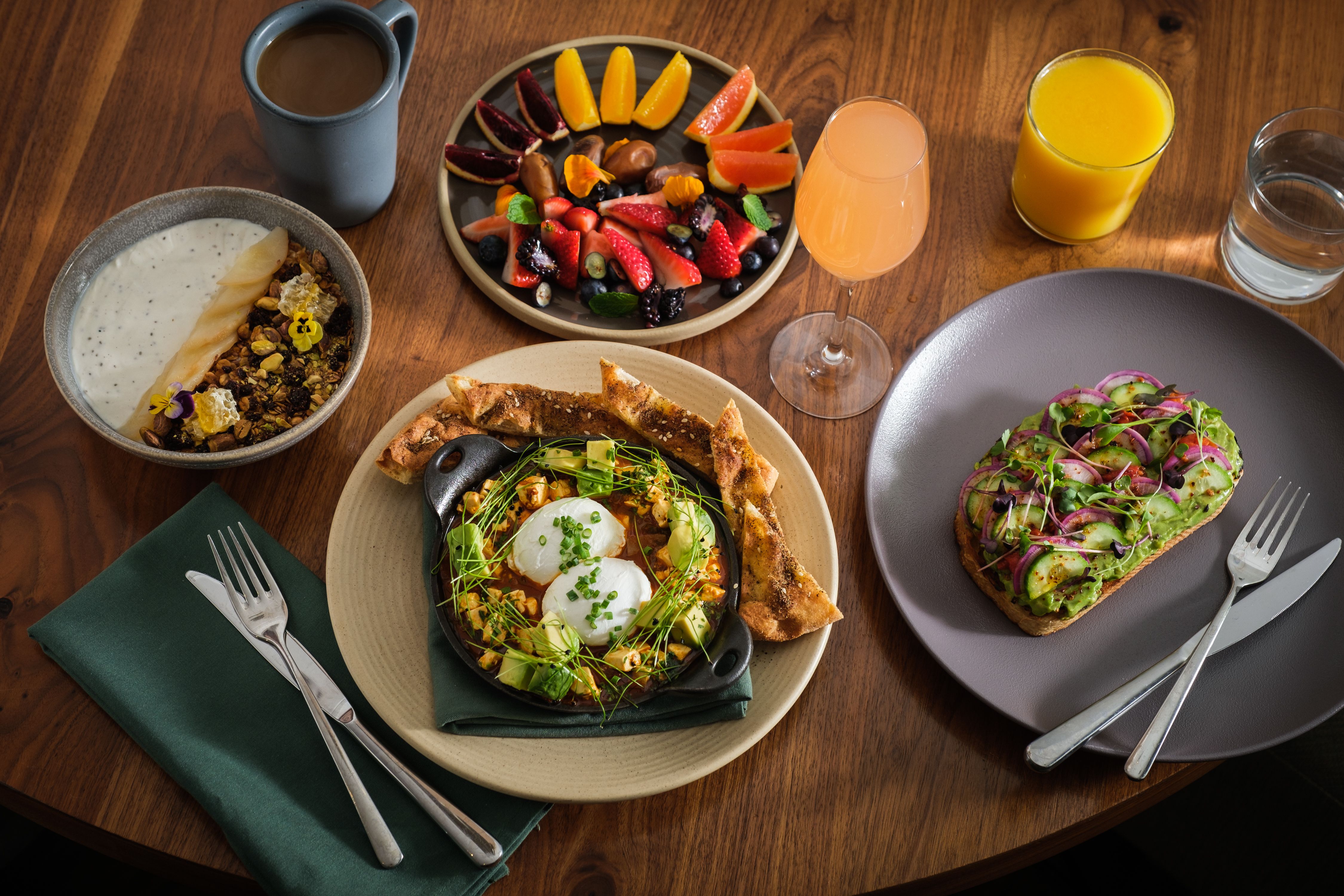 #1 Finch & Fork Restaurant
Nestled inside the Kimpton Canary Hotel in downtown Santa Barbara, Finch & Fork provides a sophisticated breakfast experience in a chic and inviting atmosphere. This restaurant offers multiple dining areas, providing both a comfortable ambiance for intimate gatherings and ample space for larger parties. Start your day with flavorsome vegetarian
gluten-free starter, the delicious Farmer's Market Fruit Plate. Or the Smashed Avocado Toast with cucumber, radish, tomato confit, rustic sourdough, chipotle flakes. They also offer several delicious egg dishes. Personally, I can't get enough of their Seasonal Breakfast Bread served with Vermont cultured butter. Whatever you choose, Finch & Fork guarantees a memorable breakfast experience.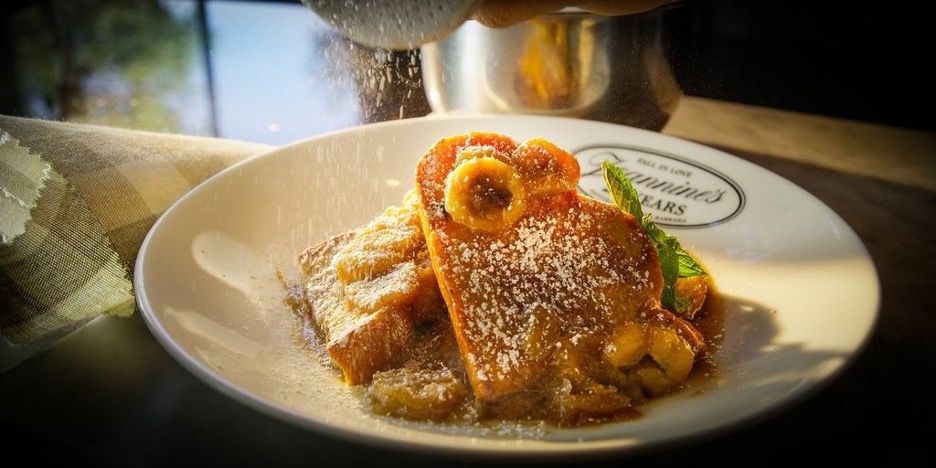 #2 Jeannine's American Bakery & Restaurant
With two Santa Barbara locations, as well as in Goleta and Montecito, Jeannine's American Bakery & Restaurant is a favorite breakfast spot among locals for serving gourmet food in a casual and welcoming environment. While you wait for a table to open up, grab a cup of strong Peet's Coffee or indulge in a cappuccino. Jeannine's boasts a diverse menu featuring French toast with brandy-glazed apples, proper Irish oatmeal, and stacked pancakes. For those with smaller appetites, the daily changing display cases offer an array of treats such as fresh-baked lemon scones and blueberry streusel muffins.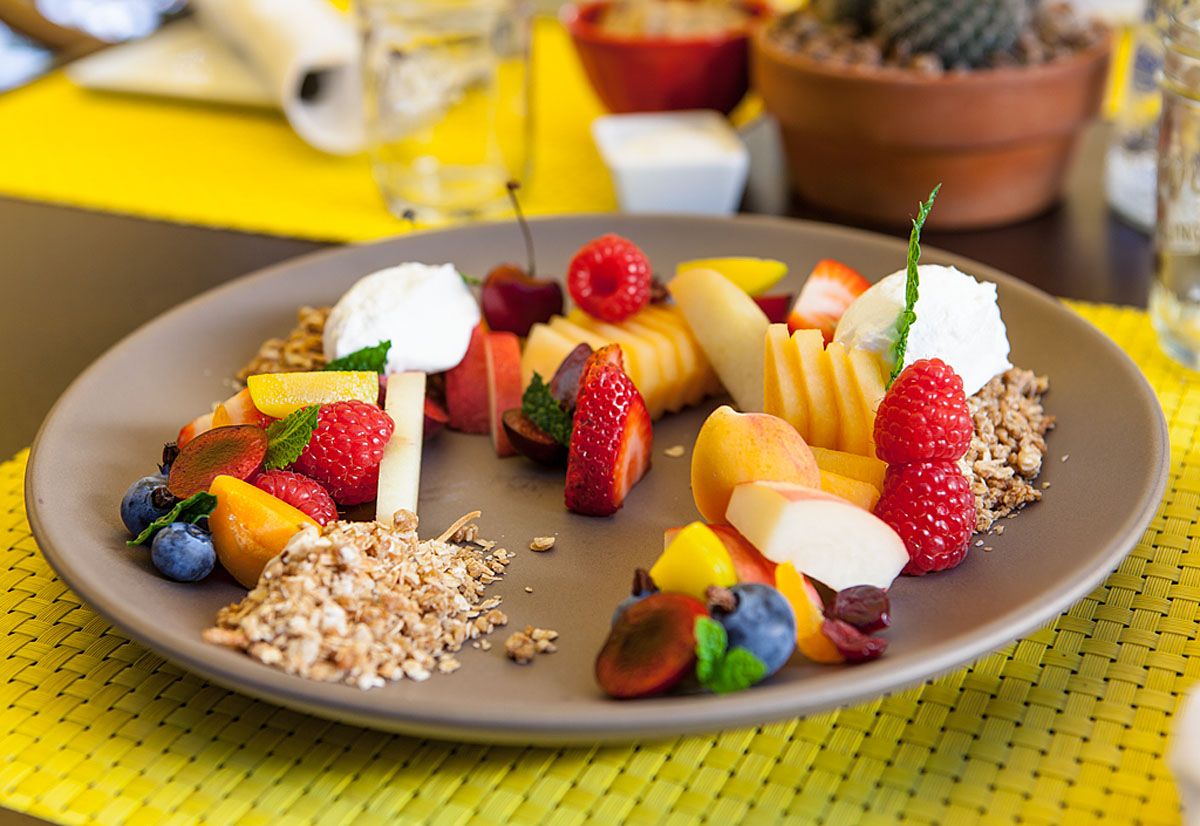 #3 Scarlett Begonia Restaurant
Scarlett Begonia is a restaurant that prides itself on thoughtfully executed dishes made with local, organic ingredients. With a weekly shifting menu, this establishment offers breakfast, brunch, and lunch options that are both creative and delicious. Try their delicious Coconut Parfait, made with house made organic granola, organic cultured coconut yogurt, dried cranberries, toasted almonds, organic strawberries, blueberries, honey drizzle, and mint. I also recommend the Quinoa Oatmeal made with organic quinoa, dried mission figs, seasonal fruit, pistachios, almonds, maple, ricotta, and steamed milk. The brunch tasting menu is a highlight, featuring unique dishes such as a kiwi-laced ceviche or a tortilla soup with purple cornmeal, fried egg, and spiced shrimp. Scarlett Begonia delivers a culinary experience worth savoring.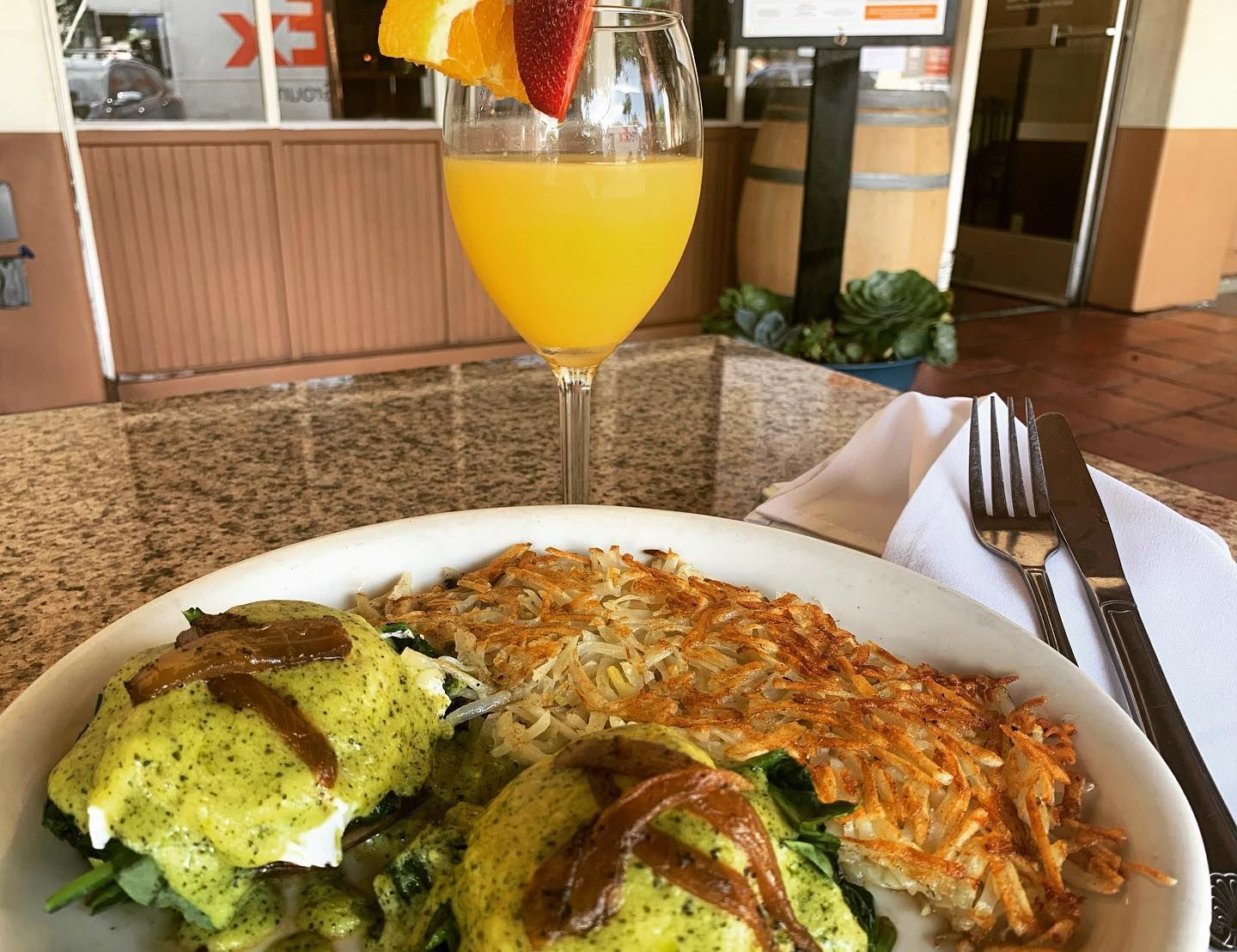 #4 Mesa Café Restaurant
Mesa Café is a popular local favorite known for its bustling atmosphere and delicious breakfast options. Whether you're craving a traditional American breakfast served with cottage fries, hash browns, or fresh fruit and your choice of toast, blueberry muffin, corn bread, or biscuits; or a smoked salmon scramble, this family-style restaurant has you covered. The extensive menu also offers Mexican delights like the chile verde three-egg omelet. While the restaurant can get busy, the service is usually good and pleasant, ensuring a satisfying breakfast experience for patrons.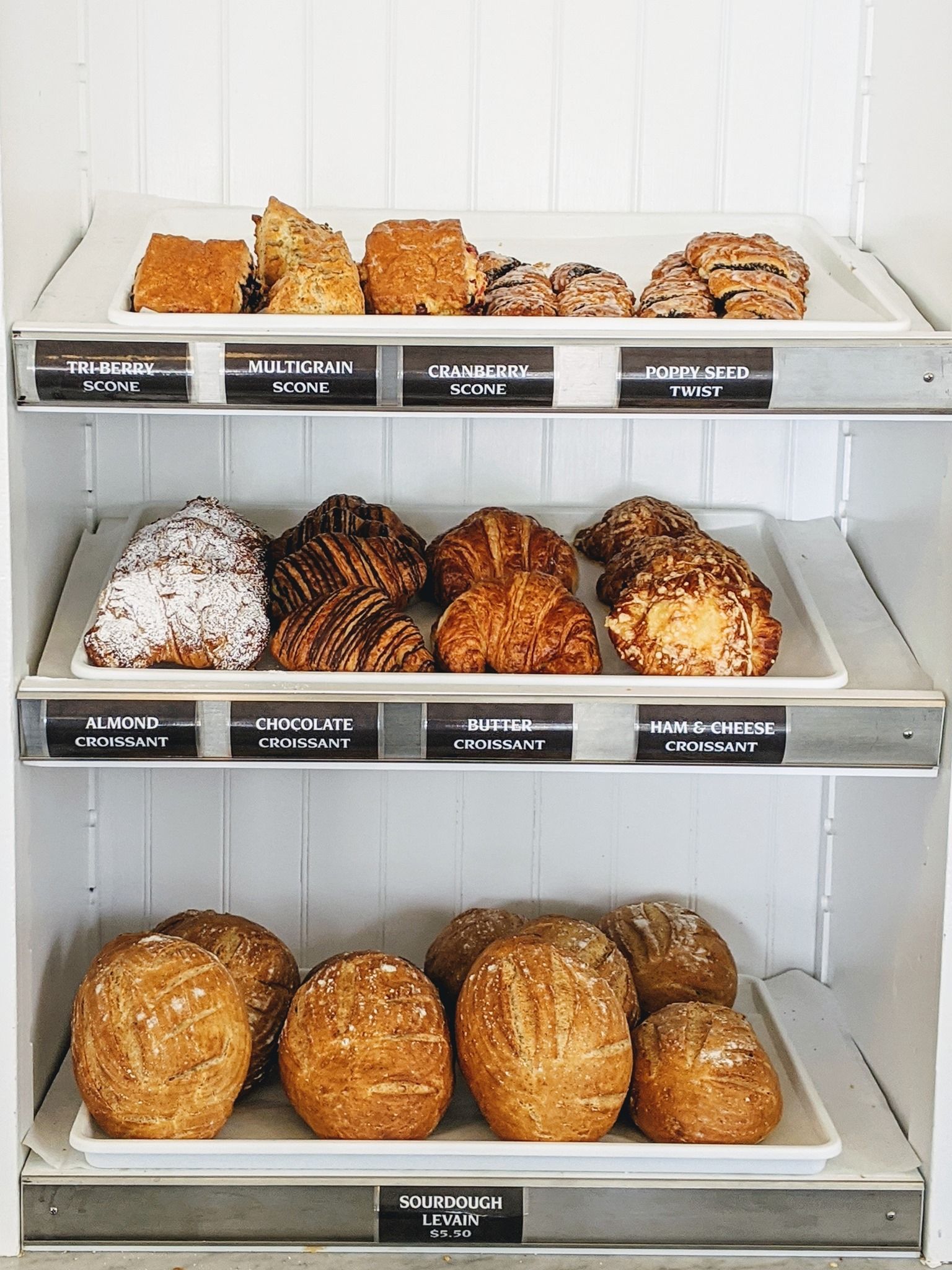 #5 D'Angelo Bakery
D'Angelo is a unique bakery-turned-restaurant that boasts an impressive selection of freshly baked bread and pastries. Featuring more than 15 bread varieties available each morning, D'Angelo's menu and inviting atmosphere is the perfect spot for all breakfast enthusiasts. Sample their sandwiches, salads, soups, wraps, and grilled quesadillas, or opt for their signature dishes like the smoked salmon Benedict or poached eggs with artichoke paste on kalamata olive bread. Pair your breakfast with a delicious coffee drink, and you'll have the perfect start to your day.
Another excellent bakery is Bree'osh Bakery Café Montecito, which has become the ultimate destination for locals seeking the finest artisanal offerings, including sourdough breads, pastries, omelettes, and tartines, all accompanied by a delightful cup of coffee. The undeniable evidence of our popularity is the perpetual line stretching out the door, filled with eager customers. Bree'Osh Bakery specializes in crafting sourdough brioche bread and viennoiseries using traditional French artisanal techniques as well as a variety of savory options such as egg sandwiches, omelettes, quiches, and savory croissants and delicious made-to-order dishes, including tartines. Their selection of sweet pastries are to die for, including a delightful assortment of chocolate/almond croissants, cinnamon rolls, morning buns, bostock, and Kouign Amann. Their secret? Prioritizing the use of organic ingredients to ensure the highest quality and taste in every bite.
As you can see, Santa Barbara is a culinary paradise for breakfast lovers, offering a wide range of dining experiences that cater to diverse palates and preferences. Whether you're in the mood for a hearty Southern-inspired breakfast, a sophisticated brunch, or a casual bakery-style meal, the city has it all. From Cajun Kitchen Café's comforting classics to Finch & Fork's refined dishes, Jeannine's American Bakery & Restaurant's gourmet offerings to Scarlett Begonia's thoughtfully executed creations, or Mesa Café's family-style fare to D'Angelo's bakery delights, Santa Barbara guarantees an unforgettable breakfast experience for residents and visitors alike.
---
As British journalist, critic, and author A.A. Gill once said, "Breakfast is everything. The beginning, the first thing. It is the mouthful that is the commitment to a new day." If your new day means searching for your new dream home in Santa Barbara or any of the surrounding upscale communities, give me a call at (805) 886-9378 or email me at Cristal@Montecito-Estate. I'll happily help you find the perfect place to lay down roots, sunny side up!
---
More resources: