Bricks + Pixels = contemporary building blocks for luxury home facades and interior design
My prediction: Interior design, art, and architecture in 21st-century luxury homes are about to experience a radical yet practical new trend. Use of an exotic paint color, perhaps? Space rocks replacing earthly stone? Nothing so mundane. Consider Brixels: the new construction elements combining bricks and pixels. In a nutshell, these new objects are vaguely brick-like and controlled via software.
Imagine adding these freely rotating, variable-sized "bricks" controlled by proprietary software into any building project. Besides moving, each Brixel is outfitted with LED lights that illuminate the bottom of the brick. According to the company that created them, BREAKFAST, Brixels can act as pixels in large-scale and customizable artworks, building facades, and an infinite range of other applications.
Since the early days of art and architecture, bricks have been used as major building blocks for homes, interior facades, and art installations. These new sleek brick-like designs come in a variety of shapes, providing designers or architects with the necessary tools needed to create a 3-dimensional, interactive installation. These amazing pieces can be placed almost anywhere because Brixels' flexible design allows it to be used in many applications. Think dynamic wall installations, railings, facades, outdoor sculpture and more.
"We saw an opportunity to blur the lines between what is deemed 'art,' 'infrastructure,' and a 'digital display,'" explains Andrew Zolty, BREAKFAST's Co-Founder and Head of Design as he described Brixel. "We sought to develop a new medium that would allow us to create a variety of captivating installations that are, at first, perceived as art, and second, deliver relevant information and unique experiences."
Just about every aspect of the Brixels can be customized: from their orientation and movement to their size, shape, material, and color. That means these rotating, spinning or undulating bricks can be tailored to enhance the vision of the architect, interior designer, or Montecito luxury homeowner for both the interior and the exterior of any building on their property. The central staff that supports every Brixel design allows the entire wall, or each element within it, to move freely without any visible wires or mechanical components.
BREAKFAST has created a series of experimental Brixel installations. So far, the company has piqued the interest of a number of prestigious organizations, including the Cooper Hewitt Smithsonian Museum. But the interest won't stop there. Experts see lots of uses for the Brixel in today's smart world. And I say they're the perfect addition to any Montecito home.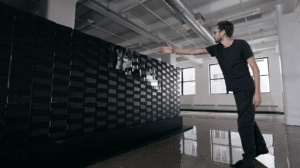 Take the Brixel Mirror, for example. This 19-foot wide, 540 Brixel installation senses your presence when you stand in front of it, then gives you a one-to-one reflection when it rotates, matching your silhouette and moving with you. When you move away from the installation, the Brixels will rotate, using kinetic energy, to reveal letters via positive and negative colors and space.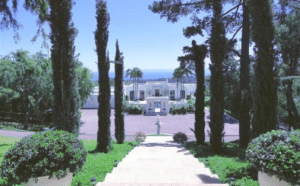 BREAKFAST is a studio of multidisciplinary designers and engineers who conceive, design, and fabricate high-tech contemporary art installations and sculptures. The company creates one-of-a-kind custom pieces for each client, to be installed anywhere, even Montecito homes or backyards.
Imagine a giant moving sculpture in your Spectacular Ocean View Estate. Since this property combines elements of Modernism, Post-modernism, Neo-classicism and Art Deco, a Brixel installation that plays off its existing architecture and breathtaking views would be amazing.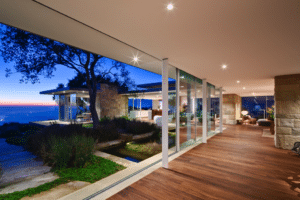 Consider adding these contemporary building bricks to the World-Class Toro Canyon Estate I have listed on my comprehensive website. This stunning example of Modernism is the perfect setting for smart art installations. The home already features interesting expanses of retractable and Vitrosca Invisible Wall glass that focus attention on the surrounding natural spectacle. The dramatic walls of glass along with walnut floors and cabinetry and freestanding walls of precisely cut native sandstone deliver instant notice that this is a very special home. Imagine how special after you add Brixels.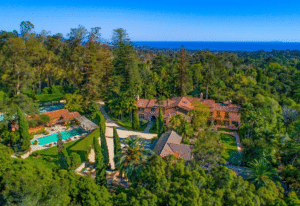 Or ponder what you could do with Brixels in the very private, 4.5 acre Palmyra estate. Featuring grounds as magnificent as its structures, adding a Brixel installation at Palmyra makes sense. Your Brixel installation could be designed to fit amidst the rolling lawns, impeccably-trimmed privets, tropical and native flora, citrus trees, flower gardens, lagoon, pergolas, and fountains of this one-of-a-kind Mediterranean home.
You could even build an entire wall out of Brixels should you decide to purchase this spectacular Montecito ocean view property. This estate is among the very few buildable multi-acre parcels of land available above Montecito. With nearly 3-acres, it offers ocean views, which presents a significant opportunity and a perfect setting for Brixels. Enhance the unsurpassed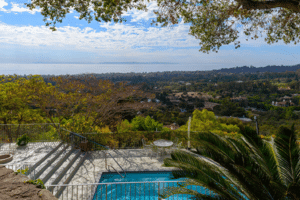 panoramic views of the Montecito Plain, Pacific Ocean, and the Channel Islands. Needless to say, sunrises and sunsets from here are divine.
---
Inspired by the idea of adding Brixels, the new building materials to the art and architecture of your home? Considering a move? If so, let's discuss how renovations can increase your overall return on investment in your current home, and how they might increase your enjoyment of your new one. So, if you haven't already done so, check out the buyers and sellers sections of my website, then give me a call at +1 805.886.9378 or email me at Cristal@montecito-estate.com. We can discuss how you can become the first on your block to embrace Brixels.
---