Adventure, Education, and Summer Fun!
Image courtesy of The Wolf Museum of Exploration + Innovation
Attending one of the Santa Barbara summer camps can be life-changing for children, especially when it comes to making new friends, learning new things, and exploring the great outdoors. Here in our communities, there are more than 150 summer camps to choose from where kids can unplug while learning about teamwork and independence. The Santa Barbara Independent has put together a complete list of summer camps in the area. Here are a few standouts:
Santa Barbara Zoo Camp
Zoo Camps at the Santa Barbara Zoo offer hands-on science activities, games, crafts, and up-close animal encounters. Traditional zoo camps are offered all year long, but during the summer months, specially themed camps, from Conservation Camp to Jr. Zoo Keeper Camp, take center stage to delight and entertain a variety of age groups.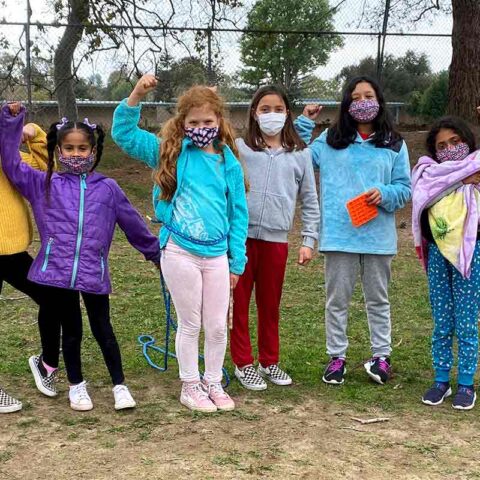 Summer Enrichment Camp, Girls Inc
Girls Inc. offers exciting summer enrichment day camps created specifically for girls. These camps focus on helping girls develop essential life skills through innovative hands-on experiential learning activities including sports and movement, literacy, art, gardening, cooking, and more. The group also offers a Summer Gymnastic Camp taught by certified gymnastics coaches for beginner to intermediate levels.
Art Explorers Camp
Art Explorers is a local art-enrichment program designed to enhance visual art skills and build self-confidence by igniting a child's imagination. Here, kids can unleash their creativity through science, technology, engineering, and math. A variety of camps are available. For instance, future movie directors will delight in the Stop Motion Explosion where they will learn the art of filmmaking, while other campers focus on what goes on behind the scenes when it comes to creating special effects. Harry Potter fans will love the All Things (Harry Potter) Magical and Fantastic Beasts camp, and teens can take their creativity to new heights in 2D and 3D Art Camps. There's even a camp called Extreme Art where kids spend their days drawing, painting, and sculpting. The locally owned team of educators also offers afterschool programs during the year.
UCSB Summer Camps
There are many Santa Barbara summer camp opportunities created by the University of Santa Barbara, UCSB. For boys and girls aged 5 to 14, UCSB's Summer Day Camp provides a safe, fun, energetic, and active program focusing on the development of a child's physical and interpersonal skills. Activities run the gamut from pool time, ropes course, arts and crafts, and fun Fridays. Additionally, campers will learn about the environment, protecting our oceans, cultures of the world, and much more. The Summer Literacy Camp features multi-sensory experiences where kids aged 6 to 12 can engage in creative projects designed to foster literacy development. There is also an Aerial Arts Camp for future Cirque de Solei performers. This camp is designed to introduce aerial arts, also known as aerial silks, through a combination of performance, dance, and acrobatics. Kids will receive a full-body workout through exercises designed to increase endurance, cardio strength, and flexibility. UCSB provides other summer camp opportunities including some programs for adults.
MOXI Summer Camp
Kids grade 1 to 6 are invited to the fun, playful and empowering Santa Barbara summer camps at The Wolf Museum of Exploration + Innovation, otherwise known as MOXI. Summer programs are designed to empower a child's curiosity while awakening their critical thinking and problem-solving skills. In addition, kids get access to the many state-of-the-art exhibits and a staff of well-trained science educators.

Junior Golf Camp at Santa Barbara Golf Club

If your kid is the future Tiger Woods, then this camp is for them. Kids aged 7 to 14 are invited to join the Santa Barbara Golf Club for a fun week learning the great game of golf from local professionals. From beginner to intermediate, campers will improve their swing, and learn the fundamentals and course etiquette while expanding their overall knowledge of the sport.
Cate Summer Institute
Pack your bags and get ready to make friends from around the world. The Cate Institute offers four Santa Barbara summer camps devoted to academics, leadership, and the great outdoors including sleep-away camps where kids stay overnight in dorms that overlook the Pacific Ocean in Carpinteria. 6th and 7th graders who love learning can attend the Academic camp. Cate Sports Academy, designed for 3rd to 11th-graders, offers half-day, day, and sleep-away options. Cate Summer Outdoors sleepaway camp is for 6th to 10th graders who want a residential outdoor experience where they can explore the natural beauty of Santa Barbara County and beyond. And the Cate Summer Mini is a day camp created especially for preschool children.
---
The educational opportunities here, including our diverse Santa Barbara summer camp offerings, play a key role in creating a vibrant future for our children. And studies show proximity to good schools and recreation contribute to the value of a home. So, if you're considering a move here, please check out my comprehensive website then call me at (805) 886-9378 or email me at Cristal@montecito-estate.com.
---
Other Resources: