A Q&A WITH #1 SANTA BARBARA AGENT CRISTAL CLARKE
The 2021 Santa Barbara real estate market continues, with experts seeing a major post-pandemic rebound. Steady mortgage rates and job recoveries, combined with the law of supply and demand are working together to make home sales surge.
That's why leading Santa Barbara Realtor Cristal Clarke has declared "productivity" as the word of the moment. Productivity as in multiple offers, no contingency offers, and a quick close of escrow—all due to a continued influx of buyers into all local market areas, including points north and south. The boom extends farther afield as well, to the Mid-West and East Coast.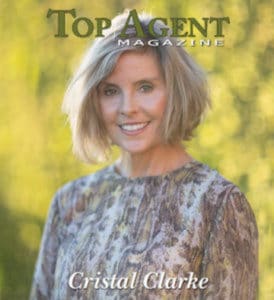 The Award-Winning Realtor continues to represent the highest level of clientele, specializing in the sale and acquisition of extraordinary estates and land in Montecito, Santa Barbara and Hope Ranch. As the #1 producing agent in the U.S. and worldwide among 50,000+ Berkshire Hathaway HomeServices agents, Cristal knows the market inside and out. That's why buyers and sellers of the finest homes have come to count on her for all their real estate needs.
Writer Susan Hartzler sat down for a Q&A with Cristal regarding her predictions for the remainder of the year:
S. How quickly are homes selling in 2021?
C. Real Estate sales started off at a record pace in the first three months of the year and are maintaining that forward march into the second quarter with no immediate pull-back insight. Multiple offers, no contingency offers, and a quick close of escrow offers are not unusual in today's fast-paced marketplace. Plus, there's a continued influx of buyers who want to live on the American Rivera. What's not to love about this piece of the world with our year-round, perfect Mediterranean weather and miles of white sandy beaches?
S. How long will this hot market continue?
C. That's impossible to answer, but having never been shy in predicting future trends, I see at least two more years in the current upcycle. Why? For many years, you have heard me say that our local communities have been under-valued, so even though we have experienced increases in sales prices, we are only now coming on par with other elite communities, not only here in California, but also across the nation.
S. How has the global pandemic changed the Santa Barbara real estate market?
C. One thing COVID has changed is the fact that we are no longer a 2nd or 3rd home community. Santa Barbara, Montecito and our beautiful surrounding communities are now a place to set down roots as a primary residence. The influx of many more families into our communities is proof positive our fundamental owner profile has changed and continues to do so.
S. Should those folks considering it list their home now?
C. ASAP! Our continued record low inventory levels, low interest rates, possible tax changes in relation to capital gains tax, potential 1031 tax-deferred exchange changes, and–oh, yes--let's not forget inflation, are all positive signs for real estate. Now is a good time to get off the fence and list your home.
S. Will a seller be able to buy a new home?
C. Yes, but they'll need to bring their "A" game. That means doing due diligence when hiring a real estate agent to work with. With more buyers than sellers, they'll probably be up against some heavy competition, high home prices, and they might even have to gear up for a bidding war. But this too may change in the near future as many experts anticipate inventory will climb in the second half of 2021. That means balance in the market is on the horizon and less competition among buyers.

S. Do buyers need to work with an agent if the market is so hot?
C. Buying a home in a hot real estate market takes patience, perseverance, and knowledge. Simply put, it pays to have a trusted professional in your corner who'll alert you to listings as soon as they hit the market, if not before. Also, if you're a buyer, a good agent will know how to make your offer stand out from the rest. For sellers, a good agent will be able to ensure optimum return on their initial investment.
S. Should sellers still stage their home and make improvements before listing?
C. Absolutely! And for good reason. Sellers shouldn't cut any corners in the selling process, even in this hot market. Staging helps get the most money in a shorter timeframe. It also increases the buyer's confidence in the home, helping them feel great about their purchase and feel as though they got their money's worth.
S. What's the average home worth in today's market, and how quickly is it likely to sell?
C. In July 2021, Santa Barbara home prices were up 8.5% compared to last year, selling for a median price of $1.5M. On average, homes in Santa Barbara sell after 34 days on the market compared to 58 days last year. There were 117 homes sold in July this year, up from 104 last year.
S. Often, the luxury and ultra-luxury real estate markets are either more or less affected by economic and/or societal disruptions. Is that true of the current state of affairs? If so, in what ways?
C. What is evident and is certainly visible in the Santa Barbara real estate market is that buyers are realizing urban living environments are not necessarily ones that serve one's needs best. We are seeing and, I believe, will continue to see a shift away from urban living to those that are community-based environs such as those available here in Montecito and Santa Barbara. This is being experienced across the board, from luxury real estate to less expensive homes in all our local communities.

S. Are you still showing homes virtually via your website or other electronic venues?
C. Showings via online portals is still the first step in a buyer's thought process before looking at a home in person. In addition, many sellers are offering buyers extensive online marketing materials such as photos, floor plans, and videos or virtual tours prior to actual showings. My comprehensive website offers a wide variety of information related to real estate, including intel on our various communities, and local amenities such as schools, recreation options, and cultural venues. So, I always recommend a buyer start there.

S. Have you revised your usual marketing efforts and/or methods in the last 3 months or so? For example, are you putting more emphasis on your internet presence (i.e., website, social media, ads)?
C. My marketing efforts continue to be top-notch in the industry. We have always, and continue to, have a strong social media and internet presence regardless of the environment. We've tailored our marketing to include more community informational services in social media posts, web posting information, as well as community mailings and print ads.

S. Any predictions regarding the U.S. housing market in general, luxury and ultra-luxury markets, and/or your specific Santa Barbara real estate market for the remainder of 2021?
C. My prediction is that we will continue to see a surge in buyer and seller activity as the various communities across the nation get back to a sense of normalcy, including right here in California. We expect, as mentioned earlier, to continue to see a shift away from urban living environs and a move toward more community-based living. What better place to be than right here in Montecito, Santa Barbara, or any of our lovely surrounding communities?
---
To date, Cristal has helped 17 buyers and 29 sellers with their real estate needs in and around Santa Barbara in 2021, for a total of more than $280 million in sales. If you're considering buying or selling to move to a different Santa Barbara area, community or neighborhood, give Cristal a call at (805) 886-9378, or you can contact her at Cristal@Montecito-Estate. Cristal is the one to turn to for answers to all your questions regarding the Santa Barbara real estate market.
---