SIMPLICITY, INDIVIDUALISM AND BALANCE ARE KEY COMPONENTS
When it comes to timeless interior design trends, Montecito homeowners should embrace the ones that never go out of style. In order to survive time, these design trends are timeless, sophisticated and created with conscious thinking. The secret lies in finding the perfect balance between styles combined in a practical and meaningful way, based on your needs and lifestyle.
Individualism and location are key. For example, the indoor/outdoor lifestyle is a common theme amongst Montecito residents as the climate and beachfront properties allow for a more relaxed community through a luxurious atmosphere. That means you can add a little flair that matches both your preferences and location.
Here are the top 10 timeless interior design trends to consider: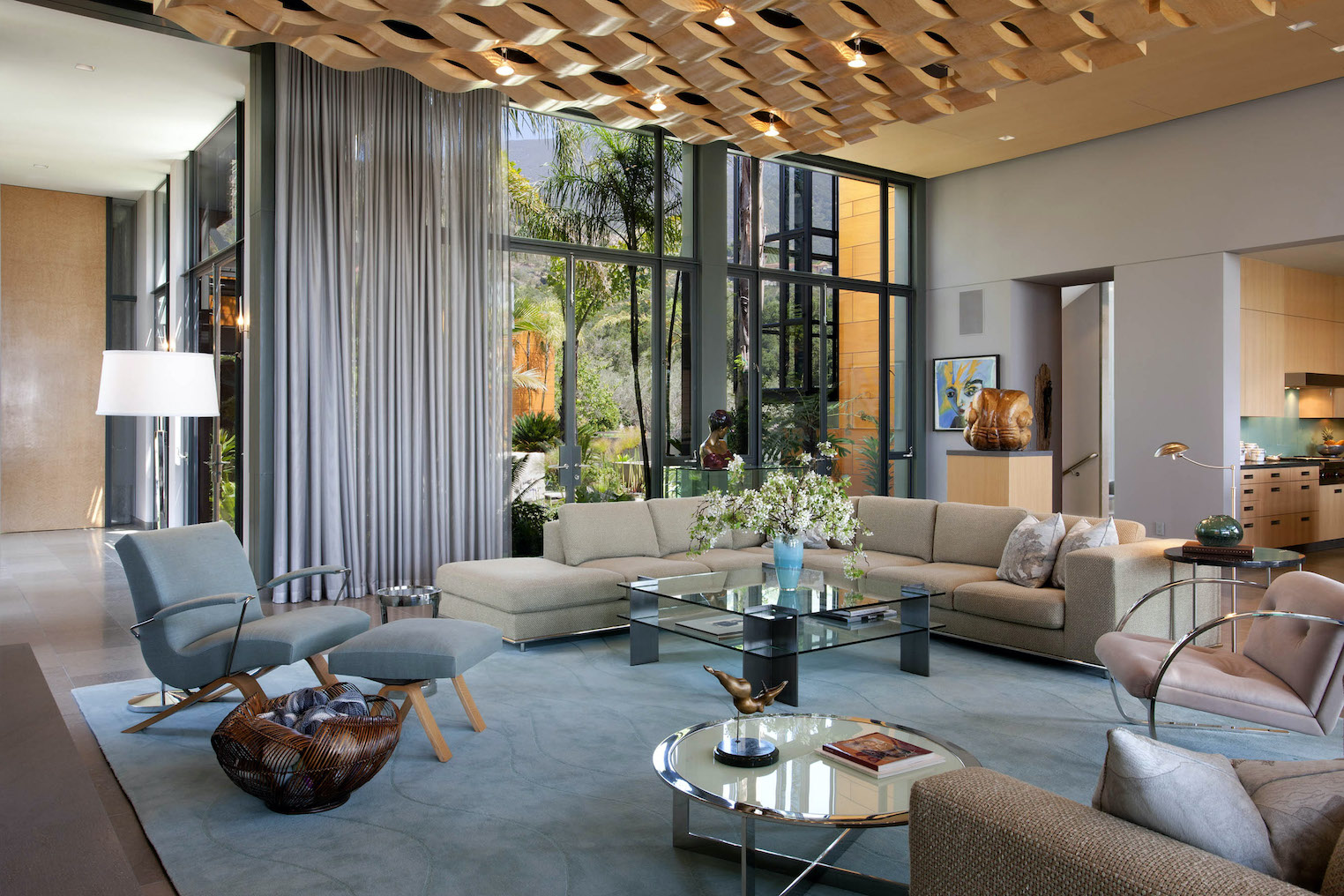 1) Bring in the light
If the light in a room is not adequate for its use and purpose, it would be very difficult to create a timeless design. First of all, try to bring in as much natural light as you can to every room. As seen in the living room of my Modernist Masterpiece on Romero Canyon Drive, visionary NYC interior designer Barbara Hauben Ross put her talents to work on the awe-inspiring, 7,188 sq. ft. 5-bedroom, 5.5-bathroom residence. The results are accentuated by the home's incredible scale and walls of glass that highlight the breathtaking natural setting.
When it comes to adding lamps, think about your needs and the mood you want to create in each room. In the living room, it's usually common to think about a calm lighting mood and more lighting for times when you need a brighter space. Focus your light in areas where you are going to be doing any activity like working, cooking or reading. Also, think about indirect lighting for areas where you don't need so much light. Regarding the selection of your lamps, to keep them in line with your timeless interior design, the best idea is always to go for nice and subtle options or iconic designs for your home.
2) Keep it simple and meaningful
No matter your home's architectural style, keep your interior design simple. Simplicity gives your interior a clean, sophisticated look that is always on-trend. As seen in the great room of the extraordinary Modernist masterpiece pictured above, the home's open floor plan highlights its breathtaking natural setting and amazing views. This estate is proof that interiors always look better when they are spacious and clean. The style of a room is not important if that space is loaded with furniture and decorative items, even if they're on-trend. The importance of simple and neat spaces is the same for all kinds of architecture, be it Modern, Contemporary, Spanish Colonial or any of the styles we have here in Montecito.
READ: 5 Iconic Santa Barbara Estates
The basis of a timeless interior design is a simple space that is designed in a practical way. Your home needs to reflect your lifestyle. That means everything in your home should add value and be there for a purpose. Maybe you would like to spend more time with your family friends. Plan your interior accordingly. Or perhaps you need a space to relax and read your favorite book. When in doubt, consider the experiences you want to achieve in your home and start there.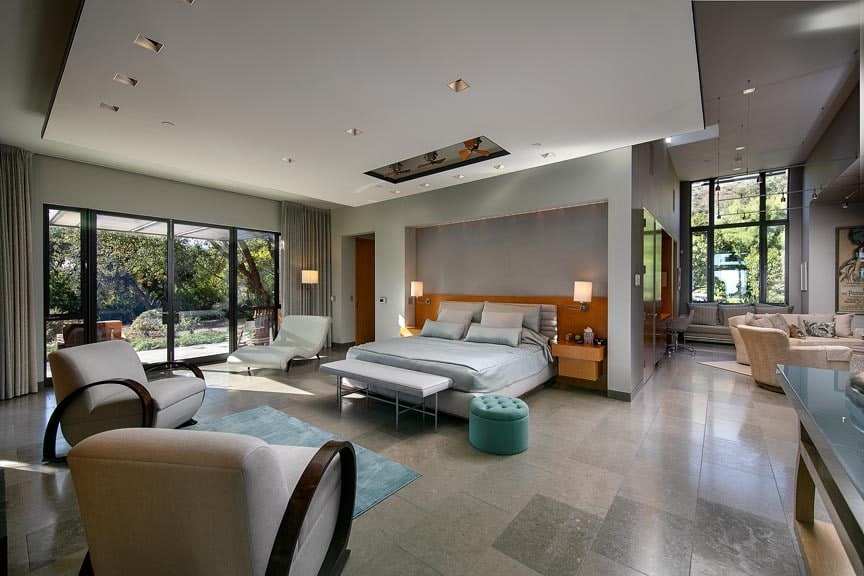 3) A neutral color palette is always a good idea
Color trends seem to change dramatically from one year to the next. No matter what color is trending, however, it's always a good idea to start with a neutral palette, like the one seen in the master bedroom of my Romero Canyon Road listing above. The bottom line is to keep it simple and meaningful.
Different shades of white, pale tones, soft warm colors, and greys are the perfect neutrals for any interior at any time. Remember that when it comes to neutral colors, however, there is a wide range of nuances between dark greys to pale tones. For instance, a very dark grey neutral tone can include shades of green, blue or red. With neutral colors, Montecito homeowners still have a wide range to choose from to accentuate a space.
4) White rooms equal bright rooms
Speaking of color, white interiors are always elegant; giving a clean, fresh look. Plus, they never go out of style. Even with white, there are countless options available. Chalky white and bone white, for instance, can give that unearthed look to a room. Or you can choose between an all-white design, using different shades of white against other pale tones to add a little contrast to your timeless interior design. White creates a solid foundation to your interior decorating, no matter what kind of style you prefer. It matches with everything.
Still, some people want a warm white, while others want something bright and stark. To decide which is best for you, look at your furnishings and ask: Can they handle the stark whites, or are they dominated by warm colors and creamy whites? Use a 24-by-24-inch sample on a few walls in different rooms to decide. These are reasons why white walls are so notoriously popular. They create a blank slate and constantly offer opportunities to change accouterments without having to repaint.
READ: Hygge and Friluftsliving: Danish Lifestyle Trends Embraced By Santa Barbara Homeowners
5) Use Natural Materials
Texture adds a sense of comfort amidst the chaos of our world. Think pleating and folding in velvets and cotton, with huge stitches of beautiful luxe yarns. Or combine your white interior with textures, such as marble, that add contrast. If you like rattan furniture, seagrass pendant lighting, and jute rugs, then you will love the next evolution of this trend. Think detailing like cane-front kitchen cabinets or on furniture.
Marble is another natural material that can add so much to your interior design. Considered a luxe material, marble has those distinctive veins and swirls that contrast a textured effect with its smooth finish. Besides using marble in your kitchen and bathrooms, it's easy to add a touch of marble décor throughout your home with coffee, side and console tables. Or, you can create striking juxtapositions with marble trinket boxes, candleholders and lovely marble trays. A handsome marble wall clock can add a much needed a pop of drama to any room.
The use of natural materials, like wood for your floors, is always one of the timeless interior design trends. Dark or light colors of wood accentuate and blend perfectly with any style. You also can use stone or concrete floors for a different look. All the natural materials mentioned here will imply coziness and warmth. And when it comes to natural materials, there are infinite possibilities that will elevate your interior design for years to come.
6) A simple touch goes a long way
Even with a timeless and sophisticated interior design, it's important to add or refresh the style of your rooms through accessories. Mismatched patterns can act as an anchor for any room. This trend was first spotted on the runway during New York Fashion Week: a common catalyst for interior design trends.
Start by selecting a trend you really love, like an animal print or geometric patterns, and use it in throw pillows, on blankets, or even rugs. A simple geometric pattern for a rug works fine in a variety of different interior styles.

It's a good idea to keep your furniture neutral, too, and add your unique special touch through accessories. Remember to keep them meaningful, and don't overdo it. Keep it simple for your personal style to stand out.
7) Bring your interior to life with plants
The color green represents refreshment and revitalization. In fact, why stop with just plants? Go ahead and create a living wall or indoor garden that allows residents to commune with nature without going outside. That's reason enough to have plants inside your Montecito home. House plants add a touch of casual elegance to any space. They also purify the air inside your home; bringing health benefits to your environment. Plus, a touch of nature is among those interior design trends that never go out of style.
You have different options to decorate with plants, depending on the mood and style you want to achieve for your rooms. If you really love a touch of nature, try adding some to every room. You can place plants on top of furniture, like your kitchen table or shelf, or place larger plants next to your fireplace. The possibilities are endless. Your plants will always complement your design in a beautiful way, and they will add freshness and positive vibes to your home.
8) Iconic furniture never goes out of style
When you really want to implement timeless interior design trends, one of the best ways is to purchase iconic pieces of furniture that both beautiful and practical. Round is the right angle, especially when it comes to furniture. Leading interior designers say curvy upholstered pieces like sofas, divans, and occasional chairs always rule interior design trends. Think asymmetrical designs inspired by decor from the '70s.
Using iconic furniture as showpieces can elevate the form, function, and comfort of your interior. Examples include the Wassily Chair by Marcel Breuer or The Barcelona Chair by Mies Van Der Rohe. They remain versatile and they can easily be integrated into any style and decor.
9) Combine white with black
As I explained above, white is, of course, always an excellent paint choice because it feels elegant, fresh and clean. But did you know that black and white are the most timeless color combinations? Decorating in black and white brings elegance, flexibility and sophistication to any room of your house.
Even though it's a safe way to go, a black and white interior needs to be balanced in order to offer a good composition for your design. You can go for a contemporary feel with brilliant whites and gloss finishes. Or, as an alternative, you can create a vintage mood adding rough textures and softer shades. Whatever you decide, combining black elements in a white room creates contrast and offers a place for the eye to rest. At the same time, if the room is mostly dark, bright and white elements will brighten things up.
A great option to complement this look would be to add some natural elements to the design, like wood or stone. It will bring texture and different shadows to the scene.
10) Choose what you love
In conjunction with the first point – keep it simple and meaningful – choosing the items that you really love is the most important key to creating a timeless design for your home.
Despite what's trending or what is not, your goal always should be to create a beautiful home that covers all your needs, based on your lifestyle and taste.
Remember that your home is your sanctuary, and the purpose of its interior design and the items inside your house should be to make you happy. Think about how you'd like to use your rooms. What do you want to feel and how do you make them more comfortable and warmer. Then start thinking about what you'd need to include to achieve all of that.
When you really like a specific style, don't worry if it's on-trend or not, just go for it. If it brings you joy and happiness, it means that this is the style for you and your home. If you love it, you will enjoy it for a long time.
Expert Decorating Tips
Now that you know the top 10 timeless interior design trends, get ready to follow some of the best decorating tips of all time:
Mount curtains high above your windows. The closer to the ceiling, the grander the room will feel.
Hang art pieces right at eye level with their center: 57 inches off the ground.
Style decorative objects in odd-numbered groupings. Use the "rule of three."
Layer your light sources. Layers = warmth.
Always, always make your bed.
Nothing says "I don't care about my home" quite like a duvet cover crumpled on the floor.
Think of produce as décor. Fruits and veggies in a bowl make a gorgeous centerpiece in a pinch.
Clean your windows regularly. It makes a world of difference, especially in Montecito with our amazing ocean and mountain views.
Edit your kitchen countertop décor. Stunning kitchens feature a sparkling, clutter-free countertop.
Pendants should hover about 3 feet above surfaces
That goes for islands, bars, and dining tables
Use real bowls for your dog bowls. So much classier.
Never place your bed in direct alignment with your door. A big feng shui faux pas
Add fresh flowers and make sure the water is fresh and frequently freshened.
Color block your bookshelves for a look that is always on-trend
Karate chop your pillows.to add an easy luxe vibe to any room.
Place furniture 2 inches from your walls. "Float" your furnishings to make the room feel breezier.
When in doubt, undecorate. Less is so much more when it comes to tchotchkes
Switch up coffee table decor often. It's the easiest way to make the living room feel fresh in every season.
Never splurge on trends or fads. Instead, treat yourself to inexpensive décor pieces to stay fresh and modern.
Only buy what you love. If something doesn't bring you joy, toss it.
READ: Tidying Up with Marie Kondo: It's All About Choosing Joy
Fill corners with plants. They can literally improve your mood.
No TV in the bedroom. Or at the very least, hide it.
The 2:2:1 pillow rule adds symmetry
Leave an element (or two) undone. Always leave something mussed to make a space look warm and lived in.
By following these 10 timeless interior design trends and expert decorating tips, you'll be able to create a beautiful, functional and meaningful interior that won't go out of style anytime soon. Remember, your interior design is a reflection of your inner self, your delights, and your story. This is what makes a home design unique, timeless and meaningful.
Now, let's find you a new home to implement these interior design trends and expert decorating tips in. If you're considering moving to, or within Montecito, Hope Ranch or any of Santa Barbara's upscale communities, please call me at (805) 886-9378 or email me at Cristal@montecito-estate.com. I'll happily add your listing to my portfolio of fine homes in the area and sell it while finding your new dream home where you can decorate using timeless interior design trends.