HOW SANTA BARBARA BECAME INFUSED WITH THE SPIRIT OF SPAIN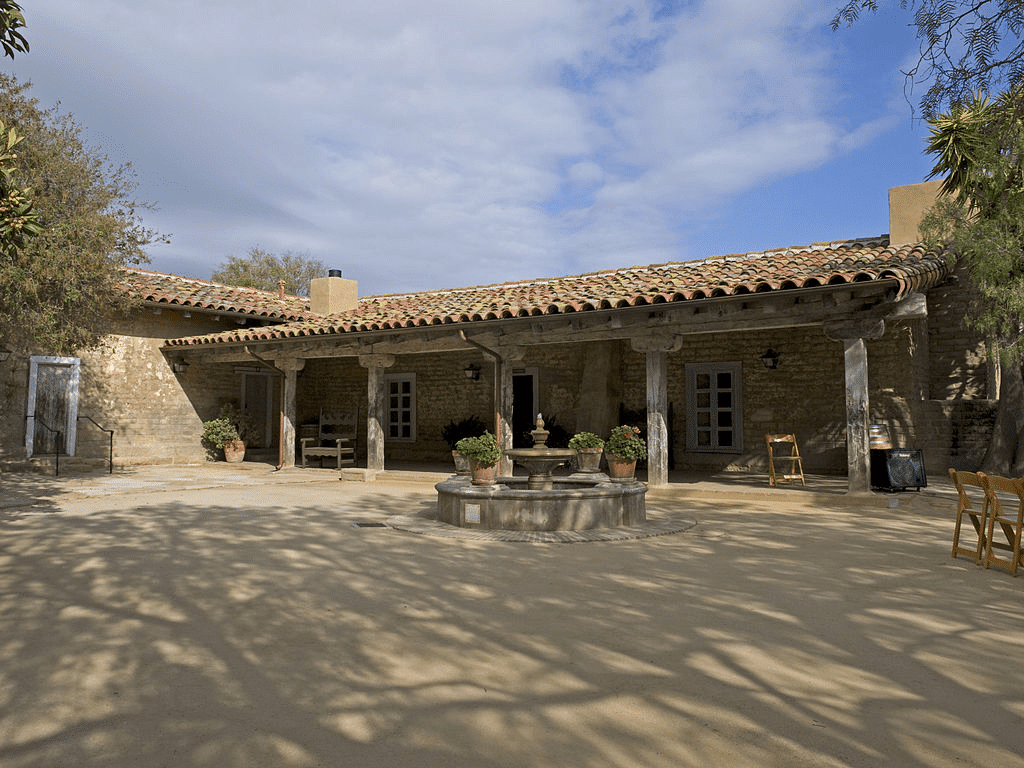 Historical Adobe (1836) at Santa Barbara Historical Museum. Creative Commons
The founders of the City of Santa Barbara were among the first in the nation to realize the cultural and economic value of preserving historic buildings. This early intervention, so to speak, is the reason why today, those of us fortunate enough to live here, get to enjoy the original Spanish Colonial and Mexican-era adobe structures found all over town. Just look at the architecture of our fine city and you will appreciate the richness of Santa Barbara history at every turn.
Native Americans Arrived First
That history began approximately 13,000 years ago when the first Native Americans arrived. For more than 10,000 years, the Canalenos (coast dwellers), or Chumash, lived in this region and enjoyed the rich abundance of nature that we, too, appreciate today.

In 1542, Juan Rodriguez Cabrillo explored the "Baja" and "Alta" California coast and claimed it for Spain. A trade route was then established between Mexico and the Philippines, as safe harbors were needed for treasure ships. That prompted further expeditions to explore California.
Santa Barbara Gets It's Spanish Start
In 1602, explorer Sebastián Vizcaíno sailed here from Spanish-ruled Mexico. After surviving a huge storm on the eve of Saint Barbara's feast day, the explorer christened the city in that Saint's honor and voila, Santa Barbara was born and the richness of Santa Barbara history in the modern era began.
It took 167 years for the Spaniards to return. That is when Gaspar de Portolá and a Franciscan priest named Junípero Serra arrived from Mexico. They shared the goal of establishing missions and forts in "Alta" California, securing the region for Spain. The area became part of Mexico following the Mexican War of Independence. Even today, our streets, such as De la Guerra, Cota, Gutierrez, Ortega, Carrillo and, yes, Junípero Serra, memorialize those early settlers.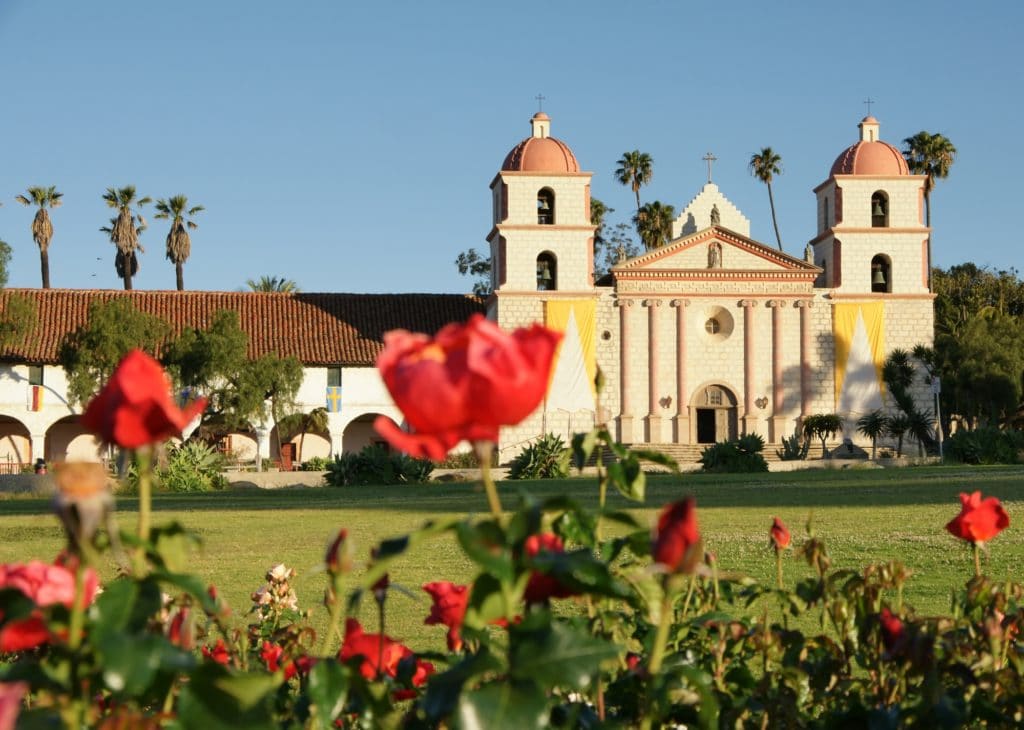 The Queen of Missions
The renowned Santa Barbara Mission, known as the "Queen of the Missions," was established in 1786: the tenth in a line of more than 21 missions was originally used to Christianize the Indians and to teach them farming and other skills. The mission has evolved into its beautiful appearance of today, famous for being the only mission with two bell towers.
California Joins the United States
In 1848, the expanding United States acquired the town, along with the rest of California, after defeating Mexico in the Mexican-American War. Slowly, Santa Barbara transformed from a dusty cluster of adobes into a Victorian-era resort town, a center of film production, an oil boom town, somewhat of a military town during World War II, and finally the economically diverse and exceptional resort destination of today.
Devastating Earthquakes in Santa Barbara History
Santa Barbara architecture was subject to two devastating earthquakes. The first in 1812 and then again in 1925. Each time, the city rebuilt itself in a Spanish Colonial style reminiscent of its past.
The strong 1812 earthquake, felt throughout the region, frightened residents of the Old Mission. Padres, Indians, and soldiers rushed out of the buildings during a foreshock. Luckily for them, they were too afraid to reenter the building because just fifteen minutes later, a strong earthquake struck. The shaking was so intense that the mission's church bells rang out, while the adobe walls of the buildings were shattered. Severe damage from the earthquake was reported from Mission Santa Ines, Mission Santa Barbara, the Santa Barbara Presidio, Mission San Buenaventura (Ventura), and Mission San Fernando; covering a distance of over 100 miles.
In 1925, the entire downtown area was shaken to rubble by a 6.8 magnitude earthquake. The silver lining at that time was that, architecturally, the earthquake was a big win for the city because civic leader Pearl Chase convinced city planners to rebuild in a unified Spanish Colonial Revival style. She used the Old Mission and the Lobero Theatre for inspiration. Her creative efforts, seen in the iconic red-tile roofs and whitewashed adobe walls, are remembered in a delightful beachside park named in her honor.
Many buildings that stand here today date back to that era, like the Santa Barbara County Courthouse with its Moorish flourishes. Then there are the hidden fountains and courtyard of El Paseo, along with countless white stucco buildings adorned with ornamental ironwork, painted tiles, and arched doorways.
Old Spanish Days
To commemorate the richness of Santa Barbara history, each August, a five-day city-wide fiesta celebrates Santa Barbara's "Old Spanish Days" with parades, performances, and a rodeo. ¡Viva España!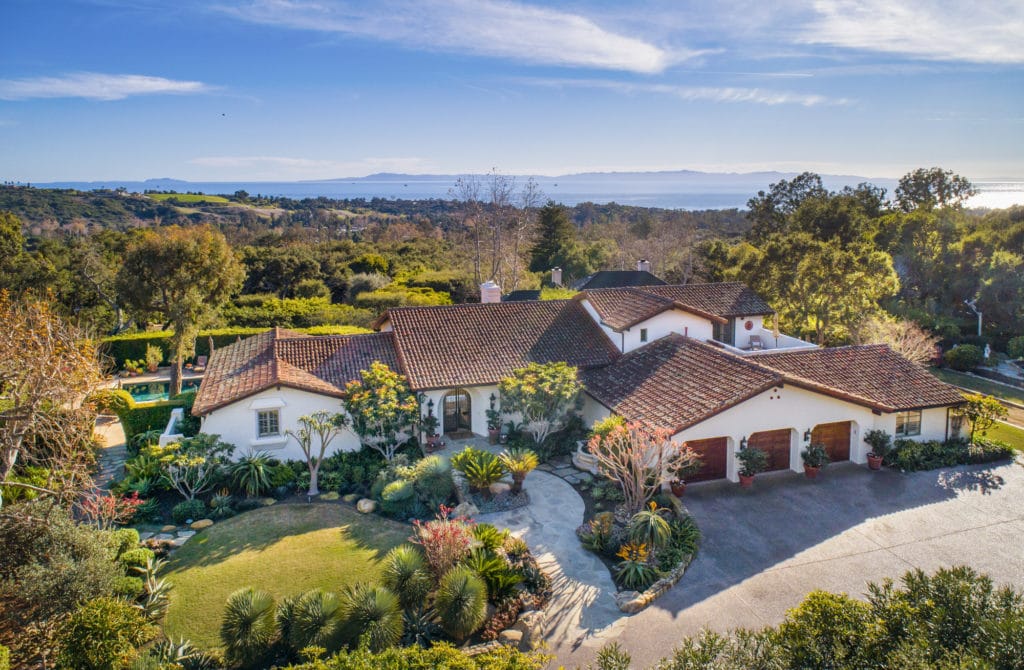 Spanish Colonial Architecture
Today, potential home buyers will find a wealth of beautiful estate properties, condominiums and townhomes, and exceptional residences that are beautifully designed with our Spanish history in mind. Take the Quintessential Mediterranean-style Montecito View Estate pictured above. Resting on just under an acre and behind dramatic iron gates, this amazing property from Award-winning architect Don Nulty, AIA features many of the touches from Spain referenced in this blog. Besides the red tiled roof, there are open-beam ceilings, rich wood floors, and arched doorways. The pièce de résistance is the unobstructed ocean and mountain vistas from most rooms.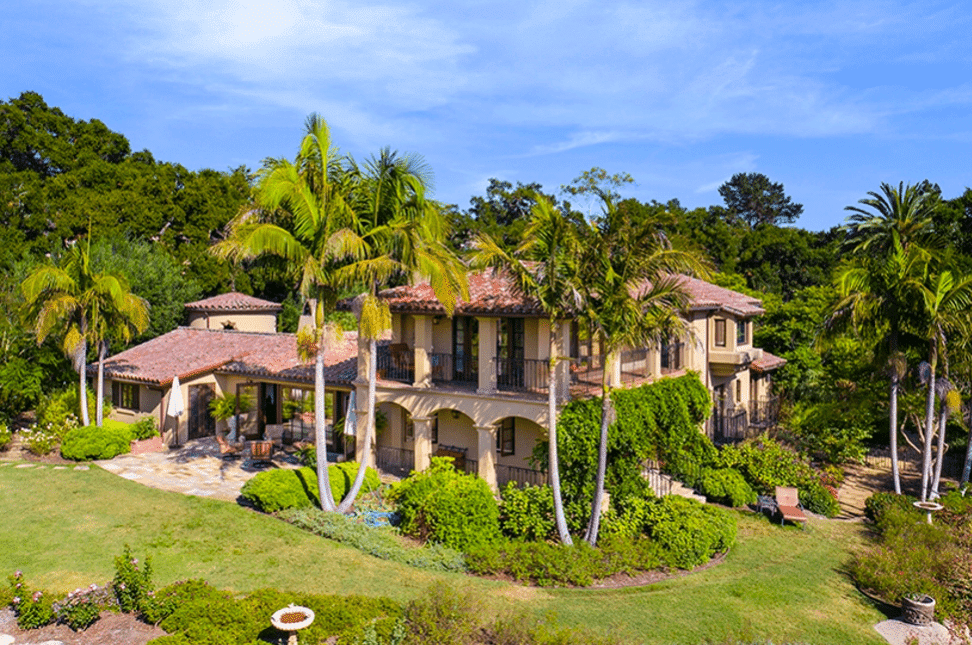 Or perhaps you'd be interested in another one of my exclusive listings, the Spanish Colonial Revival Beauty on the Santa Barbara Riviera pictured here. The estate was originally built in 1949 by noted architect Chester Carjola. Locals may be familiar with that name. His other works include the Fleischmann Auditorium and Gladwin Planetarium at the Santa Barbara Natural History Museum, as well as the original University of California at Santa Barbara Library. Subsequent owners worked with the highly respected international architecture, landscape and interior design firm, Harrison Design to update the property, keeping the original Spanish flair intact.
Find out more about these listings on my comprehensive website. While there, you can check out my portfolio of other fine homes in Santa Barbara, Montecito, Hope Ranch or any of the nearby communities, please call at +1 (805) 886-9378 or email me at Cristal@montecito-estate.com.
---
To learn more about the richness of Santa Barbara history or the Santa Barbara real estate market, please don't hesitate to connect with me – Cristal Clarke – your leading luxury Santa Barbara Realtor. With more than two decades of knowledge and experience in this market, I look forward to sharing my expertise with you.
---