EVERYTHING YOU NEED TO KNOW TO SOURCE, SET UP AND ENJOY YOUR OWN MAGICAL MARINE SHOWCASE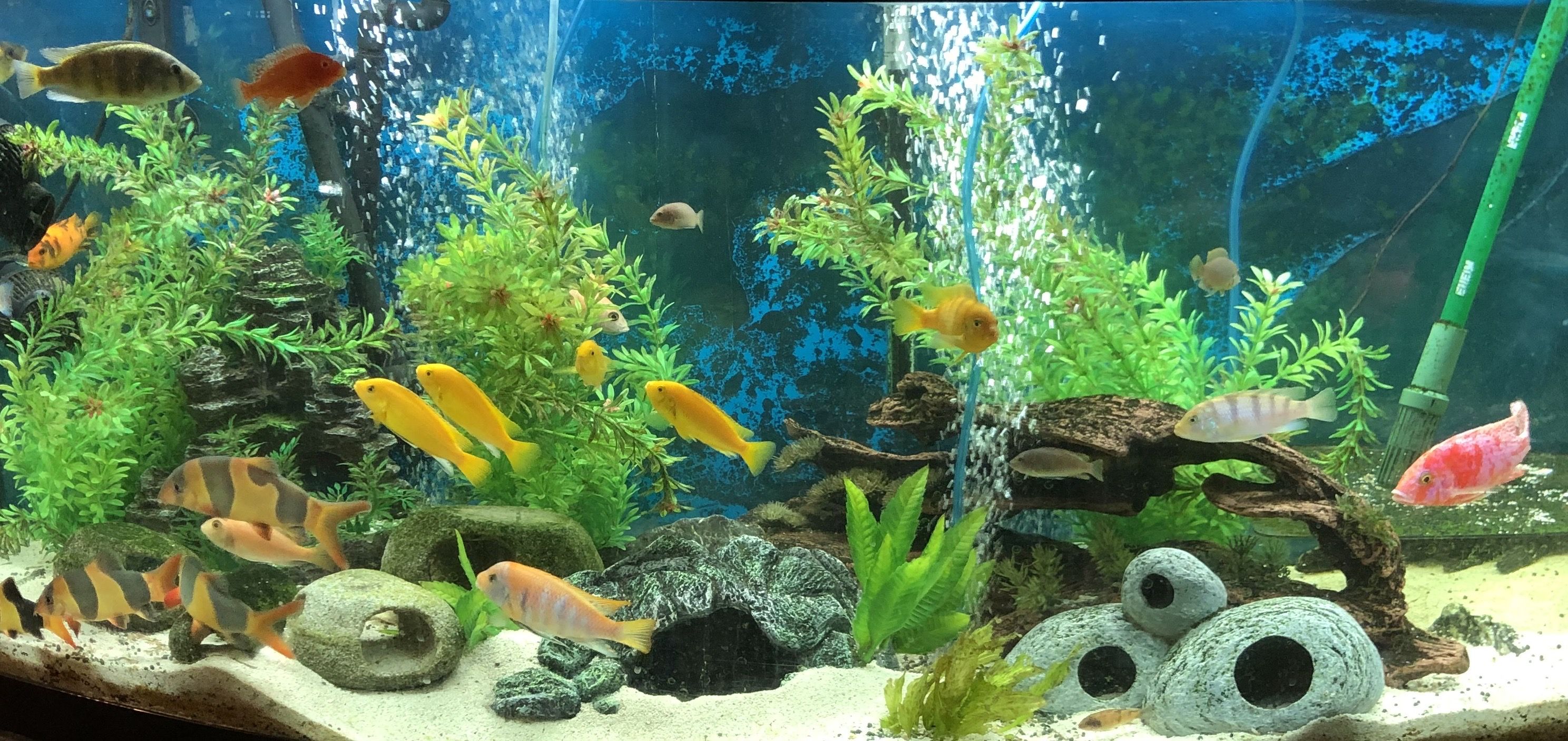 Cropped from LizWinfreyV, CC BY-SA 4.0 , via Wikimedia Commons
You've probably heard about the Pandemic Pet phenomenon. (You know, the dogs and cats people brought home to keep them company during the COVID-19 lockdown?) Well, turns out Americans took in more than just dogs and cats to keep them company while being stuck at home. Some high-end homeowners took up a more elaborate pet hobby: the luxury home aquarium. Think home décor, entertainment, wildlife, and pet shelter combined. These custom aquariums can weigh more than 75,000 pounds and cost as much as $750,000 at the top end.
READ: Timeless Interior Design Trends
"We've seen a tremendous boom in business," Nic Tiemens, of Infinity Aquarium Design in Los Angeles told the New York Times. And he's seen the demand that began during the early days of the lockdown continue to skyrocket today. In fact, the business has grown by about 400% since the start of the pandemic and is still going strong. Turns out many homeowners finally took the plunge on something they'd considered in the past.
In a typical year, Tiemens told the paper he installed one luxury home aquarium every few months. Today, he sets up multiple high-end tanks every month. Some of these aquariums rival installations at public institutions in size and scale -- like the one featured in this private tour of a massive one inside a home in the UK. His company, like many others, even here in Santa Barbara, is fully booked into the third quarter of 2022.
Sourcing Rare Fish
With the rising popularity of luxury home aquariums, sourcing fish has become a challenge. Some remote tropical islands have cut off or have limited trade, making some tropical fish difficult to come by. Yellow tangs, the brightly colored saltwater aquarium staple native to Hawaii, have shot up in price and gotten much harder to find. They now can cost more than $500 each, up from less than $100. Even without the current sourcing issues, having incredibly beautiful and rare fish in your luxury tank can be very expensive.
READ: Creating a Dog-friendly Home?
More aquaculture farms are cropping up to sustainably grow popular fish varieties, but not every species can be bred. Take the exquisite Platinum Arowana, for example. One of these costs about $400,000.
Caring for these fish is no simple task. And it can cost as much as $5,000 a month for weekly cleanings and maintenance. A loose rule of thumb is to figure in $2 per gallon per month for maintenance, though it can vary widely based on the type of food and medication the fish might require. But you don't need to feel overwhelmed about caring for your aquatic pets all by yourself. The good news is that technological advances in recent years have made maintenance easier and more precise. Today, fish lovers can hire a company to remotely monitor their aquariums 24/7. These maintenance companies do it all; such as gathering some information remotely, like receiving alerts when pH levels or temperatures are off.
READ: Today's Top Luxury Real Estate Trends
However, don't expect to be naming your new aquatic pets quickly. Due to a shortage of building materials, these luxury home aquariums can take a long time to install. In fact, the time it takes to build an aquarium has doubled, from roughly three months to six months.
More Than Mere Design Elements
Studies going back as far as the late 1980s have shown that gazing at aquarium fish reduces stress and subsequently lowers blood pressure. Watching them can also improve your mood. So, it's little wonder that, according to the National Pet Owners Survey, fish have taken the third most popular spot for pets in U.S. households, following dogs and cats.
When it comes to seniors, research proves that the presence of a home aquarium helps to reduce blood pressure. Indeed, when compared, the presence of a fish tank that contains living fish produces a greater reduction in blood pressure than fishless tanks or those containing artificial creatures, such as synthetic jellyfish.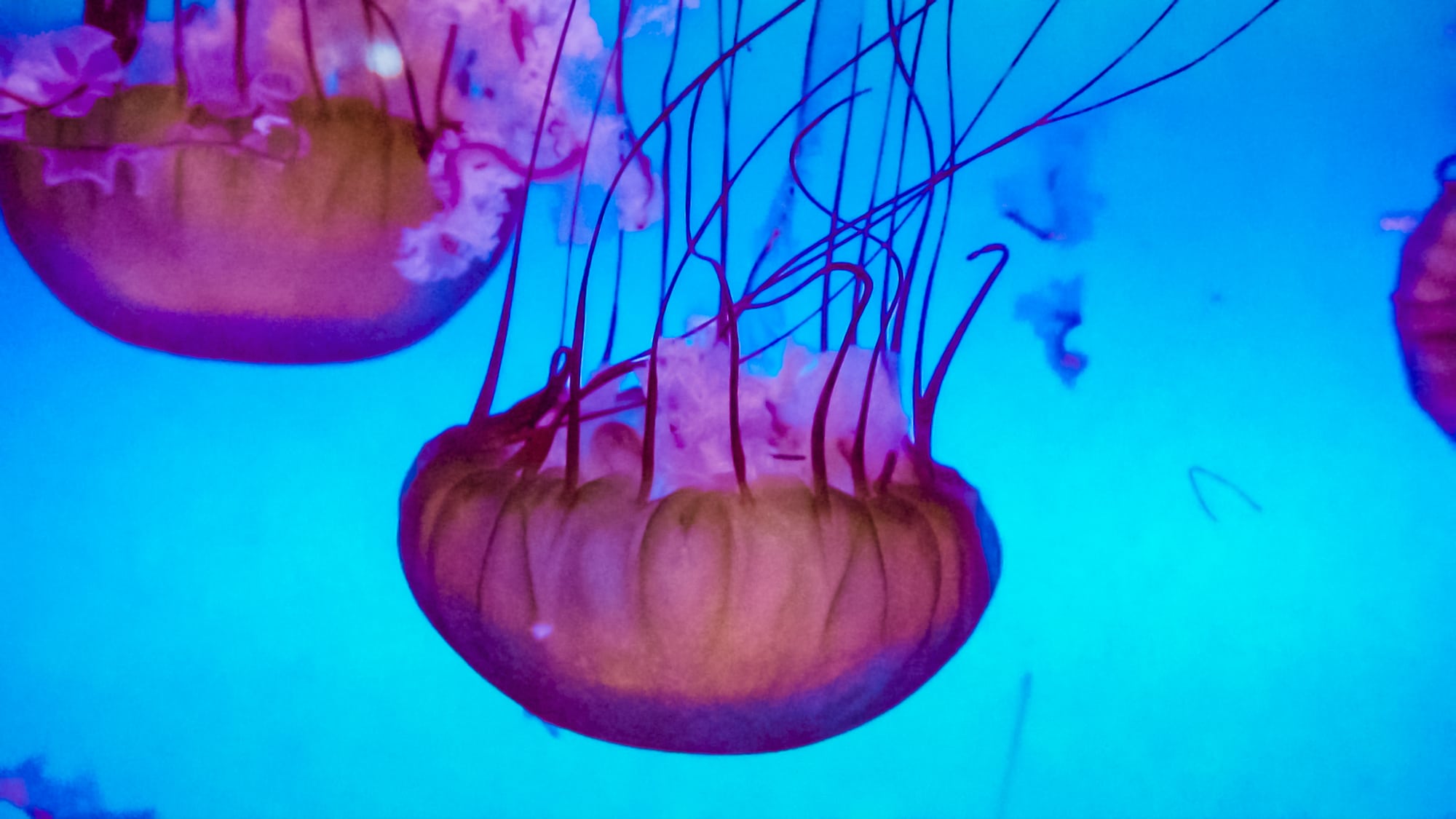 Interestingly, the more species that the aquarium contains, the more relaxing the experience for observers, resulting in significant drops in blood pressure and heart rates.
Aesthetics aside, studies show that gazing at an aquarium, like meditation, offers real health benefits. In fact, one study found that 67% of those who keep fish as a hobby report that the simple act of watching their pets helps to relieve stress and improve their mood. Even more, research shows people who spend their time watching aquariums and fish tanks enjoy the benefits of enhanced physical and mental wellbeing.
Luxury Home Aquariums in Montecito
Since the indoor-outdoor lifestyle is so popular here in Santa Barbara, these living nature-based art experiences add the perfect touch to any Montecito estate. Architects and interior designers are going to great lengths, and depths, to create these high-style living landscapes. Each luxury home aquarium is carefully curated to create unique art experiences that are both engaging and constantly evolving.
READ: Santa Barbara Landscape Design: Complementing Your Home's Architecture
Fresh Water vs Saltwater Aquariums
Homeowners can choose or invent their own one-of-a-kind luxury home aquarium made in glass or acrylic. They can be made in all sizes and shapes, so let your imagination run wild. Some prefer minimalist sea-scene sculptures with a variety of colorful fish floating amid driftwood, rocks, and sand. Others opt for more elaborate living-reef tanks that recreate natural ecosystems complete with corals, crabs, clams and sea cucumbers.
Reef aquariums are saltwater ecosystems focusing on corals and invertebrates along with fish. Bright lighting and natural decor are used to provide the right environment for the livestock. Clients looking for diversity, color, and a natural look prefer reef aquariums.
"The reefs are live, living marine gardens inside your home, with the corals constantly growing and moving, ensuring that the visual spectacle is constantly evolving," says James Bruce, managing director of Sanderia Group for Hong Kong-based RedFin Aquarium Design, a company that focuses on the design, installation and maintenance of bespoke luxury aquariums. Although they are based in the Hong Kong and Macau region, RedFin can ship and install their custom fish tanks worldwide, even here in Montecito.
Homeowners can also choose freshwater aquariums. These diverse systems are less complicated in design than saltwater. If a lush green look is preferred, a freshwater planted aquarium is the best way to go. It is common to find the easy to care for Guppy, the bright and active Platy Fish and the popular Zebrafish, along with Minnows, Corys and Cherry Barbs.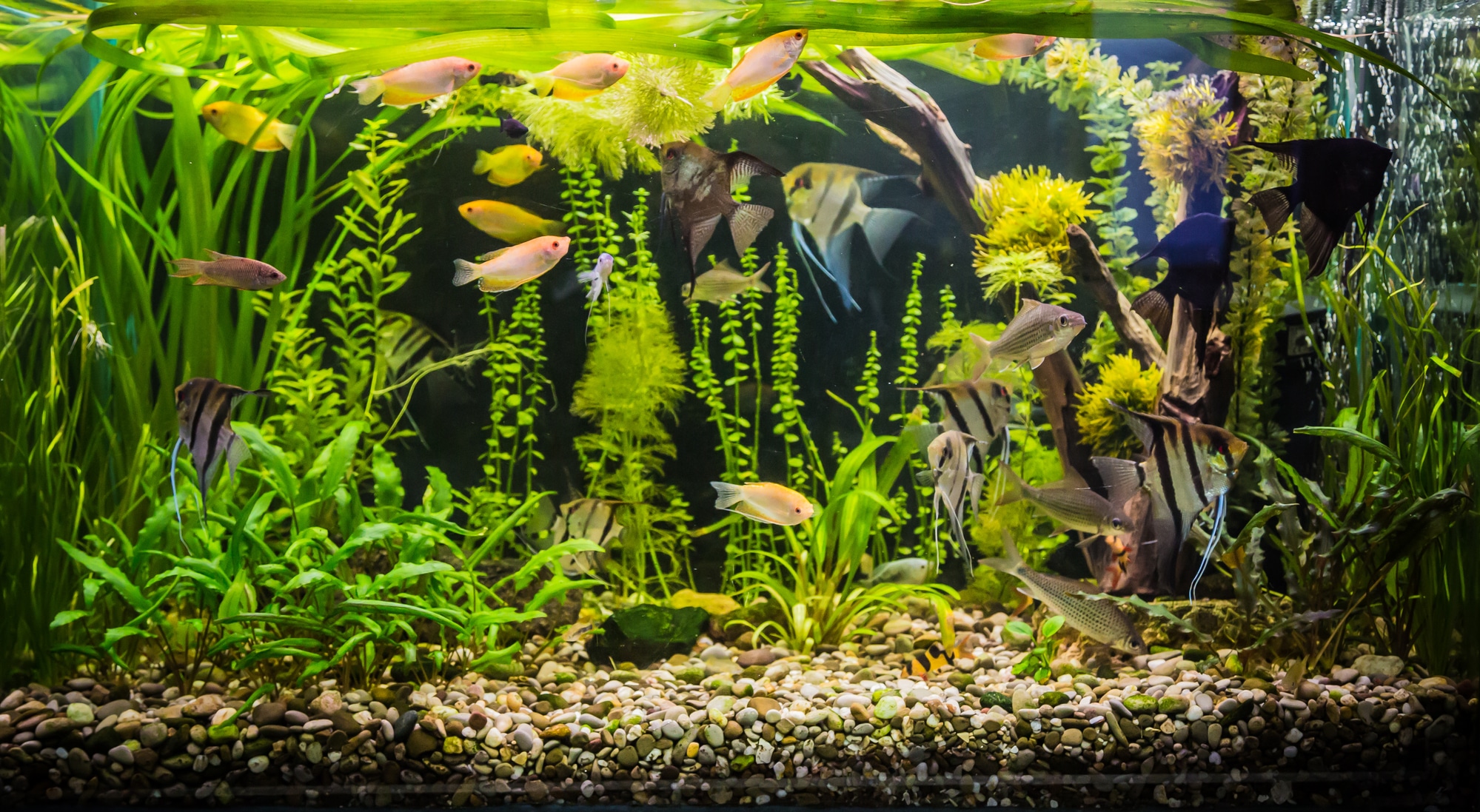 Living Art
Whichever you choose, these amped-up living art pieces can be created as freestanding furniture, structural sculptures, or clever custom wall units. Whatever look you decide upon, your tank will become an integral part of your home's architecture and home décor, providing an entertainment feature like no other.
According to Bruce, some of the more extravagant and larger residences place aquariums in dedicated entertainment zones. "From palaces with tanks only containing carnivorous predator fish, to in-house nightclubs with jellyfish tanks illuminated in fluorescent blue lighting, I've seen it all," Bruce says.
While the majority of customers install aquariums as showcases in public rooms of their home, like the great room, others request to have them installed in more mundane spaces, like the bathroom or the master bedroom.
READ: Around the World Ideas for Santa Barbara Gardens
Aquarium Science
Aesthetics aside, new technology allows designers to create practically any shape and size a homeowner can dream up. Most orders for large luxury home aquariums come from the Middle East and Asia, but their popularity is growing right here in California. That means you can set the trend here in Montecito should you decide to create one for your home.
Locally, Aquarium Science provides installation and maintenance for Santa Barbara County. Owner Craig Gutshall has been in the industry for more than ten years, with expertise in all types of aquaria. Specializing in custom aquariums, Aquarium Science works with Montecito homeowners to create an original aquarium catering to any expectation.
READ: The Feng Shui House: Creating Balance and Flow in Your Santa Barbara Home
Although most luxury home aquarium buyers focus on looks, a fair number are equally interested in the living elements that will go in them. Keeping the fish and plants alive can be challenging, which is why some custom aquarium companies offer freshwater options that have the look of saltwater aquascapes.
"We care about the future of the hobby and will only buy from suppliers that have the highest quality of livestock," explains Gutshall. "We will not support companies that provide substandard conditions for their livestock, or collectors that are not environmentally conscious. Our aquaculture animals have no impact on wild populations."

Where to install your luxury home aquarium
Many affluent marine lovers go above and beyond a standard fish tank setup. These tanks can turn any room into a tranquil underwater retreat. And some owners add multiple aquariums throughout their home.
A living room, or great room, is the most popular place you'll find these living works of art. But there's nothing quite like adding one to your foyer to make your grand entrance a memorable one. Online you'll find pictures of impressive tanks in wine rooms, dining rooms, home theaters and bedrooms. How about a fish tank as the ultimate kitchen backsplash? You can even find them poolside in living outdoor walls. And some can even accommodate human divers! Imagine having a mermaid swim by at your next dinner party?
These luxury units can also be added above your fireplace mantel, under your staircase, as a headboard, or even integrated in furniture. Think shelving, kitchen islands, and more. Plus, you can match the look of your aquarium to your home's design aesthetics. They can be Roman-themed with dramatic columns, streamlined for a more modernist approach, space-aged, paneled, elegant, Japanese or SoHo styled. The sky's the limit when it comes to luxury home aquariums.
---
The sky's also the limit when it comes to luxury real estate. If you are considering moving in Montecito, Hope Ranch or another of the Santa Barbara area's upscale communities, or if you're buying and want to sell a home, give me a call at (805) 886-9378 or email me at Cristal@montecito-estate.com. I'll happily add your home to my portfolio of fine properties and find you the perfect place for you to set up your own luxury home aquarium.
---