RESULTS FROM A NEW STUDY, AND THE COLORS FOR EVERY ROOM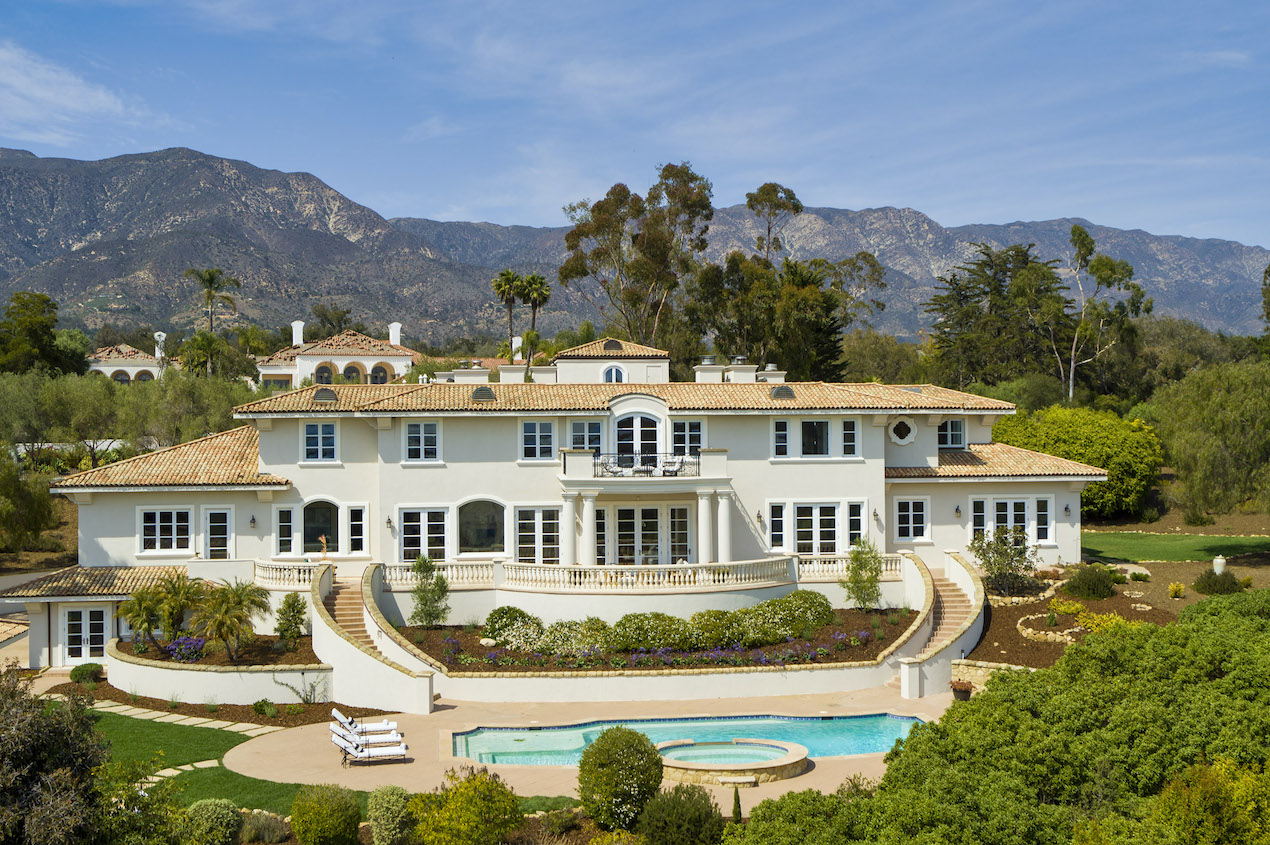 Is it worth considering the best interior paint colors for selling a house? Every home seller has heard about the importance of sprucing up their property before listing a home, as the owners of my Exquisite Italian Villa in Montecito's Ennisbrook (pictured above) did. To make a house more attractive to buyers, sellers are encouraged to create curb appeal, declutter, repair and stage their home. Now, a new analysis from Zillow, a leading real estate listing website, suggests specific interior paint colors should be added to that list. The right hue in the right room might make a big difference in a home's final selling price.
READ: How to Add Value to Your Home
"Our study found homebuyers may be particularly sensitive to paint color, despite paint being a relatively easy and inexpensive change, because they're navigating a complex environment with a lot of uncertainty," says Kate Rogers, a senior behavioral scientist at Zillow.
The Best Interior Paint Colors
Overall, neutral tones tend to have a more positive effect on both purchase intent and prices. But Zillow dug into the topic a little deeper by surveying about 1,300 recent or prospective homebuyers, asking them what they'd be willing to pay for homes based on specific interior paint colors. The results show that repainting the rooms in a home can attract buyers and may even increase the perceived value of the home. Here are the results of the study:
Bathroom
Best Choice: Light Blue
Light blue was by far the most popular color for a bathroom. Survey participants who viewed a light blue bathroom claimed they'd be willing to pay more. Up to $5,000 more.
Good Alternatives: Gray, Dark Gray, Light Yellow, Off-White
Though not as popular as light blue, neutral and delicate colors were also favored by buyers for bathrooms. Besides resulting in a higher price, the use of these hues caused a slight increase in the amount of property tours.
Best Avoided: Bright Yellow, Bright Green, Bright Red, Pink
The survey revealed that a light-yellow paint may, on average, work in a seller's favor when it comes to the bathroom. But bright yellow caused a decrease in the likelihood of a home receiving an offer. Buyers tend to veer away from vibrant colors in the bathroom, so it's best to go with a softer shade.
READ: Exterior Color Schemes That Work for Santa Barbara Homes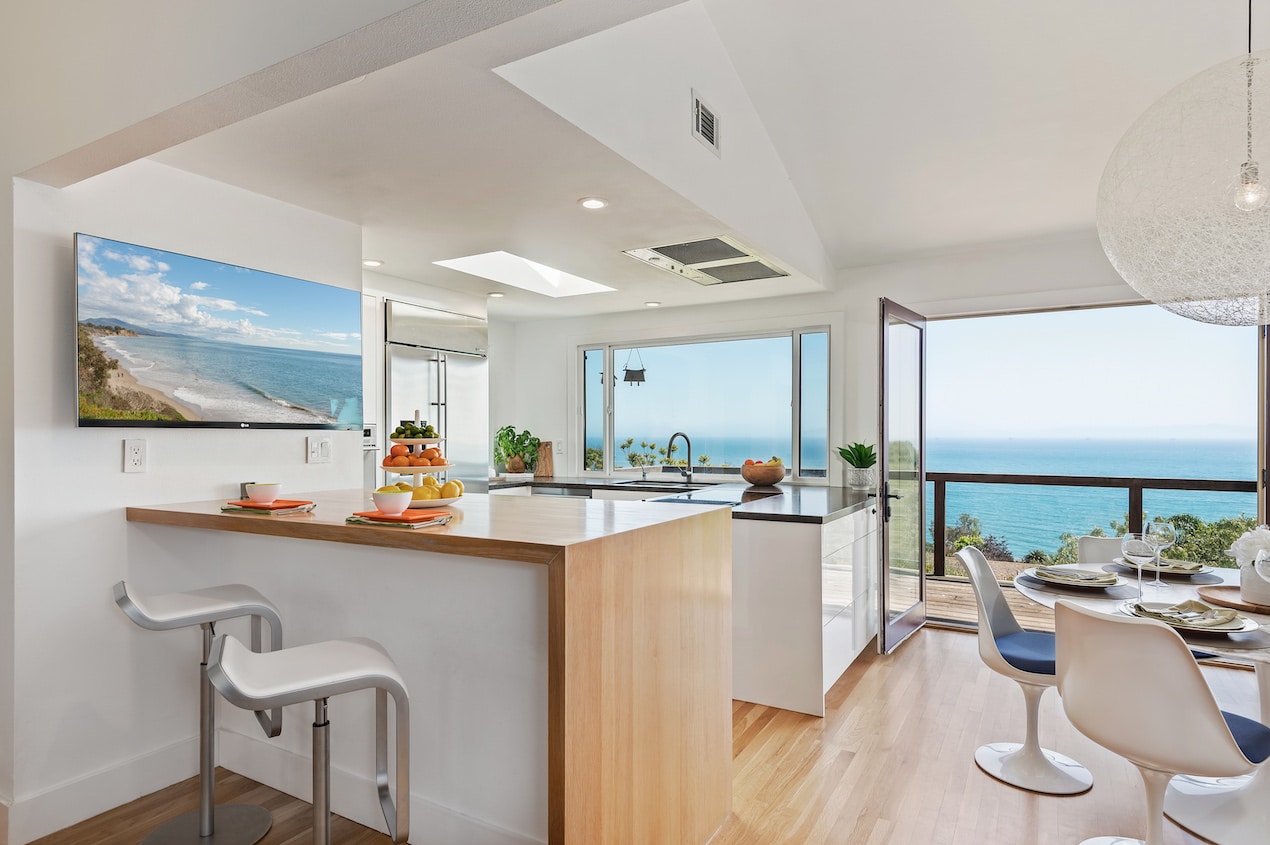 © 2021 Rafael Bautista
Kitchen
Best Choice: White
The example above from my Magical Ocean View Contemporary Home in Summerland listing shows how attractive a simple white kitchen can be. In fact, it's one of the best interior paint colors for selling a house. According to the study, on average, a kitchen painted a neutral light color like white greatly increases interest in touring a property. It also ups the likelihood of a potential buyer purchasing the home.
Good Alternatives: Light Yellow, Off-White, Dark Gray, Gray, Dark Red, Dark Green
Many colors fell in the middle range for the kitchen, resulting in a slight increase in buyer interest. However, neutral hues generally rose toward the top.
Best Avoided: Bright Green, Pink, Bright Yellow, Bright Red
Most of those surveyed had a negative reaction when it came to bright colors in the kitchen. In fact, bright red could decrease the price a buyer would be willing to offer by nearly $1,500. And furthermore, a kitchen painted bright yellow was least likely to inspire a buyer to enter escrow.
READ: Open, Closed and Beyond: A Real Estate Pro's Guide to Kitchen Design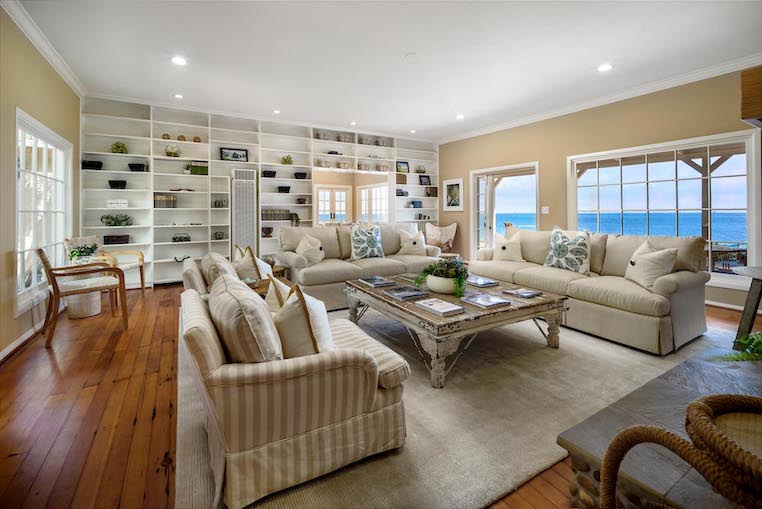 Living room
Best Choice: Gray
When presented to participants, a gray living room wall resulted in more property tours and offers than other colors. Of course, neutral colors did well, too.
Good Alternatives: Light Yellow, Light Green, White, Dark Gray
Check out the light yellow living room in the Charming Oceanfront Cottage Near Montecito and you'll see how this color works, too. As in other rooms, neutral and lighter tones tend to do well in a living room. Light green brought an average offer-price increase of several hundreds, while white and gray rounded out the top three colors for inspiring surveyed buyers to tour a home.
Best Avoided: Pink, Bright Green, Bright Yellow
On average, bright green and bright yellow living rooms decreased interest among surveyed buyers. Both colors, on average, had a negative effect on prospective offer prices as well.
READ: Preparing Your Santa Barbara Home For Sale
Bedroom
Best Choice: Dark Blue
If you are going to go bold, the bedroom is the ideal room for doing so. Most of those surveyed saw potential in dark blue. So much so that the color increased the average potential price they were willing to offer.
Good Alternatives: Light Blue, White, Bright Blue, Dark Gray
You won't be singing the blues if you go with that color in a bedroom. Blue walls were greatly appreciated among those surveyed. Other good options are dark and light neutrals to help create the vibe of a relaxing at-home getaway.
Best Avoided: Bright Yellow, Bright Green, Pink
It may come as no surprise that, once again, these boisterous colors landed at the bottom of the list. In a separate survey of potential buyers and sellers, both groups claimed they'd be less likely to paint a room any of those colors, regardless of the room's purpose.
READ: The Importance of Staging a Home

The Psychology of Color
Think of color as a form of nonverbal communication. It can instantly set a mood, convey emotions, and even provoke a physiological reaction. According to the Institute for Color Research, people make a subconscious judgment about an environment within 90 seconds of initial viewing. Between 62% and 90% of that assessment is based on color alone. That makes considering the best interior paint colors for selling a house powerful stuff.
Whether you're painting the interior of your home to sell or to stay, here's a breakdown of popular colors and their psychological effects:
Red
Red is the most intense of the colors and ramps up the energy in a room by increasing our respiration and heart rate. If you want to create an energized feel that says you're ready for socializing, red is a great choice. Besides encouraging conversation, red also stimulates the appetite which makes it a great color for accents in dining rooms and kitchens.
A red room can feel different based on the shade; it can feel contemporary, traditional, rustic, or timeless, depending on the shade and context. You can use a deep red on all the walls to make a room feel more intimate, or do a feature wall as a visual trick to change the proportions of a room.
Pink
Think of pink as a slightly less intense version of red. It gives the excitement of red, toned down with the gentleness of white. Pink is a softer color, typically associated with sweetness and romance, with a touch of innocence. Pink gives off some feminine energy but can be balanced out with a bit of brown or gray to create a more neutral tone that promotes calm, stillness, and beauty.
The vibe of your room largely depends on the shade of pink accents you choose. If you go with something bright like fuchsia, it suggests energy and glamour. However, a softer and more restrained tone like a blush pink or a beige with pink undertones can be quite soothing. Thanks to its wide array of tones, pink makes an excellent accent color and balances well with other colors.
Orange
Orange is an energizing and fun color that has a lot of the same characteristics of red, but without the negative side effects, like raising your blood pressure. While the color can instantly add a sense of fun and playfulness to a space, orange can also be quite polarizing. Simply put, people either love it or hate it.
This color is a favorite of those who like to be known for their creativity and individuality. It's a great way to add a pop of color since it blends well with neutrals. A bright, true orange can be quite intense and lively, while a more brown-based shade of orange, like a terra cotta or a burnt sienna, acts like more of a calming, cozy influence. And some say that the color orange makes you feel younger.
Yellow
Many homeowners use yellow as their go-to color because it's hard to feel down in a happy yellow room. Sure, yellow is a cheerful and optimistic color, but did you know it also can evoke memory and imagination? In fact, yellow can bring all sorts of warm and fuzzy feelings to the surface and it helps increase focus. Pastels and buttery shades work well with neutrals too, making them ideal colors for an accent wall.
One thing to keep in mind, the eye sees yellow before any other color. So, if you are using it with other colors, it probably will be the one that stands out. And it's the color that makes babies cry the most—so you probably want to think twice about using yellow in a nursery.
Green
Green is the most relaxing color on the color wheel. Thanks to its connection with nature, green is associated with positive growth, renewal, and good health. Its serene and tranquil qualities are even supposed to prevent nightmares—a big plus for a bedroom paint color, especially for a child's room. Green is also believed to relieve stress.
If you want a bright and cheerful room, try a brilliant apple green. For something a little more soothing and muted, a dark olive or forest green is a great option. Sage green works as a neutral shade and balances well with browns and natural wood tones.
Blue
Blue is the most calming of all the colors. It's said to slow your heart rate and respiration, as well as lower blood pressure. That's why home sellers will pay a premium for a blue bathroom. A blue room can truly be an oasis of calm in a busy world. Because of its sedating effects, blue also helps us concentrate, which makes it a perfect color for a home office.
Blue symbolizes trust, dependability and stability which may be why more people choose it as their favorite color. Plus, as one of the most versatile colors to work with, it's easy to pair with other hues. From bright turquoise to toned down pastels, just about any shade of blue will leave you feeling relaxed.
Purple
Purple is a spiritual and creative color that people either seem to love or hate. Because it has long been associated with royalty, purple can make a room seem regal and convey feelings of wealth and abundance.
Purple can be highly dramatic or soft and quiet, depending on the tone or shade. Light lavender-gray walls create softness and give off a very calming energy. Dark purple can create a moody feel, while a bright purple can make a room feel like it's bursting with energy. Whatever you do, don't go overboard with purple. All you need are a few strategically placed purple accents to create a whole purple vibe for your surroundings.
Gray
When it comes to best interior paint colors for selling a house, gray tends to get a bad rap, thanks to the weather. While a day of gray skies might make things seem dark, moody, and a little sad, there's so much more to this great color when used in design. It's a versatile color that adds an element of sophistication to a space with a soothing influence. Since it's naturally more muted on its own, it's the perfect backdrop for brighter colors. It really makes them pop.
With so many different shades to choose from, you can easily create rooms with drastically different vibes. For example, dove gray is a soft and soothing neutral that pairs well with plums and violets, while charcoal-gray pairs well with deep reds, for a dramatic look. For a more relaxing feel, pair a cloud gray with softer warm neutrals.
Brown
Need to create a space that makes you want to slow down and relax? Brown is the color you're looking for. Brown is a rich, earthy color that instantly gives a room a calm, warm, relaxing feeling. The calming element probably comes from its connection to nature since it's the color of natural wood.
It works well as a neutral backdrop to showcase brighter colors, but it's also the perfect main color in a space. A rich chocolate color creates a sophisticated look, while a lighter brown can be paired with a bright turquoise or a pale aqua to create an airier feel. You could also pair it with deeper shades of burgundy or purple for a more dramatic room or mix several shades of brown together for an extra calm and cozy space.
To take some of the guesswork out of paint colors that can make a difference, sellers can use the official Zillow Paint Colors Analysis. It shows which colors are most likely to raise your sale price at the national level, plus important local data, too.
If you're considering listing your home, keep in mind one of the most important steps is to freshen your property for a sale, which includes choosing the best interior paint colors for selling a house. If that's you, please contact me. As a leading Montecito Realtor and resident for many years, I have valuable insight into the current local real estate market. On the other hand, if you're looking for a new home, chances are you'll want to consider having that one painted as well. And it just so happens that I might have the home of your dreams in my portfolio of current listings. Whether buying or selling, just give me a call at (805) 886-9378 or email me at Cristal@montecito-estate.com.