A Celebration of the Santa Barbara Lifestyle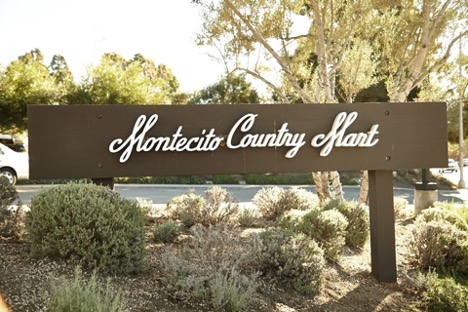 Originally built in the 1960s, the Montecito Country Mart is a celebration of the Santa Barbara lifestyle, with its organic eateries, bespoke fashion, curated home goods, local conveniences, and community events. In fact, visiting the Town and Country-style village is the greatest way to experience the best that Montecito has to offer. Here's why…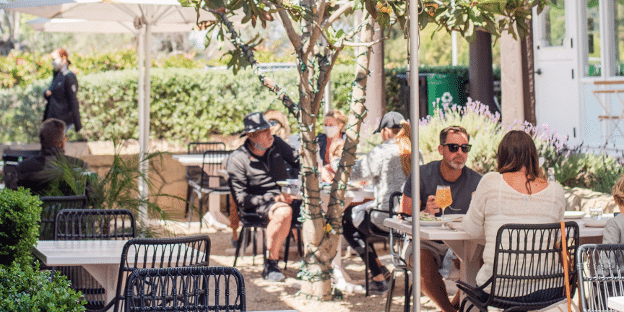 Eat
The central courtyard of this little country mart tucked into one end of Montecito's Coast Village Road is punctuated by several dining options, many of which feature intimate outdoor seating. Merci Montecito, for example, is an artisanal cafe serving delicious organic homemade food. At the same time, Bettina specializes in seasonal wood-fired pizzas with a healthy twist, like the caramelized onion pizza with leeks, and the Meyer lemon and mozzarella pizza.
Local Santa Barbara chef and Michelin Bib Gourmand winner Ramon Velazquez, known for his elevated Mexican cuisine, will serve his award-winning ceviche and local citrus-blended margaritas at his new dining establishment, Alma Fonda Fina, opening in late 2022. And for those on the go, the Italian-inspired Panino has delicious grab-and-go sandwiches and salads, perfect for a day at the beach.
The coffee at Caffe Luxxe is sustainably sourced and gently hand-roasted right here on the American Rivera. The menu also features custom-blended teas, fresh daily pastries from Milo & Olive, and appealing lifestyle retail items such as letterpress stationery, bath and body products, and many culinary treats.
For those looking for something healthy, the Montecito Country Mart has that, too. Take The Farm Stand, for instance. It's stocked daily with local, organic fruits and vegetables by Mesa Produce of Santa Barbara. And then there's Pressed Juicery, which offers delicious, premium, and nutritious juice. For those with a sweet tooth, Rori's Artisanal Creamery will hit the spot with homemade ice cream, vegan ice cream, cookies, cones, and candies and more.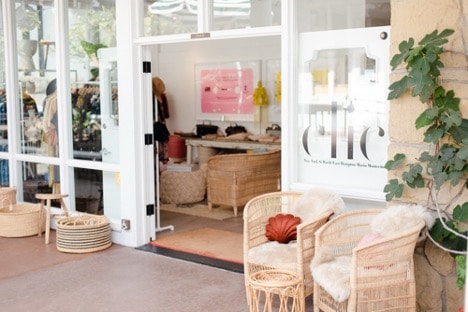 Shop
You will find new boutiques alongside shops that have been at the Mart for a long-time. There's DÔEN, Clare V, George, Hudson Grace, James Perse, Malia Mills, Mate Gallery, Poppy Marché, Montecito Natural Foods, along with Montecito Cleaners, Post Office, and Montecito Barbers, along with a pet shop, and a toy store. Some of my favorite shops include:
Clic
This expertly curated concept space is the place to go when it comes to home goods, fashion, and accessories. The happy, whimsical store is full of colorful housewares, from textiles like blankets, rugs, and throw pillows to handcrafted items like alpaca figurines and wood serving bowls, pottery, furniture pieces, coffee table books, photographic art, and much more. The store is also lined with racks of apparel, from resort-style dresses to luxurious jackets and everything in between. There is also jewelry and select kids' items.
Cynthia Benjamin
The shelves of this Los Angeles-based optical boutique are filled with a mix of small, independent eyewear brands, as well as an impressive array of vintage frames, which date all the way back to the 1940s. The frames are from what is known in the industry as "deadstock," or new, never used frames from old stock, such as a pair of signature frames that were once made famous by Grace Kelly, along with hard-to-find frames by Oliver Peoples, Persol, Ray-Ban, and others.
Hudson Grace
Known as the local destination for exquisite, unique, and globally sourced décor, especially for those who love to entertain, this unique shop is rooted in a philosophy of simplicity and authenticity. The curated collection includes modern serving ware, dinnerware, glassware, flatware, linens, candles, and entertaining essentials that favor beauty and practicality—Hudson Grace crafts and sources original and vintage designs which will make your house a home.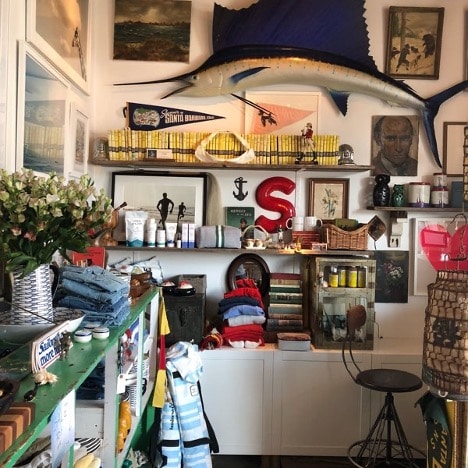 Mate Gallery
Owners Matt Albiani and Ron Brand have curated the best of New England and brought it to Southern California with their gem of a gallery. As you can see by the image above, the space itself is an installation of foreign vintage textiles, out-of-print books, and a rotating roster of artists' works. New York-based photographer Albiani sells his beach images alongside vintage oils, maritime gifts, and rare nautical finds.
DÔEN
Founded by Santa Barbara-born sisters Margaret and Katherine Kleveland and a Collective of partners, this digitally-led, multi-channel fashion and lifestyle brand prides itself on connecting directly with consumers with collections that celebrate womanhood. Everything in the store is thoughtfully designed for women and their bustling, busy, and beautiful lives. Each piece is meticulously crafted to be passed on for generations, evoking a timeless whimsy and an unapologetic femininity.
Malia Mills
Swimsuit shopping has never been so much fun. That's because Malia Mills has redefined what a swimsuit could be and how the perfect suit makes a woman feel. The collection of stand-alone bra-sized swimwear separates engineered with the precise fit of lingerie, cut from colors, textures, and prints like the clothes in our closet. The collection includes bra-sized tops from AA to E cup and bottoms and maillots in sizes 1- 16, and ready-to-wear and accessories dedicated to the feminine fierce.
And don't forget to check out the Mart's special events by signing up for the weekly newsletter.
---
The Montecito Country Mart is just one of the many things I love about living here. Suppose you're thinking of selling your home in Montecito or any community in and around Santa Barbara. In that case, I invite you to call me at (805) 886-9378 or send me an email at Cristal@montecito-estate.com for a complimentary consultation. I can also discuss buying in the area.
---
More resources: