Best Locations to Witness the Technicolor Orange Blooms of Our State Flower
---
Photo Credit: Santa Barbara Botanic Garden
---
California's nickname, the Golden State, is due in part to our state flower, the California poppy. Every spring, fields of golden poppies bloom all over the state, including right here in Santa Barbara County. We who live on the America Riviera don't have to travel far to witness the spectacular bright orange petals unfurling in the sunlight. Many people visit California poppy meadows every year to take pictures, but the law prohibits picking or uprooting the flowers in the wild. Here are the best places to view impressive wildflower displays, starring poppies each spring.
Santa Barbara Botanic Garden
Peak Season: March to May
The Santa Barbara Botanic Garden sits on 78 acres in the heart of the American Rivera. As you can see from the image above, the Botanic Garden's historic meadow offers sweeping views across a 1.5-acre expanse, looking up to Cathedral Peak and the Santa Ynez Mountains. Known as one of the most distinctive and renowned features of the Garden, especially in the spring, the meadow is filled with magnificent poppies as well as other California wildflowers and native plants. There's even a MeadowCam Livestream that anyone can access to witness the spectacular spring wildflower show, with poppies blooming in a mosaic of perennial bunchgrasses, meadow-foam, farewell-to-spring, succulent lupine and herbs representing the diversity found in California's many grassland communities.
---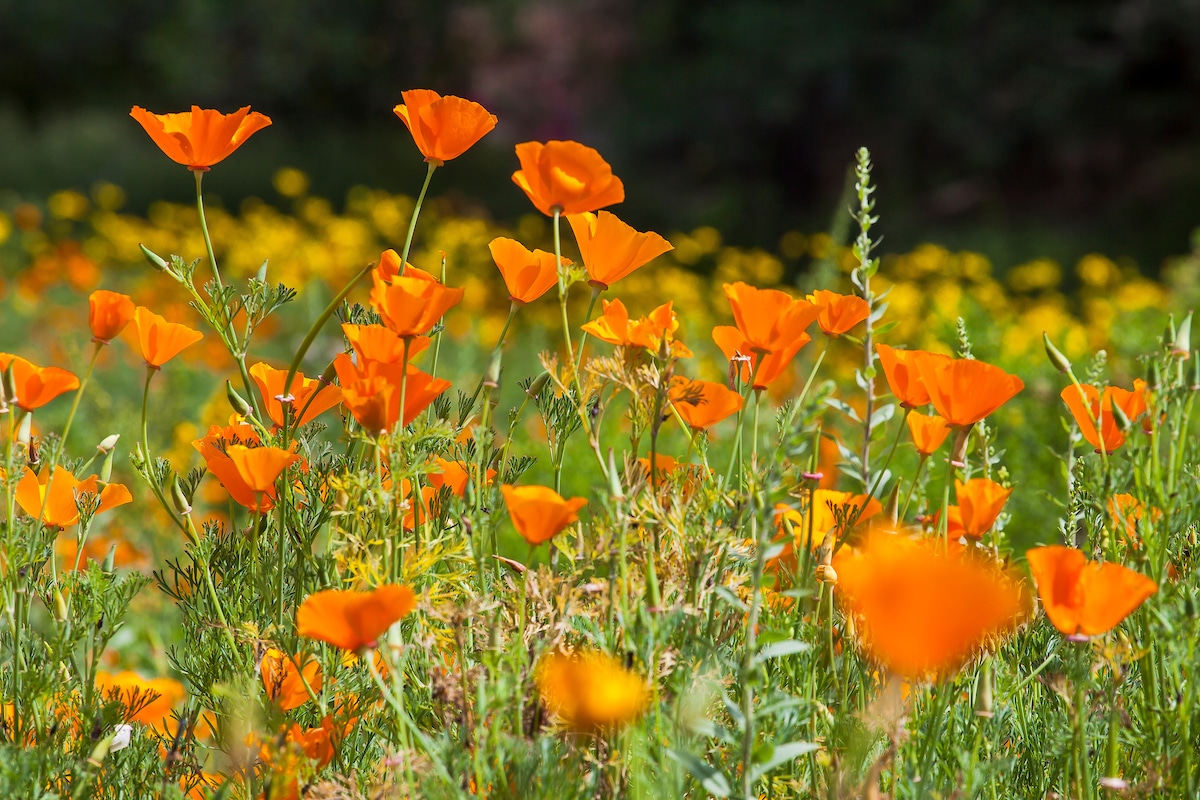 Credit: Saxon Holt, Santa Barbara Botanic Garden
---
Channel Islands National Park, located about 25 miles off the Santa Barbara coastline
Peak Season: Mid-February to mid-May
Touted as the "Galapagos of North America," the chain of five islands is home to 2,000+ species of plants and animals, many of which can only be found on the islands. Each spring, wildflowers bloom, featuring striking poppies alongside Lupine, morning glory, lavender and yellow coreopsis: a rare, butter-yellow, soft-leaved Indian paintbrush endemic to the Channel Islands. There are several ways to get there to experience the majestic wildflower display. The Island Packers Ferry is probably the most convenient way, but you can also book a private charter with Santa Barbara Sailing Center or Channel Islands Expeditions, or even kayak around the park with the Santa Barbara Adventure Company. For a real treat, fly over in your private jet!
Figueroa Mountain Recreation Area, located about 50 miles northwest of Santa Barbara
Peak Season: Mid-February to mid-May
In late March, the flanks of the summit begin bursting with wild California poppies, along with hyacinth, shooting stars, buttercups, milkmaids, Johnny-jump-ups, chocolate lilies, scarlet Indian paintbrush, goldfields, purple fiesta flowers, popcorn flowers, and more. On your way home, you can stop at Los Olivos for a wine country experience.
Antelope Valley California Poppy Reserve, located about 100 miles north of Santa Barbara
Peak Season: Mid-March to late April/May
At this nearly 1,800-acre reserve, the rolling hills are blanketed in poppies, creating the perfect backdrop for selfies. Although California poppies are the showstopper here, they are joined by other wildflowers, such as desert pincushion, blue dicks, California aster, and blue lupine. And while there are no direct connections from Santa Barbara to the Antelope Valley California Poppy Reserve, you can drive a short way to the Simi Valley Amtrak then, take the train.
---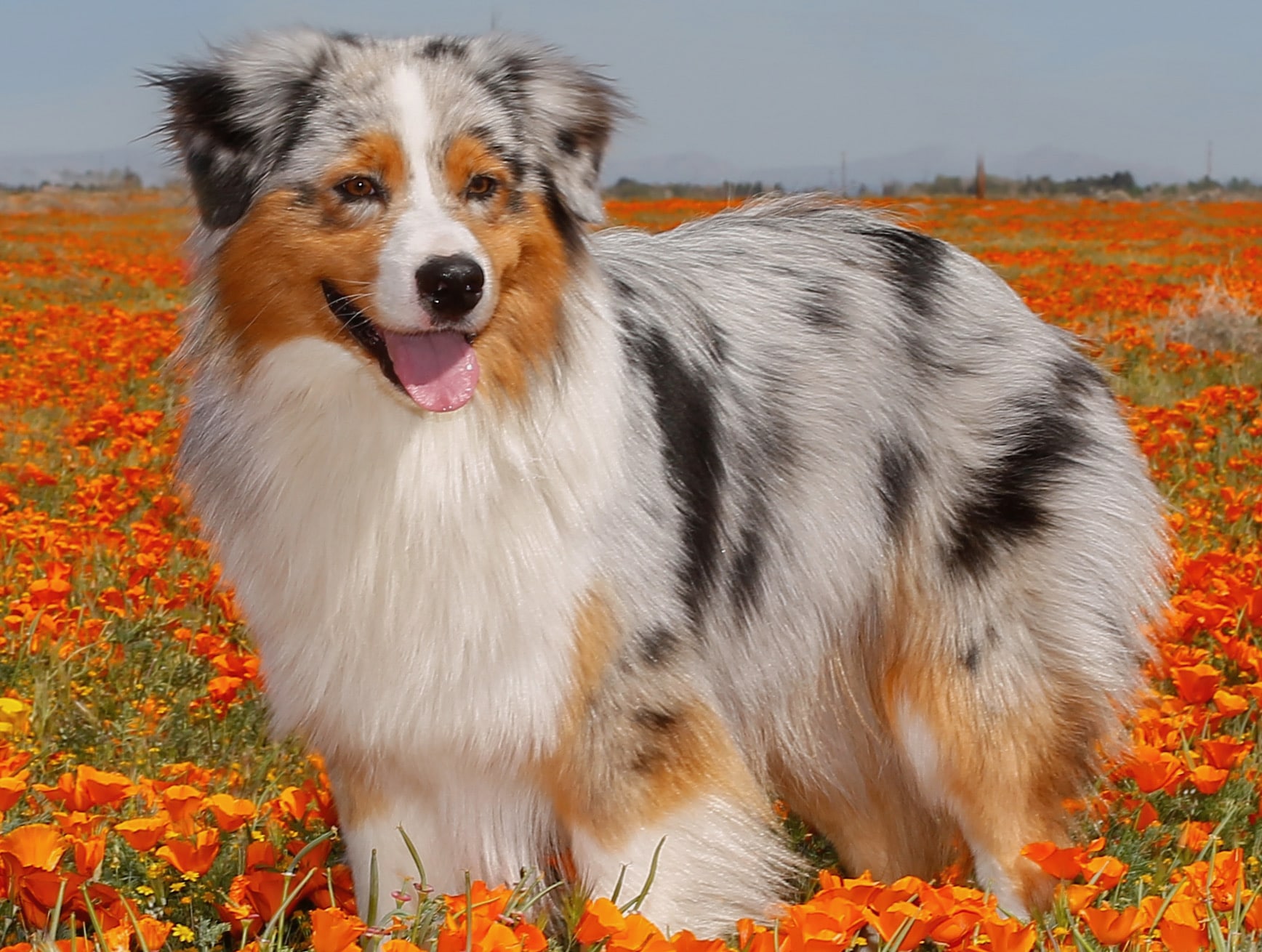 Photo Credit: Pam Marks, Pawprincestudios.com
---
Carrizo Plain Wildflower Meadows
Peak Season: March to May
The Carrizo Plain has one of the most unique and beautiful ecosystems in all of California, and it's about a three-hour drive from Santa Barbara in San Luis Obispo County. The arid grasslands there offer an especially high diversity of wildflowers; from California poppies and the leggy wildflower with thistle like blooms called lacy phacelia, to the small yellow flowers on the branches of the California goldfield that grow next to the white and yellow blooming tidy tips, as well as numerous other species of wildflowers. Why not make the trip into a mini-vacation with your four-legged family? You can get some breathtaking images of your pet in the poppies, like the one above. Yes, dogs are allowed there. Afterward, you can stay overnight in dog-friendly Morro Bay or Cambria.
Grow Your Own Poppies
Many local homeowners enjoy watching their own California poppy meadows sprout each spring on their property. In a home garden setting, poppies are typically thought of as an annual flower, but California poppies are actually short-lived perennials. These hardy wildflowers obviously like our perfect Mediterranean weather and will reseed in Santa Barbara home gardens for years to come. And even when not in bloom, the plant's soft foliage tufts add pleasing texture to your home's landscape.
These flowers love grassy, open areas like Santa Barbara's seaside meadows. Being native to hillsides, sandy plains, and other open areas of mountainous regions, California poppies require well-drained soil and do not need a lot of added nutrients or even nutrient-rich soil to thrive. Sandy or rocky soils are best. Any medium that remains too wet can kill off poppies. For best results, plant your California poppies in an area that receives full sun. Then, watch the magic bloom every spring!
---
I hope you've enjoyed learning about the Californiaoppy meadows near Santa Barbara. Wouldn't it be wonderful to see poppies blooming from the window of your own Santa Barbara home? If you're thinking of moving to a new home with a view in any of the lovely Santa Barbara area communities, please take a look at my comprehensive website. Then call me at (805) 886-9378, email me at Cristal@montecito-estate.com for your complimentary consultation.
---
More resources: