MAKING MONEY WHILE ENJOYING SAND, SUN AND SURF IN SANTA BARBARA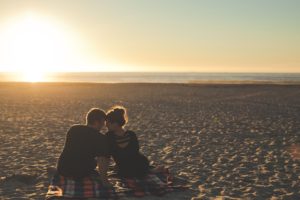 Are you interested in creating passive income while sitting on the beach in sunny Santa Barbara? There are several ways to make your money work for you. In order to get there, you have to focus on one of four options: time, money, work, or all three.
Passive income includes regular earnings from a source other than an employer or contractor. The IRS says passive income can come from two sources: rental property or a business that does not require you to actively participate in it, such as stock dividends.
"Many people think that passive income is about getting something for nothing," says financial coach and retired hedge fund manager Todd Tresidder. "It has a 'get-rich-quick' appeal … but in the end, it still involves work. You just give the work upfront."
The good news is if you're willing to commit your resources to any of the 10 passive income ideas below, you could be earning money effortlessly for years to come. One caveat: ask your attorney or financial advisor before jumping into any of these ideas.
1) Rental income
As I've reported in a previous blog, investing in real estate is a great way to diversify your portfolio and make income in your sleep. You can rest easy by investing in any of the upscale communities in Santa Barbara. With our perfect year-round Mediterranean weather and beautiful white sandy beaches, there is always a market for rentals here. Plus, being a college town doesn't hurt your chances of success.
Still, while interest rates today are extremely low, the days of quick, easy financing are over, and the tightened credit market can make it tough to secure loans for investment properties. That means you need to have a little creativity and preparation—or pay in cash—to become a successful real estate investor.
2) Rent Your Space
If you're looking for a more hands-on approach to making money in real estate, consider renting out your vacation home, house, apartment, or even a single room. Here are some options to consider:
Airbnb allows people to travel all around the world and to stay in alternative accommodations rather than booking traditional hotels. They charge only 3% on every booking for their services, and you receive payment 24 hours after your guests check-in.
VRBO has more than 2 million rental properties, most of which are entire home rentals. According to their user-friendly website, there are three simple steps to listing: you set up your property, get the perfect match, and start earning. Rent year-round for one annual fee.
3) Invest in High-Yield Savings
Savings accounts might sound like the most boring investment ever invented, but they are the safest. At 0.15 percent interest or lower, you'd need to exceed the FDIC-insured $250,000 account limit to see any real gain. Today's online banks provide savings account rates as good as a CD without locking in your money for several years. For example, right now Discover is offering 2.00% interest rate on their Online Savings account. That is close to 25 times what you'd get at a typical brick and mortar bank.
Other online banks that offer high-yield savings accounts include:
CIT Bank, which boasts some of the highest CD rates around.
Barclays, which offers only savings and CDs in the U.S.
BBVA, whose Money Market and short-term CDS are competitive.
Synchrony, which also has limited account options.
Ally, where you can also get a checking account.
4) Invest in High Dividend Stocks
By building a portfolio of high dividend stocks, you can make more money than you would through regular bank investments. Just as important, since high dividend stocks are indeed stocks, there is always the potential for capital appreciation. That means your passive income will come from two sources: dividends and capital gains.
5) Invest With a Robo-advisor
Allowing an algorithm to manage your investments is about as passive as you can get. Robo-advisors like Betterment allow you to set your limit, then sit back and let the income flow. And the fees are much lower than what you'd pay a human account manager.
Here is a rundown of a few of the leading robo-advisor platforms:
Betterment is great at reducing any taxes you have to pay on your investments, and they work with you to give you the best financial advice through their algorithms. Unlike other robo-advisors, with Betterment, you can actually talk to a human being if you want to. Betterment charges the same fees as Wealthfront but does not waive the fee on the first $10,000 you invest.
Blooom helps employer-sponsored accounts (401k, 403b, 401a, and 457 accounts). You'll pay only $10 per month, no matter how large your 401k grows.
M1 Finance offers fee-free accounts. You won't be charged trading fees and can borrow against your account with low-interest rates.
6) Invest in CDs
While being simple and straightforward, investing in CDs is far from the most exciting investment strategy out there. But if your goal is to make money while you sleep, without any risk, this could be your best choice. CDs are like savings accounts with a catch. You can't touch your funds before they reach maturity.
See current CD rates (Updated Daily).
7) Invest in Index Funds
Index funds give you a passive alternative to investing in the stock market. If you invest money in an index fund based on the S&P 500 Index, you will be invested in the general market. This means you won't have to worry about details like choosing specific investments, rebalancing your portfolio, or knowing when to sell or buy individual companies.
8) Corporate Bonds
Corporate bonds are exactly what they sound like — bonds issued by corporations. Companies then use those investments to fund their business. You can buy corporate bonds from major corporations or buy into them individually.
9-10. Start Your Own Blog or Buy One
Today's blogs can be an unbelievable source of passive income. But there's more to making bank with a blog than just posting good content. Start by consistently posting blogs that create a lot of value for a lot of people. In time, you can generate an extraordinary amount of money.
An alternative is to buy a blog. Look for one that already has a reasonable amount of web traffic and has demonstrated cash flow. Most blogs employ Google AdSense, which provides a monthly revenue stream based on ads that Google places on the site. You can also look into affiliate programs to generate additional revenue.
The bottom line is, there are many ways to create passive income today. If you're considering buying property in Montecito, Hope Ranch or another of the Santa Barbara area's upscale communities, give me a call at (805) 886-9378 or email me at Cristal@montecito-estate.com. I'm also here for sellers. Either way, please allow me to take care of everything for you, thereby making your real estate transaction truly passive.