A WELCOME CHANGE FOR BUSINESS OWNERS, RESIDENTS, AND VISITORS
Photo Credit: Joshua Molina courtesy of Noozhawk
Santa Barbara's State Street has been transformed into a welcoming Pedestrian Promenade in the wake of COVID-19. For now, the famous street is closed to vehicles from Haley to Sola streets and local businesses and restaurants are spilling out onto the sidewalks, welcoming shoppers, diners, and those who just want to walk the renowned street. The city closed the street to help restaurants expand their in-restaurant dining by moving tables to the sidewalk.
Redesigning a street
As more and more State Street stores shut their doors for good due to the economic impact of COVID-19, city officials decided to redesign the street, creatively utilizing the space along the downtown corridor. Their major concern was encouraging people to return while physically distancing so that all customers feel safe. And their solution aced those concerns. Watch this KCET report to see the new Santa Barbara State Street Pedestrian Promenade in action.
"It's saddening to envision the possibility of a greater amount of business closures and vacancies," new City Economic Development Manager Jason Harris said. "This pandemic is really forcing the issue, and really expediting the need to expand our thinking."
Harris knows what he's talking about. His past work experience includes rejuvenating downtowns in Phoenix and Santa Monica. He has his hands full reviving Santa Barbara's State Street with its unique stores and excellent outdoor dining options, reminiscent of European open-air markets.
READ: Santa Barbara Housing Market: Home Prices in the Shadow of COVID-19
Vitality and energy restored
The debate over closing part of State Street to cars has been going on for decades, and the move worked. Almost instantly, Santa Barbara State Street was infused with a sense of vitality and energy after struggling since Gov. Gavin Newsom's stay-at-home order last March because of COVID-19. The transformation took place over Memorial Day weekend and was so successful that business owners and city officials have decided to keep it going, at least until Labor Day.
Santa Barbara's most famous shopping and dining street cuts through downtown and leads right onto Stearns Wharf. It's nearly impossible to miss, with its shops, art galleries, theaters, and attractions, including the Santa Barbara Museum of Art. But since last March, the lively street had become a ghost town.
The idea to transform Santa Barbara's State Street into a Pedestrian Promenade is not new. In fact, locals have been pushing city leaders to close State Street to cars and create an open-air atmosphere downtown for many years now. When the pandemic devastated businesses, city officials were forced to scramble for creative ideas to help restaurants and retail. And it is working.
What's open?
According to DowntownSB.org, the Santa Barbara State Street Pedestrian Promenade has been an exciting project. It has helped the businesses reopen while being able to practice social distancing. Most of the restaurants on the street have the opportunity to branch onto the sidewalk and into the streets.
"It's amazing," said Aron Ashland, owner of The Cruisery on State Street told Noozhawk. "It's what the city should have done 20 years ago. The energy and liveliness that is going on downtown is amazing."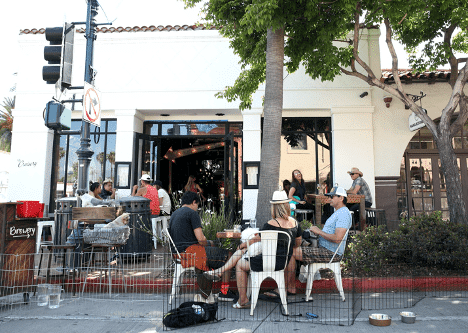 Photo Credit: Daniel Dreifuss
Other examples of restaurants serving customers on State Street besides The Cruisery include: Holdren's, Natural Café, Institution Ale, Joe's Café, Pascucci, Asie Dumpling House, Habit Burger, Chase Bar and Grill, Oppiz, Embermill, Satellite, Mosaic Locale, Sama Sama, Benchmark, Taquira SB, Jane, Opal, and Carlitos (more to come).
On the side streets, restaurants have the opportunity to create parklets on parking spots in front of their business. Examples include: Savoy Café and Little Kitchen (more to come).
Many State Street retail locations as well as barbershops/salons are also beginning to open their doors. These retail establishments have the same opportunities to branch out to the sidewalks and the street.
Former Santa Barbara Mayor and city council member Helene Schneider says opening the streets will help revitalize the city's economic base.
"It's great," she commented to Noozhawk's Staff Writer Joshua Molina. "I think being flexible is important. I just hope people are smart and courteous to each other and wear their masks."
And those shopping and dining agree. Frank Acosta, wife Yatzie and their children, Solara and Marisa, enjoyed a walk down the middle of State Street over Memorial Day weekend.
"It's nice to have a sense of normality again and not to be so stuck at home," Yatzie Acosta said. "You go from being the working person to all of a sudden being the teacher and the mom, the cooking, the cleaning, everything, so yeah, it's nice to come out, it's nice to feel a little bit more normal."
Don't Forget Your Face Mask
People who gather along the nine-block stretch of Santa Barbara State Street are encouraged to wear masks. In fact, the County issued an order that temporarily requires people to wear face coverings in many settings, including the new Pedestrian Promenade.
The order from County Health Officer Dr. Henning Ansorg states: "All individuals, unless an exception applies, must wear a face covering: when inside of or in line to enter any and all businesses; when using public transportation, a private car service, or a ride-sharing vehicle; drivers of those vehicles must wear a face covering while driving or operating vehicles regardless of whether a member of the public is in the vehicle."
Ansorg acknowledged that there is conflicting scientific evidence around the efficacy of face masks during a viral pandemic. But while science is waiting to give us a definitive answer, he went on, we ought to take the precaution.
"Face coverings are a simple gesture of shared respect to protect our neighbors," said Supervisor Gregg Hart. "We are all in this together, and we will get through this together by taking care of each other."
In addition, all businesses must require employees, contractors, owners, and volunteers to wear a face-covering at the workplace and at off-site work locations. The new order does not apply to infants or children younger than age 3.
---
The Santa Barbara State Street Promenade is figuratively and literally "a breath of fresh air" for local homeowners. It's an obvious sign that business, recreation, and camaraderie is picking up. One business that has actually been quite active throughout the last couple months is real estate. Homeowners that already live here and are considering selling to move to a different Santa Barbara area neighborhood are not hesitating to list their properties, and potential buyers from Los Angeles and beyond are in the buying spirit. Considering buying or selling? Give me a call or drop me an email and let's talk. You can contact me at Cristal@Montecito-Estate.com or +1 (805) 886-9378.
---