THE BEST MONTECITO AND SANTA BARBARA LANDSCAPE DESIGN IS MORE THAN JUST A PRETTY FACE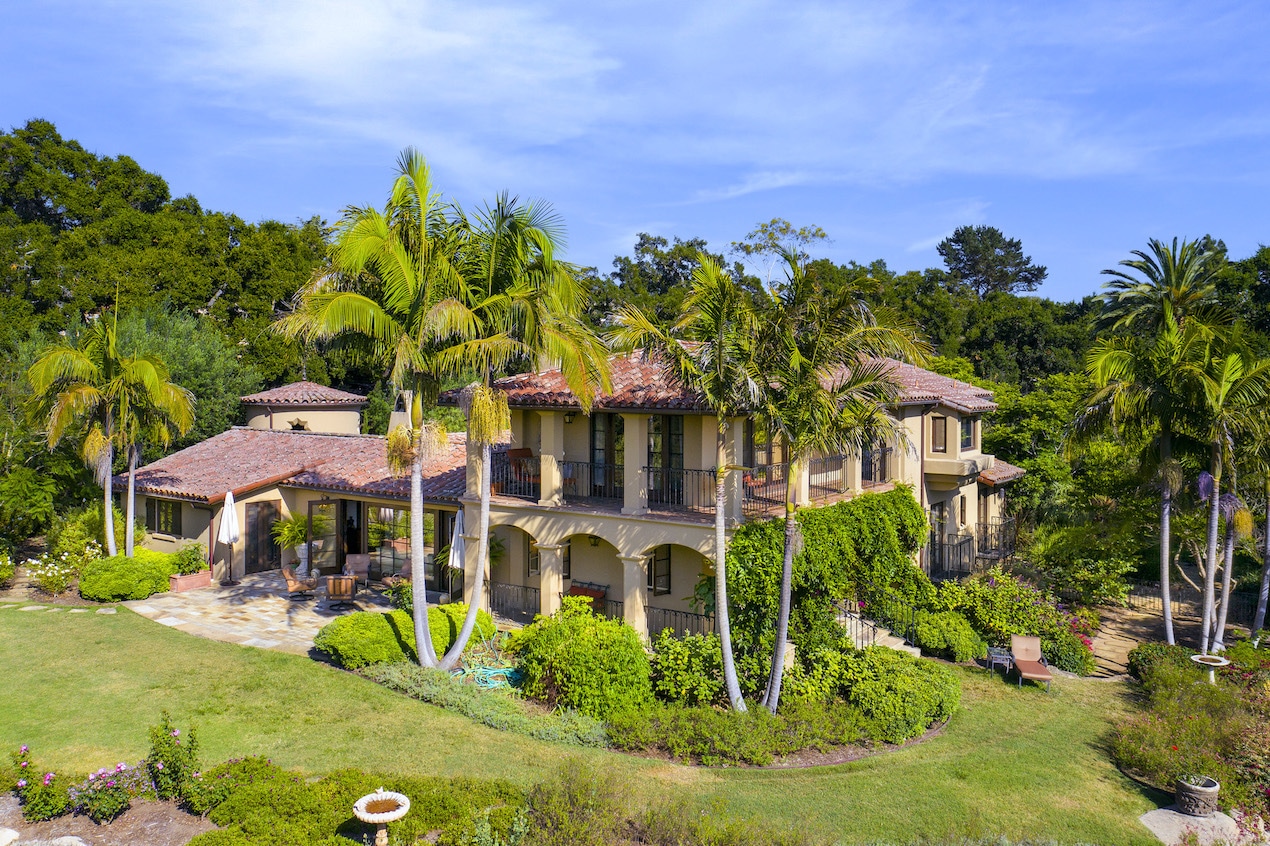 From Spanish Colonial Revival homes and Victorian and Craftsman beauties, to mid-century modern and contemporary residences, Santa Barbara's distinctive architecture is greatly enhanced by complementary landscape design. A good illustration of that is seen above in the image of my listing, a Spanish Colonial Revival Beauty on the Santa Barbara Riviera. Built in 1949, the estate sits on approximately 2 bucolic acres with its landscaping including gardens, walking paths and mature trees.
As a whole, Santa Barbara landscape design is as varied as the area's architecture, terrain and distinct selection of neighborhoods. Properties here are unique: each with its own one-of-a-kind selection of features customized to its owner's particular tastes.
The region's geography stretches from the foothills of the Santa Ynez Mountains to wide swaths of south-facing beaches, while the rich culture and history go back several hundred years. All of that makes Santa Barbara and Montecito fertile ground for distinctive landscaping. Add to that our Mediterranean-like weather pattern that means homeowners can enjoy a long growing season perfect for many kinds of plants from around the world. The happy result for residents is a profusion of unusual and gorgeous Santa Barbara landscape design.
In the 19th and early 20th centuries, landscapers and botanists here imported rare and exotic specimens from South America, Australia and Europe. Many estates from that era have been turned into world-class horticultural gems. Some are now non-profits and open to the public, others have been refined and developed further by private homeowners.
Many estates comprise a variety of Southern California environments, from expansive meadows, to interesting canyons, cactus gardens, quiet woodlands, rock gardens, and even redwoods and sequoias. Other Santa Barbara landscape design is the result of a homeowner's imagination; exemplifying the elegance of Japanese gardens, or the dramatic planting of a single species or color of flora.
No matter what style of architecture your home represents, here are some things to keep in mind when planning your own Santa Barbara landscape design:
Garden Purpose
Style aside, decide what you want to be able to do in your garden. Do you want a comfortable space for entertaining? A children's play area? Somewhere you can retreat into your own private world? An area to grow herbs or vegetables? Also, if you own a dog, consider where he or she will have free access among any fragile plantings that aren't raised or fenced. A garden should be beautiful, but don't forget to make it practical, too.
Scale and Proportion
Regardless of the kind of garden you're planting, make sure its scale won't be dwarfed by your house. Conversely, you don't want your landscaping to swallow your yard. Choose plants that offer the right impact without being overpowering. And remember that plants will grow.
As for adding architectural elements to your garden, such as walls, arbors, walkways, steps and more, there are basic design rules of proportion that have stood the test of time in creating spaces that are pleasing to the eye. The Golden Ratio offers a formula of length to width. This formula appears in everything from the pyramids at Giza to some patterns in nature, like the spiral pattern of leaves. For example, the Golden Rectangle, with a ratio of about 1 to 1.6, would translate into a raised bed measuring 5' by 8'.
Sight Lines
Part of the pleasure of Santa Barbara's landscape design is being able to see it from inside your house. When you're planning, take some time to consider the view from your windows. Also, take into consideration whether a plant that's going to grow tall will block those views.
Here are some of my favorite local architectural and landscaping examples: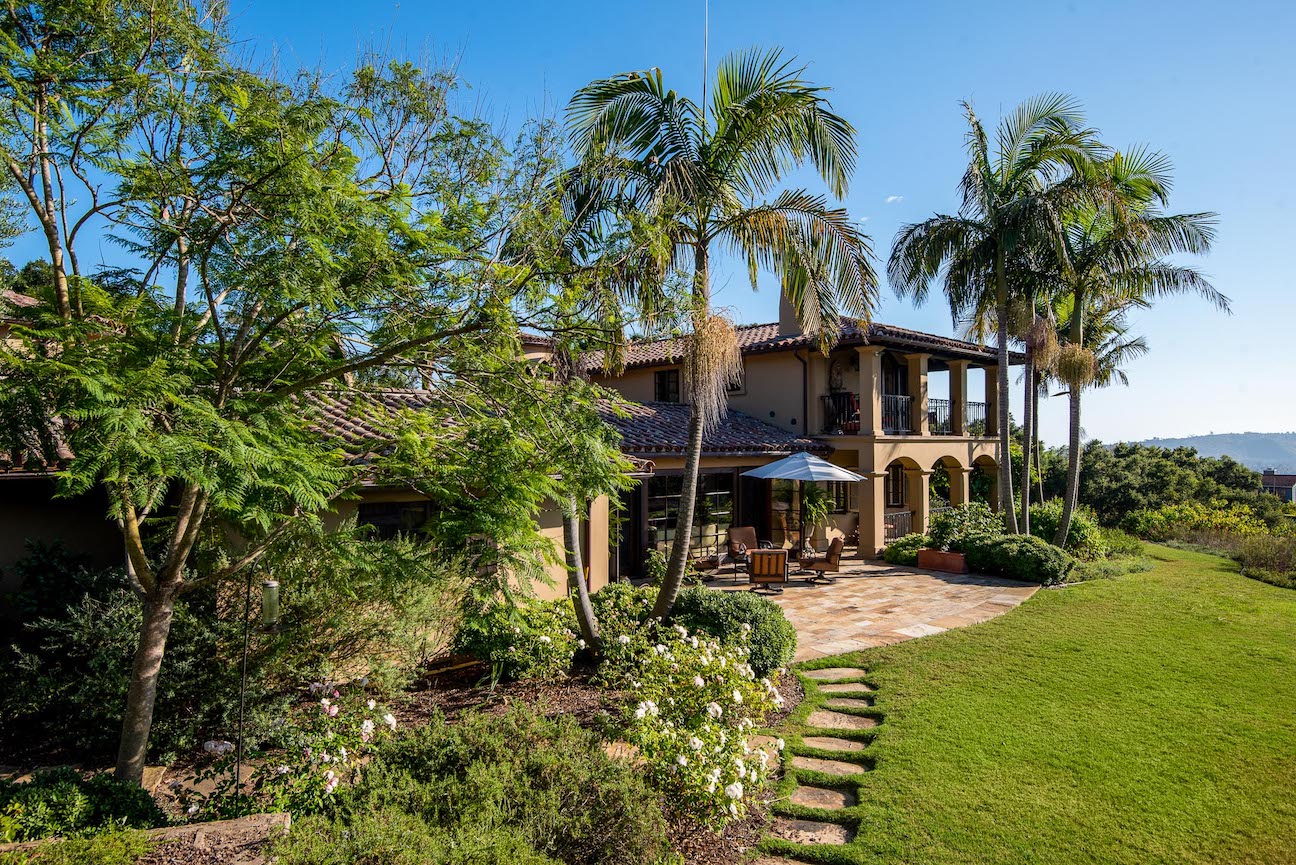 Spanish Colonial Revival
Here's another view of the landscaping at my listing I mentioned at the top of this post. The property features an expansive lawn, stone walking paths that meander throughout, mature oaks, rose gardens and an orchard with avocado, lime, grapefruit and kumquat trees.
Spanish Colonial Revival is arguably the most prevalent architectural style in the area. That's not only because of Santa Barbara's roots as a Spanish mission, but also because this was the style that the city chose to rebuild in after the 1925 earthquake. Red-tiled roofs, stucco and wrought iron detailing are some of the style's common features, though it must be noted that Spanish Colonial Revival incorporates a wide array of architectural influences, including Pueblo, Moorish, Baroque, and Romanesque.
Garden designs have evolved to complement the Spanish flavor of this prevalent architectural style and you'll find that many of these homes will have a Mediterranean-inspired landscape. Palms, olive trees and citrus trees are among the unifying elements, all serving as the perfect foil for the residence and having the added advantage of blending well with the native vegetation at the same time.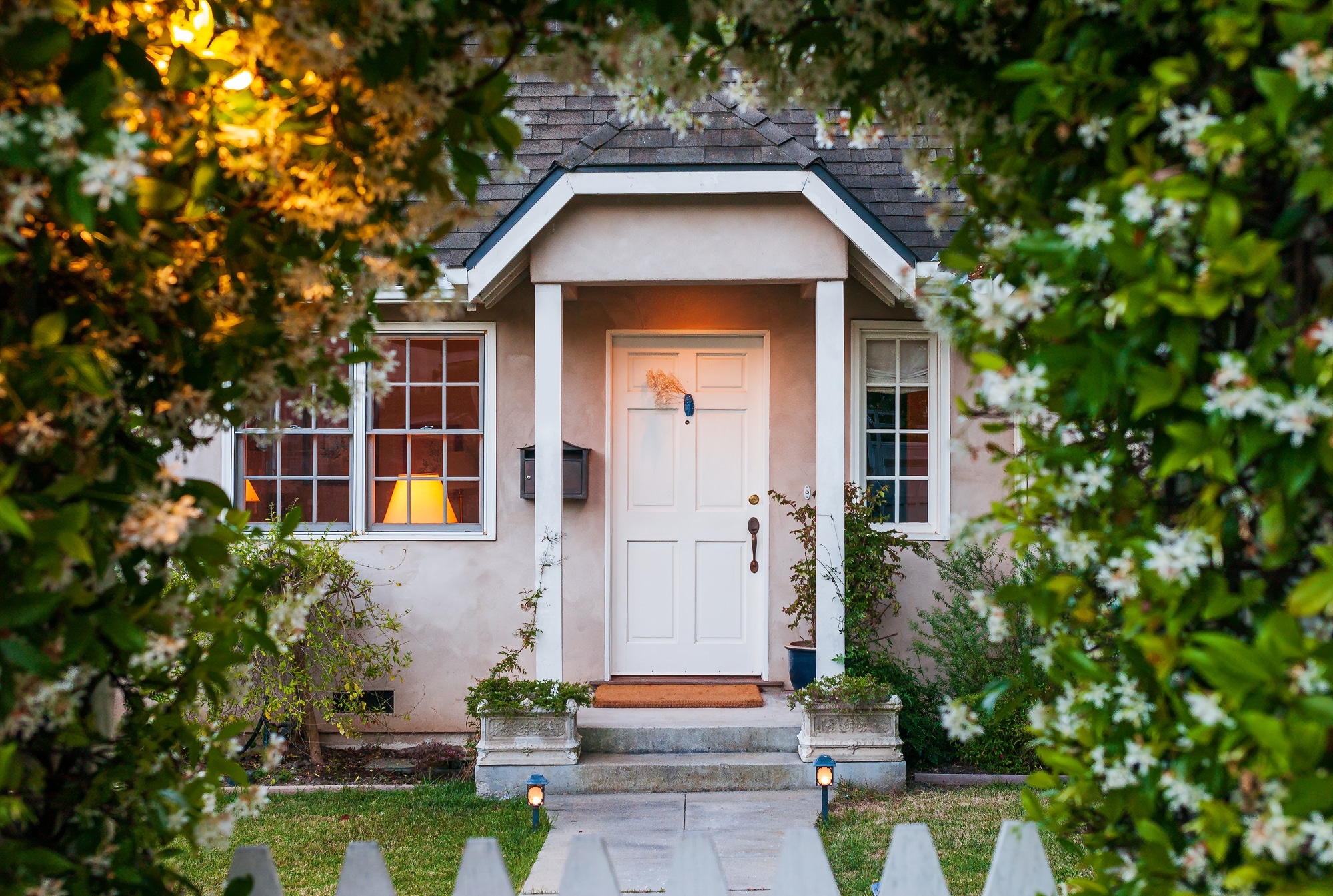 Victorian and Craftsman
It's not unusual to find English-style gardens surrounding Victorian and Craftsman homes, albeit with a tropical influence in keeping with the natural setting and with modern principles of landscape design. Just head to the "Bungalow Haven District of Santa Barbara," roughly bound by Victoria Street on the south, Colina Lane on the east, East Micheltorena Street, and De la Vista Avenue on the north, and Olive Street on the west. The area is filled with prime examples of modest, one-story, bungalow, frame houses, most designed in the Craftsman, Folk Victorian, and Spanish Colonial Revival styles.
Would-be buyers interested in the real estate Santa Barbara has to offer will also find quite a few homes from the very eclectic Victorian period. There are elaborate Queen Annes and Italianate houses as well as elegant French Second Empire residences and homes that boast a blend of the myriad influences and building trends of the age.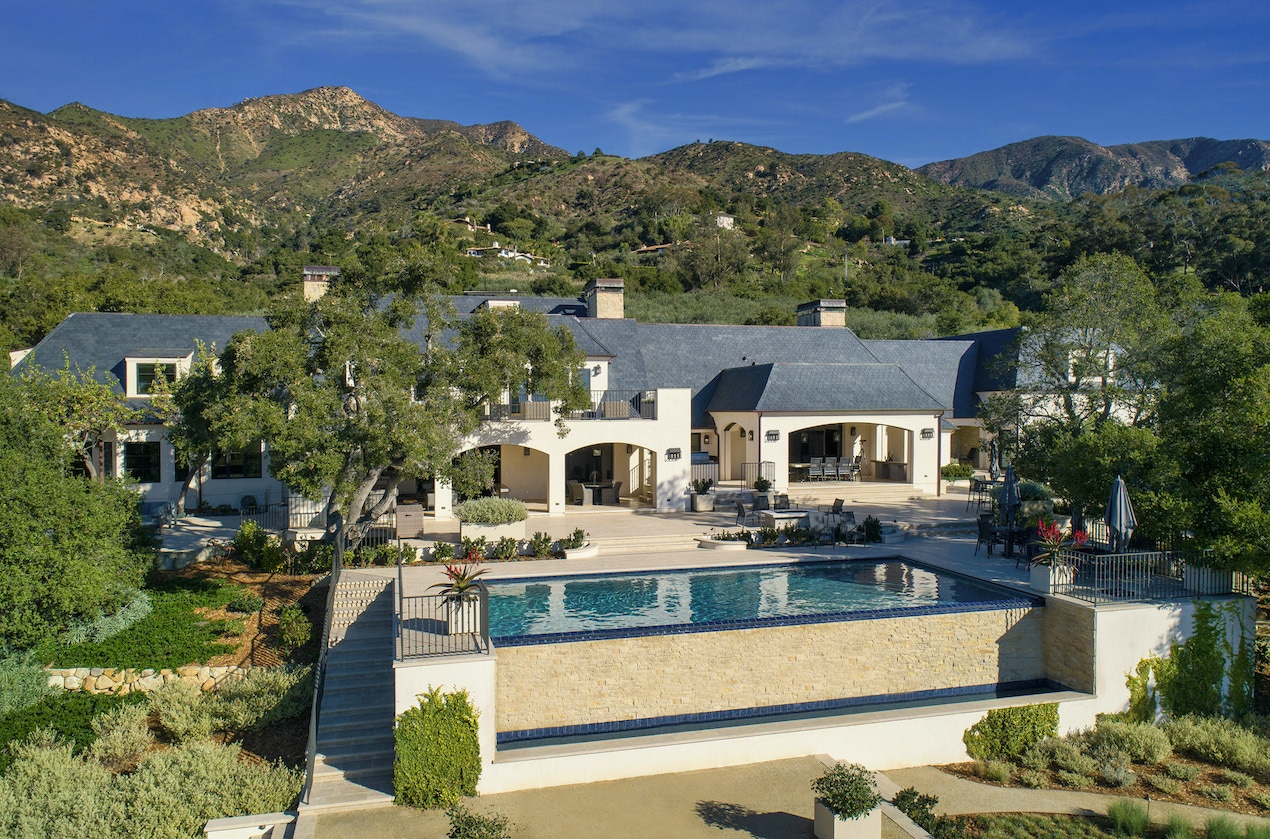 Mid-Century Modern and Contemporary
An overview of the region's different home and garden styles wouldn't be complete without mentioning its notable collection of mid-century modern and contemporary homes. Take the European-Inspired Montecito Contemporary Estate pictured above. The grounds are filled with mature oaks, succulent gardens and other drought-tolerant landscaping. Beyond a modest lawn, the new owners can enjoy a magical spot under a charming pergola, with views of the picturesque home and its backdrop of the dramatic Santa Ynez Mountains.
Echoing the sleek and minimalist aesthetic of this architectural style, rock gardens and Asian-inspired landscapes are popular when it comes to the surrounding landscape. A central tenet of mid-century modern landscape design is the indoor-outdoor lifestyle we enjoy in this part of the world. After all, a garden is to be lived in, not merely admired.
The one thing that there is really no debate about when it comes to Santa Barbara landscape design is that it should be vibrant and healthy. Take a look at my exclusive listings and browse the Santa Barbara real estate MLS to preview currently available properties throughout the region. Need more insights into the different communities here? Explore the site and contact me at your convenience. I look forward to helping you make the right choice in Santa Barbara.