SHOP LOCAL FOR FRESH FRUITS, VEGETABLES AND MORE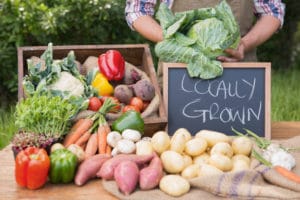 The Santa Barbara Certified Farmers Market offers some of the freshest produce on the West Coast. You can also find an incredible selection of local goods at these markets. The bounty is due to our abundant sunshine combined with our moderate climate that produces a year-round cornucopia of fresh produce. The healthy amount of rain we have experienced over the past few years have helped too. Much of the food you will find at any of the Santa Barbara Farmers' Markets is grown organically.
Read: Santa Barbara Recognized As One of the Best Small Cities in the Nation
Residents can shop farmers' markets here every day of the week except Mondays. That means six days of freshness. While they are all worth a visit, the signature event is held on Tuesday afternoons, when downtown's State Street morphs into the ultimate place to be, with food, music, and our beautiful residents. Follow the white-jacketed chefs snapping up thick bunches of fresh herbs to use that night. You'll have your choice of delicious organic and locally grown fruits, vegetables, farm-raised meats, artisan cheeses, mouth-watering pies, jams, and vibrant tropical flowers for sale at Farmers Market stands throughout the county. You can also go home with delicious just-caught local sea bass or black cod.
Santa Barbara Farmers' Market Schedule
Tuesday | Santa Barbara Old Town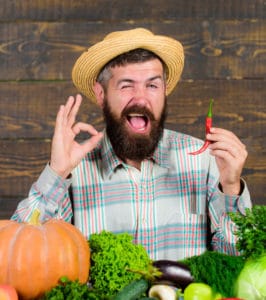 500 & 600 blocks of State Street

3 p.m.-6:30 p.m. (winter); 4 p.m.-7:30 p.m. (summer)
Wednesday | Solvang
Copenhagen Drive & 1st Street
2:30 p.m.-6 p.m. (winter); 2:30 p.m.-6:30 p.m. (summer)
Thursday | Carpinteria
Downtown Carpinteria along Linden Street
3 p.m.-6:30 p.m.
Friday | Montecito
1100 & 1200 blocks of Coast Village Road
8 a.m.-11:15 a.m.
Saturday | Santa Barbara Downtown
Corner of Santa Barbara Street & Cota Street
8:30 a.m.- 1:00 p.m.
Sunday | Camino Real Marketplace
Corner of Storke Road & Hollister Avenue
10 a.m.- 2 p.m.
Santa Barbara Farm Stands
Shop at a number of local farms any day of the week. These farm stands offer more than delicious fruits and veggies. Many invite visitors to enjoy a hands-on experience.
Read: The fine art of outdoor dining
Take Apple Lane Farm, for example. There you can pick your own gala, golden and red delicious, Fuji, and granny smith apples. Restoration Oaks & Blueberry Farm allows visitors to harvest their own seasonal blueberries during the spring and summer months. Besides being the key ingredient to the most delicious home-made blueberry pies, local blueberries have been known to make killer jam to enjoy all year round. Or visit Fairview Gardens, the 100-year old organic urban farm in Goleta. The Center for Urban Agriculture at Fairview Gardens is a non-profit organization established in 1997 to preserve and operate the organic farm while building connections between community, food, and agriculture. Here you will find an impressive selection of fresh, organic produce. You can also tour the farm anytime you like.
Santa Barbara Gourmet Shops and Markets
Explore the nook-and-cranny shops where treasures can be found around every corner. We're talking delicious gourmet olives, olive oils and nuts, baking vanilla, artisan popcorn, kettle chips, trail bars, herbs and spices, and chocolates made by French chocolatiers.
Read: Add Value to Your Home With a Chef-Inspired Kitchen
Santa Barbara's premier gourmet cheese shop, Cheese Shop Santa Barbara (formerly "C'est Cheese") features more than 100 artisan cheeses from all over the world. Visiting the shop is a real treat since they offer samples. Then there is the meat case which features over a dozen types of salami as well as Italian prosciutto and Spanish jamon. Don't miss the signature products made in-house, like their famous granola, cheddar biscuits and dark chocolate dipped almond biscotti. Yum!
Rancho Olivos, located about 45 minutes away, offers complimentary tasting too. But here, you'll be treated to delicious fresh estate extra virgin olive oil made from olives grown on the farm. The fruit for their award-winning premium olive oils are hand harvested from their very own Spanish and Italian olive trees supply. Spend a weekend at Rancho Olivos's unique, peaceful, rustic guest house set on the 20-acre olive ranch in the beautiful countryside of Santa Ynez Valley. You can also order some of their liquid gold from their website, in case you run out.
Then there is the Santa Barbara Public Market where you can taste an amazing array of handcrafted culinary delights. Located in a bright and modern LEED-certified space in the heart of downtown, you'll find a wide selection of artisanal food and drinks to please any palate, all locally sourced. Whether you're in the mood for sweet or savory, light or hearty, the Public Market is brimming with tempting choices. The Santa Barbara Public Market is also home to a commercial kitchen and hosts a variety of special public events throughout the year, including wine, cheese and beer tastings, cooking classes, demonstrations, and live music.
---
The bounty of fresh fruits and vegetables, coupled with a culture that prioritizes working to live rather than living to work, has helped turn Santa Barbara into a heaven for foodies. Are you a foodie looking to move here? Then call me at +1 805.886.9378 or email me at Cristal@montecito-estate.com and I'll find you the perfect home close to one of the amazing Santa Barbara Farmers' Markets.
---