MAKE SURE YOUR LANDSCAPING COMPLEMENTS YOUR HOME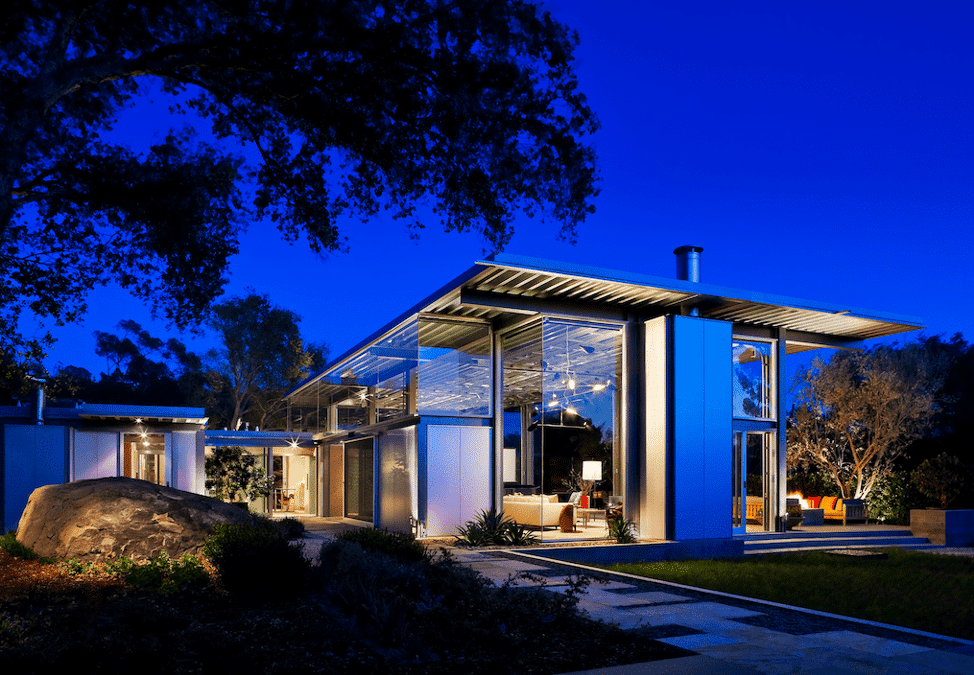 An architectural style is a specific way a building was designed that is characterized by unique and notable qualities. Santa Barbara and Montecito landscape design styles include elements like form, method of construction, materials, and regional character.
An ever-evolving art, architectural styles convey the history, culture, and development of a community. Santa Barbara and Montecito communities are filled with many different architectural styles. Perfect examples are Spanish Colonial Revival, Victorian, and Craftsman, Mid-century Modern and Contemporary. Homeowners need to realize that just as a building needs a design plan, so does the property around your Montecito or Santa Barbara home.
READ: Lotusland: One of the World's 10 Best Gardens
According to California's renowned and innovative 20th-century landscape architect, Thomas Dolliver Church, "Style and design aren't just a pretty face for a garden."
Church had a long, distinguished, and productive career, with more than 4,000 projects as a landscape architect. He also wrote several influential and popular landscape design books, including Gardens Are for People (1955) and Your Private World: A Study of Intimate Gardens (1969).
The pioneer landscape designer of the Modernist design known as the 'California Style' also declared, "the only limit to your garden is the boundaries of your imagination."
Santa Barbara and Montecito homeowners live in the perfect environment to allow their imaginations to soar when it comes to home gardens and landscaping. Our mild, mostly sunny coastal region's temperate Mediterranean climate makes it a natural home for lush foliage and gorgeous blooms.
Here are some of the architectural styles we enjoy in Montecito and Santa Barbara, with important information on landscaping for that particular style: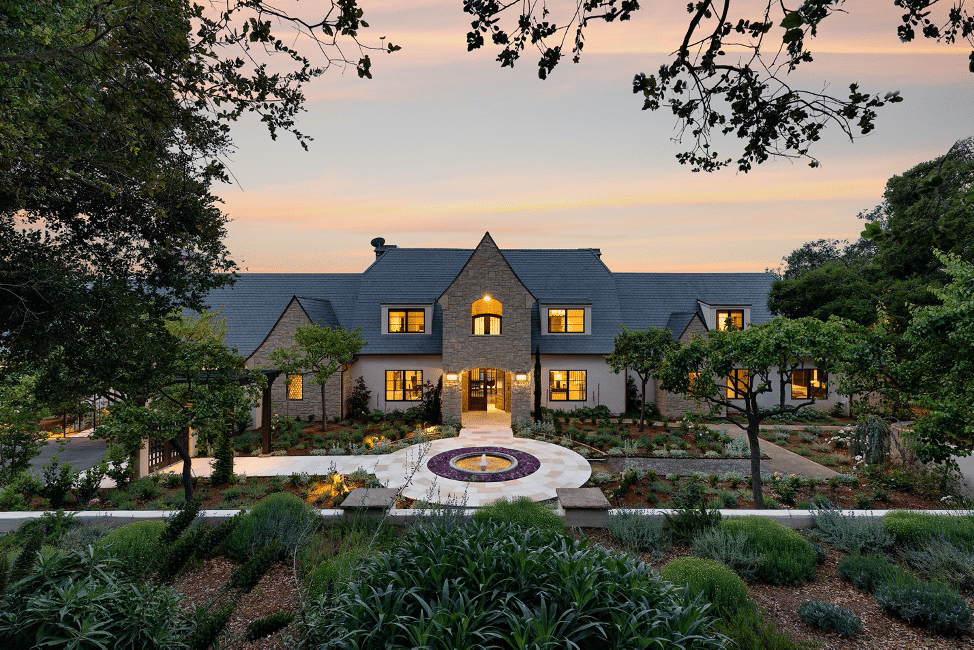 Contemporary
Put simply, contemporary homes, like the European-Inspired Montecito Contemporary Estate listed in my portfolio of fine homes, reflect the architecture of today. While you may think that definition makes it synonymous with modern architecture, that's actually a common misconception. Modern architecture refers to a style that was popularized from the 1920s to 1950s, one that embraced clean lines and stark minimalism. Contemporary architecture goes beyond that to define the ever-evolving architectural styles of the 21st century.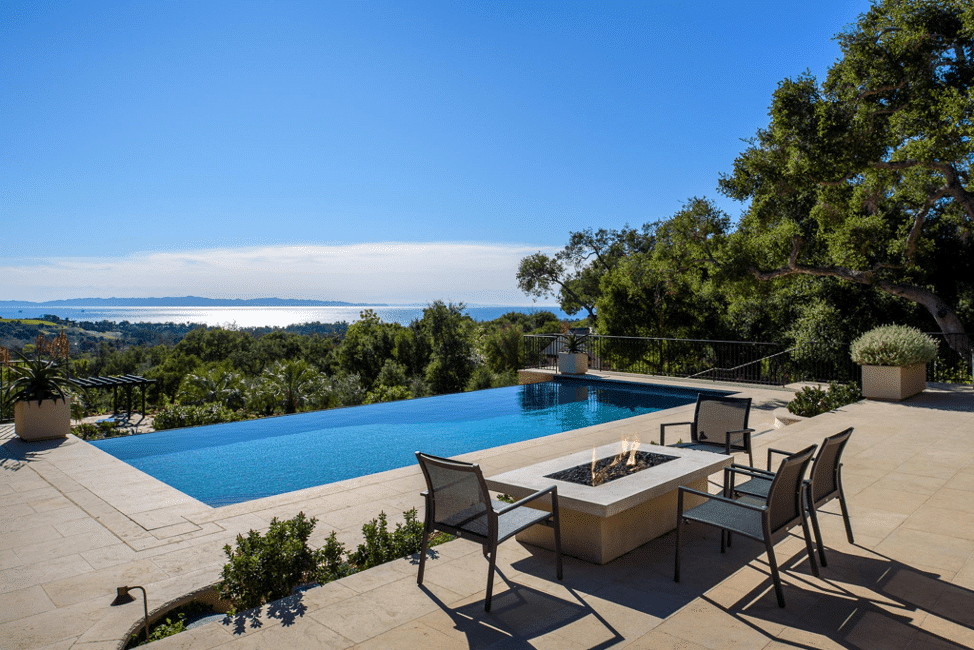 Contemporary house landscaping or gardens include wonderful designs incorporating a swimming pool, like the image above. As you can see, the sleek style is also complemented by side benches or pool chairs, and a rather dramatic fire pit. These accouterments give an authentic look of the contemporary style and up-to-date landscape view.
Modern
The Modern (or "Modernist") house is most typically a post-and-beam structure with a flat or broad low-pitched gable or shed roof like the picture of my new listing, Iconic Modernism by Barton Myers, at the top of this post. Exposed structure, an expressive use of modern materials, and the incorporation of landscaped areas, sometimes inside the house, are the main contributing elements to the architectural character of Modernism.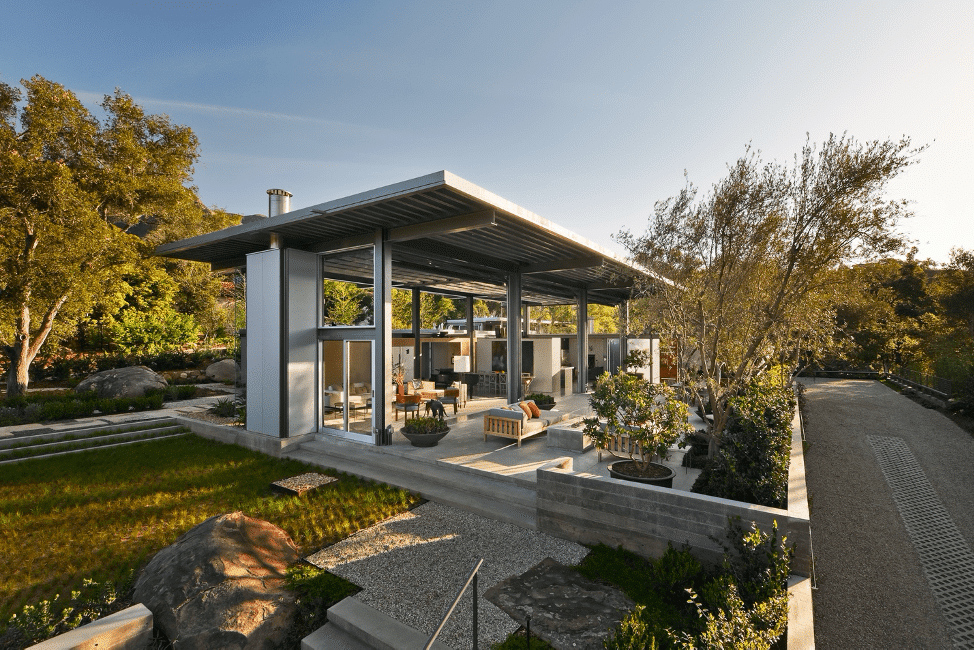 An overview of Santa Barbara and Montecito landscape design and architectural styles wouldn't be complete without mentioning the notable collection of modern homes. Echoing the sleek and minimalist aesthetic of these properties are rock gardens and Asian-inspired landscapes, as pictured here.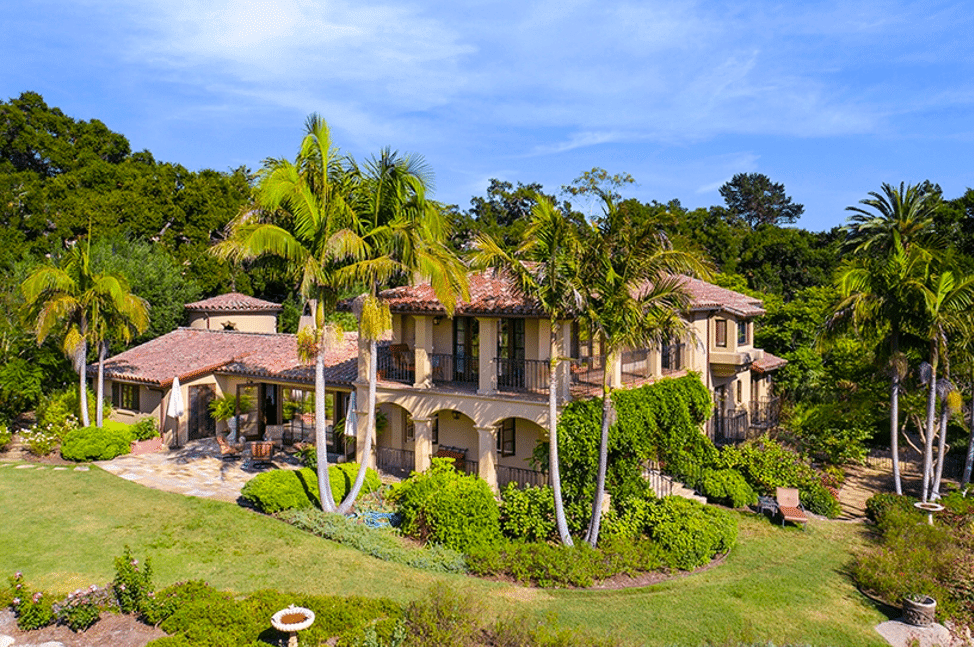 Spanish Colonial Revival
Spanish Colonial Revival includes the stylized version of the architectural genre shown above in my listing Spanish Colonial Revival Beauty on the Santa Barbara Riviera. It is inarguably the most prevalent architectural style in the area. This is not only because of Santa Barbara's roots as a Spanish mission but also because Spanish Colonial Revival was the style that the city actually chose to rebuild in after the 1925 earthquake. Red-tiled roofs, stucco, and wrought iron detailing are some of the style's common features, though it must be noted that Spanish Colonial Revival is something of an umbrella term that encompasses a wide array of architectural influences, including Pueblo, Moorish, Baroque, and Romanesque.
Santa Barbara and Montecito landscape design has evolved to complement the Spanish flavor of this prevalent architectural style. You'll find that many of these particular homes will be showcased with a Mediterranean-inspired landscape. Palms, olive and citrus trees are among the unifying elements, with the added advantage of blending well with the native vegetation.
Victorian and Craftsman
Would-be buyers interested in the real estate Santa Barbara has to offer will also find quite a few homes from the very eclectic Victorian period and a significant number of Craftsman bungalows. There are elaborate Queen Annes and Italianate houses as well as elegant French Second Empire residences and homes that boast a blend of the myriad influences and building trends of the age.
It's not unusual for English-style gardens to be part of the unique features of these properties, albeit with a tropical influence in keeping with the natural setting. Landscaping for these homes should follow all the modern principles of landscape design that are explained above.

Mid-Century
Basically, a Mid-century modern home is a 1950s or 60s ranch-style residence that has been "modernized" into a more contemporary home in some way. Usually, at a minimum, the term implies that the home has been opened up-that walls have removed so that the floor plan is more "open," taking advantage of the inside/outside lifestyle so popular in the part of the world. The striking Mid-century modern home on Santa Barbara's Riviera, pictured above, is a great example.
Rather than installing the standard lawn, some owners and landscape designers today are using outdoor spaces to both complement and contrast the homes' architectural and interior aesthetic. Trees and shrubs are considered sculptural elements, while planting beds repeat geometric lines. One-story Mid-century modern homes often have an atrium or central courtyard patios, which are true outdoor rooms.
As a whole, Santa Barbara and Montecito landscape design styles are as varied as the area's terrain and distinct selection of neighborhoods. Properties here are unique and have their own one-of-a-kind selection of features customized according to their owners' particular tastes.
---
Take a look at all of my exclusive listings and browse the Santa Barbara real estate MLS to preview currently available properties throughout the region. Need more insights on the different communities here? Explore my site and contact me via phone, +1 (805) 886-9378, or through my email at Cristal@Montecito-Estate.com at your convenience. I look forward to helping you make the right choice in Santa Barbara and Montecito.