GET OFF ON THE RIGHT (OR LEFT) FOOT IN 2020!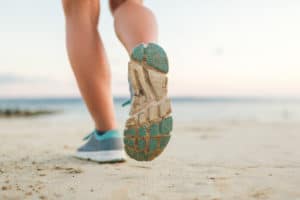 Why not make 2020 your year to explore the wonderful running trails in Santa Barbara? After all, this vibrant community is home to a large and active endurance community.
Scientific research proves that regular exercise for at least 150 minutes per week, and running in particular, offers health benefits that extend well beyond any pill a doctor could prescribe.
Studies have shown that running can help prevent obesity, type 2 diabetes, heart disease, high blood pressure, stroke, some cancers, and a host of other unpleasant conditions. What's more, scientists have shown that running also vastly improves the quality of your emotional and mental life. It even helps you live longer. The good news for those who live here is that our resort town boasts a variety of running terrain from sandy beaches to rugged mountains.
Here are 8 of the most popular running trails in Santa Barbara:
Downtown Santa Barbara "RunSeeing" Tour


Length: 5 miles




Difficulty: easy to moderate


A run through Downtown Santa Barbara features amazing views of pretty streets populated by historic buildings, parks, fun shops, and restaurants. Begin at the Mission and head along Garden Street toward the waterfront. You'll pass Alice Keck Park Gardens and can check out the interesting buildings and landmarks just off State St. to the north. There's plenty of shade on the beautiful tree-lined side streets.


Santa Barbara Waterfront Spectacular
Length: 10 miles
Difficulty: easy
The signature Santa Barbara run between Shoreline Park and East Beach features beaches, our marina, piers, parks, palm-lined boulevards, mountain views, and more! Starting from Shoreline Park, head south past the Harbor to Point Castillo.
Return to the main path and continue along palm-lined Cabrillo Blvd. to Stearns Wharf, then run out to the pier. Where else in the world can you enjoy the Pacific on one side and mountains on the other? The beach is also very runnable, depending on tides. Plus, there are regular shuttles along Cabrillo for those who only want to run one-way.

San Roque Neighborhood
Length: 4 miles
Difficulty: easy to moderate
Just northwest of downtown, runners can enjoy this lovely run through one of Santa Barbara's favorite family-friendly residential neighborhoods. Anchored between State Street and Foothill Road, it's a quiet neighborhood of tree-shaded streets and comfortable homes.


Bluffs Overlook Trail
Length: 3.5 miles
Difficulty: easy to moderate
You'll find this running trail just a few miles west of UC Santa Barbara's adjacent Isla Vista community. It's where 80-foot high cliffs run parallel to the ocean. The path is relatively flat and provides stunning unobstructed views of the Pacific, which makes this run perfect for sunset.
The Bluffs Overlook Trail also passes through the Coronado Butterfly Preserve, a small eucalyptus grove where you might spot migrating monarch butterflies before accessing a path down to the beach. This trail is best for easygoing, mellow runs, so you can take in the scenic beauty of it all.

Goleta Beach and the UCSB Lagoon Trail


Length: 4 miles




Difficulty: easy


This trail begins in Goleta Beach County Park, then travels up a few small bluffs and onto the UCSB campus; circling its 31-acre lagoon. The lagoon loop is the highlight of this trail, providing access to the tide pools and expansive ocean views at Goleta Point. Since this trail is a convenient route for students traveling from the beach to campus, it's trafficked more frequently than other beach trails in the area. However, the change of pace from ocean views to the serenity of the lagoon still makes this a worthwhile run.
Camino Cielo Road


Length: Varies




Difficulty: moderate to hard


Be prepared to experience the most breathtakingly scenic long run among all running trails in Santa Barbara County. Take the Hwy 154 to East Camino Cielo and you will find this run along the crest of the Santa Ynez Mountains. It's hard to believe a nicely paved road exists here, winding through the mountains overlooking all of Santa Barbara's front- and backcountry, but it makes for an ideal road running adventure.
Those who prefer to run on an actual road but seek the quiet seclusion of the outdoors love this run. You can go as far one way as you want, or have someone shuttle you back when you tire. There are also several trails that branch off of Camino Cielo, such as Arroyo Burro Trail and Cathedral Peak Trail near La Cumbre Peak, for those who want to turn a road run into a spontaneous trail run.

Jesusita Trail (to Inspiration Point and down Tunnel Trail)


Length: 7 miles round-trip, +3.5 miles down Tunnel Trail




Difficulty: moderate to hard


If you are not in the mood to follow our breathtaking coastline, Santa Barbara also has several trails that head into our mountains. One of the more difficult mountain runs begins at the Cater Filtration Plant, where you'll find the Jesusita trailhead. Take it all the way to Inspiration Point. It's a rigorous run with varying terrain and some steep climbs to the top, so be prepared.
Instead of going back the way you came, another option is to take the Tunnel Trail junction at Inspiration Point for an added 3.5 miles down the other side of the mountain. If you do, your run will end near 3,995-foot La Cumbre Peak, the highest point in Santa Barbara. Just image the views!

Buena Vista Trail


Length:4 miles




Difficulty: easy to moderate


For a much milder trail run than the Jesusita Trail, try the Buena Vista Trail. This is actually a Y-shaped loop connected to four other trails. The trailhead is found on the San Ysidro Trail heading to Edison Road and Buena Vista. There are other optional trails on this loop, including the Old Pueblo Trail. This horse trail passes some beautiful gardens.
Or take the Wiman Trail. Both loop back to San Ysidro. Since the Buena Vista Trail is Y-shaped, it can be used as a connector between San Ysidro and Romero Trails, which is perfect for those who want to add some distance and difficulty to the run. Other than the short steep climb on Edison Road, this trail doesn't require much experience; making it a good place for beginning trail runners who have the freedom to pick and choose their route.
---
Those of us who are fortunate enough to live here know that outdoor activities like the running trails in Santa Barbara make our fine city one of the best places to live.
If you're considering moving within the area, or to the area, please call me at (805) 886-9378 or email me at Cristal@montecito-estate.com. I'll happily add your home to my portfolio and find you a new place to live while we sell your existing home. Now, get outside and run!
---