An Updated Primary Bath Adds Value to Your Home, and Much More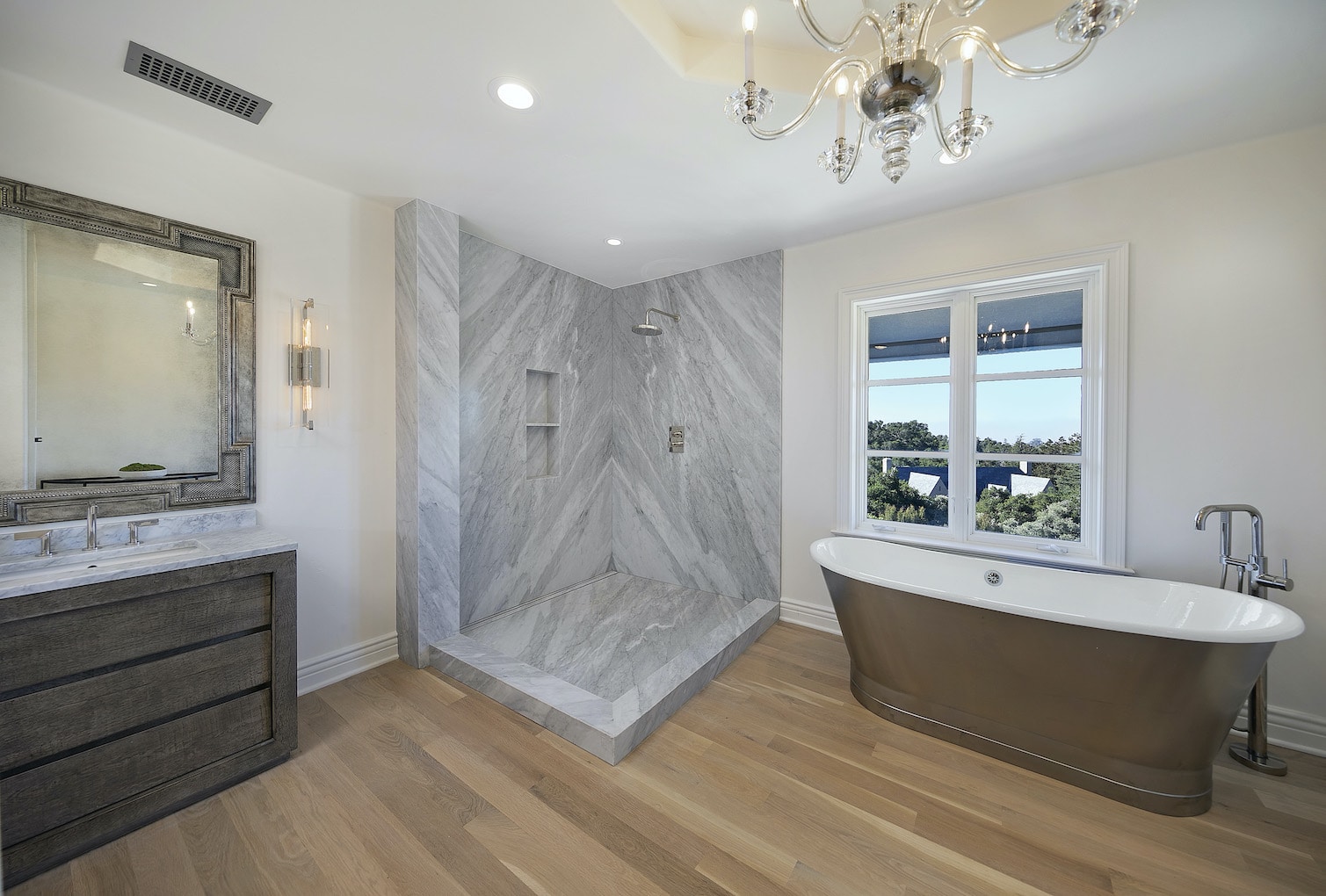 There are many reasons homeowners decide to begin a primary bath remodel. And for today's high-end homebuyers, an updated primary bath, like the spectacular one pictured above from my Italian Country Estate in Montecito's Ennisbrook listing, has become a must-have. But a good return on investment is not the only reason to redo that sacred space.
Just spend a few moments daydreaming about a primary bathroom where you can indulge all your senses. A place to pamper yourself in a soaking tub. A place designed in your personal style. A place to enjoy handsome bathroom countertops and awesome new hardware. There are so many good reasons to start your primary bath update now. Here are 8 to consider: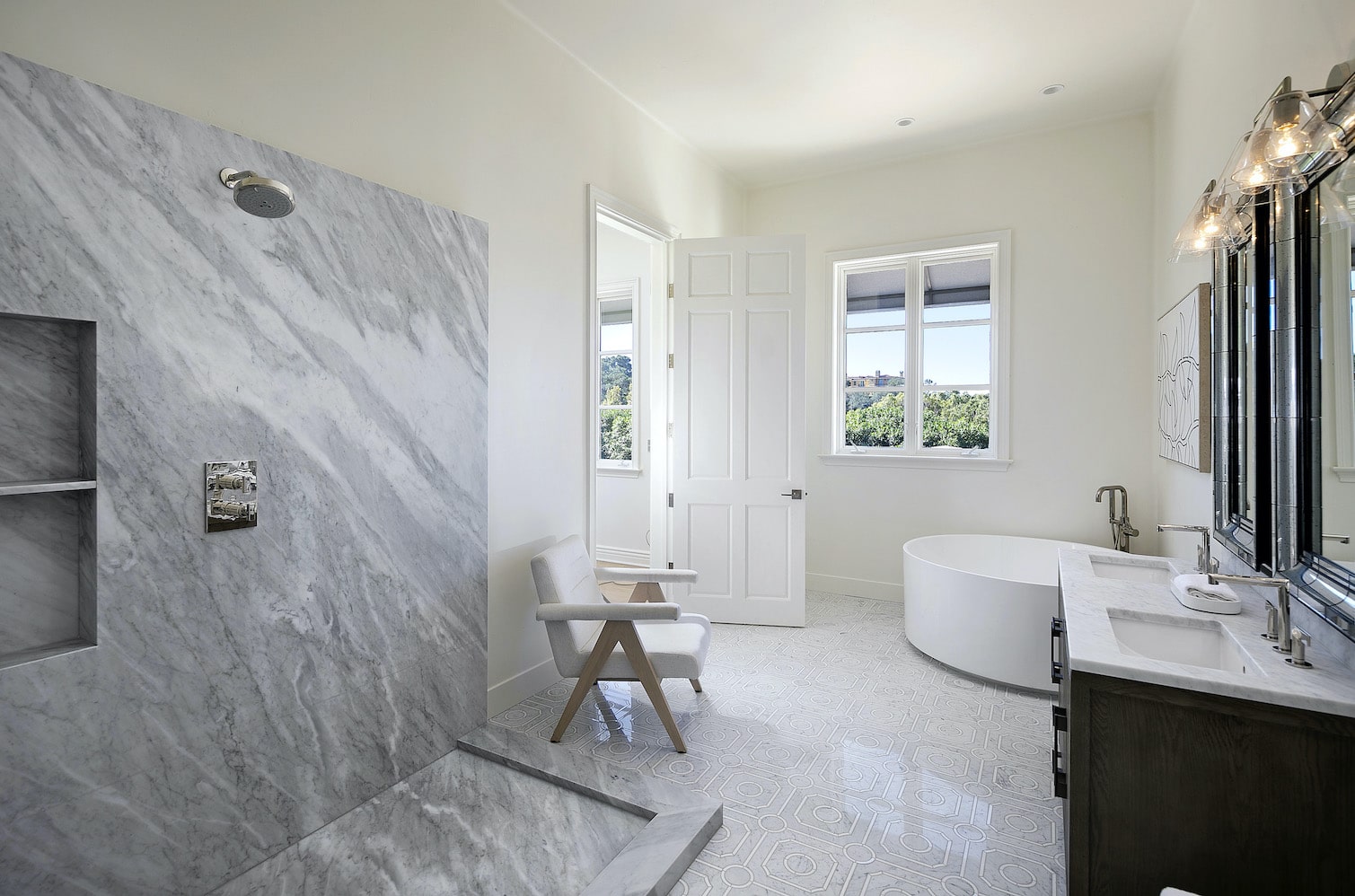 Primary Bathroom Remodel Means Good ROI
In Remodeling Magazine's annual Cost vs. Value Report for 2021, an upscale bathroom remodel came in at 60.6% of the cost at resale in California. The average amount spent on such a task was $84,266, and the homeowner received an additional $51,091 on the sale of the home.

There's a good reason for that ROI. Buyers want to walk into the primary bath and see a finished, relaxing space. Some of the desired features buyers are looking for include a separate shower and soaking tub like the picture above from my Italian County Estate listing. Luxury touches like a soaking tub and heated floor are extremely popular today.

Just consider that the primary bath is part of your primary suite retreat, worthy of the best. It's important to remember that your ROI on any renovation project depends on work quality and material choices. So, I always suggest you do your due diligence and research before you start tearing down any walls.


Your Needs Have Changed
As you move through life changes, your bathroom needs can change, too. Whether you're getting married, adding to the family, becoming empty nesters, or are simply excited about buying your first home, you need a primary bath that suits every phase of your life. Remodeling the primary bath to the room of your dreams is a great way to start the next chapter of your life, whatever that chapter may be.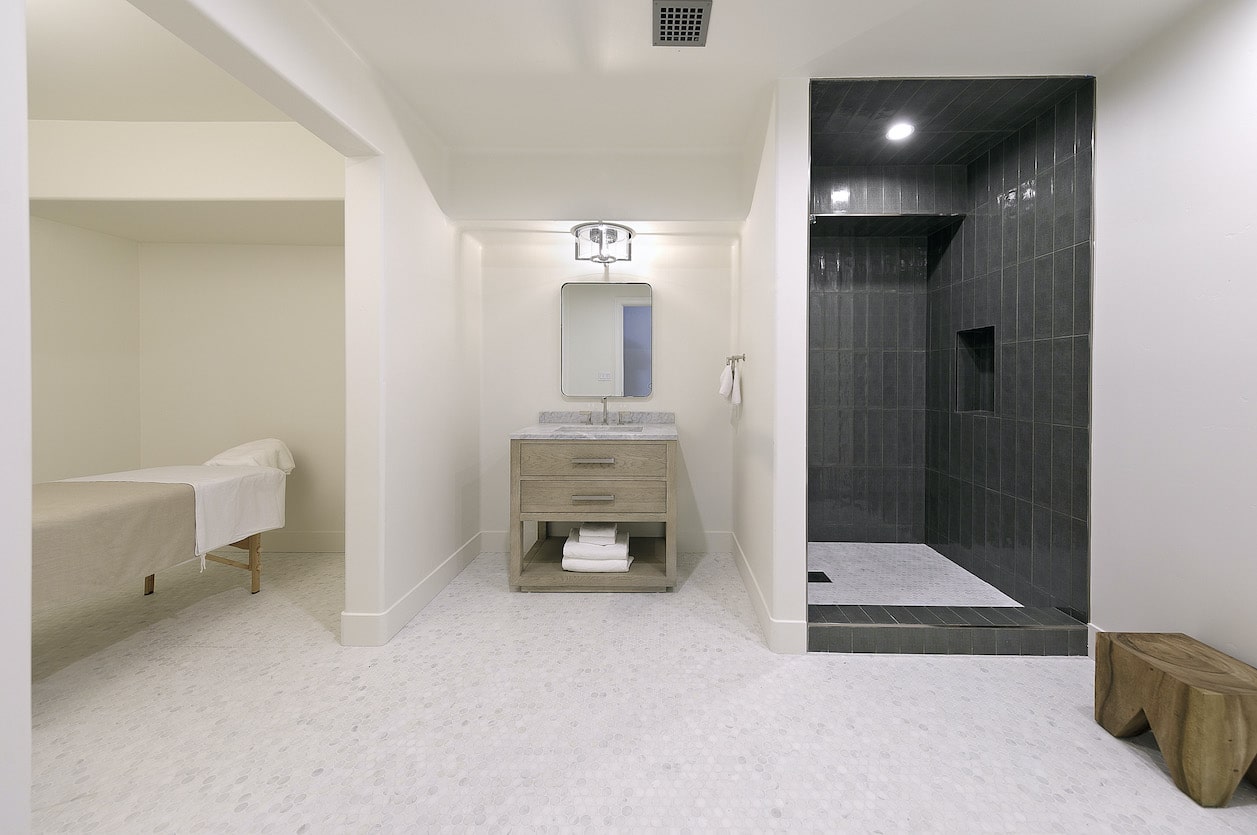 Update the Look
Putting your personal stamp on the primary bathroom is a perfect reason to remodel.

Get rid of boring tile and outdated light fixtures. Bring in the trends, colors, and materials that reflect your personality and create a bathroom you'll want to linger in. I recommend you go neutral and consider a style that will stand the test of time. Consider including an additional spa area like the one in my Ennisbrook listing pictured above.


Redesign for Better Function
A primary bath remodel can be just what you need to fix any functionality features that currently drive you crazy. Today's primary bathroom should be a cozy extension of your home. You don't have to be stuck with an awkward layout and poor storage. The right bathroom remodeling contractor can show you how to rework the space you already have.


Make It More Efficient
Your old bathroom may be costing you both financially and emotionally. There's a wide range of water-saving toilets, faucets, and showerheads on the market today. Many of these fixtures can save as much as 20% of your daily water usage. And then there's your old ventilation system, which also may not be as efficient as it should. Updating the airflow will prevent the growth of mold and mildew too.


Repair and Prevent Damage
Maybe your bathroom is showing a bit of wear and tear from everyday usage. Or perhaps you had a water leak that left its destructive reminder. No matter what kind of damage it has seen, a primary bath remodel will erase all signs of it. The best part of remodeling to repair the damage is you can replace old materials with newer versions that stand up better to wear and tear. Advanced water barriers and moisture-resistant paint options are a couple of the features that will give you a new look and protect your bathroom's interior for years to come.


Safety Concerns
Whether you have small children to consider or elderly needs, a primary bathroom remodel can make safety a priority. Non-slip floors and anti-scald shower valves will make a bathroom safe for a growing family. But when it's time to retire, adding barrier-free showers and grab bars will keep you safe throughout your golden years. Plus, you don't have to worry about safety features making your bathroom look institutional. Today's fixtures blend in beautifully with any decor.


You Deserve It
Sometimes the best reason to remodel a primary bathroom is simply that you want to. You deserve to have your dream bathroom become a reality. A spa shower or soaking tub will turn your bathroom into a haven. The bottom line is you deserve to turn your primary bathroom into a sanctuary.
I recommend you hire a general contractor to help you manage all aspects of the job. Check out this list of leading contractors in our area from Houzz, the place on the internet to find and hire the right design and construction professionals. Go ahead and make the primary bath remodel investment that will add to your quality of life now and pay off when it's time to move.
Meantime, I have access to several amazing listings with exquisite bathrooms in any of Santa Barbara's upscale communities listed on my comprehensive website. Please call me at (805) 886-9378 or email me at Cristal@montecito-estate.com for a complimentary consultation regarding your real estate needs.
More resources: