America's Fasting Growing Sport on the America Rivera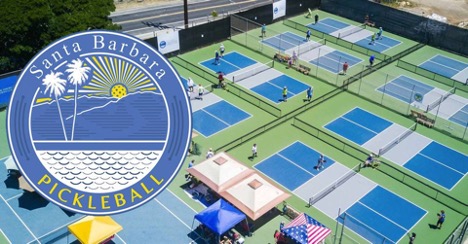 Image courtesy of SantaBarbaraPickleball.com
Pickleball in Santa Barbara? Declared the nation's fastest-growing sport by USA Today, pickleball's popularity continues to climb nationwide including right here in Santa Barbara. Vanity Fair recently published an article called: How Pickleball Won Over Everyone From Leonardo DiCaprio to Your Grandparents. The New York Times also found the topic newsworthy: Pickleball Is Ready for Prime Time.
All that hype makes sense when you consider that the low-impact sport—a cross between tennis, ping pong, and badminton—appeals to a wide range of people, from kids to senior citizens. Here in Santa Barbara, we have several pickleball courts, an association called Santa Barbara Pickleball, along with pickleball lessons, leagues, competitions, and more.
Santa Barbara pickleball enthusiasts are part of the more than 5 million players today; an increase of nearly 40% in just two years. And while pickleball's core players used to be over age 65, the game is now appealing to the younger crowd, too. According to USA Pickleball, the sport's governing body, any age can enjoy the fast-paced sport because it's easy to learn and can be played virtually anywhere.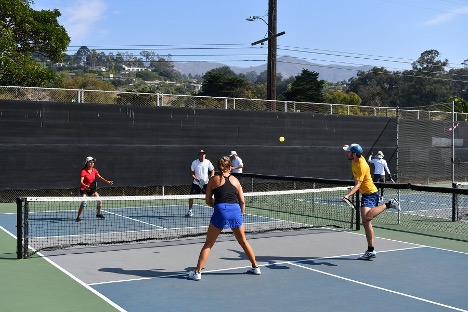 Image courtesy of SantaBarbaraPickleball.com
What is pickleball?
Pickleball was invented in 1965 by three middle-aged fathers off the Seattle coast. The founders are said to have named the game after a family dog, Pickles, who loved to chase loose balls. It can be played with singles or doubles.
The paddle sport is played on a badminton-sized court with wooden or graphite paddles and a plastic ball. The area on either side of the net is called "the kitchen." You don't want to be in the kitchen until the ball has bounced in it. After that, you dink.
The game begins when the server hits the ball over the net to their opponent's kitchen. Players on each side must let the ball bounce once before they volley. The first side that scores eleven points and leads by at least two points wins.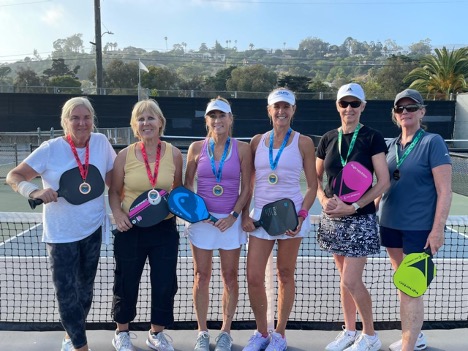 Image courtesy of SantaBarbaraPickleball.com
Where Can You Play Pickleball in Santa Barbara?
There are several places locals can find pickleball courts in Santa Barbara.
Oak Park has two courts painted on tennis courts. These courts are free to use, but players must bring their own players and net.
Pershing Park has revamped tennis court 8 to accommodate pickleball players with their own net.
Santa Barbara Municipal Tennis & Pickleball Courts offers 12 permanent pickleball courts. There is a $70 yearly fee by The Santa Barbara Parks & Rec. Dept. or a $5 daily visitor charge.
Evergreen Park in Goleta has one court dedicated to tennis and the other court striped to accommodate pickleball. Portable nets can be found in a secured storage box near the courts.
Jonny D. Wallis Park has a permanent pickleball court available on a first-come-first-served basis.
Berkeley Park and Stow Canyon Open Space offer two courts dedicated to tennis but can be used for pickleball.
Goleta Valley Community Center (GVCC) has four courts dedicated to the game, plus one extra court that is a shared-use court for both pickleball and basketball.
The Kellogg Tennis Courts have four pickleball courts for public use. These courts are located right outside Goleta City limits and are operated and maintained by the county.
The sport has become so popular here that plans for even more Pickleball courts are in the works.
Famous Pickleball Players
Some of the leaders in the evolution of Pickleball locally include Santa Barbara Tennis Pro Mark Patton. He explained his passion for the sport in an interview with our local paper, Noozhawk, like this:
"My stepdad introduced me to the sport maybe 3½ years ago, and I played for four hours nonstop," Gingrich said. "No water breaks. And then I couldn't walk for two weeks … Couldn't walk up or down stairs for two weeks. I took a year off before getting back into it. The rest is history."
But he's not the only celebrity to take up the sport. Olympic swimming champion Michael Phelps and former NFL star receiver Larry Fitzgerald are both considered "bangers" (players who drive hard shots). NBA Hall of Famer Rick Barry is a fan. Pro beach volleyball legends Kathy Gregory and Kathy Hanley have been seen playing on the pickleball courts at Santa Barbara's Municipal Tennis Center. In a recent interview, Montecito resident Ellen DeGeneres admitted to being totally obsessed with pickleball.
Pro athletes from Russell Wilson to Annika Sörenstam have mastered the dink and drive. Games are said to break out in the Chicago Cubs bullpen. Reese Witherspoon mentioned pickleball on her social media. George Clooney and his wife, Amal, battle on their home court in Los Angeles. Other celebrities who have fallen under the spell of pickleball include Leonardo Dicaprio, Larry David, Kim Kardashian, Bill Gates, Jamie Foxx, Owen Wilson, Jillian Michaels, Zach Braff, and more.
With names like these, one could argue that celebrities are helping to fuel the pickleball craze, but many long-time players would disagree. Pickleball has grown so much because it appeals to all kinds of people—the rich and famous among them.
---
Want a Santa Barbara pickleball court in your backyard? How about a new home or estate to go with it? If you are looking to move in Montecito, Hope Ranch, or any of Santa Barbara's upscale communities, please call me at (805) 886-9378 or email me at Cristal@montecito-estate.com. I'll happily add your listing to my portfolio of fine homes in the area and find your new dream home for your family. I'll make the buying and selling process so seamless that you won't miss any pickleball matches!
---
Other Resources: