BLOGGER SUSAN HARTZLER SHARES WHAT MAKES CRISTAL SO VALUABLE TO THE MEDIA AND CLIENTS ALIKE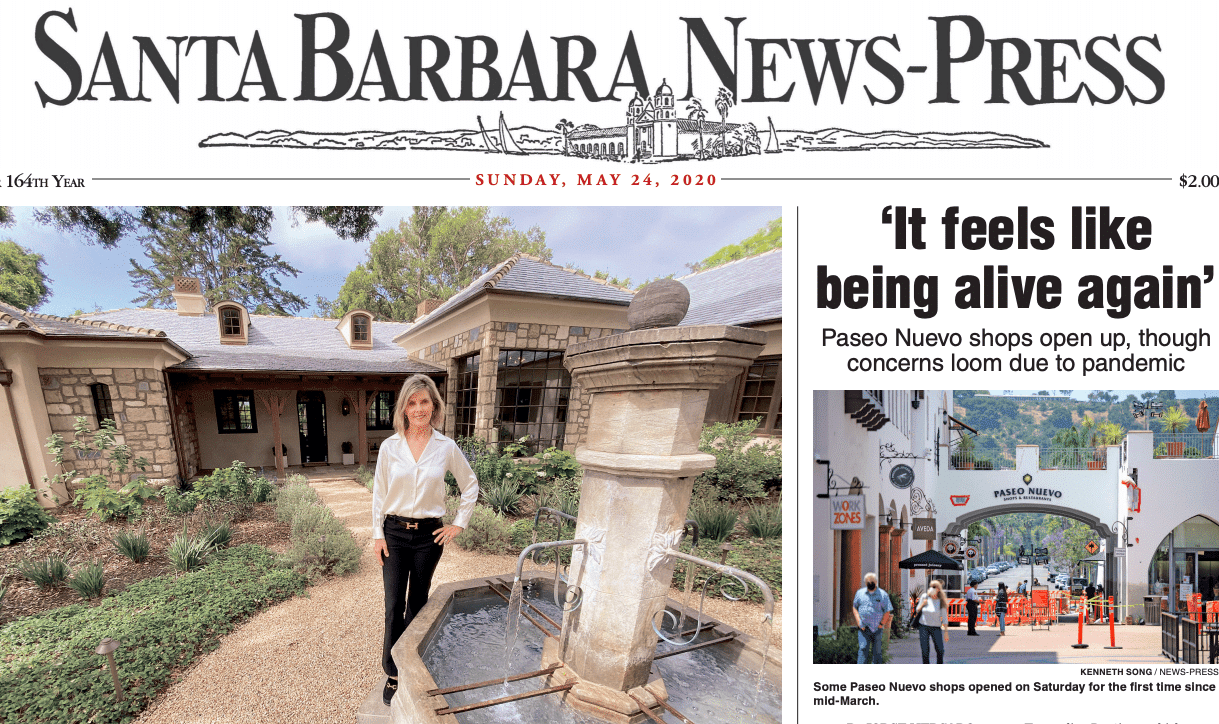 In a recent blog, I shared Montecito Realtor Cristal Clarke's expert opinion in my post Santa Barbara Housing Market in the Shadow of COVID-19 and the media is responding. The Santa Barbara News-Press put Cristal on the front page in a story about how the real estate market is still strong here. According to Cristal, she's been busy with buyers from Los Angeles and San Francisco, especially in the under $10 million market.
"I think people want to be here," Cristal told reporter Christian Whittle for the article. "They see the beauty that Montecito and Santa Barbara has to offer and they're not thinking about 'I'd love to live there in the future'. They're really putting it into place now, be it primary homes or secondary homes."
Cristal's expert opinions regarding the state of the California real estate industry were also used in an RLS Media article titled Fewer States Under Lockdown: The Breakdown and Industry Response. For readers not in the real estate profession, RLS Media calls itself "the residential real estate industry's definitive source for news and information for real estate's most profitable and productive professionals."
Earning Media Attention One Accolade at a Time
Respected news media looks for real estate industry experts and spokespersons largely based on their achievements, track records, peer and client recommendations, market knowledge, and ability to communicate information of value to readers and viewers. It should be no surprise, therefore, that Montecito Realtor Cristal Clarke is frequently sought out for her expertise. In addition to being voted one of the "Top 100 Most Influential Agents in California," she is a leading individual agent in all of Santa Barbara County for average property sale price. As last year's #1 Individual Agent in the entire Santa Barbara MLS, she knows what she is talking about.
Among more than 50,000 Berkshire Hathaway HomeServices agents globally, she has recently earned rankings including #2 producing agent worldwide, #1 Agent in California for sales volume, and #4 Agent in the U.S. for sales volume.
In 2019 alone, Cristal's transactions totaled more than $155 million, with sales of property valued from $717,000 to more than $24 million.
Accolades From Cristal's Clients
The media appreciates what Cristal's discerning clients have known and shared about her throughout her stellar career. They cite her in-depth knowledge of the local, regional, and national real estate market combined with her priceless domestic and international contacts. Perhaps most important to home buyers and sellers are her negotiating skills and outstanding individualized marketing plans.
One repeat client puts it this way: "Cristal Clarke has … handled both large and small purchases and sales with equal dedication. As a negotiator, you can't find anyone better." Many of Cristal's clients are celebrities or other high-net-worth individuals who value their privacy. According to one such couple, "If you're looking for personal, discrete and private representation of the highest quality, we suggest you look no further than Cristal."
---
Cristal has several new listings on her comprehensive website and more coming aboard all the time. So, I suggest you give her a call at +1 (805) 886-9378 or drop her an email at Cristal@Montecito-Estate. I promise you will be happy you did!
---