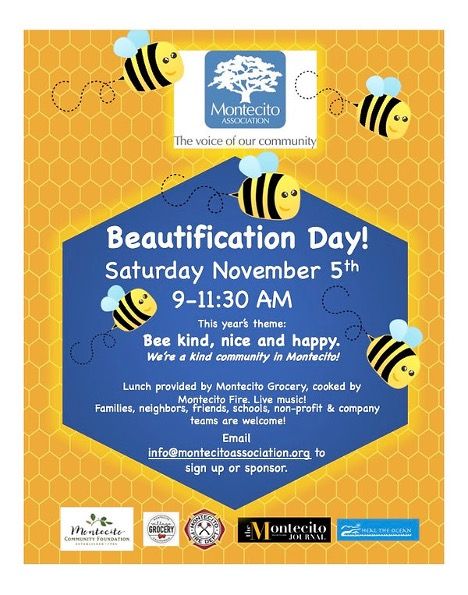 This year's Montecito Beautification Day starts in front of the Montecito Post Office on Saturday, November 5. From there, participants head out to pick up trash, plant plants, work on trail maintenance, and do whatever is needed to keep Montecito beautiful. Beautification Day is followed by a community lunch cooked and served by our heroic Montecito Fire Department. The event is organized by the Montecito Association, which is committed to the community's preservation, protection, and enhancement. There's still time to sign up to volunteer. Just send an email to info@montecitoassociation.org to let them know you're coming.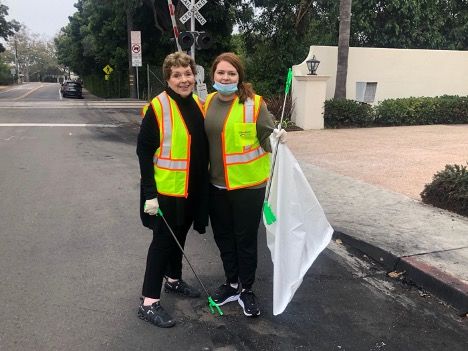 15 Benefits of Community Involvement
Besides the obvious benefits to our community, volunteering for something like the Montecito Beautification Day offers many advantages for those who participate. Community brings together individuals creating a feeling of belonging. It allows us to open up and share ourselves and our time while supporting each other. The added benefit of Montecito's Beautification Day is that residents are also helping their community by participating. Here are 15 reasons why you should volunteer too:

1) Community Involvement = Sense Of Belonging
A sense of belonging, one of the most crucial human needs, comes when you join like-minded individuals and work together on a common goal. Community gives us this sense of belonging developed through relationships. By participating, we learn to be there for each other.
2) Community = Social Support
A community offers support to its members. Supporting others can make you feel good about yourself and give you a boost of confidence. This year, local businesses will be showcasing artwork in their windows created by the children of Montecito to show support for the dreams of the future generation.
3) Community = Reduction of Symptoms of Anxiety And Depression
When we feel part of something bigger than ourselves, we can better cope with stress by enhancing a sense of belonging and connection. It helps both the person giving the support as well as those accepting it.
4) Community = Trust, and Value
A strong sense of community can build trust in neighbors. Just think about it—by working with others on Montecito Beautification Day, you'll connect with others, adding value to your life.
5) Community = Sharing, And Acceptance
By participating in community events like Montecito's Beautification Day, individuals learn to appreciate one another's differences instead of judging them.
6) Community = The Encouragement of Giving Back
Beautification Day gives Montecito residents an opportunity to make a difference in the world right in their own backyard. Plus, the strong sense of community we enjoy here encourages volunteerism.
7) Community = Opportunities For Businesses
Local businesses like Montecito Community Foundation, the Montecito Water District, the Montecito Fire Department, Village Grocery, The Montecito Journal, and Heal the Ocean are participating this year. Representatives will be on hand to interact with the community.
8) Community = Social Connection
Social connection has a significant impact on our lives. And in Montecito, our social connection keeps us going. Besides the chance to give back, Beautification Day can result in new friendships, job opportunities, and more.
9) Community = Increase in Self-Esteem
As any local knows, Montecito residents enjoy a strong sense of community which is strengthened by working towards a common goal to benefit everyone. That alone can make each individual feel more confident and valued In addition, by meeting and volunteering with your neighbors, you can build trust with one another.
10) Community = New Ideas
Montecito has always been a community of individual ideas and inspiration. We can learn from one another when we volunteer.
11) Community = Professional Growth
Every community provides vital feedback tools and an opportunity for all ages to grow and new ideas to flourish. Individuals will also be introduced to others who might just be able to help them meet their professional goals.
12) Community = Security
Community connection means your neighbors will keep an eye out for you, no matter what. This creates a true sense of security, which is invaluable.
13) Community = Self Discovery
To live a successful life, it's important to embrace both joys and struggle as a process of self-discovery. By beautifying Montecito together, we feel a strong bond with each other.
14) Community = A Longer Life
A sense of community reduces the risk of many chronic diseases. Living in a close-knit community has been linked to an increase in longevity by giving individuals support from the group. Experts say those with better bonds with their neighbors are less likely to die early due to cardiovascular disease, cancer, and other chronic illnesses.
15) Community = Improved Quality Of Life
Participating in community events provides an opportunity to contribute to society by providing an enhanced sense of purpose in life. Community allows us to improve the quality of life for ourselves, the individuals around us, and those who are yet to join.
---
In Conclusion
Humans are social animals by design and need others to survive. Community is an essential part of our lives here in Montecito. If you're planning to move in any of the upscale Santa Barbara communities, please call me at (805) 886-9378 or email me at Cristal@montecito-estate.com. With more than $285 Million in sales this year so far, allow me to present you with a complimentary consultation for your property. I have the knowledge and community contacts to get the job done!
---
More resources: