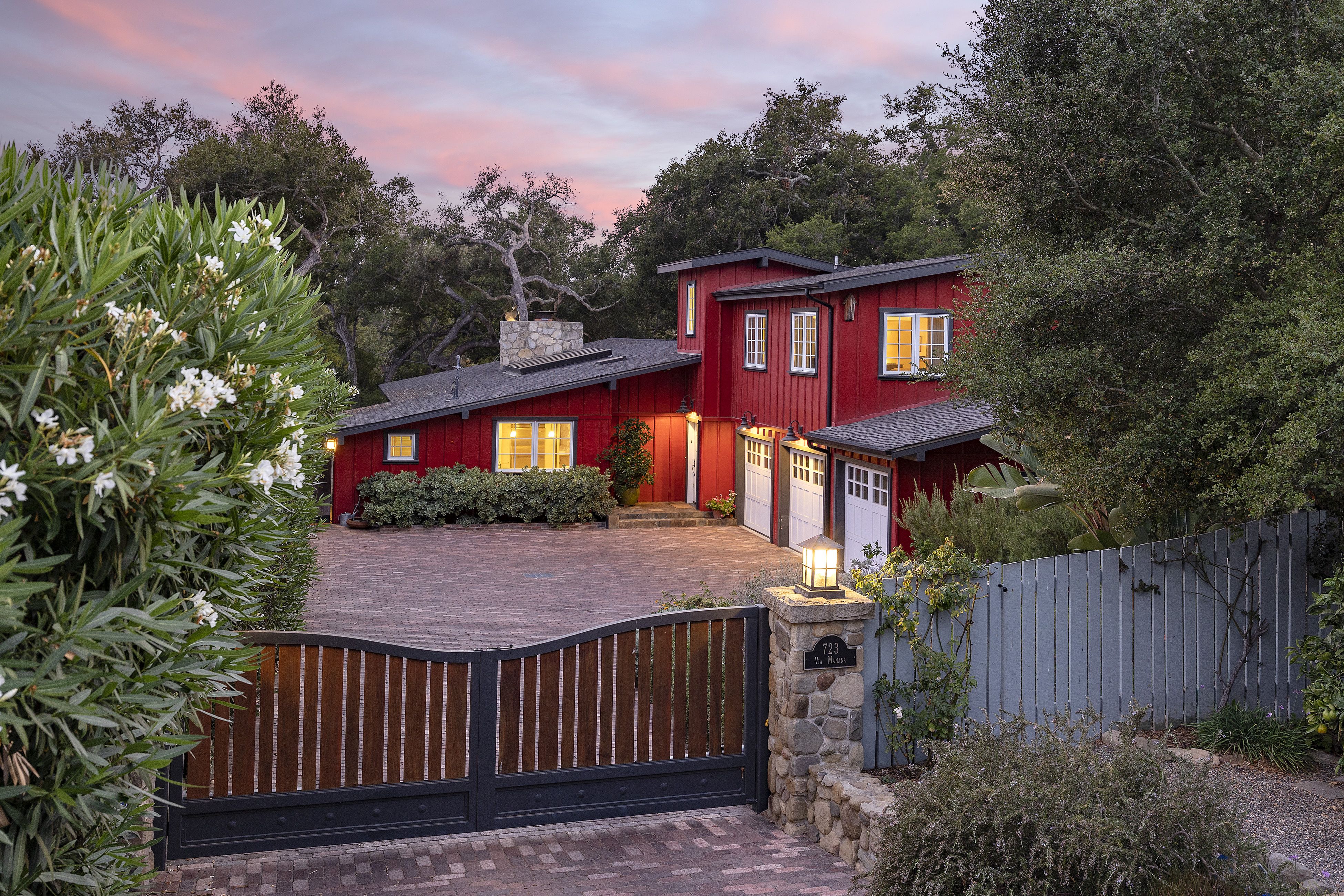 The images of my Stunning San Ysidro-Style Farmhouse listing found throughout this blog post illustrate why this style has become so chic. And while every home has subtle variations that make it unique, there are a few key features that genuinely qualify a design as "Modern Farmhouse." Here are the top 12:

Gables and Pitches
Perhaps the most recognizable characteristic is a gable roof creating a triangular wall on either end, reminiscent of a house you might have drawn in kindergarten. I'm referring to a relatively steep 12:12 pitch roof creating a 45-degree angle emphasizing the height of the house.
Lap, Board and Batten
The style features two main exterior sidings: lap, and board and batten. The clapboard or horizontal siding is made from wood, vinyl, or fiber cement. Meantime, the board and batten effect, with its vertical boards overlaying narrow strips, called battens, is also commonly seen in a Modern Farmhouse. Board-and-batten siding comes in various kinds of wood or vinyl, creating a timeless look, plus it's easy to maintain.
All one color
Most modern farmhouses you see today have highly textured, solid exteriors. Such highly texturized finishes allow light and shadows to play on the sides of the home, creating contrast and distinction. Think red, white, gray, black—as long as it's just one color.




Unique Exterior Dimensions
The Modern Farmhouse moves away from the simple rectangles of the past. Instead, this style focuses on spreading everything out to form unique exterior dimensions, creating a kind of pieced-together, almost modular look. In addition, this type of layout supports an abundance of natural light inside, as each space can have multiple windows around it.
Victorian Roots
Here's an interesting fact: Modern Farmhouse architecture isn't strictly farmhouse. Look closely, and you'll notice the inspiration comes from Victorian architecture, particularly Stick and Folk Victorian. The stripped-down decorative detailing emphasizes the open floor plan found inside.
Double Hung Windows
Double-hung windows do the trick for that perfect balance between too modern and too traditional. The look points back to old American farmhouses. All the updated choices available today allow for personal creativity and taste.




Modern Farmhouse Décor
Home décor is where you can add your own unique style. While nothing is a hard and fast rule here, make sure your interior is cohesive with the exterior.
Clean, Straight, Simple, and Minimal
Of course, a clean and straightforward approach is the key to Modern. Think warm minimalism focusing on comfort and practicality.
Neutral Zone
The style calls for a neutral look inside. White is the most popular, but other colors such as yellows and blues are also good choices. Just make sure the hues are warm and calming, and avoid bright or shocking palettes. But, again, contrast is essential.
Wall Paneling
Different types of wall paneling can also be used to add texture inside. Break up the sterile feel with shiplap elements that can carry into the ceiling. And by all means, avoid covering every house surface.




Modern Farmhouse Kitchens
One of the main things to remember when it comes to the unique characteristics of a farmhouse kitchen is that size matters—think big, bright, and open—an oversized island with a free-standing range hood and open shelving captures the kitchen's relaxed and friendly aesthetic. Finish the look with a few industrial barstools and sizeable wrought iron pendants. A farmhouse sink is a requirement, preferably in porcelain, stainless steel, or copper.
Furniture
When furnishing a Modern Farmhouse, go big. Think significant, functional, and comfy. A major must-have is an overstuffed couch you can't help but sink into. Curate a mix of different pieces and include your vintage and antique finds. Create a sense of cohesion with an added personal touch.
Down to Details
What would a Modern Farmhouse be without a barn door somewhere? Besides, they're stylish and offer privacy without taking up space. Some of the shared spaces to place barn doors are the dining room, study, or from the primary bedroom to the bathroom. Overall, Modern Farmhouse decor is simple but not bare. Focus on the mix and decorate with the little details you love, but use a discerning eye to keep it uncluttered. Balance is key.
---
The bottom line is a true Modern Farmhouse is cozy, bright, and welcoming. And Modern Farmhouse architecture emphasizes an open floor plan and a big kitchen. These homes are warm, relaxed, and welcoming without being stuffy or formal. If you're planning to make a move to a Modern Farmhouse in any of the upscale Santa Barbara communities, please give me a call at (805) 886-9378 or email me at Cristal@montecito-estate.com. I have the knowledge and contact to sell your property, no matter what architectural style. Allow me to present you with a complimentary consultation.
---
More resources: