4 DESIGN TIPS TO TRANSFORM YOUR MASSIVE MASTER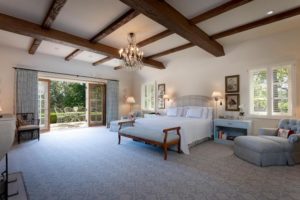 One of the things I love about many of the Montecito homes listed in my portfolio of fine homes for sale is their massive master suite. While this super-sized space is the perfect place to lay your head at night, all that extra square footage can feel a bit wasted; creating a cold vibe. Don't fret. Transforming your master suite into a cozy space is easy. All you need is to pay some strategic attention to color and focus on the correct placement of furniture, art, and accessories. That can easily add up to a warm room in which to snuggle.
Here are 4 tips from design pros to make your master suite a comfy sanctuary:
Consider Scale
According to LeeAnn Baker of Seattle-based LeeAnn Baker Interiors, choosing darker wall color and/or using wallpaper, will create a more intimate atmosphere. Whatever you choose, make sure it's in an earthy hue. She also suggests Montecito homeowners play with scale. Think headboards with a high back, or even one that takes up an entire wall.
"Another way I like to work with a very high ceiling is by adding dramatically lit art," Baker explains. "It not only sets a moody tone but also forces our eyes to rise a bit, which helps with scaling down the ceiling. I love adding mirrors to either side of the bed. Not only do they act as windows, but they also reflect the light that glows from the bedside lamps, bringing a feeling of warmth to the space."
Then there's the furniture. With the right placement, furniture can make any large room feel just right for the people living in it. Create seating areas in the form of a couple extremely comfortable upholstered chairs. Use the space at the foot of the bed to place a beautifully upholstered ottoman. It's the perfect arrangement to fill your master while creating a lovely composition.
Don't Forget Depth
This important dynamic can be created with warm, soft neutrals that always make a space feel inviting. Montecito homeowners can infuse a pop of texture and dimension in the form of art, accessories and even, perhaps, woven window shades. These different textures will keep your master from feeling flat and monotone.
"The biggest misconception with larger spaces, is that adding properly scaled pieces will make the room feel tight or cluttered," says Kate Lester of Los Angeles-based Kate Lester Interiors. "We always utilize the length of the wall—selecting larger chests as nightstands and a prominent bed or upholstered headboard. This anchors the room and keeps the space grounded. In comparison, furniture that is too small, or too many furniture pieces in a room, can make the space feel cluttered and even larger."

Lester goes on to suggest Montecito homeowners steer away from too many patterns, especially in a larger master. For example, if you use a patterned rug, then keep additional patterns to a minimum. If there is already a busy pattern on the drapery, then use a more neutral rug. You can also play with your upholstery to create balance. Plus, specific artwork and accessories can be used to infuse softness. And finally, don't forget plants. Houseplants can immediately warm up a space.
Layers Add Warmth
According to Jennifer Lannon, senior project manager for New York-based luxury real estate design and marketing firm Interior Marketing Group, Montecito homeowners should keep their bedding primarily light and contrast darker tones in the room using accessories such as pillows, coverlets and even duvets.
READ: What Is the Danish Lifestyle trend called "Hygge" and How Do Santa Barbara Homeowners Embrace It?
"In terms of materials, think soft and luxurious—velvet, cashmere, and linen," Lannon explains. "As we approach winter, you can't go wrong with a [faux] fur to add dimension and comfort. It's also very important to go big with your rug. Too small of a rug will shrink your space."
A Textural Touch is a Must
Christine Markatos Lowe of Christine Markatos Design in Santa Monica suggests Montecito homeowners think of their master bedroom as a sanctuary. The rest of your home may be hectic, but your master should be a soothing space filled with icy blues or lavenders.
"A canopy bed with curtains is a great way to create a cozy feel in an otherwise open space. And if there is room for a sitting area, a reading nook is always welcome," Markatos explains. "Super-soft luxurious fabrics are the best way to make a room feel cozy. Velvets and chunky woven linens create beautiful layers, and in a room where there is less traffic and a kid-free zone, splurge for the best. A cozy oversized throw blanket on the end of the bed is always a welcome finishing touch to complete the cozy bedroom vibe."
Many of my listings are waiting for your special touch. For example, the Premier Montecito Estate on the famed Picacho Lane is pictured at the top of this blog. If you're looking to move within Montecito, Hope Ranch or any of Santa Barbara's upscale communities, please call at +1 (805) 886-9378 or email me at Cristal@montecito-estate.com. I'd love to hear any other tips you might have to make your huge master suite feel cozy. Sweet dreams!