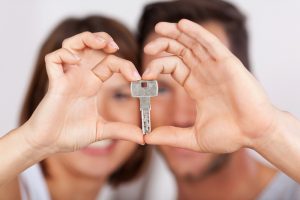 Couples considering buying a home together should heed these warnings
In a previous blog, I shared info about a prenuptial deed when buying a home together after you've tied the knot. But what if you and your partner decide to buy a home together before you get married?
Stats on Home Ownership Before Marriage
According to a recent poll by MONEY, 40% of millennials say home ownership is a bigger priority than marriage. But if these young people just starting out their lives are not careful, their new home could be the end of their relationship. Here's a list of things to consider before signing a deed together:
Credit Scores
An unmarried couple doesn't have to purchase a home jointly. They can figure out which of the two has the best credit score and cosign the property to the other.
Titles
An unmarried couple can use one of three main titles when they purchase a property together. The title of Sole Owner gives 100% of the responsibility for the debt to one person. Tenants in Common is for those who want to own the property together, but each partner owns a different amount. Joint Tenant gives both people equal ownership.
Understand Your Debt Responsibility
Experts say to choose a home you can afford on your own no matter which of the three titles you choose.
Make it Legal
Prevent heartache by writing down expectation before you sign anything. With the help of an attorney, you can create a binding agreement before you buy a property.
Expenses Don't End
Being a homeowner comes with responsibility, especially financially. However, the benefits of being a homeowner can far outweigh any potential problems.
---
I wish unmarried and married couples happy house hunting when buying a home together. For inspiration, check out some amazing listings in Montecito, Hope Ranch or any of Santa Barbara's upscale communities. Give me a call at 805.886.9378 or email me at [mail_to email="Cristal@montecito-estate.com"]Cristal@montecito-estate.com[/mail_to] and I'll happily find the perfect home for both of you!
---