7 WAYS TO ACHIEVE THE CALIFORNIA COOL LOOK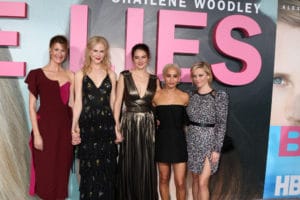 The HBO hit show Big Little Lies has become the latest TV real estate obsession for many who appreciate classic and hip interior design styles. That's because the setting is more than just a show's backdrop. Fans of the smart, darkly comedic series are enthralled with every room featured in the popular show. It follows the seemingly perfect lives of upper-class mothers in Northern California, played by Reese Witherspoon, Nicole Kidman, and Shailene Woodley as women whose lives unravel to the point of murder. Fans are trying to emulate the look of the show's beachfront mansions that sprawl along the Monterey Bay coastline.
Read: Ocean View Homes are Good for Our Health
In fact, America has always had a fascination with TV interiors and real estate. A decade ago, fans fawned over Rachel and Monica's Friends apartment. Others gushed over the interiors, along with the fashion, in Sex and the City. The obsession with that show continues to this day. There is even a tour available of Carrie Bradshaw's Apartment.
Read: Is Information on Real Estate TV Shows Believable?
It's deemed to be okay to grab décor inspiration from the homes of your favorite TV characters. Producers believe that including interesting interior design makes a show just that much better and richer. Today, fans of Big Little Lies are equally enthralled by the secrets unraveled in the sleepy California coastal town's well-heeled mommy brigade. Especially when those fans catch a glimpse of a dreamy Hans Wegner chair or glossy Jonathan Adler chandelier.
Read: How to Decorate Your Mid-century modern Home
While life may not be rosy for the show's characters, there's no denying that each woman has a unique sense of style in their homes: featuring a delightful mix of midcentury classics and coastal staples in homes overlooking the Pacific Ocean.
L.A.-based interior designer Lauren Soloff believes the look of cool and calm can be achieved anywhere. Known for her inviting, laid back interiors, she shares her vision when it comes to creating the California cool look in your Montecito home.
Lauren Soloff's 7 Ways to Classic and Hip Interior Design Styles
1. When it comes to fabrics, keep it clean.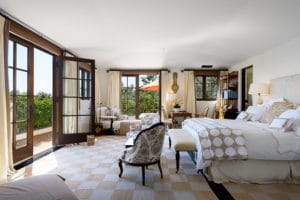 Example of master bedroom layered in a neutral palette
"For spaces that are small, I tend to stay very light and neutral in palette and use fabrics like woven linens and pure cottons. Layering these materials in shades of white and ivory is a great way to achieve texture and subtle contrast without overwhelming the room. This will help open up a space and create more of that airy feel. For a bed, try to do all shades of white and layer them: cotton sheets and a linen duvet cover with pillows and shams."
2. Be smart with shades.
"It's always nice to select window fabrics and coverings that play with the way light is being filtered. This can be tremendously effective and create an amazing atmosphere. Belgian linen and linen sheers are go-to fabrics for me. I also really like using white Mecho shades with 5 percent opacity to let the light in. Lately, I have been using woven wood shades, and I really like the effect these give off in a room at different times of day."


3. Incorporate handmade originals.

"Finding items woven of natural fibers, like an oversize basket or something handmade such as pottery, always adds a bohemian touch. One trick is to not overuse them. A large basket or small and curated collections of unique pottery pieces are both nice touches. For artwork, an interesting line drawing is a pleasant detail and doesn't interrupt the serenity."

4. Remember: The clearer, the better.

"Less is always more when it comes to furniture, even in bigger spaces. For a smaller living room, having ample seating is important, but be realistic about how many people you will actually be having over at one time. Keeping a space clear is essential."


5. Spend on a great rug.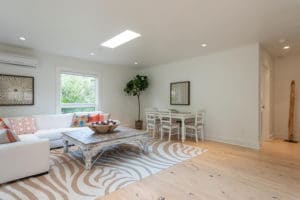 This rug really makes the room, don't you think?
"A rug is the one item that I always ask clients to splurge on. Rugs are a wonderful way to use color and pattern, and they're very important in creating a room's vibe. I tend to go very neutral and simple in everything I design, and then pop in color and pattern on the floor. Vintage rugs add an important layer and can give a room real life. Vintage Moroccan rugs with Berber motifs and Turkish kilims are two of my favorites."


6. Adopt a houseplant.

"Houseplants give life to any space, and if you have a greenish thumb, adding some Mother Nature can make a difference to the overall look. It might be a bit of a pseudo-science, but I do believe they are naturally de-stressing and a functional decor. They also have elements of the '70s and '80s, which were very influential design decades. Rubber trees are a great choice since they don't need much light and are considered an easier plant to take care of."


7. Stick with natural and organic materials.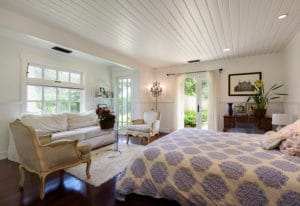 The perfect example of how natural and organic materials can make a room feel clean and pure.
"Natural materials have a tendency to make a space feel clean and pure. When a home is small, those are important things to strive for. Woods, woven materials, linens, and objects found in nature are all great elements to incorporate."
Read: A New Trend in Santa Barbara Interior Design?
---
See how easy and natural it is to create the Big Little Lies' interior design styles in your Montecito estate? Looking to move in Montecito, Hope Ranch or any of Santa Barbara's upscale communities to create your own version of California cool? Then call Cristal at 805.886.9378 or email Cristal@montecito-estate.com. She'll happily add your listing to her portfolio of fine homes in the area and find your new dream home for your family.
---