GARDENS ARE AESTHETICALLY PLEASING, OFFER HEALTH BENEFITS, AND CAN INCREASE PROPERTY VALUE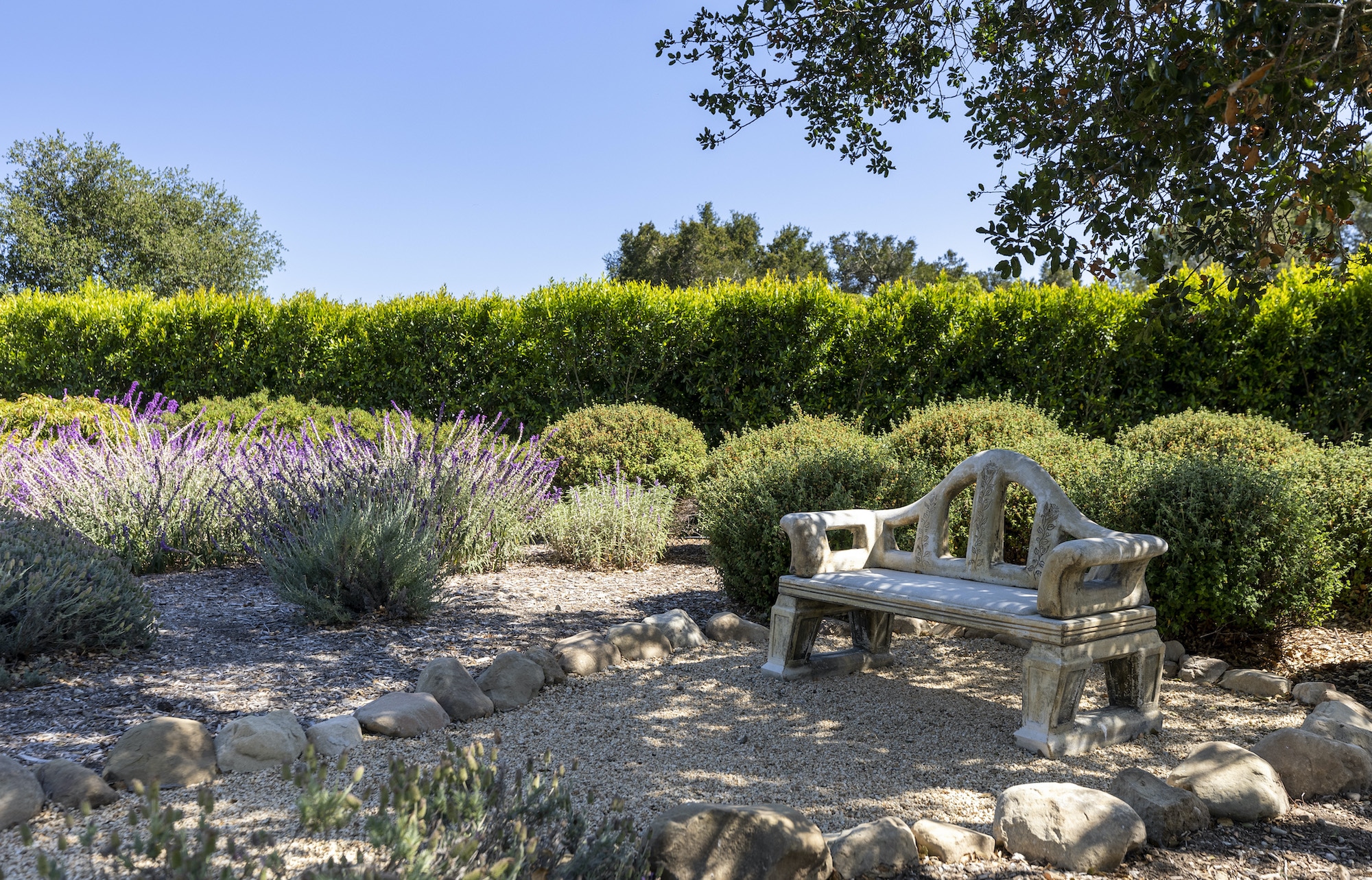 Our amazing Mediterranean climate is one of the many things that make living in Santa Barbara desirable, and makes magical Santa Barbara gardens possible. Take the whimsical, tranquil garden pictured above from my Montecito French Country Farmhouse listing. Looks like something you'd see in the South of France. The home's gorgeous grounds include an expansive terrace, outdoor kitchen and alfresco dining patio, sizeable lawn, multiple water features, and generous entertaining venues creating the perfect space to enjoy Santa Barbara's coveted indoor-outdoor living.
Our location is one of the prime places to incorporate landscape ideas from around the world. Here are four garden ideas to consider for your Santa Barbara grounds:
READ: The Home of the Future From Leading Architects
From Peru: Vertical gardens
By creating a vertical wall of plants in pots, you are channeling your inner Machu Picchu vibe. A wall garden is easy to maintain. The idea comes from the ancient Incans but works well here. In fact, the Santa Barbara sunshine provides adequate light so that most greenery will work here. You'll also save on precious water as the vertical rows flow to hydrate the plants below.
From Japan: Rock gardens
Creating a lovely rock garden is a beautiful idea here in Santa Barbara, especially in light of our continued drought. Just incorporate rocks, crushed granite, along with hardy ground cover to create a contemplative outdoor space. Add a stone bench, lanterns, and other Asian elements to complete your personal oasis of calm.
From Mexico: Hardy succulents
Another drought-resistant idea is to plant succulents. These plants have come on the gardening scene like gangbusters in recent years. Once a niche plant, succulents can now be found everywhere: from office buildings to home greenhouses. There are many reasons why the succulent has become such a popular plant. They are extremely easy to take care of and are very tolerant of low water levels, and often thrive in Santa Barbara gardens.
From France: Fields of Lavender
You can't go wrong planting drought-resistant lavender here in Santa Barbara. These rugged, super-easy garden plants add bold color and texture in any landscape designs, and the scent is divine. Sow with other edibles like rosemary and sage for a stunning herb garden.

Reasons to Plant Your Own Garden
Beauty in all of its forms is a sign of abundance and prosperity. It vibrates at a high level. And what is more beautiful than a well-maintained garden?
Besides adding beauty, your home's landscape design also offers curb appeal, which is especially important when it comes time to sell. A great example of curb appeal done to perfection is the home pictured above, my Carleton Winslow Designed Spanish Colonial Revival Estate. Experts say garden beautification can increase the value of real estate by 5-28% while studies conducted by the U.S. Forest Service show trees increase real estate value from 1-10%.
READ: Santa Barbara Landscape Design: Complementing Your Home's Architecture
Your landscaping also offers many health benefits. For instance, trees, plants and shrubs absorb odors and pollutants. Working in dirt has been proven to lower dementia risk and boost your mood. In fact, there are many mood-boosting benefits when it comes to gardening. A recent study suggests that gardening fights stress even better than other hobbies.
Even more, gardening helps combat loneliness. This is especially important when you retire and find yourself with fewer opportunities to spend time around others. Simply put, a garden is one of those things that can give people purpose and hope.
And the benefits are even more bountiful when you plant a vegetable garden. Here are some excellent reasons why you might want to get your hands dirty with your own vegetable garden:
Gardening burns calories
Light gardening burns about 330 calories an hour. Because gardening is a physical activity, increase your workload slowly to avoid aches and pains.
You'll try new tastes
In a 12-week pilot project involving fourth-and sixth-graders in gardening activities during a summer camp, researchers publishing in the Journal of the American Dietetic Association found an increase in the enjoyment of and willingness to try new fruits and vegetables.
Your family will bond
According to a study published in the Journal of Community Health, family bonding is among the nutritional health benefits of gardening. The researchers theorized that time spent working together in the garden can actually increase family unity.
Kids learn responsibility
Gardening tasks can be delegated according to age and ability, giving even the littlest members of your family a sense of ownership and competence. The care of plants and the observation of animals in gardens help children develop a sense of responsibility for things that are smaller and dependent on them.
Gardens nurture learning
One of the benefits of growing your own garden is that they spur curiosity and learning, providing a real-world classroom to study life science in action. As an adult, you'll be on a learning curve if you've never gardened before — and so will your children. This hands-on learning environment supports curiosity, research, and collaborative problem-solving. Gardens also lead to more learning in the kitchen as you and your family try out new recipes with your home-grown foods.
Gardens are great conversation starters
Once family, friends, and neighbors find out you're gardening, you'll be surprised how easily conversation flows as you talk about the food you're growing, how you cook it, and how you can handle problems such as weed removal and area wildlife.
If you are a Santa Barbara homeowner interested in starting your own garden, this planting calendar from the Old Farmer's Almanac will let you know the best time to start seeds indoors, when to transplant young plants outside, and when to direct seed into the ground.
READ: How to Add Value to Your Home
If you are looking to move in the area and are searching for a home with existing Santa Barbara gardens, or a place to start your own, please take a look at my comprehensive website. See something you like? Call me at (805) 886-9378 or email me at Cristal@montecito-estate.com. I also have all the intel on pocket listings in the area that are perfect for my discerning buyers who love gardening.